We've said it before and we'll say it again: Working with Grace + Vine is different.
But our clients only see part of the process. They answer our questionnaire, participate in a strategy call and send over assets for us to use in mockups. And of course, they get to see the design in each stage: wireframes to designed mockups to a coded website.
But what they don't see? Allllll the hard work that our team members put into their contributions to each project.
Never miss an episode! Get notification of new podcast episodes to your inbox.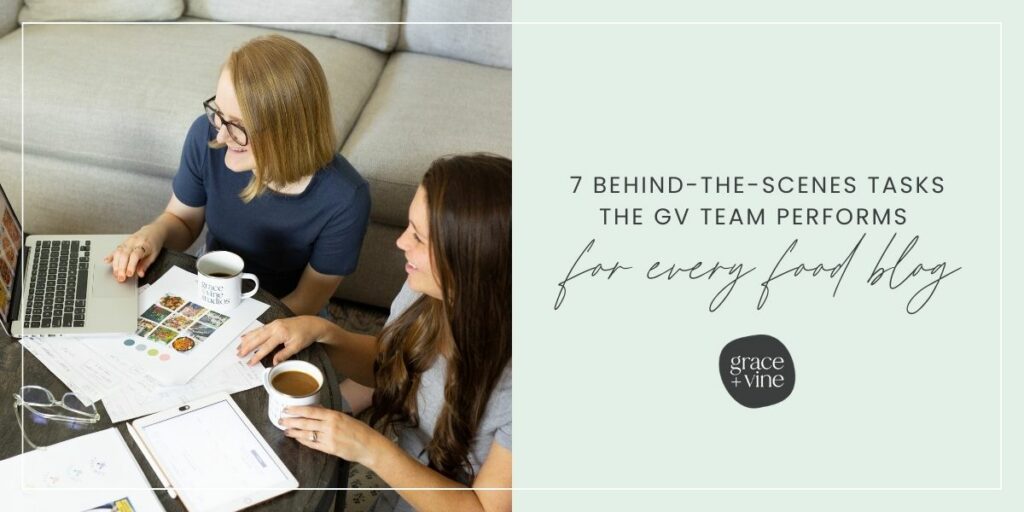 It's like a 5-star restaurant. If you're a diner, you only see the beautiful finished plate before you. You don't know who cooked the sauce, who grilled the meat or who plated the dish. You might meet the sommelier who paired the wine, but you probably won't meet anyone else other than your server. But you do know there was a whole team of chefs in the kitchen making it happen so you could have a stellar dining experience that you'll tell your friends about.
We work with our clients the same way. Everyone on our team plays an important role in each brand or website design project, but we realized we don't talk about that enough. We asked each team member to share a look behind the scenes at some of the things we do but don't talk about. Or, rather, that we don't talk about enough.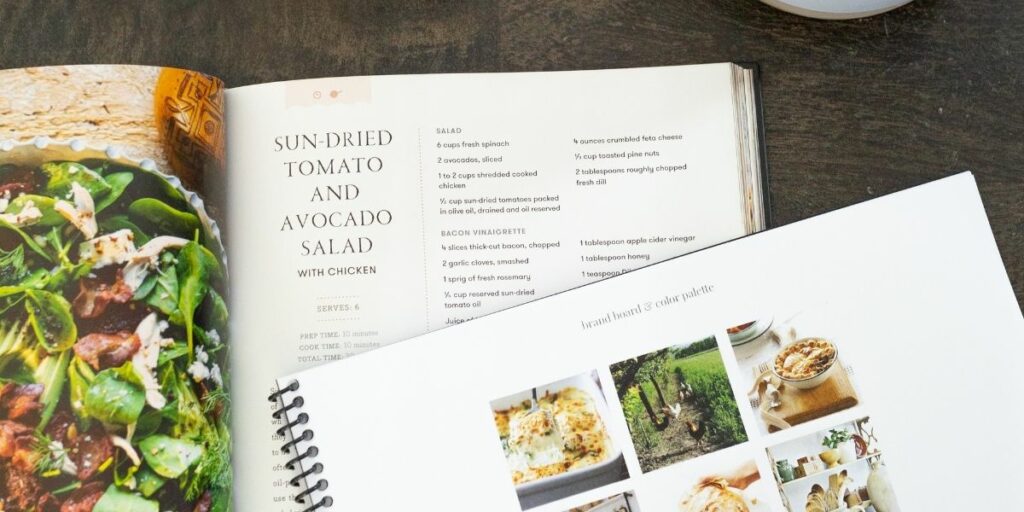 Strategy
I'll go first. (I'm Madison Wetherill, by the way, the CEO and founder of Grace + Vine Studios.) One of my favorite parts of our process of working with the client is the collaboration that happens during our initial strategy call.
"My goal during this call is to do a deep dive on the client's brand positioning and their audience to really understand the purpose behind their website, which I use to craft our web strategy. Once we get chatting I get overwhelmed with unique ideas for their website — from blog posts and cornerstone content ideas to freebies. That kind of idea generation just lights me up!"

— Madison Wetherill, CEO and Founder
And if you're wondering what I mean by web strategy, this is only the tip of the iceberg. Head to this blog post where I explain how strategy creates direction for your brand, helps your audience connect with you and creates timeless designs.
Project Management
Each project we work on, whether it's a website redesign, new branding or a Designer for a Day package, looks completely different. Jillian Dolberry, our online business manager, handles our project planning.
"Though we have our system down to a science, we know that every project is not a one-size-fits-all. Each food blog is unique, and while we lean into our proven processes in custom design projects (that we know will deliver an excellent experience), we also make modifications in the onboarding phase and throughout the project if new accommodations need to be met. We want our clients to get exactly what they want and need so they can feel like a million bucks releasing their new site to their followers."

— Jillian Dolberry, Online Business Manager
Brand Design
When we work on logo design projects — which could be through our custom website design or our branding package — we always send out a long survey to get to know our client, their business and their goals big and small. Goals could be anything from publishing a book to growing traffic or followers.
It might seem like something we'll read once, but this important document drives a lot of decisions we make when designing the logo and building the website. Our lead designer, Rachel, especially spends a lot of time reading through the questionnaires.
"The client's questionnaire is an element in the process that I really take into consideration when designing the logo and brand. I learn a lot about the client and their blog in their answers. Every design element I create has an intentional purpose behind it that ties back to the clients business name, demographic, and/or niche."

— Rachel Grokowsky, Lead Designer
Icon Design
We think through every single element that goes on a webpage. For some sites, we incorporate custom icons to improve user navigation and add branded details to the page. Our icon designer, Susannah Brinkley Henry, has a unique process:
"Studying the brand guidelines, mock-ups and wireframes is my first step, which gives me an idea of the team's vision for the site and how the icons will be used. I spend a lot of time with the site studying the blog's content in each category and reading blog posts to understand the client's unique voice. My biggest question to answer is, "What imagery fits with the theme of the category, that can also be drawn simply and in a way a user can understand?" From there, I get to work illustrating and collaborating with the team on the style of icons."

— Susannah Brinkley Henry, Icon Designer
Color Palette
We use the brand colors and fonts throughout the website, especially showcased in blog posts, to help familiarize the reader with the brand.
Colors evoke feelings, emotions and connections with readers, so it's crucial for us to pick harmonious hues that are unique and appealing to each site, business owner and audience. Our junior designer Kimmi Lyon puts together our color palette. Here is her process:
"Color is such an important part of our branding process, so I do my best to be really intentional with the colors I craft together for our clients. I spend a lot of time looking over their branding questionnaire and Pinterest board to get a feel for their aesthetic and the message they are trying to communicate to their audience. Once I feel like I have an understanding of who they are and what they are about, I work through numerous combinations of colors until I land on the palette that I believe represents the client well."

— Kimmi Lyon, Junior Designer
Communication
Throughout the process, we are staying in touch with our clients through email, Asana and video calls. Keeping you informed is important to us. But our internal communication is just as vital, especially because we work together remotely. Let's hear from Jillian again:
"When you work with G+V, you work with a team of people who are always looking for ways to go above and beyond for you. We have a Slack channel for each client where we communicate everything from our due dates, updates and preferences from the client, making sure they have the best experience with us. If there are ways to improve communication or accommodate them in a new way, this Slack channel is where it starts and gets put into action."

— Jillian Dolberry, Online Business Manager
Pre-Launch & Launch
As each custom theme is built it, it goes through multiple rounds of Quality Checks — and that's on top of our design quality checks and site speed work.
We want the site to run smooth and last the client a long time. As our in-house WordPress expert, Mike, puts it, "We want it to be the foundation of your digital empire as you grow and add to it." One key part of this is an in-depth audit of the site's software and plugins.
"As we approach launch we audit every single plugin on your site. We rip out the ones you don't need, add the best of the best for you and configure and customize each one for the needs of your editing workflow and your user's experience. Plus we optimize for Core Web Vitals right out of the gate."

— Mike Zielonka, On-Staff WordPress Expert
And that's just… seven of the things we do for each site behind the scenes. That doesn't include all the stuff listed on our services page, or the stuff we do for our clients after we launch.
Curious what we could do for you? Contact us today to learn about how we serve the food blogging community through brand and website design!
Pin for later
Come browse my Pinterest for more inspiration >>