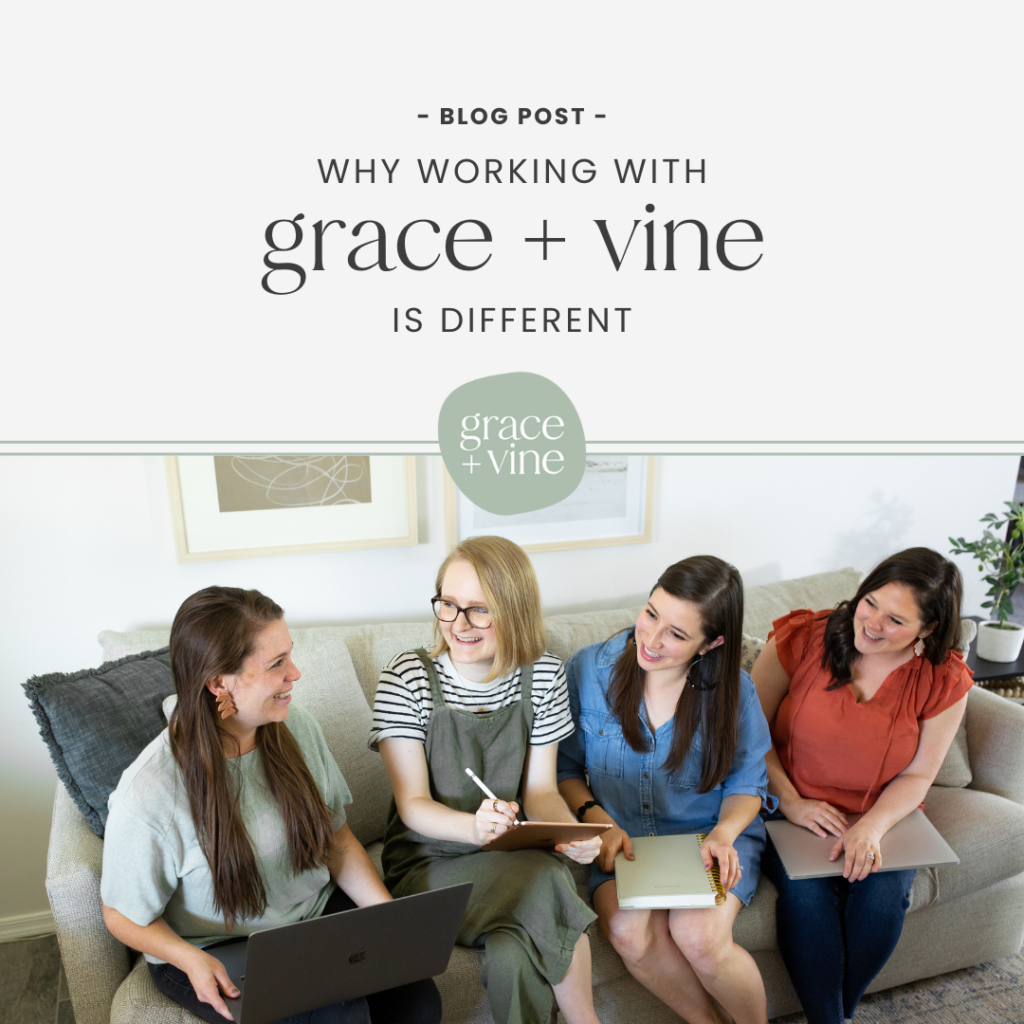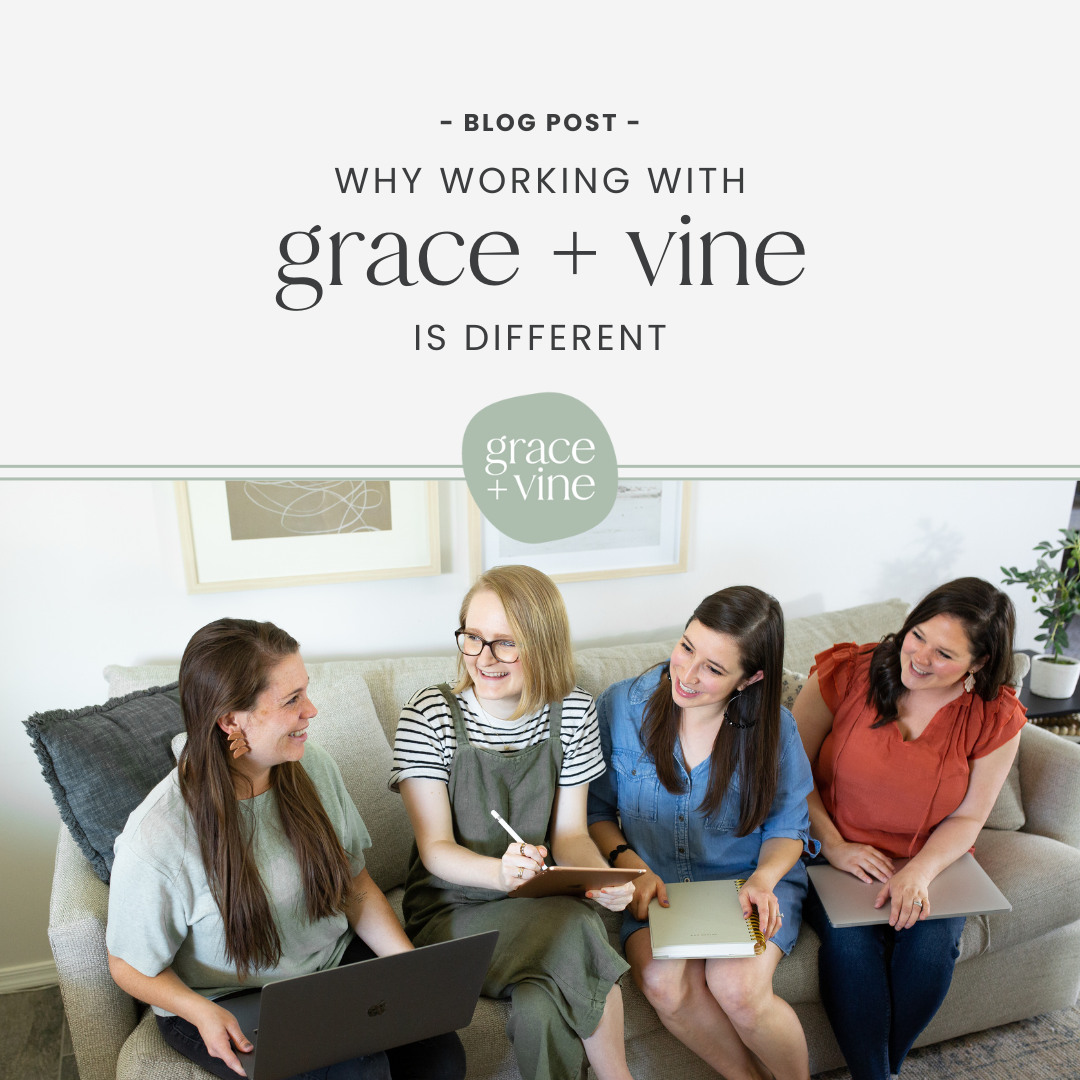 Whether you're planning a website redesign or a smaller design project, there are a lot of things to consider when you decide to work with a designer.
Not only do you want the design to exceed your expectations, but you want them to be reliable, good communicators and worth the money you're planning to spend.
After all, you're making an investment in your business.
When you work with Grace + Vine, we hope that you find all of that in us and more in our design process.
Here are a few reasons we think you'll like working with us.
We "get" it.
I've been designing since I was in college, but my interest in art and design goes back even further. As a kid, I loved to draw and paint (and I love passing that onto my kids now, too!).
After I got married, I brought that creativity to my own food blog, A Joyfully Mad Kitchen, as I chronicled what I cooked for my husband and myself.
Food blogging has grown up in so many ways since then, but through all the twists-and-turns, new social media networks and Google algorithm shifts, I've been designing.
My dual loves of food and design have helped me to share those passions with the food blogging community, and the Grace + Vine team too.
Every member of the G+V team is passionate about great design, content creation and keeping up with industry trends. When you work with us, you're working with people who really know bloggers as well as their desires and their struggles.
We've refined our process to a T, and then some.
G+V has been working with bloggers for several years.
Over this time, we have worked with more than 100 clients to design or update their websites and branding, create products and build a brand strategy.
That's not to say we haven't had some learning experiences to better our product and service. With each project, we learn new things about ourselves, the industry, and our clients.
After each project, our team meets to discuss what could have gone better and what went well, taking into account client feedback.
All of this helps us to refine our process and systems. One of the biggest changes we made in 2021 was bringing on new projects in waves, so we can adjust the process in between clients as we learn from challenges and successes — and evolve together as a team.
We are proud that our process is ever-evolving because it means we are always learning.
We communicate. And we do it well.
It's the worst when you work with someone who ghosts you or doesn't reply in a timely manner.
At G+V, we have members of our team dedicated to our clients. They're the ones behind our inquiry emails, newsletter and questions and scheduling of calls. If they don't know the answer, someone on the team is sure to be able to help.
We pride ourselves on our response times but also the way we have included our clients in our projects. We do not operate in a silo, and will need your input from beginning to end. We love the collaboration side of our projects!
Throughout the design process, we invite our clients to participate in the project. From introductory calls to the final walk-through, we love it when our clients offer their feedback on branding and page design iterations.
You can expect access to your project dashboard in Asana, where we communicate with each other, share our progress, and make sure everyone has what they need throughout the duration of the project.
Beyond the launch of your project, our team is always available for questions and help if you need it.
We are dedicated to your success.
Within our team, every team member has a blog, website, podcast or side hustle of their own, so each of us knows what it's like to put everything you've got into your business.
It's important to me that we only hire people who "get" what it's like to set goals for your business — whether it's getting enough traffic to apply to an ad network, finding great sponsors or writing a cookbook.
As your branding experts, we help you position your brand in a way that helps you reach your goals — and set the next one.
After every site launches, we measure speed and monitor website performance to ensure your new site is off to a good start, and you're on your way to reaching those goals.
We're with you every step of the way.
Our expertise in design and blogging, continually-refined processes, clear communication and dedication to your success are the things that set us apart.
From our custom themes to our Designer for a Day package, we approach every single project with your unique struggles and goals top of mind.
If you choose to work with us, we know you'll find that we're so much more than a pre-made theme.
If you're interested in chatting about your project, drop us a line at hello@graceandvinestudios.com.
Pin for later
Come browse my Pinterest for more inspiration >>