Around here we talk a LOT about how much strategy impacts your branding. But have you ever wondered why it matters? In this episode I'm digging into why strategy is an essential part of our branding process!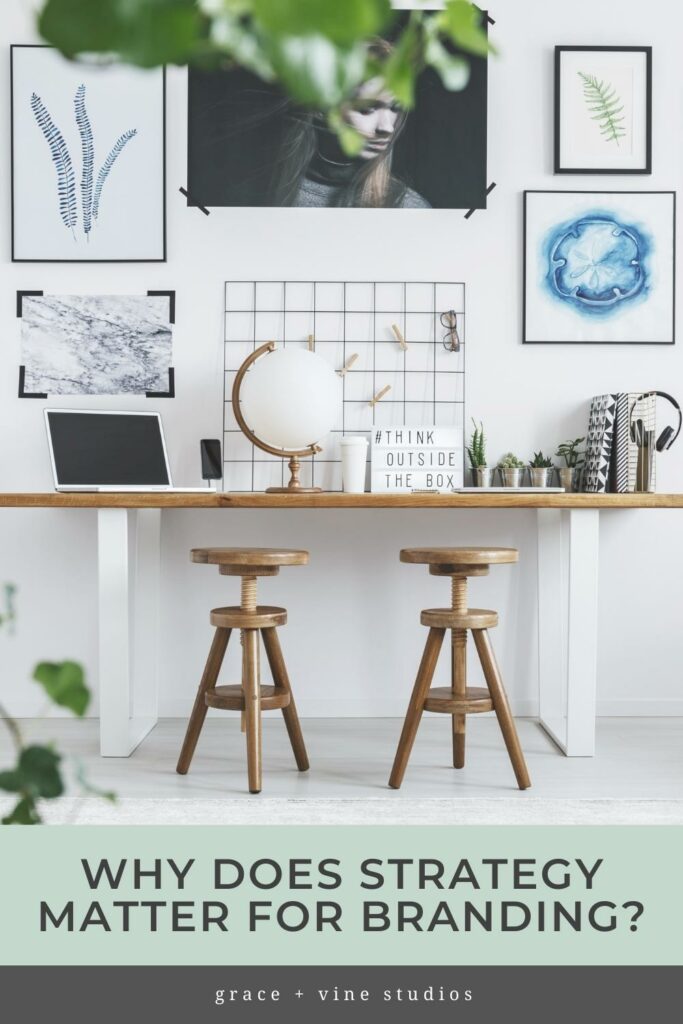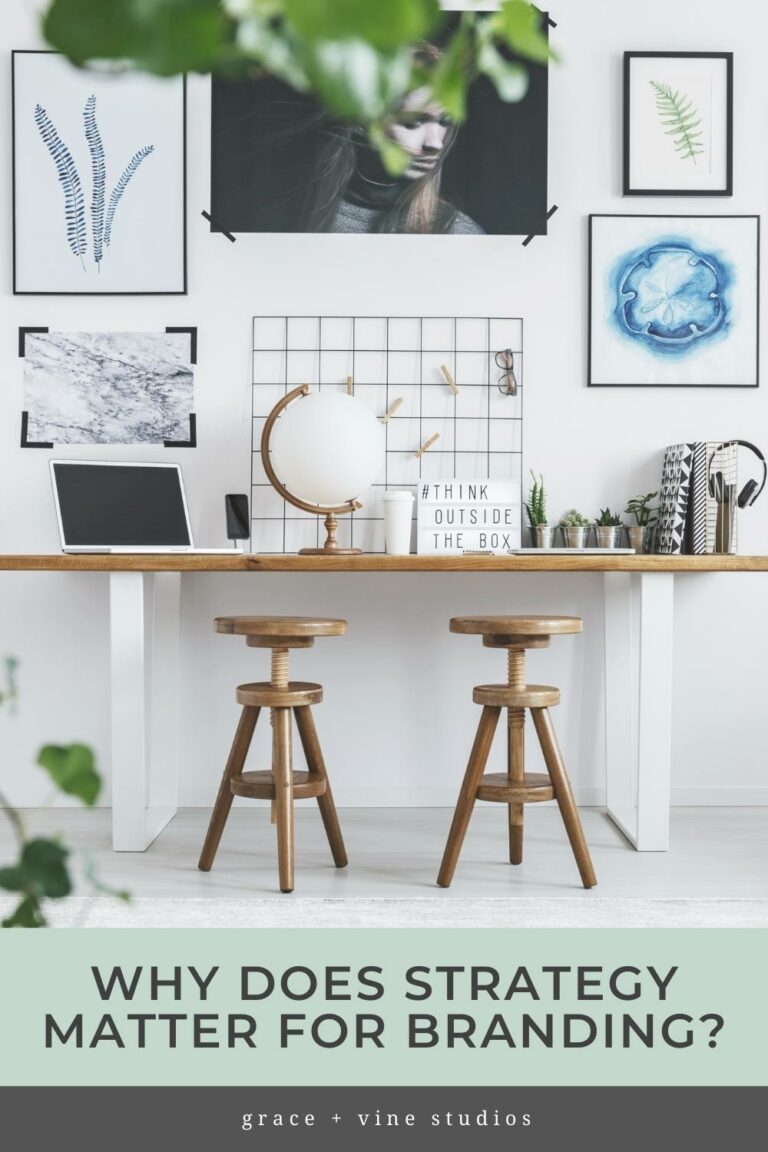 Never miss an episode! Get notification of new podcast episodes to your inbox.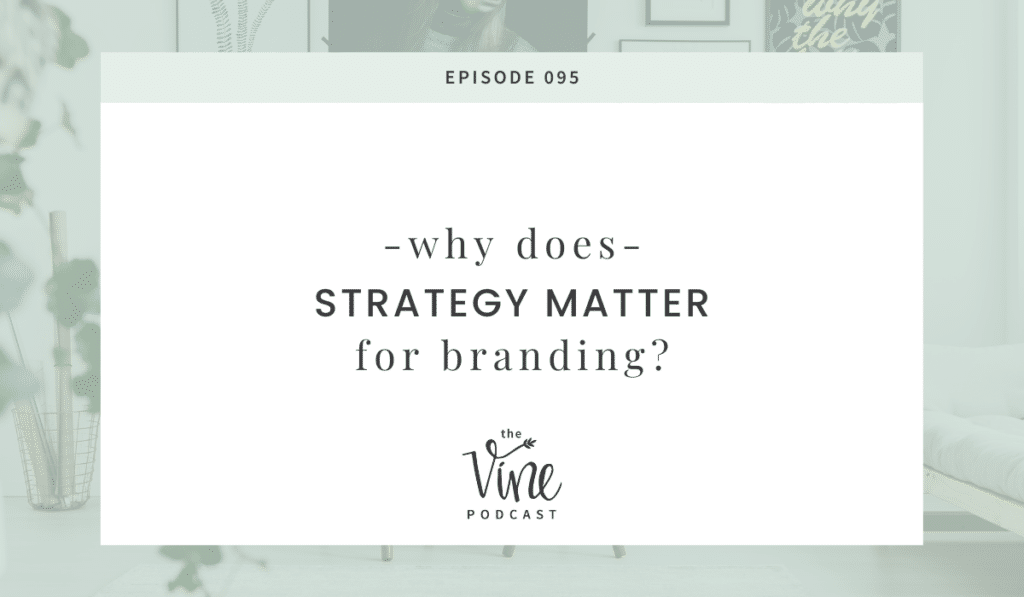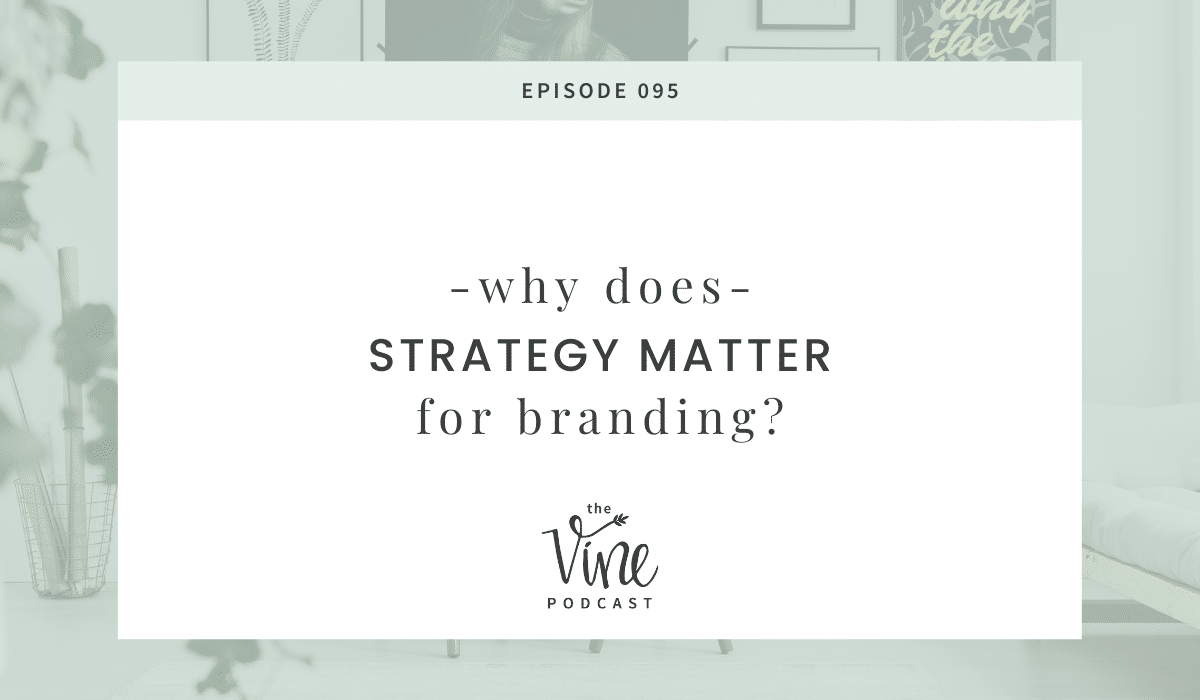 Branding is a huge piece of the puzzle when it comes to redesigning your website and since we often work with clients for branding only, I thought it was long overdue to talk a little more about branding and what our process is like.
I've focused on the strategy behind branding for many years but in the last year or two, I've really honed in on a framework that really helps us dig deep when it comes to our client's brand strategy. You can go back to Episode 35 to listen to more behind my process of creating a strategic brand, but today we're going to talk about why strategy even matters. In fact, a logo is just pretty fonts and colors, right?
The truth is that strategy makes all the difference when it comes to your branding hitting or missing the mark with your ideal readers. And your branding strategy also unlocks a whole set of other strategies like your content, marketing, and business strategy for where you want to go with your blog.
Strategy creates direction for your brand
This can take place in a couple of ways but primarily this is going to be all about your branding identity and when we talk about your brand identity what we're really talking about here is the combination of your audience, your brand messaging (how you are speaking to your audience), and then also the visual side of your branding. But we can't really have any of that unless we start with the strategy behind it all.
Your brand identity is really going to look to create the foundation for your brand by really combining your story and who your audience is and what they are struggling with. This helps you to understand the positioning between you and your audience
Your story + your audience's struggle = the foundation for your brand identity
From there once you have that foundation you're really able to understand your audience on a more intimate level, because you really understand their struggle and what they need from you.
Then, you're also able to start to use language that is going to relate to your audience and that's what I always call your brand messaging
Strategy helps your audience connect
When you have that branding strategy, you are able to have elements that are going to directly relate to your niche and to your audience.
This can be as simple as your color palette drawing them in and reflecting your audience and what they're feeling… not just something that might reflect the way that you feel or your favorite colors. Often people don't think about their audience, they're really just thinking about, "How can I make this logo represent me?" And when you have strategy you're able to do both: you're able to have something that feels like you and reflects you as the creator, but also deeply resonates with your audience because you understand where the middle ground is between those two things.
Your audience will feel right at home on your website because your branding speaks to them and draws them in.
Strategy creates timeless design
We are really creating something that can fit where your blog is at right now and can also be something that you grow with.
There's often this process of kind of catching up to where your brand has gone when you go to rebrand. You're really trying to have those visual elements catch up to the maturity of your brand that you already have. When you create something, you want to make sure that you're creating not just for right now in this moment, but for the future as well.
It also allows us as designers to be able to avoid trends and things that might feel fun for right now, that are just not going to be trendy long-term, and are again not going to be something that your brand can really grow with and will quickly feel outdated.
Curious what this branding strategy could look like for you? Check out our Branding VIP Intensive to get your branding strategy & logo design done in 3 days!
Pin for later
Come browse my Pinterest for more inspiration >>