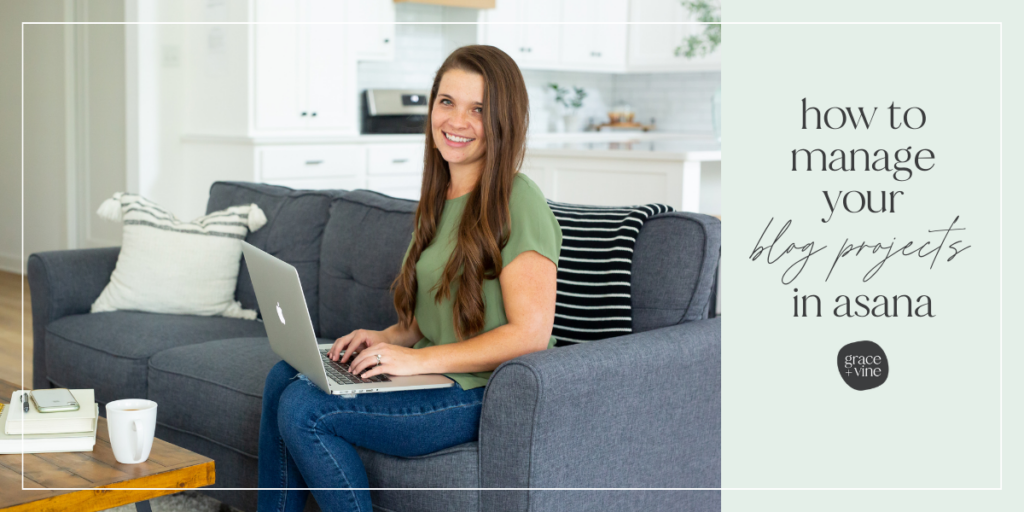 Blogging overwhelm is real. The to-do list seems never-ending. When things are messy, it's hard to get work done, let alone delegate tasks or plan ahead.
Whether it's my blog or my business, the biggest thing that has helped me tackle what needs to get done is getting organized. When you plan out your ideal week, you can see the whole picture and approach tasks with ease.
Asana is the tool we use at Grace & Vine to manage all of our client projects, our podcast, our blog and all aspects of our business. It helps us stay on task and see everything that needs to get done at a glance. It is essential for time management on our team.
I also use Asana to manage my food blog. I used it by myself as a one-person team for years, but it easily scales when you're ready to add VAs, photographers, writers and more to your team.
(We're not affiliates — we truly just love Asana. It's the best!)
Why we love Asana
Free to use (with paid options as well), Asana works well as an editorial calendar on its own or it can be used in addition to whatever you are already using.
It's easy to delegate tasks to team members and pass them off to the next person. It has different views, like a calendar and task list, to help you view everything in a way that makes sense for you. I love it especially for how easy it is to batch tasks and get a lot more done quickly and efficiently.
The best part? It keeps you out of email and texts! Teammates can add attachments and links as well as ask and answer questions — and all the info stays together with the task. Nothing gets lost, and it's easy for the next person to pick up where things left off.
How to get started with Asana
First, sign up for an account if you don't have one.
Next, you'll create a "team" for your blog. (You'll need to do this even if you're a one-person team.)
Add any VAs or freelancers who you'd like to collaborate with. Asana is excellent for outsourcing tasks.
Then you are ready to start setting up projects and adding to-dos! Here's a breakdown of basic Asana lingo:
Workspaces are what you log in to. You might have more than one if you collaborate on someone else's team. Asana lets you keep these separate with one login.
Teams are a way to group related projects with certain team members. You might have multiple teams if you run multiple businesses. (For example, we have a separate team for our podcast, because that team doesn't need to interact with our design clients.)
Projects are how Asana categorizes to-dos. You'll want to add a few of these, such as "Finances," "Blog Posts" and "Social Media." You can limit certain team members' access to projects if you need to keep them private.
Tasks are the to-dos that need to get done within each project. You can assign a task to any member of the team and set due dates.
Sub tasks are the steps needed to be completed within a more complex task and can be assigned to individuals on the team. For example, for a blog post, you might assign tasks to your video editor, writer, VA and yourself.
Ideas for blog projects in Asana
Projects are the easiest way to categorize like-items together. Here are a few we use:
Website: Use this one for anything regarding your website, like WordPress plugin updates, updating your homepage or recipe index each season or planning a redesign.
Blog Posts: To keep up with what posts are coming up. Tasks within might include: brainstorming posts, weekly SEO research, writing, editing, photography, video, etc.
Social Media: Set up tasks related to Instagram, Pinterest, Facebook, Web Stories, etc. This is a great place to add VAs who work with you on social media tasks.
Email/Newsletter: Add any email related tasks like freebies, content plans, weekly emails or quarterly list maintenance.
Clients/Freelance/Sponsored: Use this project for anything related to sponsors or freelance work. (You may wish to set up a different team for freelance work and/or separate projects for ongoing clients.)
Business/General/Finance: This spot is for other business tasks like invoicing, contracts, taxes and other tasks you might tackle on your CEO day.
You might also have some other projects to add, such as podcast tasks, courses you take, courses you offer or that cookbook you might dream of writing. Tasks can be a great place to jot down ideas to revisit later.
Tips for using Asana for blog management
We've been using Asana for so long that it's second nature to me! It can happen for you too, but it helps to bookmark it or keep the tab "pinned" so you are reminded to check it multiple times a day.
Here are some things my team recommends:
Color code your projects in a spectrum of pretty colors. It's easy to see at a glance what kinds of things need to get done.
Always assign projects to someone and set a due date so nothing gets lost. You can change them as needed!
Check off tasks when they're done. Or assign them to the next person on the team. Be diligent so nothing gets lost.
Use recurring tasks to remind you of things that need to happen regularly. This is great for sending invoices, scheduling social media, or even reminding you to clean up Asana projects every month.
Another thing we like to do is add SOPs (standard operating procedures) right into the project (or link to SOP documents) so the processes are easy to find. This is especially helpful for onboarding a new team member or working with multiple VAs.
Asana is the best tool for our team, but if it's not for you, there are so many others out there. What's most important is finding the best one for you!
---
If you're an Asana user, we'd love to hear how you use this amazing tool! All of our clients can take it for a spin when they work with us on their redesign project. Learn more about the standards and systems your blog needs here!
Pin for later
Come browse my Pinterest for more inspiration >>