web design
– for food bloggers –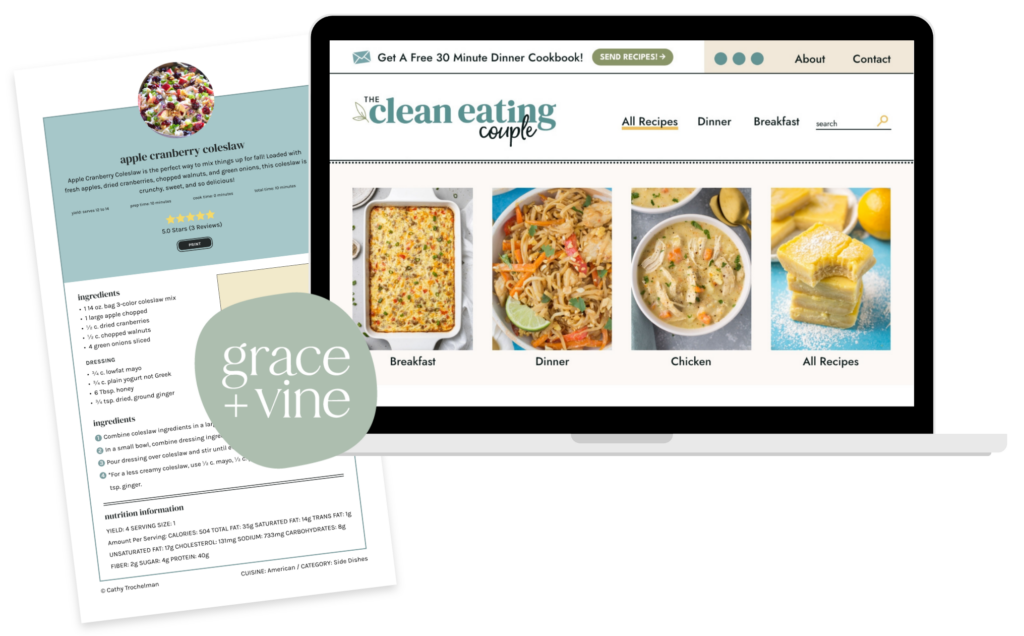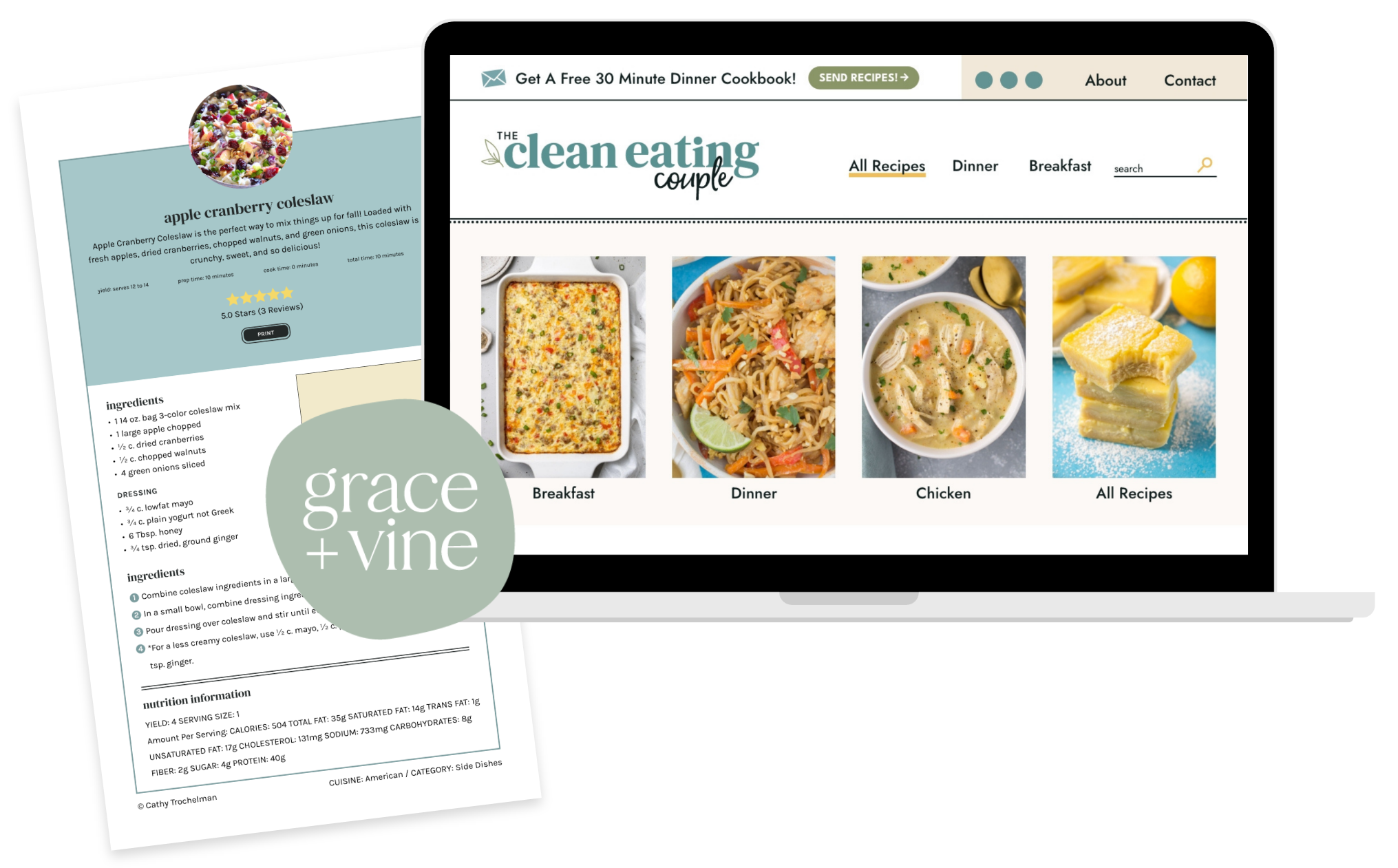 strategy + design + speed
= one of a kind web design
Here at Grace + Vine Studios, we believe in creating one of a kind websites that are not just another food blog on the internet.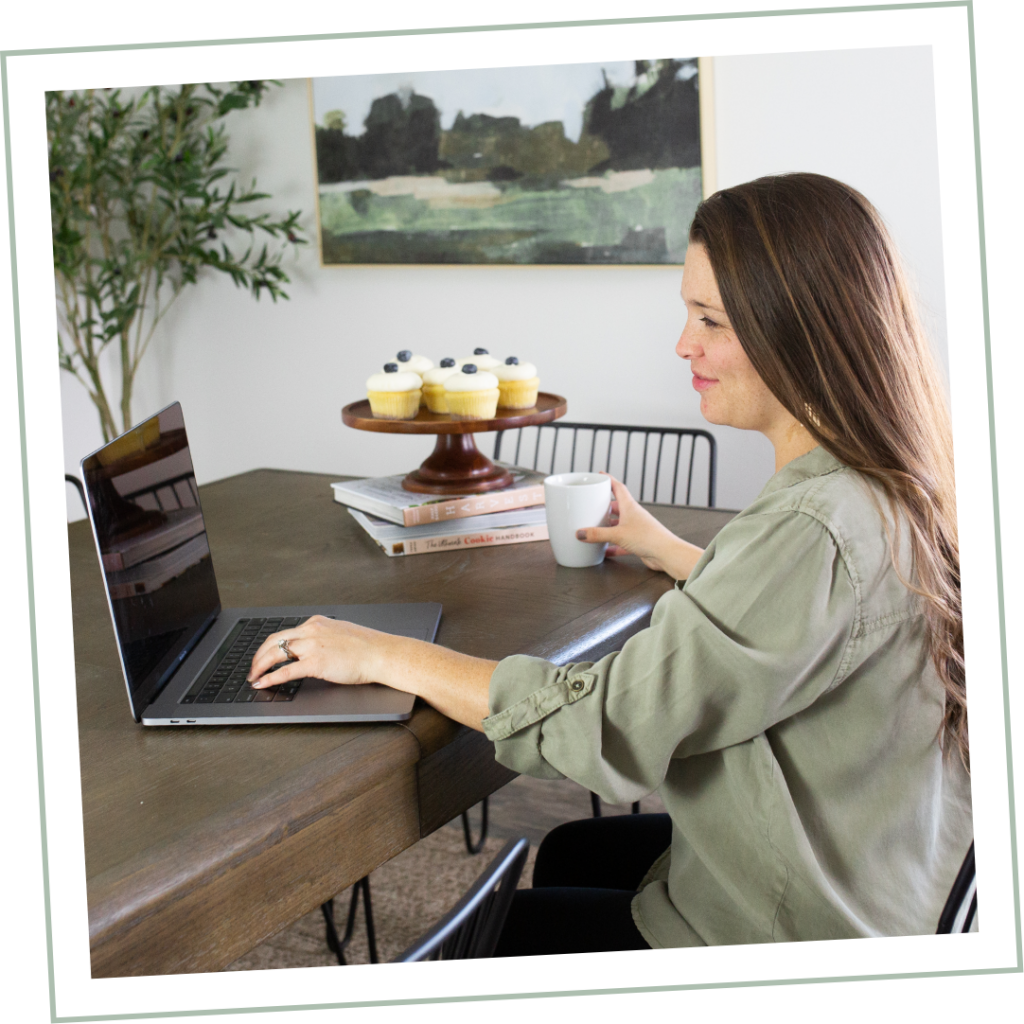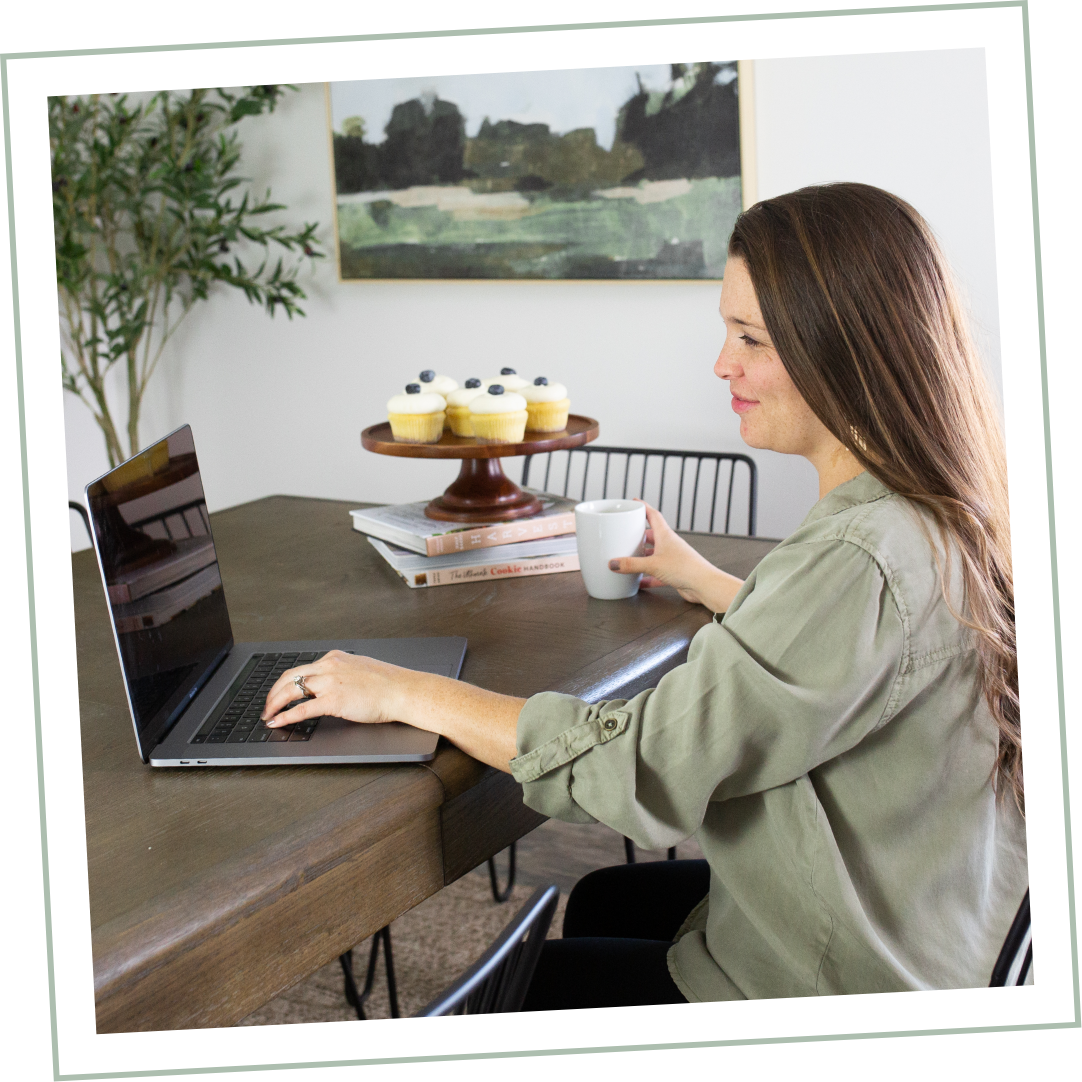 We create websites that become a trusted resource for your audience. A website where your readers can get lost in browsing the amazing content you have to share.

Since working with Madison, I have seen a really nice uptick in RPM. Also, my homepage is now one of my top 3 pages which has never happened!

From the start of the project to the very end, Grace + Vine was organized, professional, and Madison gave me great advice and recommendations while accommodating my wishes for my website.

Madison is super thoughtful about the design decisions she makes, and a great problem-solver. It was a unique experience, and I've been doing this a long, long time!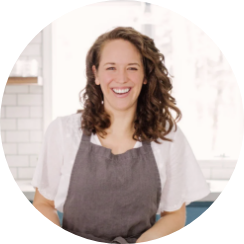 The final product came out wonderful, better than I could have imaged it! I am so happy that I chose Grace & Vine.
Our process combines strategy, intentional brand messaging & design, tactics for SEO and site speed to create a one-of-a-kind user experience for your readers.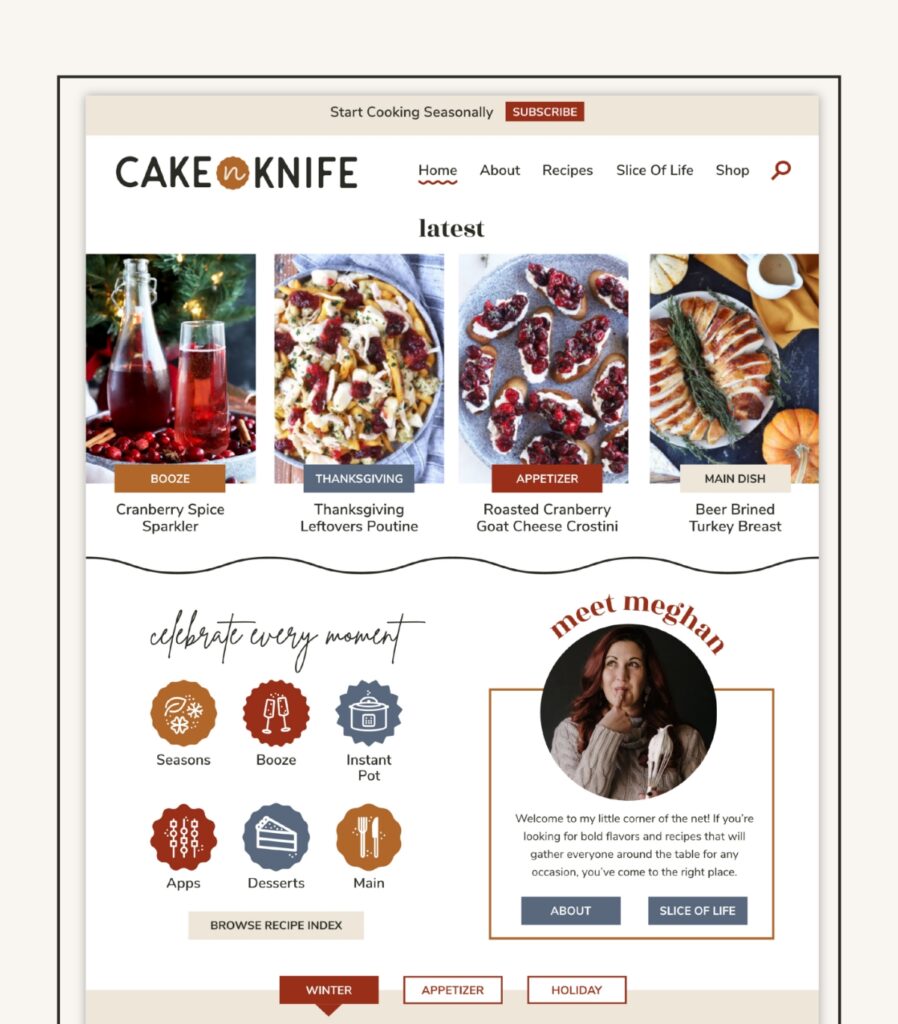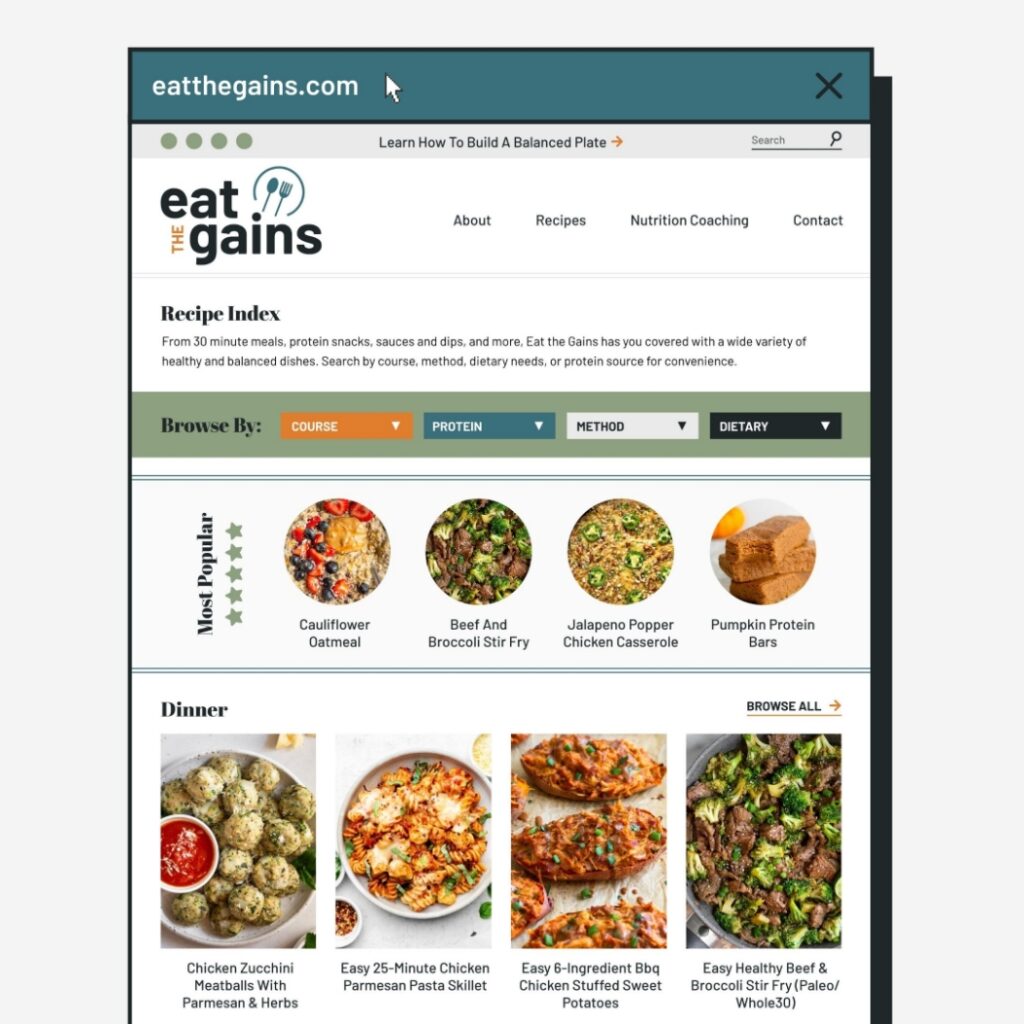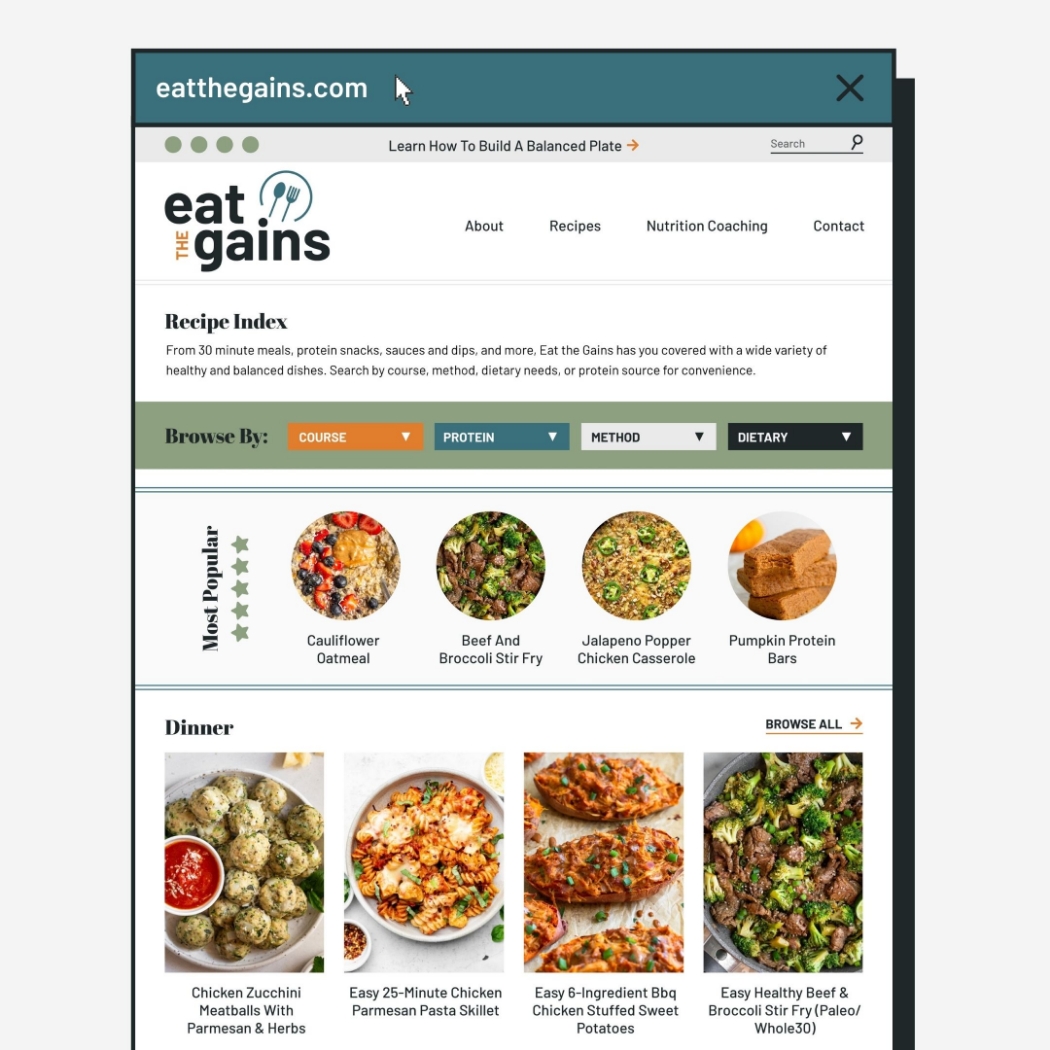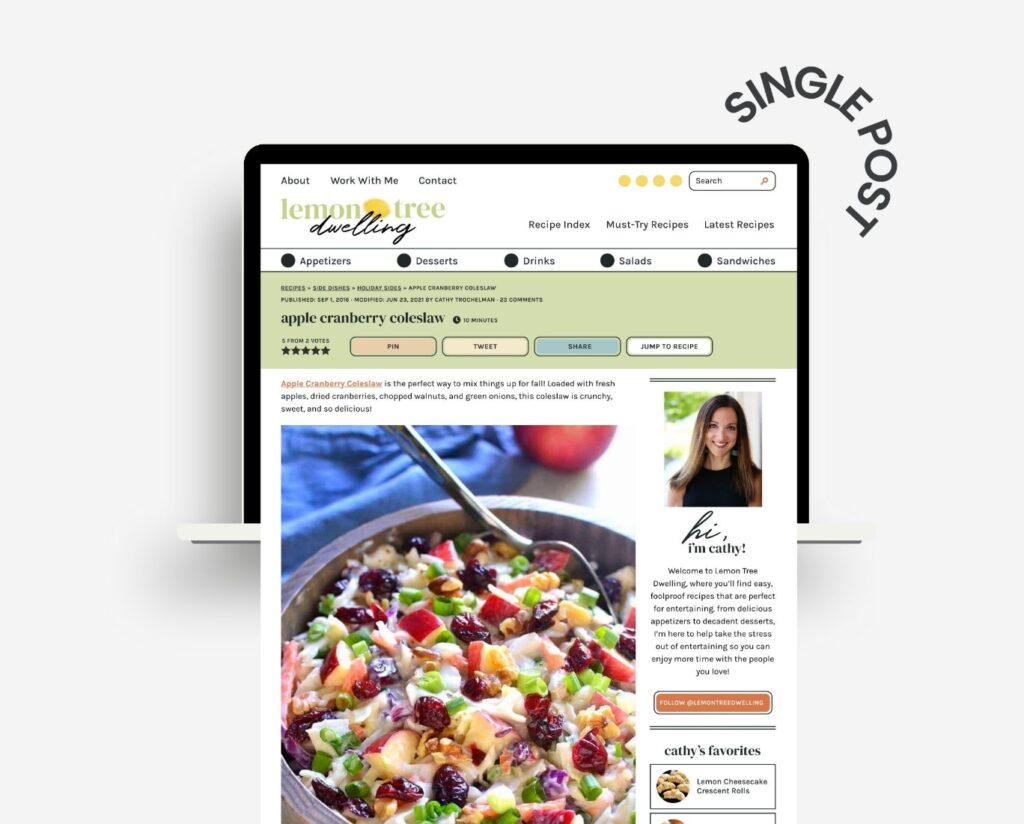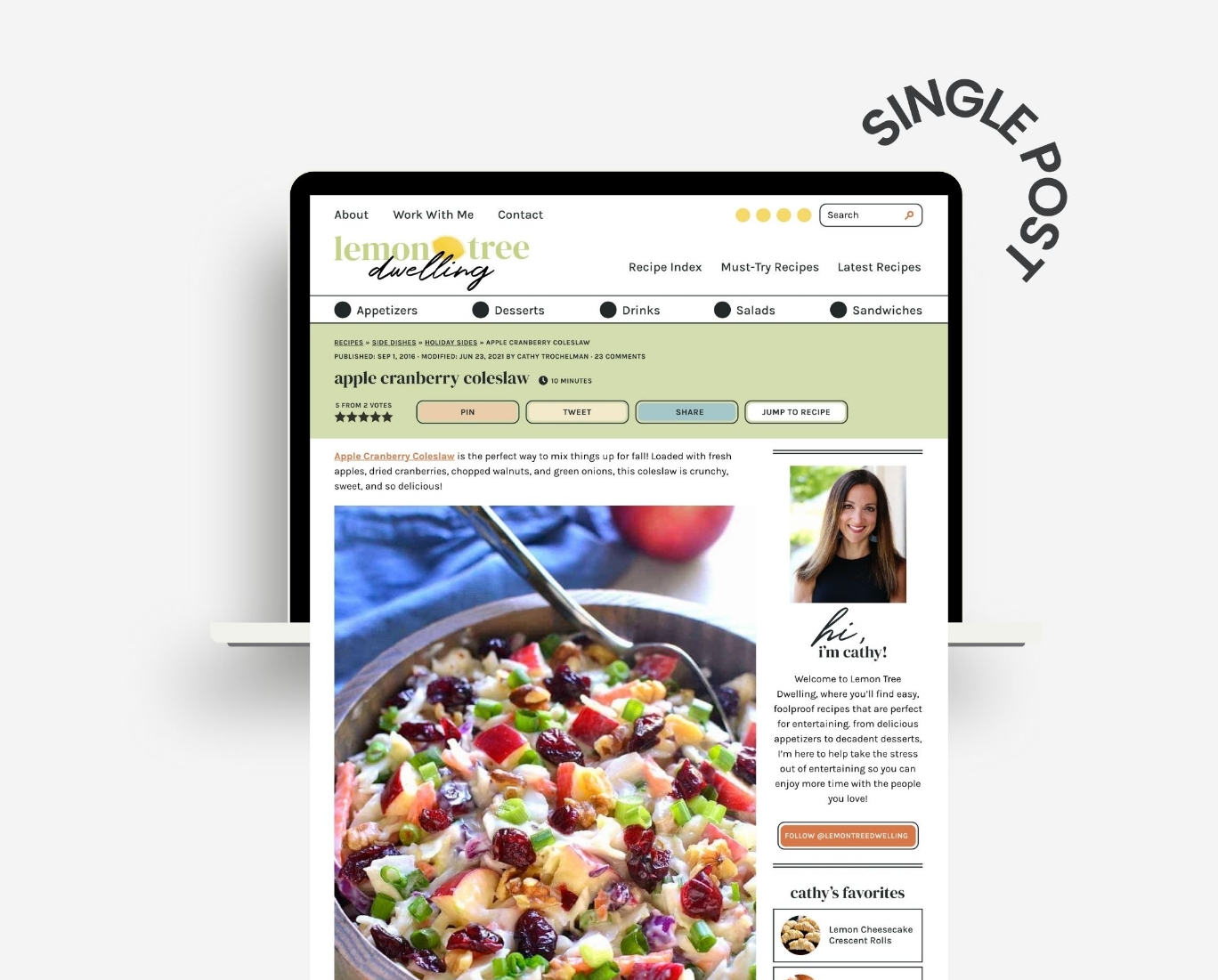 what's included
Audience Deep Dive and Strategy
Branding Strategy & Logo Design
Coordinating Marketing Item
Website Design
Custom Theme Development
Site Speed & Performance Audit
Launch Support & Launch Graphics
Client Concierge Post Launch
imagine your website looking like this…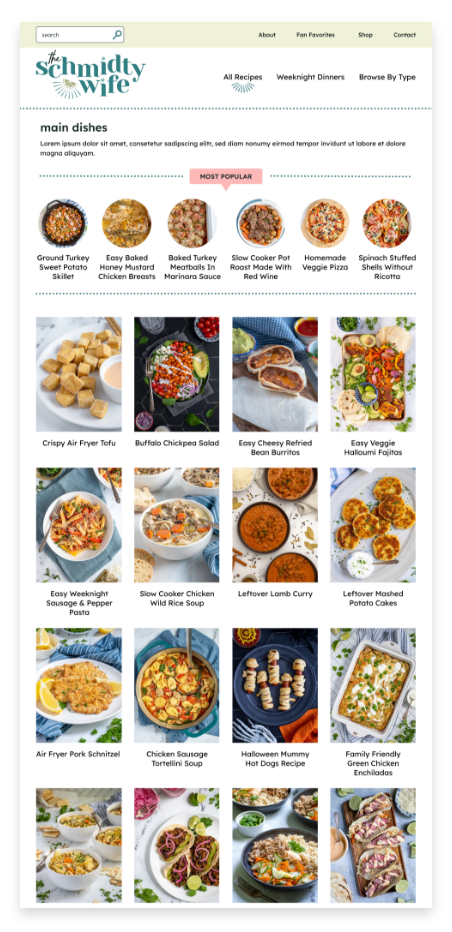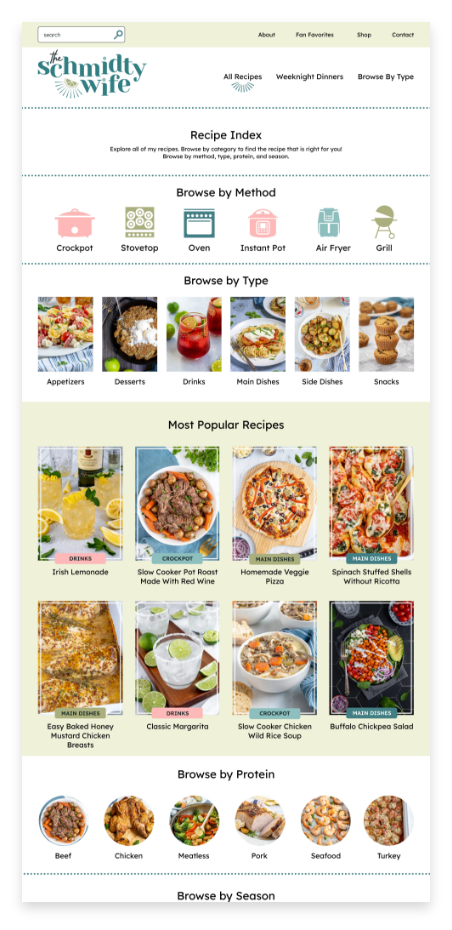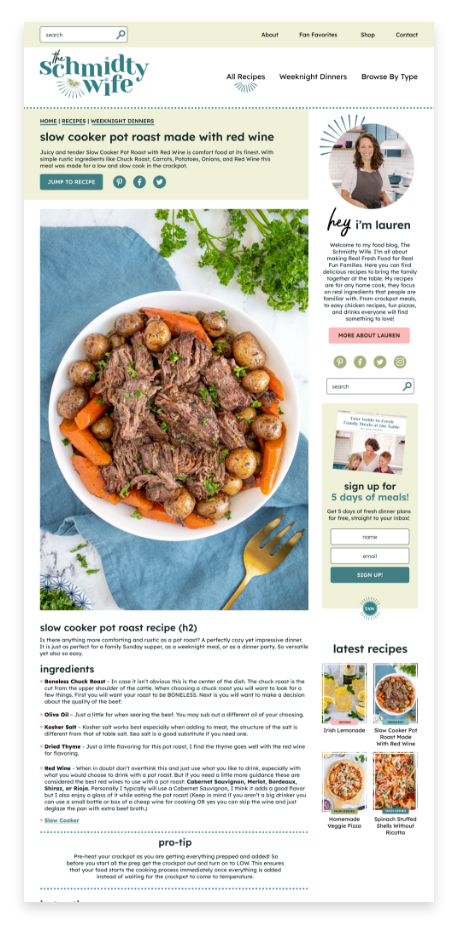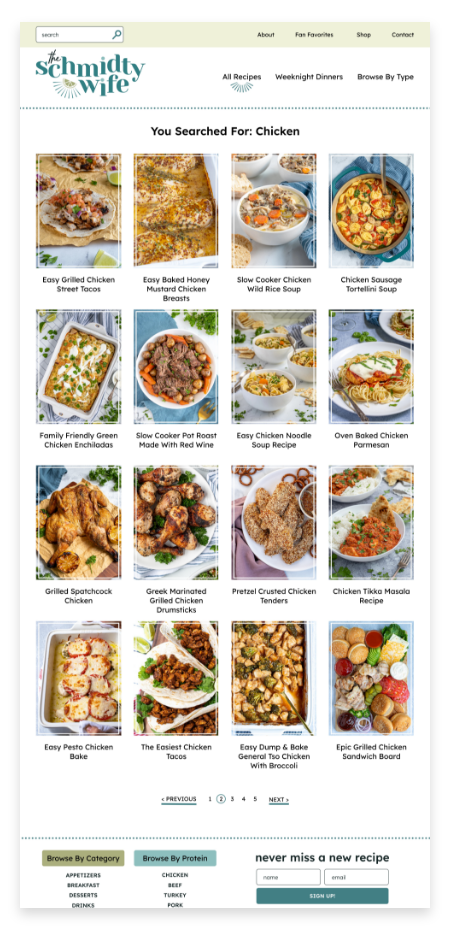 our process
1
Onboarding
You receive access to our onboarding course to get prepared for your project. We walk you through our challenging (but worth it!) branding questionnaire, brainstorming for your website, and how to create a Pinterest board.
2
Strategy
Every project begins with strategy around here. You'll get on a call with Madison to dig deep into your brand, audience/ideal reader, and website strategy.
3
Branding
This is when strategy meets visual brand identity. You'll receive a video walk through of your NEW logo and why each element was chosen.
4
Web Design
After branding is approved, we move into designing mockups for the main pages of your site – your homepage, recipe index, category pages and of course your single blog post! This is where it all really starts to come together and feel real 🤩
5
Development
This phase is where we are head down starting to code your new website and theme! At the end of this phase, we get on a video call and walk through the entire website making sure everything is in proper order.
6
Add-ons
We have a handful of collateral items you can add onto your project like a media kit, animated logo, or custom Pinterest templates. We wrap these up before the project launches!⠀
7
Launch
Once everything has been throughly reviewed, it's launch time!! 🚀 We choose a day and time that won't interrupt your highest traffic time periods and get ready to set the new site live!
faqs
How early should I reach out about my project?
We start new web design projects generally every other month. This means it can be a minimum of 4 months between when you book and when your new website would launch, so we recommend reaching out between 4-6 months ahead of time to secure your spot in our project queue.
How much work is required on my end?
The whole point of hiring an expert to work on your website is to take things OFF your plate. However, this process works best when you can dedicate time and attention to your project to ensure you get the best results!
We give our clients a minimum of 2-3 weeks to prepare for their project between signing your contract and starting. This time is needed to complete a branding questionnaire, web design brainstorming document and creating a Pinterest board. During the project, it's best to plan for a few hours per week to review tasks and send feedback. When the staging site is ready to review you may need a few days carved out to review thoroughly!
How do you handle site speed?
Our site speed review process covers a wide arrange of items that often contribute to poor site speed, such as theme optimization, plugin review and optimization, image optimization and hosting updates and recommendations when needed.
Our simple goal in this is to make sure every Grace + Vine Studios website passes Core Web Vitals and page speeds are within passing ranges. Our team monitors this progress through Google Search Console for at least 28 days after launch to make sure everything validates.
Will my site be down during the process?
The short answer is nope! We use a staging site to finalize your new website design which allows us to seamlessly push the design to your live site! This is done through your hosting company and instantly pushes everything live. Our team then reviews for anything that might not have transferred over, but there is virtually zero down time for your audience during this time!
What type of support do you offer after the launch?
We leave room in our schedule to be able to support small projects for past clients! You're welcome to reach out anytime you need additional support or work completed on your website. We do not have a monthly agreement, so this is strictly as needed.
What does the web design package include?
After working with so many food bloggers, we have crafted a web design package that includes all of the must haves for food bloggers. The web design package includes the design & development of these pages and templates:
Homepage
Recipe Index
Category Template
Blog Post Template
Search/Archive Page
You're also able to add on additional pages such as an about page, podcast page, etc., for an additional fee.
I want to be able to update _ in the future. Can I do that?
During your onboarding phase you'll be given a web design brainstorming document to share anything we should know about your ideas and preferences. If there is something specific that you'll want to be able to update you can share that with us there but in general, we try to design everything in a way that you can make your own updates and changes in the future!

Have other questions? Check out our full FAQ page or email us at hello@graceandvinestudios.com.