In blogging, there seems to be one constant: Change.
But it's not the only thing that stays the same. There are pages that every food blog (or any kind of blog, minus the recipe part) should have on their website that lend a great user experience, professionalism and clout.
And then, there are a few things that should always be a part of each of these pages.
Never miss an episode! Get notification of new podcast episodes to your inbox.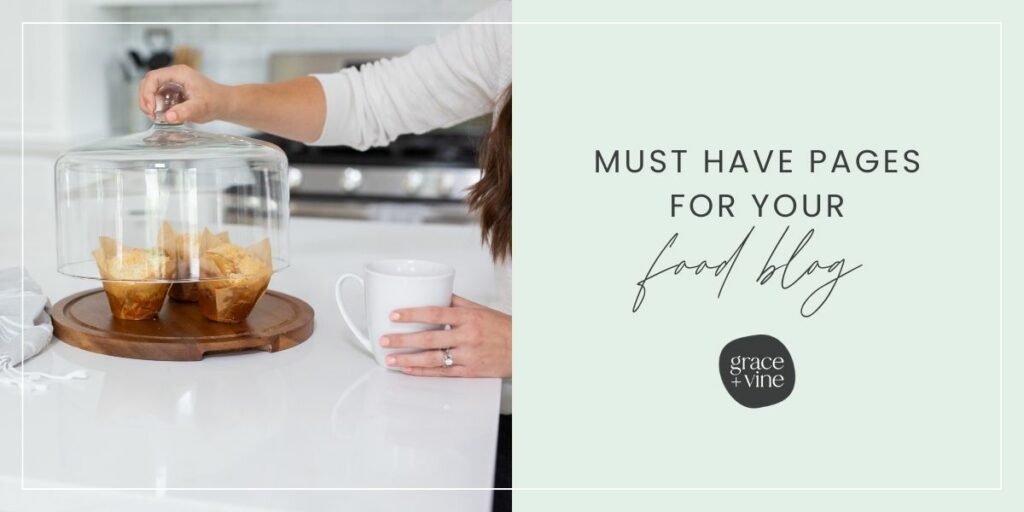 This post contains affiliate links. I receive a commission if you choose to make a purchase through these links.
The 6 pages every site needs
Every website should have these basic pages:
Homepage: This one is a no brainer! This is the page you get when someone types in yourwebsite.com.
About page: Another no-brainer, we hope. The About page is the next logical place someone would go to find out more about you and your site.
Contact page: You'd be surprised, but this page is one people forget. It's a good idea to have a way for people to get in touch with you. You wouldn't want to miss out on an article interview, book deal or great sponsorship, would you?
Recipe index page: Food bloggers will want to provide a way for readers to navigate their recipes quickly and easily.
"Work with me" page: If you provide a service, such as sponsored content, photography or recipe development, you should have a page with more information about these services.
Press page: A page with recent or memorable mentions is a great way to give your site some clout. If you've been on your local news station or mentioned in a big-name publication, include that accolade here.
All of these pages should be linked somewhere in the main navigation, footer or both of your website.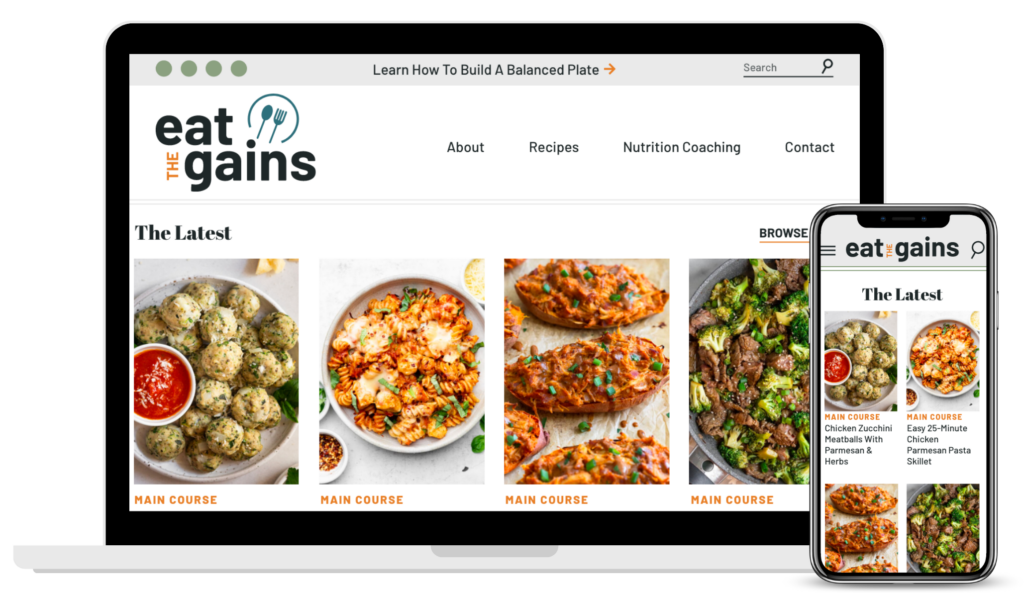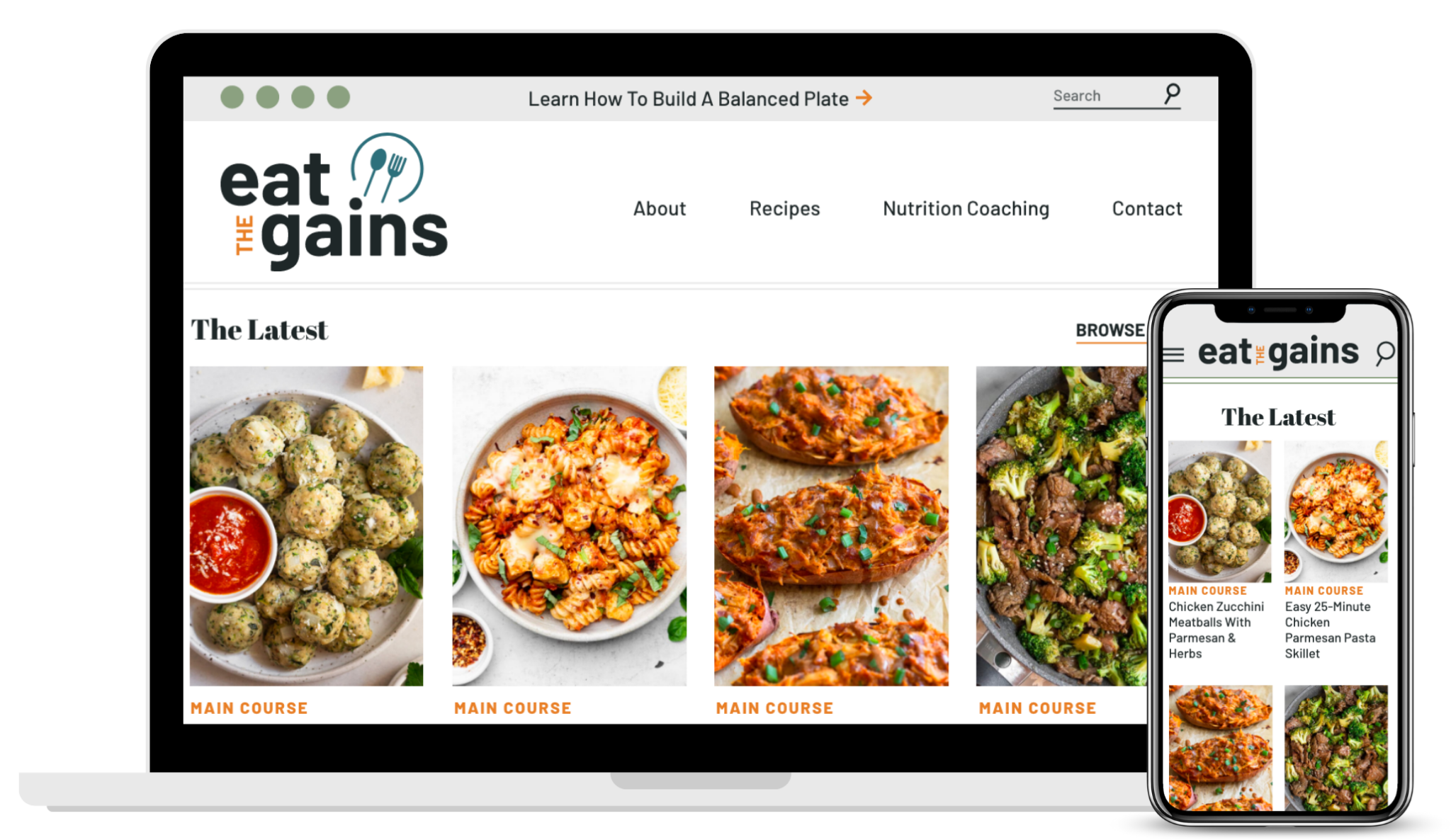 1. Homepage
The homepage is widely understood to be the main place people will go to learn more about your site and see what you are about.
But while the homepage might seem like it would be someone's first impression, it's more often than not their second impression because they will land a post of yours first, then head to the homepage to learn more.
So what should be on the homepage of your food blog? Your latest posts, top categories and popular posts. This should be the big picture of everything you produce. There are a few main things you should be doing:
Identifying your experience and expertise for EEAT. Tell people who you are and what your site is about, and why you're qualified to help them with your topic.
Driving home your brand messaging with your tagline, clever copy and a branded headshot.
Adding seasonal content to keep current and drive traffic to posts that interest people right now.
How often should you update your homepage? That depends. But if you have seasonal content, you should have at least a quarterly reminder — if not monthly, twice monthly, or as soon as a holiday is over — to update it with relevant posts.
2. About page
The about page is often someone's second or third page they visit. This is where they go when they want to go beyond what's on your homepage or a blog post.
But your about page isn't just for your readers — the search engines use it too. You should be discussing your credentials, expertise and experience for EEAT.
Examples: You're a mom who cooks meals for a large family? Talk about how you have overcome problems and can help your reader with your know-how. You're a nutritionist who touts a specific way of eating? Talk about your training, your own struggles with eating this way and how you can help them.
You should also share your favorite posts and the next step you want your readers to take. Give them a call to action, like signing up for your email list or following you on a particular platform.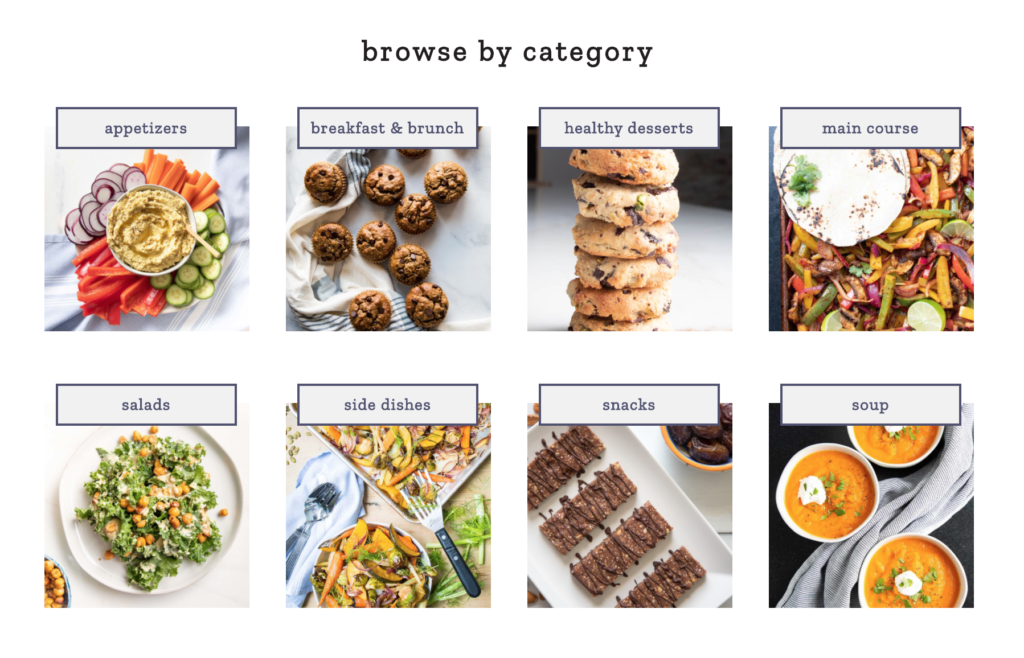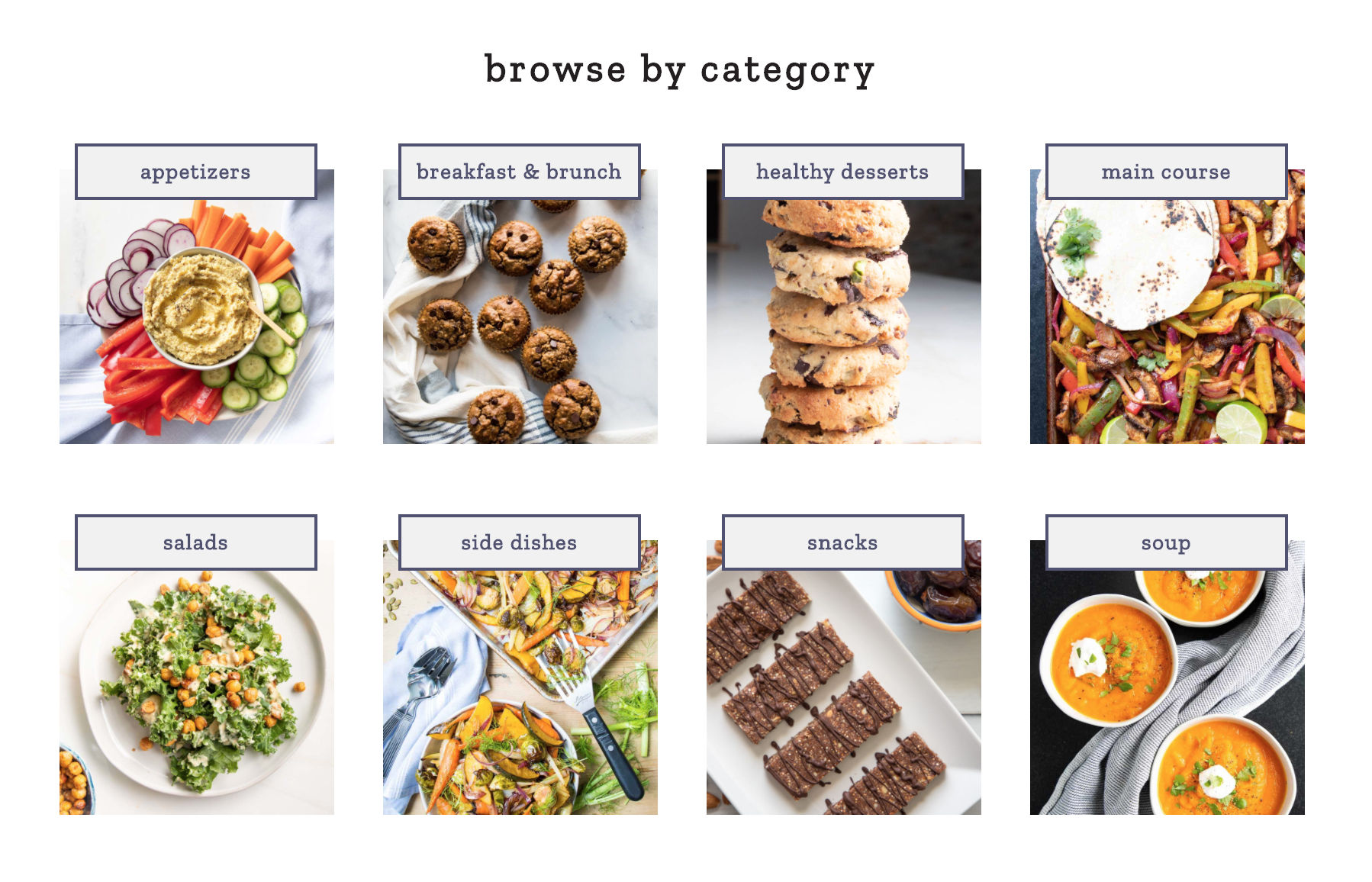 3. Recipe index
You might instinctually think the recipe index is for readers. It is, but they're not the only ones using it. In fact, readers are more likely to use the search function and related posts features to find more content on your site.
Google is who the recipe index is really for. Search engines use this page to get an idea of the content found on your site.
It should contain links to your top main categories, broken down into a manageable and organized way. A search box should also be on this page to help readers who land here find what they are looking for.
Here are some more tips for sprucing up your recipe index.
4. Contact page
An easy-to-find contact page of your site is key, so PLEASE don't make this information difficult to find!
Think: Potential clients, collaborators, brands and maybe the occasional reader may want to reach out. They don't want to go to your about page or Instagram account just to hunt down your contact info.
If including your email makes you twitchy, I get it. You don't have to include your email address — if you have a form that works. Be sure to test a form regularly to ensure it functions as expected.
However, some people don't trust forms and would rather have your email address, so include it if you are comfortable with it. You could even have a separate email account for people reaching out this way.
But you can have more on this page. For example, the Grace + Vine contact page also includes a link to our services. This helps cut down on emails on our end because people can find the answers to most of their questions on our site, and then they use the contact page when they are ready.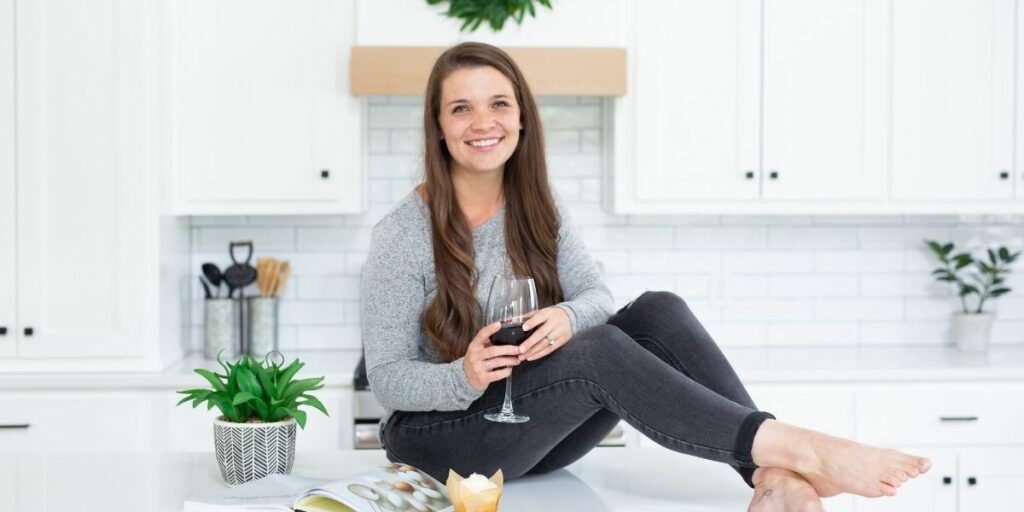 5. Services page
That leads us to the "Work with Me" or services page. This can be a short page about how you work with clients, such as:
recipe development
sponsored posts
photography
video production
social media
freelance writing
coaching
Give a brief description of what you offer, and perhaps a link to a portfolio website if you have one or just a few images or examples of previous work.
You can include a link to your media kit or just suggest they contact you for an updated copy.
If you do not work with clients or brands in any way, you can certainly skip adding this page to your site. But if you are open to it, it's worthwhile to keep this information available.
6. Press page
Last on the list is a press page. This page gives you extra, professional clout to Google (it's great for EEAT), potential clients, publications and readers.
Keep the items you link up here recent and limited to important mentions in credible sources, such as:
mentions in articles (print or web, local or national)
interviews
TV appearances
awards and accolades
You can also include an "as seen on" section on your homepage, but a press page is one you can quickly link to clients and brands to show your expertise.
TIP: As with anything, be sure to check out how these pages look on desktop and mobile. In a "mobile-first" web, it's important to view things as most readers will — even though we view our sites on a computer most often.
Do you have all of these pages on your website? If putting them together or using them to drive home your brand messaging sounds like something you need help with, please reach out. Our team would love to help you!
Pin for later
Come browse my Pinterest for more inspiration >>