There are endless strategies out there for growing your blog. But in today's episode, I'm sharing the four key types of strategies that you should have to really build a business that you love. Let's dive in!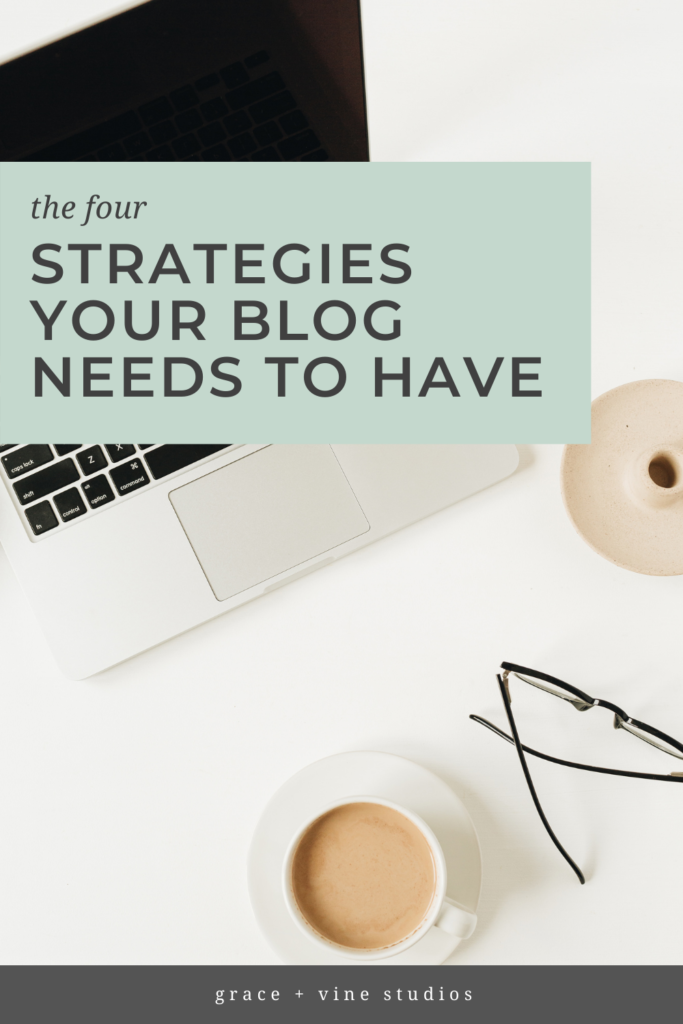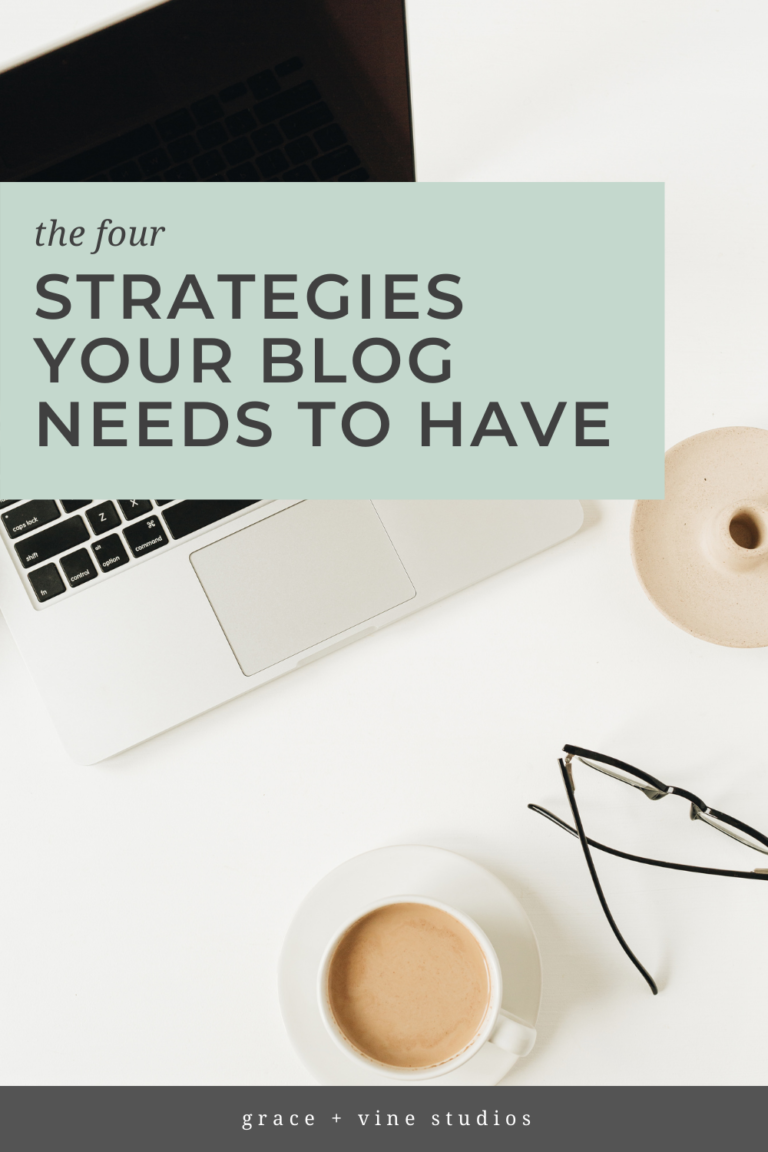 Never miss an episode! Get notification of new podcast episodes to your inbox.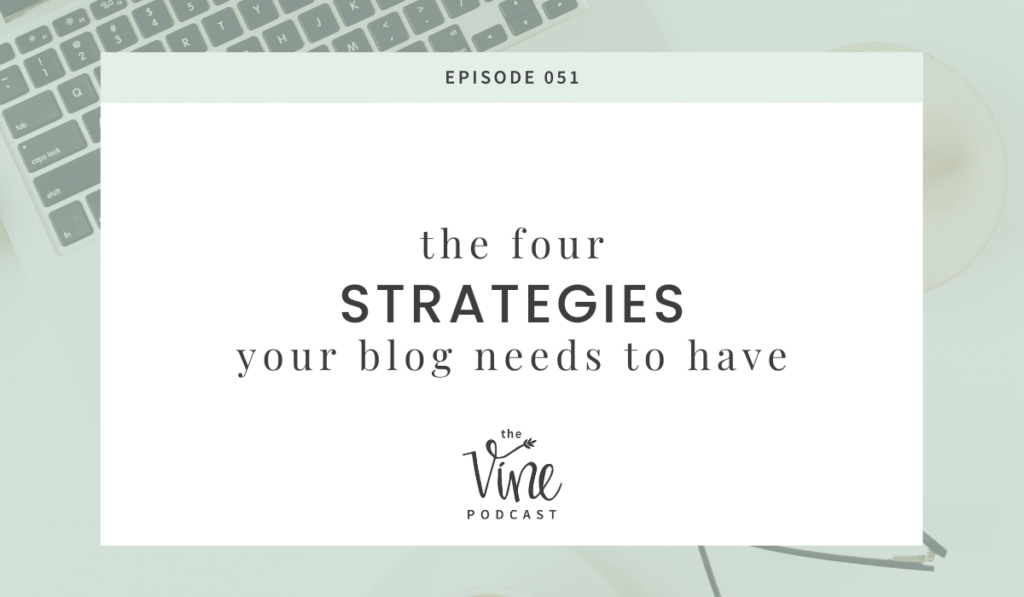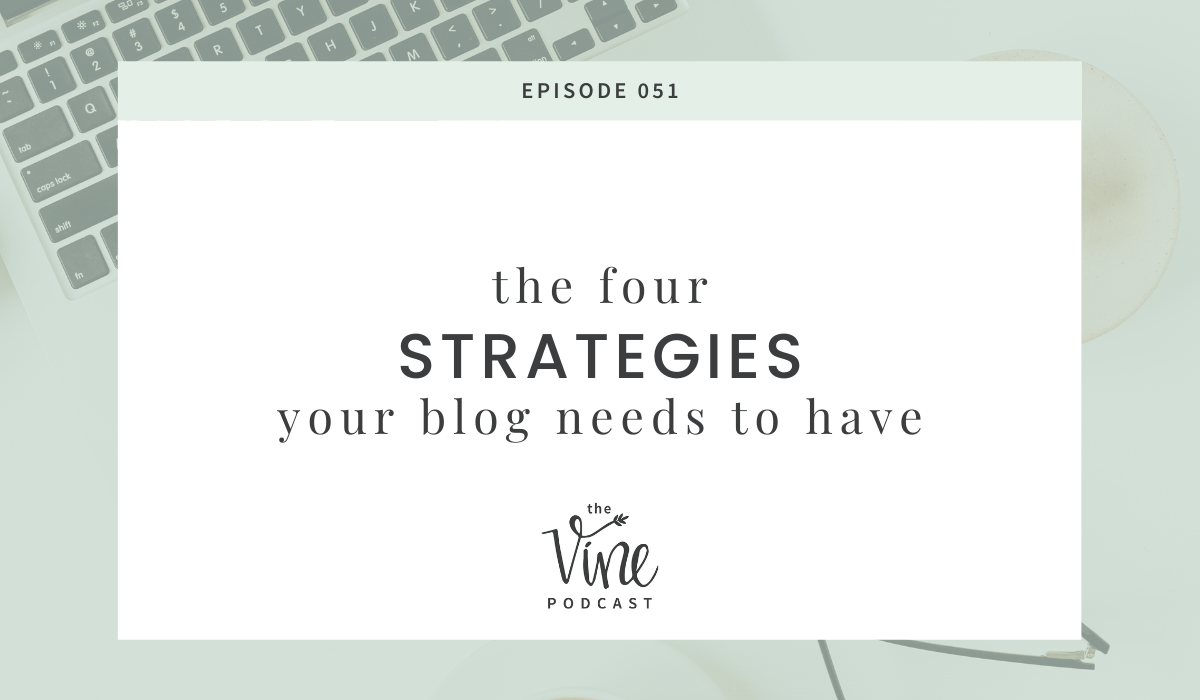 Can't listen to the episode? Read on for the transcript!
Here's the thing. There are SO many strategies out there. Whether you look specifically within the food blogging community for a strategy or just in the online business space, your brain may actually explode from all of the information.
I thought it might be helpful to break down the handful of strategies you should have to run a successful and hopefully profitable food blog. Let's break down these 4 strategies you need to have!
Content Strategy
As a food blogger, your content is your most valuable asset. But for so many food bloggers, content planning and strategy is a second thought. Having a content strategy is going to save you time and the headache of feeling like you are winging it.
In order to strategically plan your content (thus having a strategy!) you have to start by figuring out how often you want to post content. This can be a combination of updated and republished content and new content.
You'll want to figure out what your content buckets are for your blog. You can look at your categories within your dashboard to see which categories could use more content to make them more filled out. Or you can also think a little broader.
What are the broader categories of content that you create? Now if you want to post 2x a week, ideally you'd have 8 categories or buckets for each month, or repeat certain categories to fill out 8 posts per month.
You can always deviate from this plan, but having this plan will help you be more efficient AND get more quality content out to your audience.
Marketing Strategy
Now that you have the content written, what do you do with it?! In the old days of blogging it went out through your RSS feed and you were good to go. People saw it, clicked over and your post was seen.
These days marketing is much different. I've talked about this before, but on average it takes someone between 3-7 times to even notice your marketing efforts.
Having a marketing plan is essential to getting your content in front of people.
The way my brain works, I break down marketing into two topics. Email marketing and social media marketing.
Email Marketing
Having an email marketing strategy could mean the difference between having random people visiting your blog and people actually sticking around and becoming loyal fans.
In order to have an email marketing strategy, you need to have:
An email marketing platform (I use and recommend Convertkit)
A strategic freebie that actually helps your audience
A welcome sequence to connect with that new audience
A system for emailing your list regularly
If you want to learn more about email marketing, check out episode 41 of the podcast where I interviewed Liz Falcigno about getting started with email marketing or episode 29 with the 5 emails to send to your list right now.
Social Media
When it comes to social media there are two key factors to creating a strategy that works.
Do not try to be in all of the places
Go where your audience is
If you try to build an audience on multiple platforms your growth will be more stagnant. Focus on one for a quarter and build up some good habits there first. Then add in another platform.
But be sure that you're spending your time where your audience is!
Growth Strategy
One of the best strategies that you can have for your blog is a strategy for growth. I think so many food bloggers rely on the goal of wanting to grow their blog without ever really figuring out what that means.
The more I have talked with different food bloggers and worked with different people I have realized that every food blogger has a different idea of what success looks like to them and what type of growth they need to see in order to have that success.
I truly believe that in order to really see the growth that you want to see for your food blog you really need to have a strategy and start with setting goals.
Goal Setting
This has been one of the first years in my business that I have really worked on setting goals and looking forward to where I'm trying to go with my business. I'm not always the best at setting goals but what I have learned is that if you don't set goals you're likely to just feel like you are spinning your wheels and never really making progress on the overall goal of growing your blog.
Without having goals in mind for your blog it is really hard to know what actions to take and which opportunities to say yes to. There is always something new to do or some new strategy to try and without having something to measure those ideas against you really are left just guessing on whether or not doing something is going to propel your blog forward.
Before you start with setting a goal I really want you to look at why you are doing this business in the first place. it's so important to start there because everything else is going to fall in place after you understand the overall why behind what you are doing.
For you that might be that your food blog allows you to stay home and homeschool your kids or it could be that it gives you time freedom to travel and set your own schedule. For some of you it might mean the freedom to bring a spouse or partner home or to just be the one who is in charge of your schedule time and income.
You might even have other motivations that are specific to your audience. those motivations can drastically change which types of opportunities you take because you are able to really filter them through the lens of your why.
Monetization strategy
There is no cut-and-dry strategy for monetizing a blog and what that means for you and your business.
Even if you are not in the place yet to be monetizing your blog I really want you to be thinking ahead to what type of monetization strategy you want to have.
You can think about:
Running ads (learn all about running ads)
Working with brands (sponsored posts, affiliate marketing, in person or virtual events)
Creating digital products
Hosting a membership
Having this idea in mind is really going to help you know where you are going and give you direction!
Brand Strategy
It should probably come as no surprise that our last strategy type that we're going to talk about today is brand strategy.
Having a brand strategy for your food blog is going to give you a filter for the actions that you're going to take from your blog and what you're going to do.
Your brand strategy is going to help you have a foundation for who your audience is and what they're struggling with how you can help them and the ways in which you are going to help them.
Your brand strategy will help you to make the decisions of all of the other things that we talked about today.
If you have really no idea where to start when it comes to figuring out that brand strategy I want you to go back and listen to a couple of episodes on the podcast.
The most important thing is digging into who your audience is.
When I say that you need to understand who your audience is let me talk about what I do not mean I do not mean that you simply need to know where your audience shops or what their preferred Starbucks drink is.
You need to understand what motivates them, what their goals in life are, and ultimately what they are struggling with. All of these details may not directly relate to your content, but what this does is it gives you a well-rounded view of who your audience is not just when it comes to your content so that you can really understand where they're struggling the most and where you specifically can step in and help.
Pin for later
Come browse my Pinterest for more inspiration >>