Have you ever wondered how to find the BEST ideas for new blog posts? In this post, you'll learn how to strategically plan your content so that you can find the posts that will connect with your audience and perform well and bring in more traffic.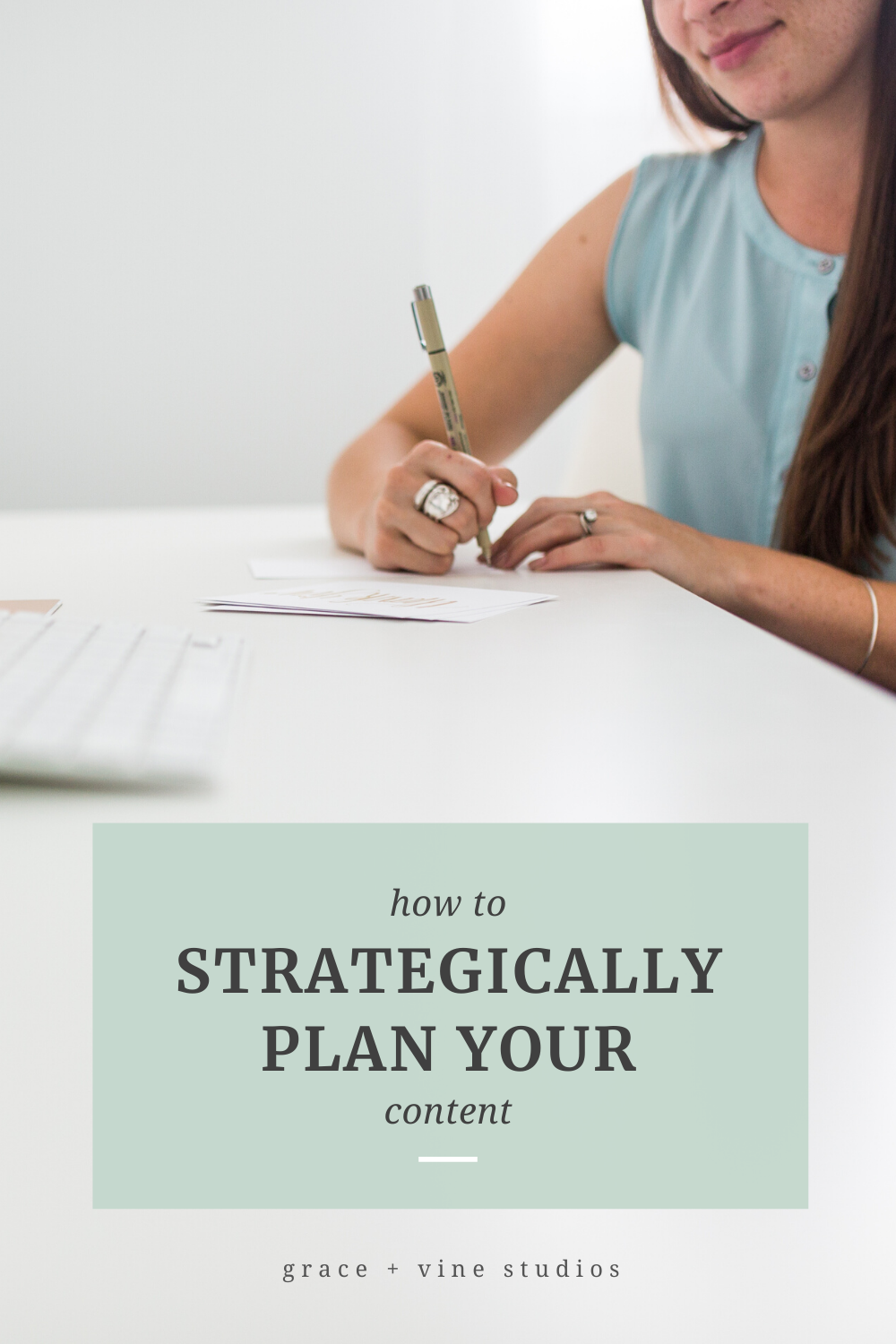 Never miss an episode! Get notification of new podcast episodes to your inbox.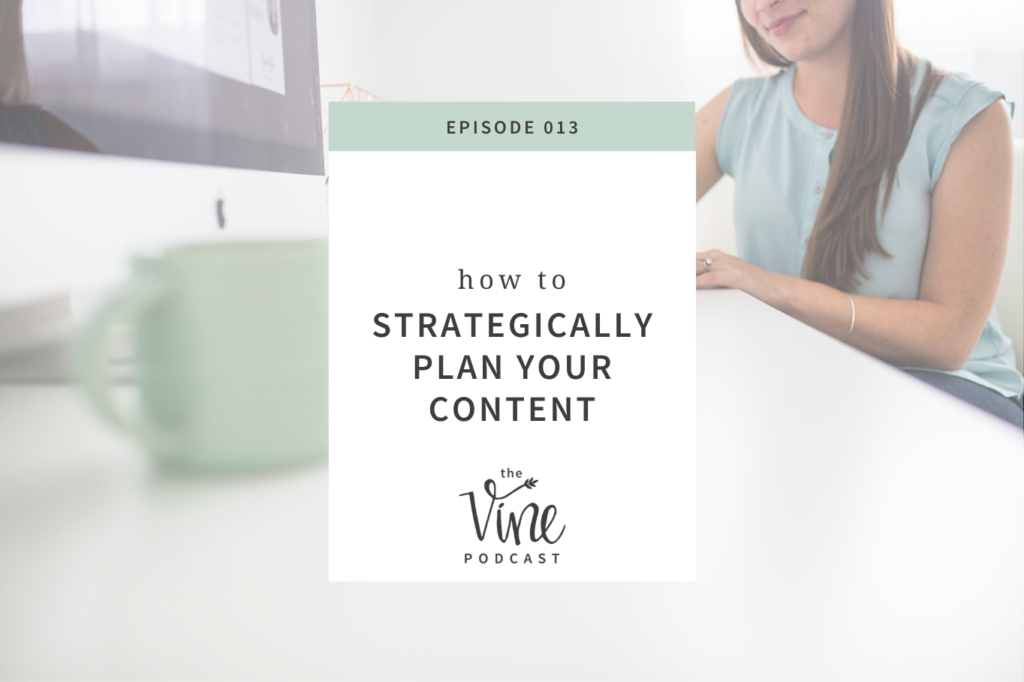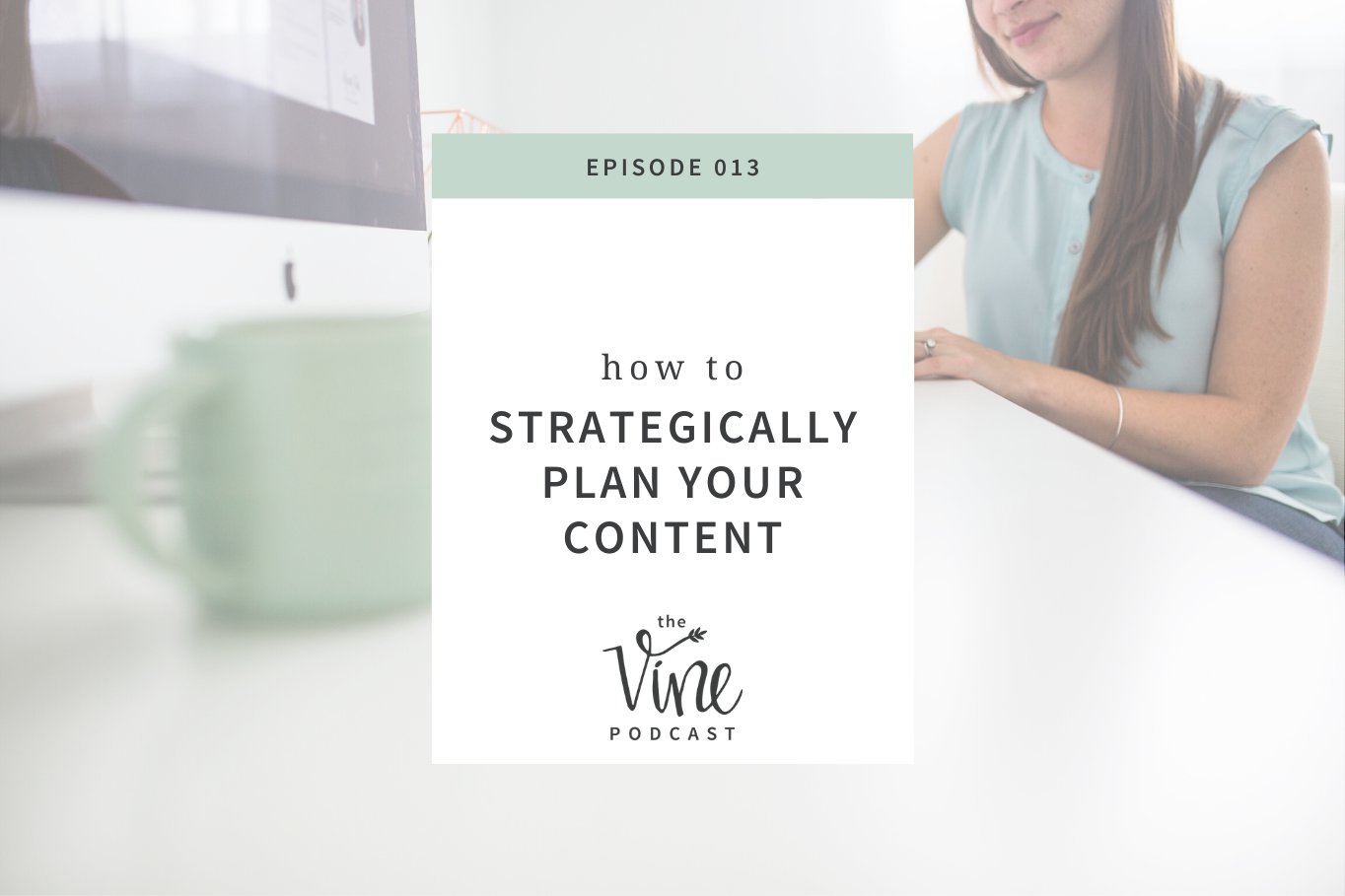 Can't listen to the episode? Read on for the transcript!
This is my favorite time of year for so many reasons, but one of the best is that it's naturally a time to reflect and review the past year.
I talked about how I like to review my year in episode 12, so if you haven't already, I would really encourage you to listen to that.
In order to strategically plan you content, it's really important to review what you've already done. This helps you to see so many trends, see what's already performed well and to know what you can do to keep improving.
Strategically planning your content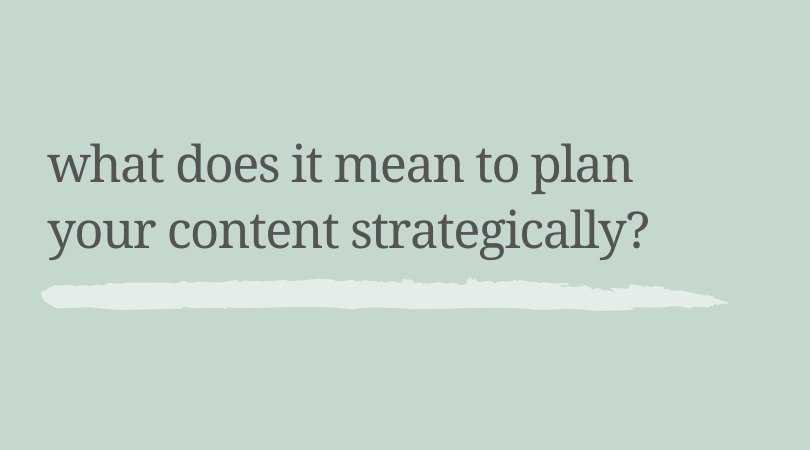 Strategically planning your content means doing more than just coming up with ideas and sharing them on your blog. It's all about analyzing your ideas.
It's about finding the sweet spot between the content that is good for your audience and has good keywords to bring in traffic from Google.
Start with your ideas
If you have a list of ideas that you keep throughout the year, pull those out so you can cross reference them.
If you don't have a list of ideas, that's okay. We're going to come up with a lot of ideas throughout this process, and you'll be able to keep that list on hand for next time.
The first thing I want you to think about is how often you want to publish new content.
Is that once per week or twice?
You should also consider how often you're going to republish old content when you're deciding on your content schedule.
If you republish old content once per week and have a new blog post once per week, then you'll need half as many new ideas.
The point of this exercise is really to get all of your ideas on paper or in a Google Doc so you can sort through them and pull out the best ideas.
Review your previous year's content
Once you have your list, you can review last year's content. Look for your posts that either resonated with your audience, had organic traffic coming to it, or did well on social media or Pinterest.
Make a note of any commonalities you see in your past content. Is it a specific type of content?
Analyze the content and note what made that piece of content do well. Most of the time we don't really know what made something perform well instead of others, but try to think strategically about what may have helped that post do well.
Once you have the content that did well in front of you, start thinking about your ideas in two separate buckets.
The first is what additional content would pair well with this recipe, and the second is what recipe could I make that is similar to this that my audience would also enjoy?
For example, one of the posts on my blog that did well during the past year on Pinterest was 10 Leftover Chicken Recipes.
Additional content I could create could be recipes that actually use leftover chicken, which would allow me to then edit the original post to feature more recipes that were on my own site. I could also create a post for leftover ham or turkey recipes.
The second post that performed well on my site was Chocolate Gluten-Free Pancakes. I could write a few blog posts about breakfast side dishes or breakfast cocktails, which are things that I would serve alongside those gluten-free pancakes.
I could also write more pancake recipes that are gluten free or maybe use oat flour. Maybe how to make your own oat flour, for example.
It doesn't necessarily mean that these new ideas will always perform well, but it gives you a place to start knowing that your audience, Google, or Pinterest has liked this type of content.
Review your brand messaging and niche
If you've shifting your niche or brand messaging during the last year, or you've gotten more clear on it, it's really important to come up with ideas that are specific to that new niche.
If you listened to episode three all about clear & strategic brand messaging, you may have realized that you need to be more specific in your brand messaging and you may plan on working on that next year with your content.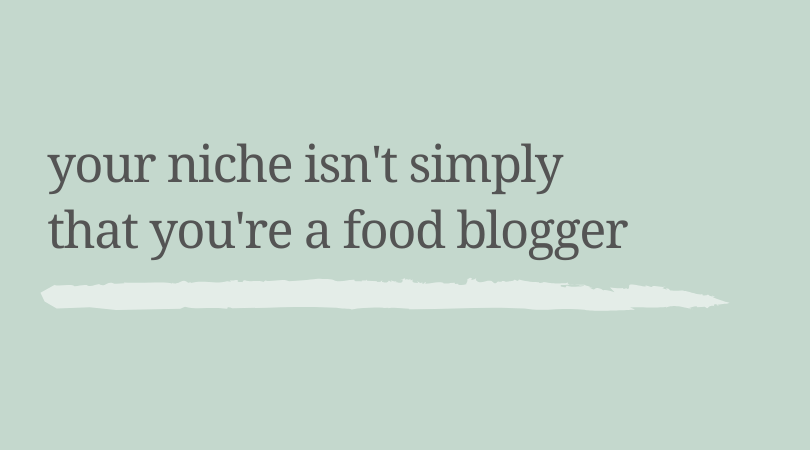 Really dive into what that is if you haven't already so you can plan and create your content around your niche.
When you're thinking about your niche, consider the type of content you need to create to make yourself the expert of that niche and messaging.
Write down at least five ideas to help start to establish that expertise within your niche.
Rather than giving you a bunch of examples that might overwhelm you, if you need some brainstorming help, just send me a DM on Instagram, and I'll help you brainstorm. I love helping people come up with ideas.
One thing to note here is that your ideas might not be all recipes.
You may need to stretch the limits of what you think your niche is for a little bit to create content that will help your audience on their journey and will help your brand messaging become more apparent.
Three questions to ask about every idea
Last year when I was planning content for my blog, I realized that I needed to have a specific set of questions to ask myself every time I had an idea.
If you know me in real life, you know that I always have a million ideas running through my head, and asking myself a few questions helps filter through them.
Now that you have your list of ideas, I want you to ask yourself these questions, too.
1. Does this recipe help your audience on their journey?
That journey is where your audience is now versus where you want to take them through your content. Make sure that your new blog post idea helps them get there.
If it's a random recipe that has nothing to do with your brand messaging or nothing to do with your niche, it's probably not going to be a good fit.
2. Does this recipe align with your brand message?
This ties into the same concept as the first question, but even if your blog post doesn't necessarily help someone on their journey but it helps with your brand message and establishing your expertise, then it passes the test.
3. Is this recipe good for SEO or could it do well on Pinterest?
The reason I mention both SEO and Pinterest is because the content that works for one may not work for the other. It's really important that you take that into consideration.
There are some recipes that people are not going to be searching for on Google but might show up in their feed on Pinterest that they'd want to click through and learn how to make.
Not every post has be a "yes" for all three of these questions. But it is good to at least ask the questions to test the strength of your ideas!
There are going to be times when you focus on a piece of content that might not be very good for Google, but it's great for your brand messaging. You have to have both if you want to have an engaged audience on social media or your email list.
It's totally okay to have a recipe that doesn't fit into the Google or Pinterest favor, but maybe is really strong and great for your audience.
If none of your recipes are good for SEO or Pinterest, it'll be harder to grow your blog traffic, but if non of your recipes are good for your readers, it's going to be hard to build an engaged audience.
That's where the balance comes in, and this is where you have to be strategic and think about the sweet spot between those two things to create the best content possible for your blog.
Asking Your Audience
If you aren't asking your audience what they want to see from you, now is a really great time to do that.
My clients often ask me how to do this, and while sometimes we get a little too focused on how, here are a few ways you can do this:
Use question boxes or polls on Instagram stories
Direct Message someone who's a really engaged fan and ask them what kind of content they've loved or would look to see
Ask a friend who fits into your ideal reader profile what they'd like to see
Get on a call with your readers and ask them pointed questions to figure out how to serve them
The last option is my favorite, and it's something that I don't see a lot of people in the food blogging space or regular business space really doing.
You would be shocked by how much information you can get out of someone in just five minutes of a face to face conversation.
You can even incentivize them by giving them a $5 Starbucks card or sending them an exclusive recipe that you might not have shared yet.
You would be surprised by the people who are your true fans and how much they would want to help do this.
Now that you have your list of ideas and the content that has performed well in the past, plus the ideas that came from that content, and any ideas that came from your brand messaging, it's time to start planning out what your blog posts will be next year.
Then you can put pencil to paper or pull out your calendar to schedule your content.
Making Brand Messaging a Priority
If you're really focused on making your brand messaging a priority this year, then I would recommend doing at least one post per month that focuses on your brand messaging.
Sometimes this is a difficult thing for people to prioritize simply because they get caught up with trying to make the most impact in the least amount of time, especially when there's so much going on in your life.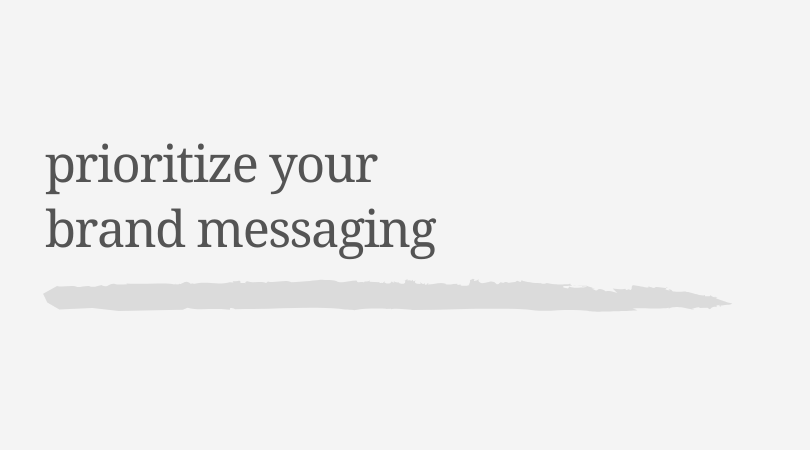 It will pay off in the long run when you have an engaged audience who are ready to purchase products from you because you have connected with them in a meaningful way.
Having those engaged fans, those super fans, are really going to make this food blogging journey so worth it.
Be sure to also make room for things like sponsored content to come up, and holiday type posts to come up in your calendar as well.
Think about the entire year as an opportunity to utilize all of these ideas that are going to further along your brand messaging and will help bring more traffic to your blog.
Keyword Research
I didn't mention keyword research, but you definitely also want to do some preliminary keyword research as you're planning out your content to make sure that these ideas are worth executing in terms of Google or Pinterest.
Wrapping Up
I hope that you're feeling inspired and have lots of ideas written down for your blog.
Starting out the year with a strong editorial claendar that really hits all ofthe highlights of things you want to cover for the year can make a huge impact in the way that your blog is going to grow.
I'm really excited for the next few episodes as we wrap up this year, and I hope that they're going to be encouraging for you and make you feel like next year is going to be your best year ever. I know it can be.