There's a month left until Q4 starts, but luckily the highest traffic days aren't until just before Thanksgiving. You've got some time, but time is going fast.
Never miss an episode! Get notification of new podcast episodes to your inbox.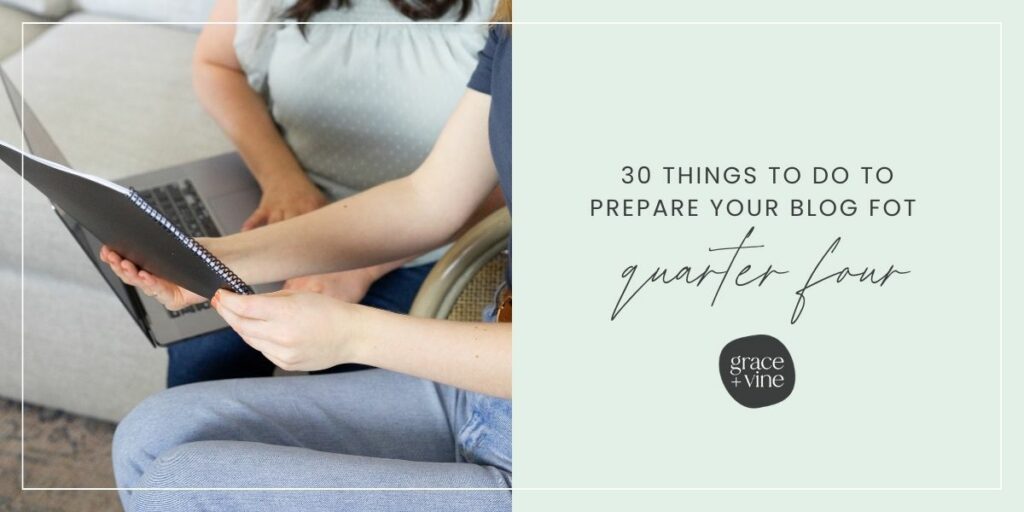 1. Set some goals.
Grab a notepad and jot down some goals that come to mind. Then be sure to review them and make sure they are strategic! Your goals should be associated with an action.
For example "grow traffic," is not specific enough. "Make three web stories a week to help grow traffic" is much more actionable and will help you achieve results.
2. Make your goals memorable.
Once you have your goals written down, it's important to remember them too. Write them on a sticky note and put it somewhere you'll see them often like your laptop or a mirror. You could even set them as the background of your phone or computer.
3. Get some accountability.
Once you have some goals and a plan, tell a blogging friend about them. Ask for theirs, too, and make a plan to check in with each other throughout the quarter to give status reports, ask for help and ideas and — most importantly — cheer each other on.
4. Make any big changes now.
If you are planning to switch recipe cards, ad networks, hosting companies or email platforms, get this big task out of the way so you aren't bogged down with issues during high-traffic times. You'll be so glad you did.
5. Decide how much content to create.
It's key to make a content plan ASAP if you don't have one. Ask yourself: How often will you post new content in Q4? Whether you maintain your normal posting schedule or post less new stuff to make room for updates, it's important to figure this out now.
6. Decide how much content to update.
Like many bloggers, you are probably sitting on a gold mine of old posts. With a text refresh or a major makeover, your old posts can work harder for you. They have the benefit of old URLs that Google already knows about.
Consider making as much room for updates as you do new content. Look at old posts that didn't get as much traffic last year, and do some keyword research around those to see the potential.
7. Explore your popular content.
These are the posts that are already performing well and can give you a clue as to what new post ideas might do well for you. Take your most popular Q4 content and write down ideas for 1 or 2 new blog post ideas for each of your top 5-10 blog posts.
8. Consider non-recipe content.
Come up with related supporting articles that may not be recipes. These could be round-ups, how-tos, or even similar recipes. For example: If your pie crust recipe does well, you could do a roundup of pie recipes, a tutorial on how to roll out pie crust or decorate pies, and recipes on how to make gluten-free pie crust or a chocolate pie crust.
These blog posts can expand on FAQs within your recipe blog posts and are often easy to write up! Use photos from the original recipe post to make this even simpler for yourself.
Pro tip: Be sure to then link to these resource based posts in the original recipe post that inspired them.
9. Decide on the best ideas.
Not all ideas are winners! You now know how many blog post ideas you need to choose and have your list of ideas in front of you. Now you need to run each idea through a filter to decide which ideas are best.
Here's a basic checklist to run each idea by:
Does this content idea fit into your niche?
Does it help my ideal reader?
Is there a valuable keyword for this idea?
10. Make a plan.
Now that you have the ball rolling on big changes as well as the content you want to create and update this year, put it all on a calendar, spreadsheet or planner. (Choose the method that works for you — don't reinvent the wheel right now!) Be sure to dedicate some time to shorter daily tasks, like web stories or a quick post optimization, as well as monthly tasks like reviewing the month and analyzing analytics.
11. Go for low-volume keywords.
When doing keyword research, be sure to look for ones with high volume and low difficulty. Most bloggers are unlikely to rank for really big terms, so go for smaller volume words with less competition.
12. Look for easy, quick updates in your top content.
If your site is monetized, top posts should be bringing you the most money. But could they do even better? Do a quick run-through each day of a post in your top 10 and make sure they are following these best practices for RPM:
Word count of at least 500 words
Short, 1-3 sentence paragraphs
Use many vertical images
13. Do these quick wins for site speed.
There are a few quick wins for site speed that are things you can do yourself without hiring an expert. Make sure you've done them all.
14. Do a user experience mini audit.
Take note of the initial experience you have on your website.
Is anything broken or out of place? If you immediately notice things like broken images, layout issues on the pages, text that is too large or too small, etc.
Does the website load quickly? This is about more than a page speed score… as a user, how does it load for you?
Do pop ups or ads block your content from view within the first 3-5 seconds or 20-30% of the page?
Is your font size at least 18px? And is your line height at least 1.6?
Be sure to check this on mobile devices and in incognito mode on your desktop browser.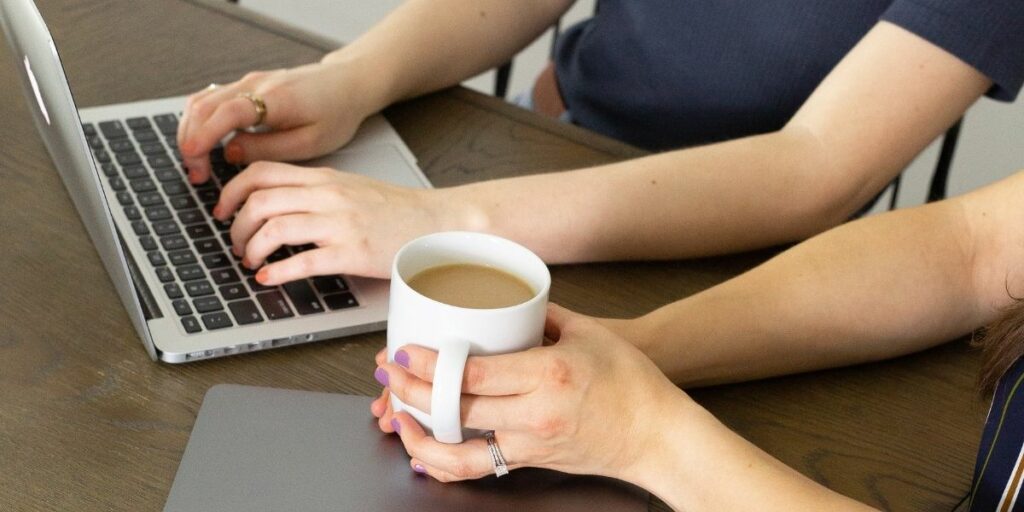 15. Check for functionality.
Poke around your site looking for the answers to these questions:
Do your social media links all work and open in a new tab?
Are your in content links styled differently than your regular text? Do they change when hovering over them (on desktop)?
Do you have an easy to find search bar?
Do you have popular or seasonal posts in your sidebar?
16. Simplify your navigation.
These are the menus and dropdowns at the top of your site. Check your footer links too, as those are easily forgotten.
Do all of your navigation links work? Check that links within your domain open in the SAME tab, and any links off your website open in a NEW tab.
Do you have links in your navigation to some of your top categories or resources?
Do you link to your recipe index on your navigation?
17. Make sure you're reachable.
Readers are looking for recipes in Q4 in a serious way. Are you set up to answer their questions?
Do you have a contact page? Does it have your actual email address (not just a form)?
Do you have a FAQ section or page to answer reader questions?
Does your comment box work? Try it on mobile, desktop and different browsers.
18. Check your email sign-up forms.
If you have an email newsletter, be sure to audit your lead generation to make sure everything is working properly. Not that you need to have the following things, but take note of what you do have for later:
Do you have an email sign up form?
Do you promote just one throughout your website or multiple?
Do you have one specific for Q4?
And if you don't have an email newsletter, now is a great time to set one up. You will get more traffic to your site this quarter, so take advantage of this, even if you aren't ready to start sending emails.
19. Cull your email list.
Getting rid of cold subscribers will help you increase your engagement rates. Most email platforms have a way for you to
20. Review (or set up) your freebie
Have you reviewed your main freebie lately? It's a good time to double check that the sign up form works as well as whatever automations need to come after.
If you don't have a freebie, or don't have a Q4-specific one, now is a great time to set one up. We put together a great guide to email opt-ins for Q4.
21. Send newsletters.
What good is an email list if you don't use it? Being consistent with emails helps your readers to remember who you are when you show up in their inbox each week.
It's also a good idea to take some time to get ahead on scheduling so that you can enjoy the holidays and not stress about what to send each week.
22. Set up a nurture sequence.
Set up a nurture sequence to help you engage new subscribers right off the bat. This could be a short series of four emails, a week's worth or more. Introduce readers to you, your site and how you can help solve their problems.
23. Create pins.
Do an audit of your top posts. Do they have pin designs ready to go for Pinterest? Could the post benefit from a new pin template? This episode we did with Kate Ahl of Simple Pin Media on getting more traffic from Pinterest is a great listen.
24. Plan out social content.
Go ahead and brainstorm your social content. Even if you don't get into the nitty gritty of what you will post each day, decide when you will begin sharing Halloween content, etc. Setting themed weeks will help guide you when you aren't sure what to post. A list like this is also a great thing you can hand off to a virtual assistant.
25. Boost your affiliate earnings.
It's not all about the ads.
People are already spending more money in the holiday season and if you have a tool to recommend, they are more likely to purchase it during this time or at least click through to see what it is which means you'll get affiliate commission on their Christmas shopping. Win-win!
Also consider other affiliate links that would be helpful in posts like gift guides! Think of these in the realm of resource blog posts… what can you share with your audience that is helpful for them as they are doing their holiday cooking or shopping? If you are a grilling enthusiast, recommend some of your favorite grilling tools or cookbooks in a gift guide!
26. Plan some time off.
Time to recharge is so important. First of all, be sure to schedule some you time during Q4. Make appointments for pedicures or a massage. Plan a no-work weekend or a weekend away.
Second, decide how long you want to unplug and take off from working on your blog. Ultimately this will help you know how to plan for this time! Whether it's just a few days or a full month off, you need to know how long to plan for.
27. Plan your content for the break.
This may mean prioritizing your posts that will go live while you're off before the rest of your content, or just working ahead. Either way, it lets you start making a plan because you know how long you need to plan for and can create the tasks for yourself to start on your content.
You're already working on your Q4 content, but you might also want to plan for the first few posts of 2023 so that you aren't immediately behind when you come back from the break.
28. Decide if you need any additional support for your business during this time.
Maybe you are a little terrified of being unplugged from your business and something happens to your website while you're gone. If that's the case, figure out your contingency plan now to avoid any emergencies during your time off.
Maybe it's a VA who needs a checklist to troubleshoot issues or at the very least how to contact your host in the event of an outage. Just writing down who to go to can be a huge help to mentally unplug.
Maybe you need to hire writers or a photographer to help you with getting ahead on content for Q4 or the beginning of 2023.
29. Check in with your accountability partners.
Send a message to your pals. Make sure they are doing okay during this busy season. Giving support is just as essential as receiving it.
30. Plan for Q1.
Yes, you just did Q4, but don't let Q1 pass you by. The Super Bowl, Mardi Gras and Valentine's Day will be here before you know it. If you're in the healthy food niche, Q1 can be just as lucrative and traffic-filled as Q4. Don't miss out on a chance to get ahead for next year.
Pin for later
Come browse my Pinterest for more inspiration >>