Time management is one of the #1 struggles bloggers tell me they have. Blogging entails so much, it's easy to lose focus.
But in order to produce more content, you'll need to put some processes in place to help you focus and better manage the hours you have.
Never miss an episode! Get notification of new podcast episodes to your inbox.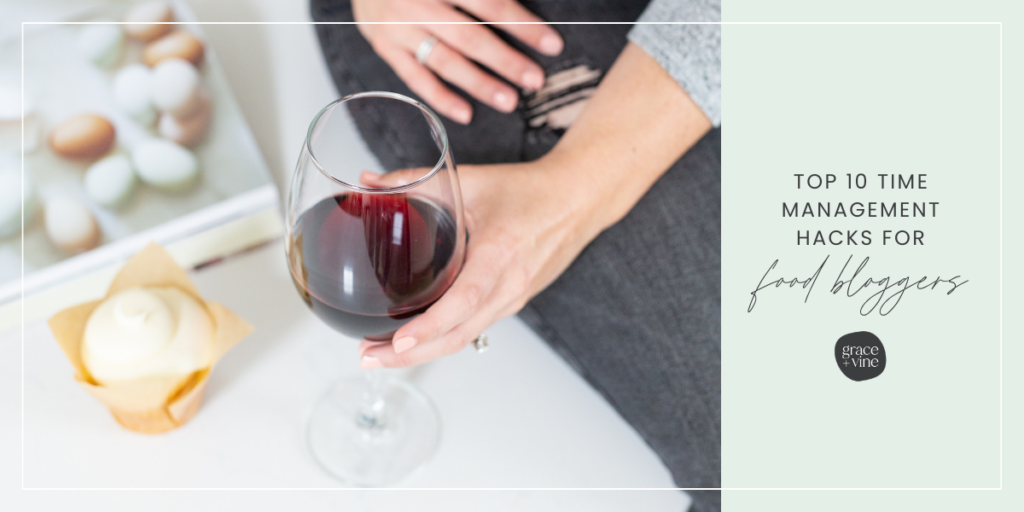 This post contains affiliate links. I receive a commission if you choose to make a purchase through these links.
1. Set office hours.
Remember office hours from college? These were the times you could meet with professors.
Setting office hours for yourself is a great way to help yourself show up. These should be the times you will be at your computer, behind the camera or in the kitchen.
Of course, doctors appointments and lunch dates come up! But you should in general try to stick to a schedule and get in your goal of X hours per week.
It's also important to plan times when you like to have meetings. I call these "open office hours."
Try to schedule as few meetings as possible and only in the mornings or afternoons. Meetings tend to throw off the whole day, so when I relegate them to one part of the day, it leaves me more time to be productive.
2. Plan your days around when you are most productive.
When people ask me how I get so much done in a week, I always suggest they create an ideal week.
This is so you will have an idea of when you will do what. This could look like always doing recipe development and photography on one day of the week, leaving the other days for computer work.
But you can get even more granular with an ideal week. Think about the times of the day when you have the most energy and when you start to get tired. Do you have a burst of energy in the morning or are you more focused in the afternoons?
I've heard these called "golden hours," meaning they are the times when your productivity is at its peak. Plan your most important, creative tasks for these times, like recipe development or writing. In the other times, plan tasks that require less brain power, like social scheduling or answering emails.
3. Plan CEO days for important tasks.
To run a successful business, you have to make time for business tasks. You can't let things like paying bills or getting that LLC fall by the wayside.
I try to set aside 2 days per month that I call my CEO Days. These are days when I work on courses I am taking, budget for big purchases, plan big projects and review my goals.
Also, a CEO Day doesn't have to be a full day, either. If a whole day intimidates you, maybe spend one morning or afternoon per week dedicated to those important tasks instead.
Here are three things you should do on CEO Days.
4. Build a workspace you love.
This might not be an obvious "hack," but where you work is very important to helping you get things done.
While working from the couch or your bed is always comfy and fun once in a while, doing it all the time isn't smart. Having a dedicated office area is a great
Make it cozier with speakers to play your favorite work music, light some candles and invest in good lighting. An ergonomic office chair is always a good idea for your posture if you prefer to sit and work. Adjustable standing desks are nice options if you don't want to sit all day.
If you thrive in a coworking space environment or can focus well in a coffee shop, make a plan to head there at least once a week to knock some stuff out.
5. Set screen time limits.
If you like to scroll TikTok or play brain games on your phone, no judgment here, but keep an eye on how much time you spend in these areas.
Use your phone settings to track the kinds of apps you use each day and to limit how much time you can spend on these apps. When it notifies you that you've maxed out time playing sudoku, then set a promise to yourself that you'll go do something productive, like live pinning or reading a business Kindle book instead.
Another trick to use is moving distracting apps like Instagram from your home screen to a folder on another page. When you go to tap it in its usual spot and can't find it, you'll remember to stay away. Over time, you won't visit as much!
On the computer, you can use a Chrome Extension like StayFree, which tracks how much time you spend on websites and set up limits. When you turn on "Focus Mode," you can block yourself from accessing certain sites and distractions.
6. Turn off calls and notifications.
As we talked about in my Ways to Work Smarter episode, we know that our brains need 15 minutes of one activity to get into a flow state. When notifications are on, you are more likely to get distracted and interrupt that flow state.
When you need to focus, FOCUS. Turning off notifications from Slack, Messenger, social apps, calls and texts is essential to getting into a truly productive flow state.
Only allow really essential notifications during this time, say calls from your kid's school or important reminders. The rest will be there when you're ready to check them.
You can even set up "work mode" on your phone or computer so that you get less notifications during specific hours (helpful if you set up the office hours in Step 1!).
7. Close your email.
Contrary to popular belief, no, you don't need to have your email open all day. If it's open, you're more likely to check it and get out of that flow state.
Unless you are expecting something important, make a point to check it first thing in the morning, at lunch and at the end of the day. Most emails can wait a few hours to be answered.
If you need to send an email, by all means, send it! Then close it up again so you're not tempted to check it absent-mindedly.
8. Close all your tabs.
Just like your email, you don't need your other tabs open, either. Close out of everything you don't need so you can focus on just one thing at a time. Make it full screen so you are forced to focus on just the task at hand.
Before you tell me that you truly need all your tabs, I will tell you that they can be salvaged and opened later. One of our team members swears by Toby, a Chrome extension that lets you organize your open tabs into bookmarks. You can swiftly close or reopen them and organize them into folders.
Plus, having too many tabs open can be rough on your computer over time. You might be able to extend its life if you are careful about keeping your tab count light.
9. Batch like tasks together.
I've talked about time batching before, but this wouldn't be a list of time management hacks without it. When you batch together similar tasks, it's easier to get into a flow state. You can also get a lot of related tasks done at once.
For example, a typical assembly process for one single blog post might look like this:
30 minutes editing photos
30 minutes of SEO research
1.5 hours writing the post
1 hour formatting the post
30 minutes scheduling social media
That's about 4 hours of work! And if you repeat that process for four posts per week, starting from the beginning each time, you'd spend 16 hours on all four. And I'm willing to bet that your brain is quite tired by the end of each one.
But what if you did this instead, not for one blog post, but for all four at a time?
1 hour editing photos for 4 posts (15 mins each)
2 hours doing SEO research and writing outlines for 4 posts (30 min each)
4 hours writing the posts you outlined (1 hour each)
2 hours formatting the posts and scheduling (30 mins each)
30 minutes scheduling social for all 4 posts
Altogether, that's nearly 10 hours of work but, broken down, each of the four posts would take about 2.5 hours. That's an hour and a half back per post! And more than half your time back.
In the first example you are having to multitask a lot during a short amount of time, times four. Every time you get into a flow state, you're probably close to done with the task and then it's time to start another task.
Doing a few posts by batch working is like an efficient assembly line. You can focus on doing one type of task at a time, without having to get out of your flow state as frequently. It also cuts down time spent on opening and closing programs, switching tabs and dealing with distractions.
10. Try the Pomodoro method.
The Pomodoro method is a great way to tackle a lot of work at once. It is one of my favorite hacks for time management.
Here's a fun fact and a flashback to the time I studied abroad in Italy — "pomodoro" means "tomato" in Italian and it's a nod to those cute little tomato-shaped kitchen timers.
Here's what you do: You decide to focus on one task for 20 minutes, then take a short break, before picking up the same task (or starting another) for another 20 minutes.
You can adjust the time to 15 minutes or 30 minutes or whatever makes sense, but the point is to focus on the task at hand only during that time.
The traditional Pomodoro method has you take a short, 5-minute break between each "Pomodoro," then a longer 15-minute break after 3 or 4 sprints of work.
The shorter breaks are great for responding to texts or emails you received during your Pomodoro.
During the longer break, you should walk away from the computer. Grab another cup of coffee, get some steps in, take the dog out, meditate, eat a snack — anything to help reset your brain for the next batch of work ahead of you.
Pin for later
Come browse my Pinterest for more inspiration >>