Site structure is how you organize your website content. It can be a huge defining factor for not only your readers to understand your website, but also for Google to understand how all of the pages and posts on your website work together. Strengthening your site structure is something you can always be improving on. Today, I'm sharing 3 ways you can strengthen your site structure.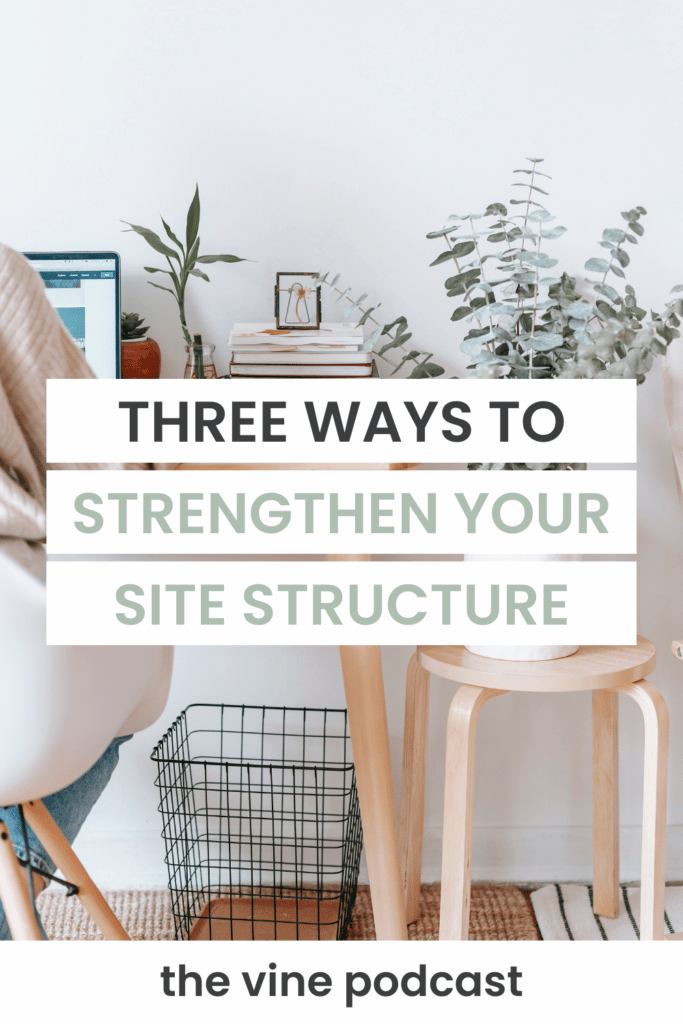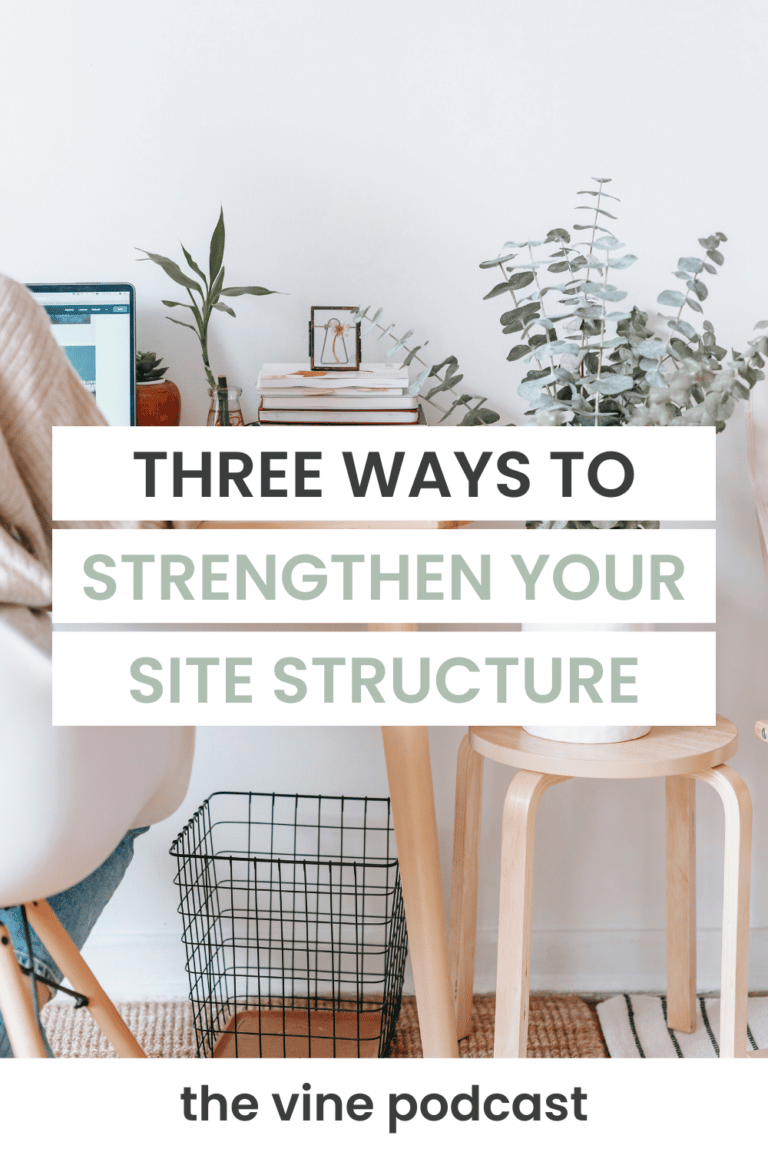 Never miss an episode! Get notification of new podcast episodes to your inbox.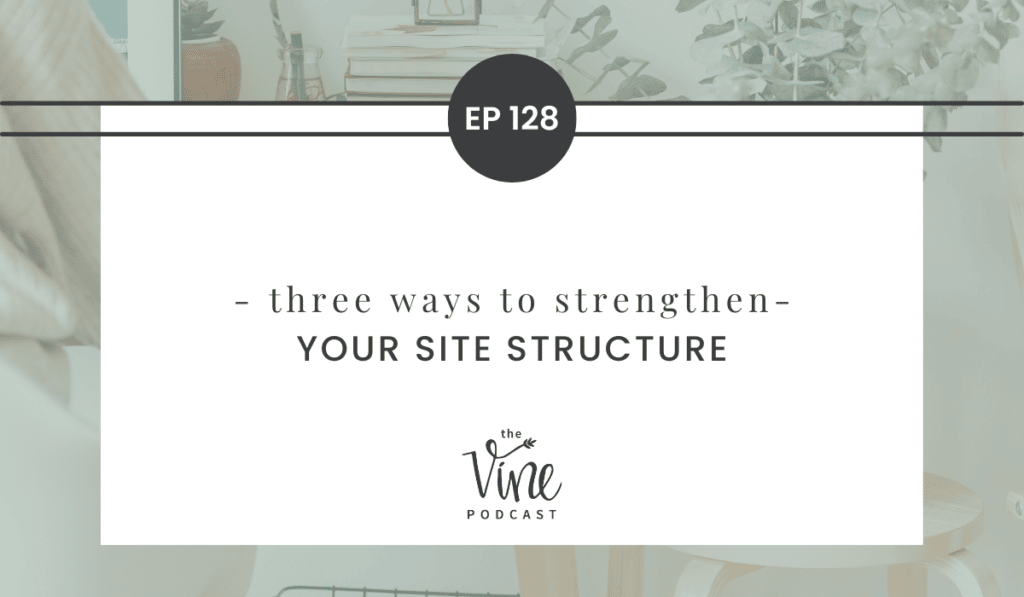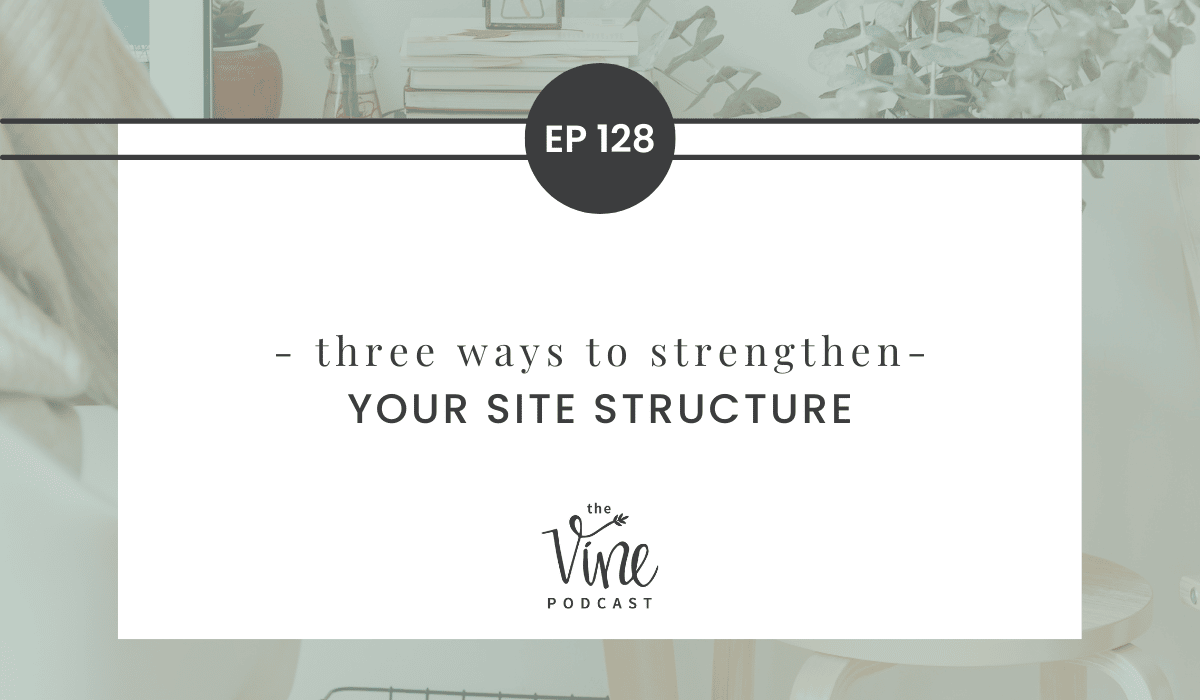 Site structure refers to how you organize your website's content.
Your site needs to have a defined structure, because without it, it'll just be a random collection of pages and blog posts. Your users need this structure to navigate on your site, to click from one page to another. Google also uses the structure of your site to determine what content is important and what is less relevant.
What is site structure & why is it important?
Site structure is how you organize your website content.
Even within a very well defined, micro niche, you are still going to have a variety of topics, blog posts, categories and other pages that are part of your site.
Site structure can help organize these in a way where someone instantly can find what they are looking for.
This gets increasingly complicated as you have more content on your site, so the earlier you can start on this, the better!
Good user experience increases the likelihood of someone becoming a return visitor to your website. Return visitors are more likely to take actions like subscribing to your email list, browsing around more content on the site, or purchasing products.
Using Internal Linking
The way that Google understands content on your website is through links.
One way this happens is that when there are more links to a specific post or page, this is a signal this is a high value page. This is both for external and internal links.
But the good news is you don't have to wait to be featured in Buzzfeed to strengthen your internal links. You can start this now by linking to your own content internally.
In The Vine Podcast episode where I interviewed Amy Duska (Episode 119), we talked about how she built this foundation within her content. Before ever publishing on her new site, she had a plan for how her posts would connect to one another.
If you haven't done this for your site, it's totally okay– you can start now!
In each blog post be sure you are linking out to relevant blog posts (topically relevant!) and when possible posts that are already performing well or your cornerstone content (the best and most complete content).
Navigation Menu
Your navigation menu is essential for users to understand your website structure. It's also important for them to understand (at a glance) what your site is all about. It's found on nearly every page and should house your most important and essential links.
On your navigation bar, be sure to include:
Your main categories
Other top cornerstone content/resources (recipe index, resource pages/posts,etc)
Essential links (using a second navigation menu for non-essential items)
With proper internal site structure, your readers shouldn't have to click through multiple pages/links to get to your important content.
Related Episode: What Should Be on Your Homepage
Utilize breadcrumbs
If you're thinking bread…what? You're not alone there. Breadcrumbs are the clickable links at the top of your page. These are super common on huge sites like Amazon or Walmart. They visually explain the structure of your website and give readers a way to jump back to the previous "level".
For example, your breadcrumbs might read:
Home » Desserts (linking to category page) » Berry Sugar Cookie Bars
For sites with more complex parent and child categories, you might have:
Home » Desserts (parent category) » Cookie Bars (child category) » Berry Sugar Cookie Bars
One of the ways we like to structure our client's breadcrumb paths is to include the recipe index. Because the recipe index is a great tool for site structure and defining the readers next steps on your website, we include this in the breadcrumb structure. That would read:
Home » Recipes (linking to recipe index) » Desserts » Berry Sugar Cookie Bars.
Pin for later
Come browse my Pinterest for more inspiration >>