As you up level your food blog, it's important to start thinking more like a CEO and less like just a blogger. I think for so many food bloggers, there's really a habit of getting stuck in almost being an employee of your blog, instead of running your blog like the CEO that you really are. I've talked about the importance of CEO time before on the podcast back in Episode 59, but today I want to really talk about how you can, practically speaking, start thinking like the CEO of your food blog.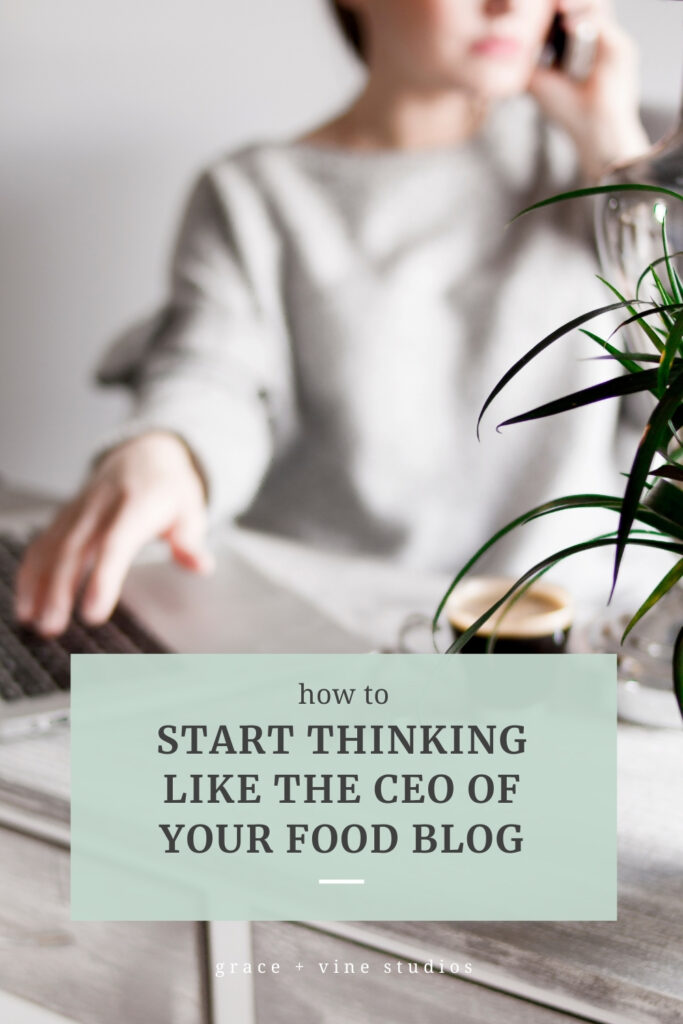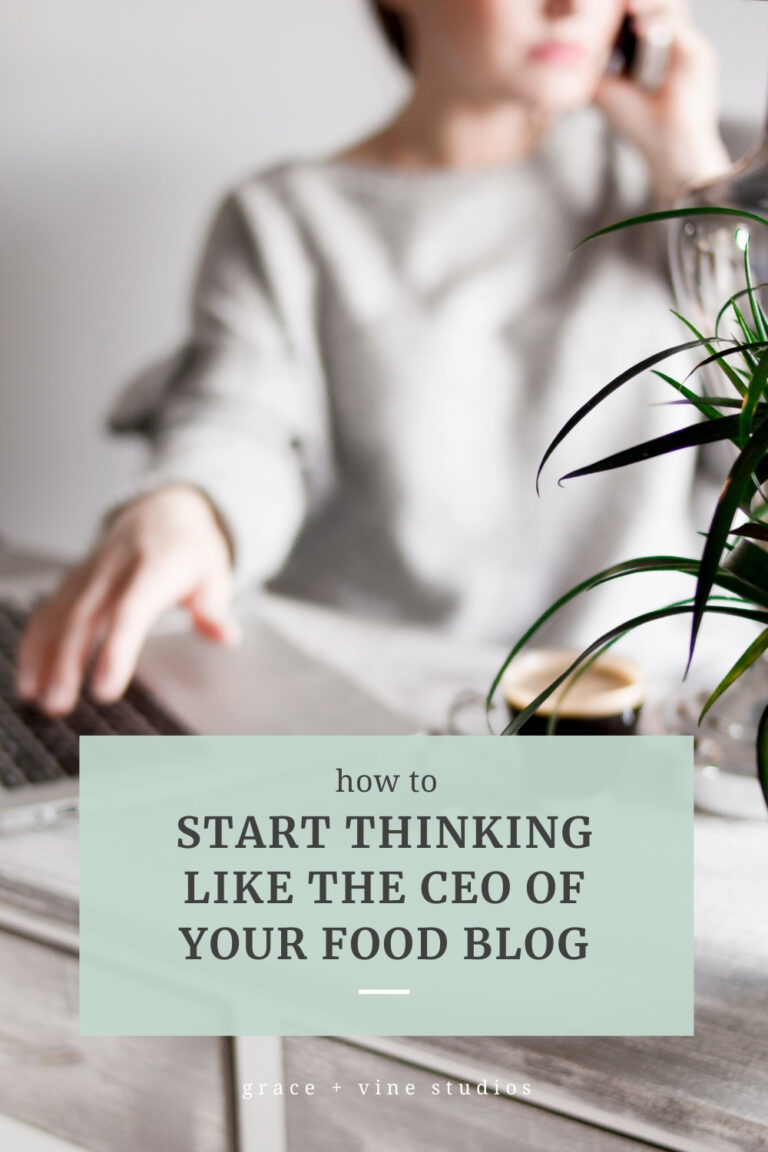 Never miss an episode! Get notification of new podcast episodes to your inbox.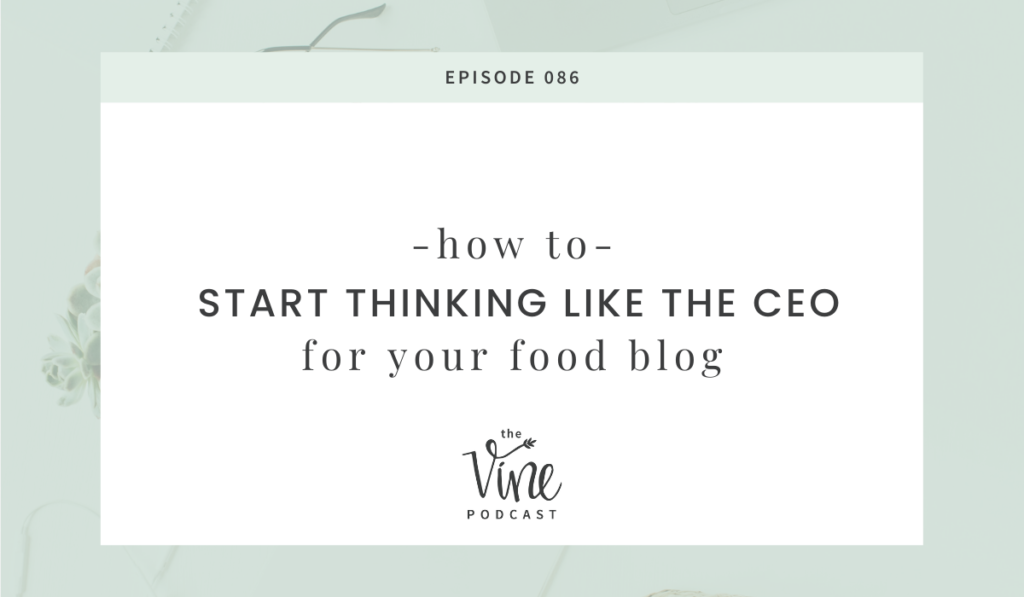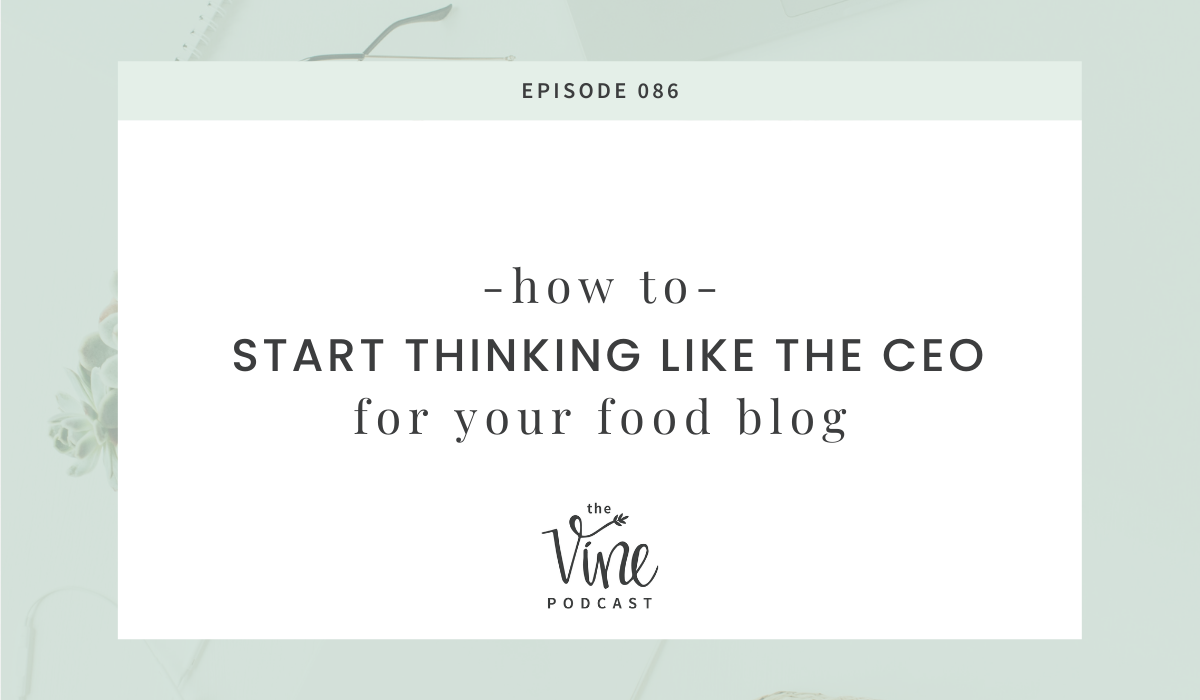 I think this is something that a lot of our clients really struggle with, to put themselves in that CEO role and really start thinking about their blog with a different perspective than they would if it were like a hobby or just a regular blog. The truth is, no matter what level of business your blog is at, the faster that you can really start to think of it like a business, put on your CEO hat and make strategic decisions that will grow your business, the better off you're going to be in the long run.
I think this is a lesson that any food blogger can take advice from and learn from, but I really want to speak to those advanced to intermediate bloggers who are really struggling to take their business to the next level. If you want to learn how you can start thinking like a CEO and truly reach your full potential in your business, let's dive in!
What Does a CEO of a Food Blog Do?
So let's first start with the idea of what a CEO of a food blog does. As a food blogger, you might find that this just feels like a very foreign concept. So, I'm going to break down the tasks that you already do in your business or those you need to start doing more of, that will really put you into that CEO role.
Remember, these are not the little things that you do to keep you busy, like taking photos for your blog or sharing your latest recipes on Pinterest. These are going to be the high level tasks in your business that are really focused on growth and taking your business to that next level. So some CEO level tasks that you might do are things like:
Business development: Figuring out what your next strategic partnerships are going to be, or how you're going to position yourself as an expert in your niche.
Goal setting: Figuring out what you want to do over the next quarter or over the next year with your food blog.
Building a team and supporting that team once you have it: If you're the only person in your business right now, you can start to think about who your next hire will be.
Time and Energy Management: This comes down to making sure that you are efficient and getting the most out of the time that you're spending on your blog. This is also being strategic about the decisions you're making, of what tasks are to be done and when.
Content Planning and Execution: Tasks to be carried out that will take your business to the next level and translate into more page views and traffic to your blog.
Here are three ways in which you can really start to think like a CEO of your food blog.
Step # 1: Stop Winging It
Planning your tasks and planning your week is not only going to save you a ton of time, but it's also going to ensure that you are operating at the highest level. When you plan how you're going to spend your time, you are in control, instead of just reacting to whatever comes your way.
I have often heard that the idea of time planning and time management is similar to a budget, when it comes to your finances. When you make a plan, you're really telling your time where it's going to go and how you're going to spend it, instead of it controlling you.
So the first step to taking control of your time is really to figure out what time you have to work. This of course will differ for everyone based on their stage of life and personal situation. It's also important to think about your energy level at different times of the day or different times of the week. Don't save the most important tasks for the time when you have the least amount of energy. And the opposite is true too, don't use your best energy times to focus on little tasks that don't require a lot of brain power or energy. Even better yet, you can definitely outsource tasks to another team member so that those tasks are not on your plate as the CEO.
Once you have the time allotted to when you're going to be able to work, then you can really start to plan out those work blocks with exact tasks that you're going to do during those times. Whether it's being in the kitchen testing recipes and photographing them, or when you're going to be doing keyword research or writing your content.
Step #2: Start Delegating and Eliminating Things
I am so passionate about this because for so many years, I spent time doing things that were doing absolutely nothing for my business. Personally for me, the most concrete example I can think of and give is that I was spending so much time and even investing in two people on my team to post to Facebook, when in reality I was getting absolutely no traffic from Facebook.
I talked about this in last week's episode during the time tracking experiment conversation and I think this is so important to really look at what you're spending your time doing and start to analyze if it is moving the needle forward. You might also find that there are things that you are spending time on, that you do not have to be the one to do, like responding to blog comments or scheduling posts on social media. The sooner that you really start to think about what you can delegate or eliminate from your plate, the more capacity you're going to have for thinking of those CEO level tasks, like business development or goal setting.
So I encourage you to look at the tasks that you're filling your time with and start to think of one or two things that could be delegated to somebody else, whether it means hiring a general VA or an expert. I want you to really think about what you could spend your time on instead, if those tasks were not on your plate. Really be strategic and think about whether the tasks you're spending time on are leading you closer to your goals or allowing you to prioritize some of those higher CEO level tasks.
Step #3: Start Making Strategic Decisions
When I'm talking about strategic CEO level decisions, I'm really talking about getting outside of that employee role of your food blog. It's so easy to spend all of your time just creating content or doing keyword research and while those things are so important also, it is important for you to think about how you're going to level up your food blog. What is the next step for you? Creating a digital product or creating a trip wire so you can bring in passive income as you're getting new email subscribers? Are you going to work on some higher level strategic brand partnerships next year? Are you going to work on redesigning your website next year? Really start to think about what decisions you need to be making for your business and carving out time to do those.
CEO time is the perfect time to think about these higher level decisions that you really need to spend time thinking about. So by prioritizing creating time for those strategic level decisions, you're going to start seeing the needle move forward for your food blog. You're going to be able to make decisions like the CEO that you are and really be in control of the trajectory of your food blog and your business.
Take action as a CEO!
So your action steps from this episode are really easy.
1. Plan out your time and don't "wing it" anymore.
2. Start looking at two or three things you can delegate or eliminate from your plate.
3. Carve out some time to think about what's next for your business and make strategic decisions to move you forward.
I would love to hear how you really are going to start thinking like a CEO and how this resonates with you. If you are feeling some tension and you're feeling like this feels hard, I would love to chat with you because I truly think you are going to see a huge difference when you start to think of your food blog like a CEO. Head over to Instagram and connect with me there @GraceandVine. I would love to hear your biggest takeaway from this episode!
Pin for later
Come browse my Pinterest for more inspiration >>