Writing strategic and clear messaging for your blog can take your brand to the next level of connection with your readers. Learn what brand messaging is, why it's essential to a strategic brand and where to infuse clear messaging onto your website so you can connect on a deeper level with your audience!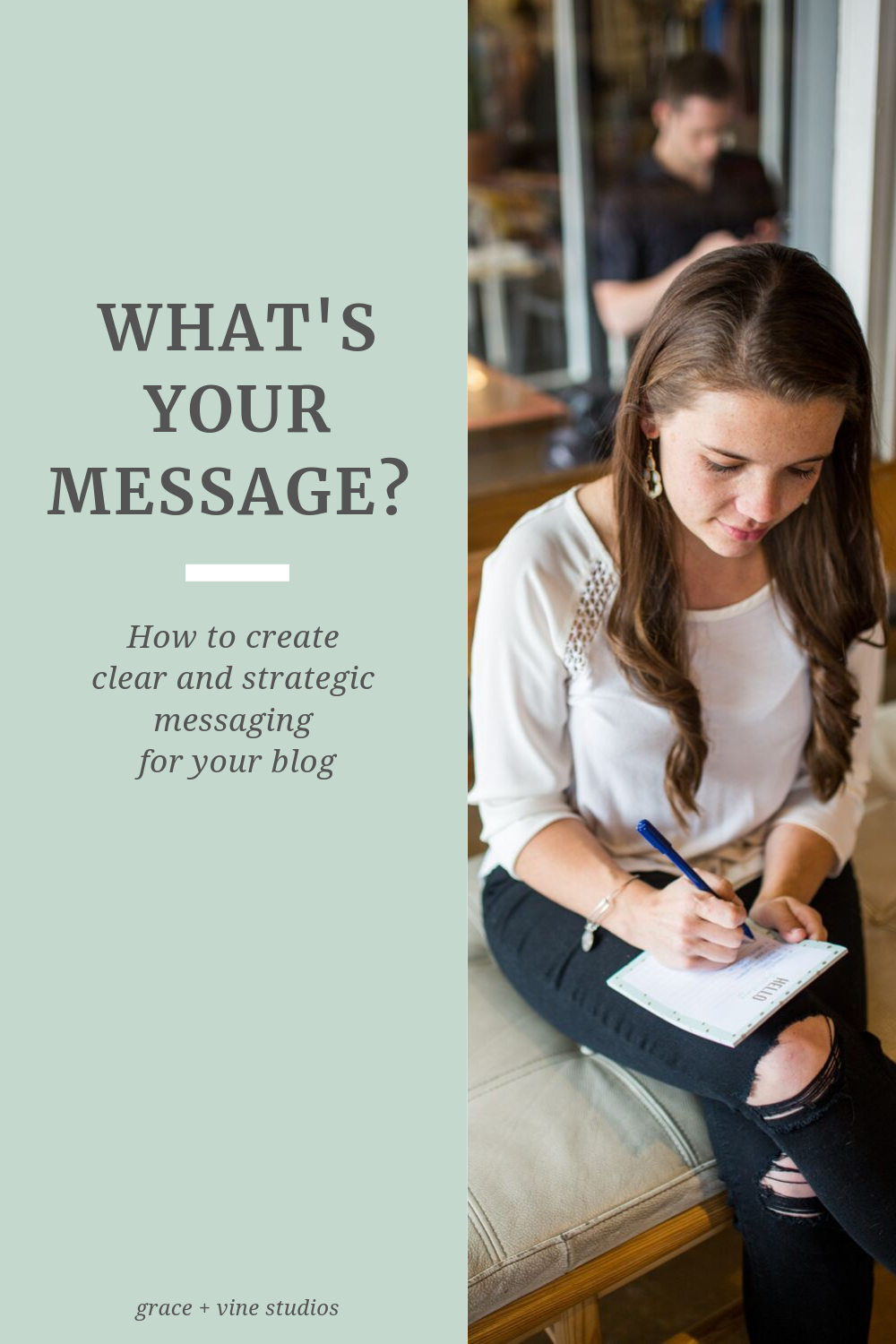 Never miss an episode! Get notification of new podcast episodes to your inbox.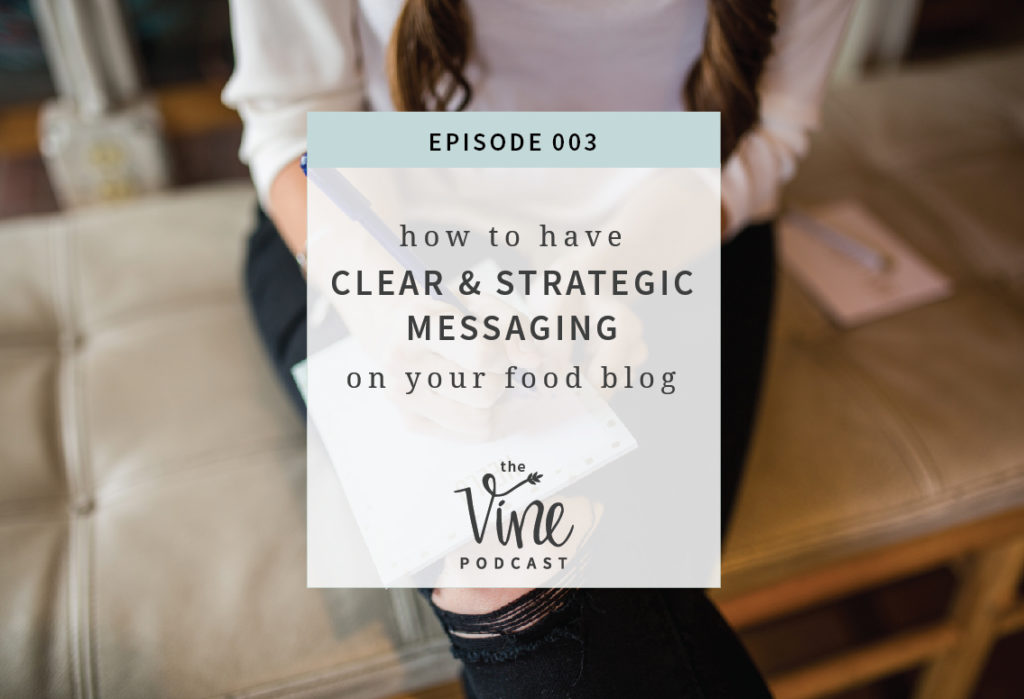 Can't listen to the episode? Read on for the transcript!
One of the things that I've noticed in working with my design clients over the years is that messaging is one of the hardest parts about creating and maintaining your blog, but once you really get ahold of this messaging, it can be what takes your brand to the next level of connection with your readers.
Today I'm sharing all about what brand messaging is, why it's important, and how you can make sure that the messaging on your blog is clear so you can connect with your people.
At the end of this episode, I'm going to be sharing five places on your website that you can infuse this clear messaging, so definitely stick around for that.
What is brand messaging?
It is the language that you use regularly to communicate with your audience.
It's the tone of voice that you use and specific language that you use.
It's your brand's personality. A lot of the time for a food blogger your messaging is going to be partially your personality too because so much of you gets wrapped into your food blog.
It also has to do with your ideal audience and specific ways that you need to speak to that ideal audience. It may be specific ways that you need to write a recipe, specific things that you need to teach them. Specific language that you need to use.
An example that comes to mind is that if you're a health coach or a healthy food blogger, you might use specific language to talk to your audience that isn't triggering for them or specific language that kind of drives home the overall brand messaging of your blog.
The last thing is that brand messaging is, is your niche and what makes your blog unique.
You might already know that you are a health food blogger for example, but chances are there's something really unique about your story and brand messaging is what helps you to communicate that to your audience.
Why is brand messaging important?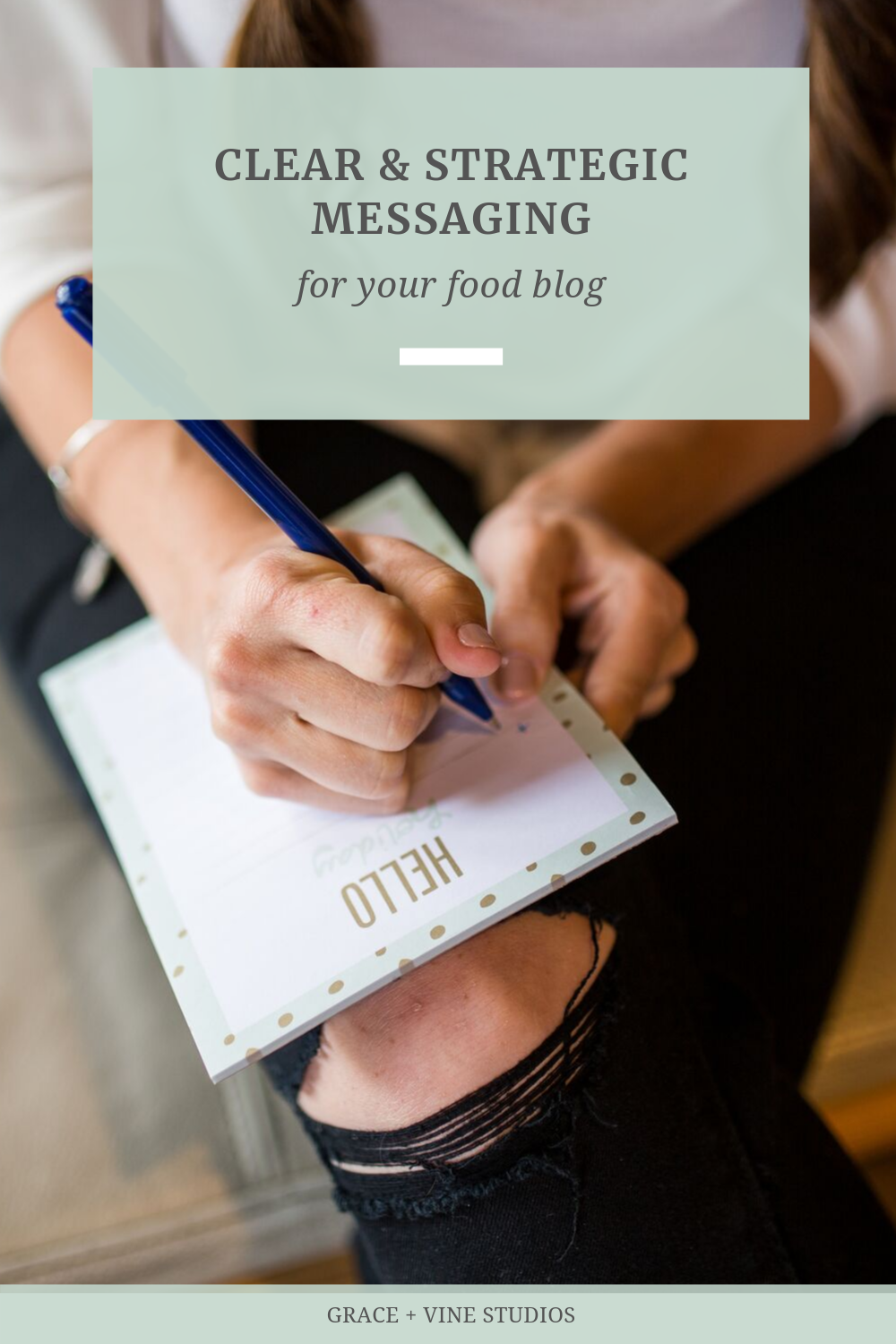 Brand messaging builds brand awareness and it helps increase the know, like, and trust factor.
There's a lot of studies out there that say people are more likely to buy from you if they know, like, and trust you.
Even if on your food blog you're not selling products, this is still really important. If you want to build an audience and not just have random traffic that's coming from Pinterest or from Google, you need to focus on that know, like, and trust factor for your audience.
That know like, and trust factor is what is going to keep your audience coming back for more.
It's going to have that audience trust you and reach out to you when they have a problem or need a new recipe.
Brand messaging helps others to share your messaging for you.
For example, I had a friend recently who was talking about going on Whole30 next month. Immediately I knew exactly the blog she needed to check out in order to get recipes that she needed. I was able to share with her that specific blog. I know what their brand is all about. I know that that particular food blog has healthy, easy, Whole30 recipes.
When your brand messaging is clear, it will help your audience also be clear on what your blog is all about so they can share it with other people.
Brand messaging helps you to have a guide of what to say.
If you've ever been in a situation where you meet someone for the first time and they ask you what you do and you say, "Oh, I have a food blog," and you quickly change the conversation, there's a good chance that that lack of confidence comes directly from not knowing your brand messaging and not being clear on it.
I know I have definitely been in this situation when I've attended conferences or been at local meetups where I don't know how I want to explain what my blog is. I quickly changed the topic over to their businesses.
As I've gotten further and further down the road and figured out more of my brand messaging and gotten more clear on this, I don't have a problem being able to explain what my food blog is about anymore.
When you have a very specific mission statement for your blog and you know who your ideal audiences and you have a grasp on your brand as whole, you can share it with confidence. That's exactly where brand messaging comes into place.
The more clear your messaging is, the easier it is for people to relate to your content and to see themselves in your story.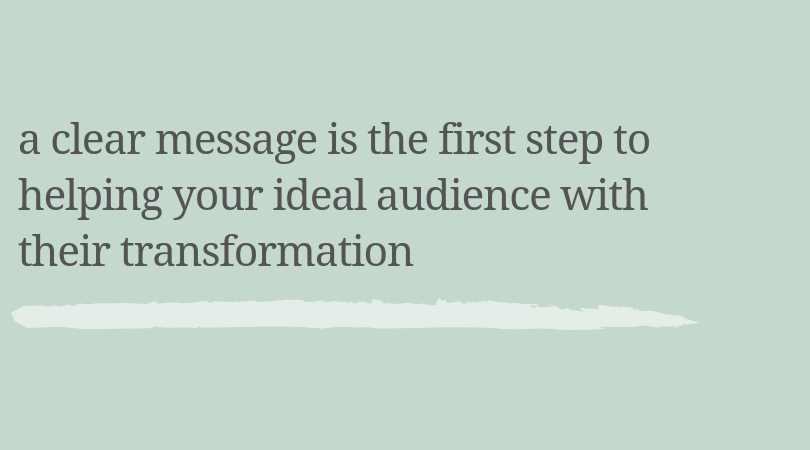 How to Figure Out Your Brand Messaging
Step 1: Define your ideal reader
The very first step in figuring out clear brand messaging is figuring out your ideal reader. I talked about defining your ideal reader in episode two.
When it comes to having clear messaging, you need to know who this ideal reader is before you can ever write messaging that's going to resonate with them.
In episode two I talked about when you are trying to discover who your ideal reader is, sometimes there are all kinds of questions about demographic information that you should answer about this ideal person.
In this case, what you really want to do is figure out what questions you need to ask for the purposes of figuring out your messaging. For food bloggers, some examples are:
What is their family size?
What is their relationship status?
What stage of life are they in?
Why is this person and cooking, are they cooking out of enjoyment or are they cooking out of survival?
You also want to figure out what their pain points are.
What are they struggling with?
I touched on this again in episode two, but they're not struggling with needing a new recipe.
Really dig deep and figure out what is the thing that they are struggling with the most when it comes to something related to food or providing for their family. What problem are you trying to help them solve?
When you understand their problems and what they're struggling with, you can repeat those struggles back to them, but in the form of a solution.
Until you really understand what that struggle is, it's going to seem like you're just providing a recipe when what you are helping your audience do is way more than just cooking a single meal.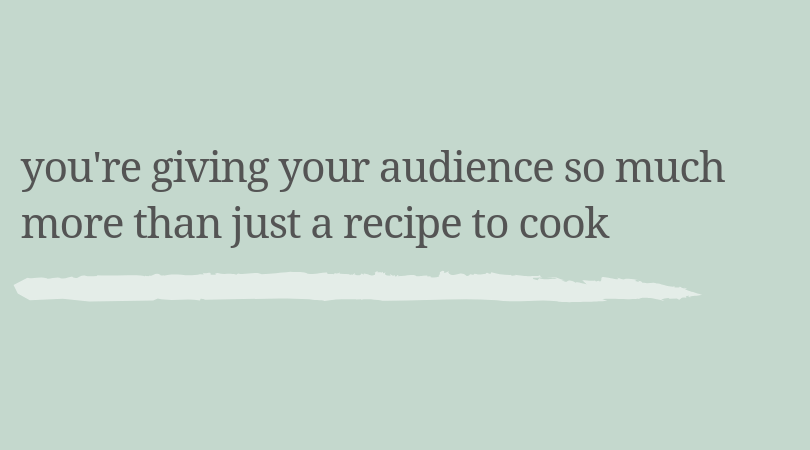 What is their life like right now?
Think about this in terms of your blog:
It might be what is their relationship to food?
What is their relationship to cooking?
What struggles are they having with providing meals for their family or just for themselves?
How do they feel before they experience your brand and how do you want them to feel afterwards?
When you get a grasp on this specific information as it pertains to your ideal reader, you're going to be able to write messaging that is going to resonate with your ideal reader and help them to see the transformation they're going to experience by being a part of your brand.
Step 2: Consider the words that you're going to use
The first question I want you to answer is: what is your niche?
I want you to be more specific than just a food blog. I want you to be more specific than a healthy food blog. Really think about what makes you unique within your niche.
If you are a health food blogger, what makes you unique? What ingredients do you use that make you stand out? What types of cooking methods do you use that make you stand out? What do you want someone to immediately associate with your brand?
You can think of some buzz words or taglines that you might use frequently. Think about your overall tagline for your brand or your mission statement.
The more that you can refine these specific elements of your brand messaging, the more clear you're going to be when you're speaking to your audience through a blog post, through social media, and through your email.
Think about how you can break those taglines or mission statements into short blurbs that you can use throughout your website to remind people of the purpose of your blog.
The next question you can ask is: what parts of your personality do you want to infuse into your brand?
Think about what you're like in real life. Do you use certain phrases in real life that you're going to carry over into your blog posts or that will just naturally come out as you're writing or speaking to your audience? What are the types of things that you might say on social media?
These specific things don't always translate to your niche, but they are what make your blog unique and what makes it your blog and not somebody else's.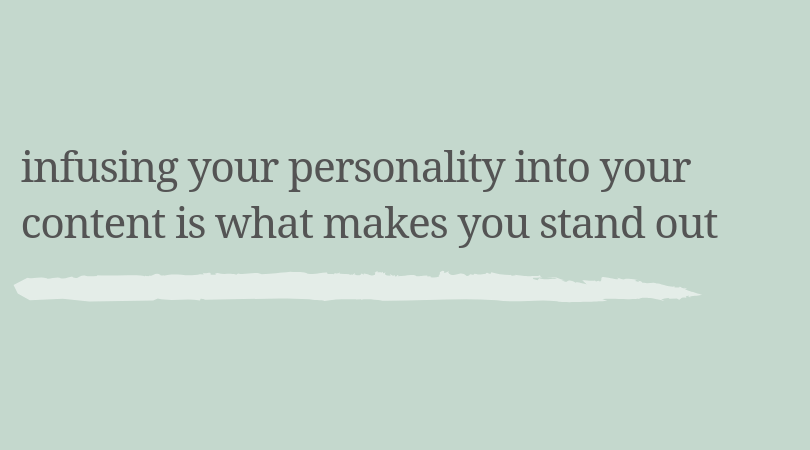 I always like to think about the fact that when you're infusing your own personality into your blog, you're doing it because you want to have your online blog self be as close to the same version of you that someone would experience in real life. This is what builds consistency and trust.
If you show up one way on your blog and then on social media you're a completely different person to that audience, they're not going to know what to trust, who's the real version of you.
The more clear you can get on what parts of your personality are going to show, the more easy it's going to be to show up, in the same way, no matter what the platform is.
For some people this happens really naturally and they don't even think about it.
If you have a hard time with this and you find yourself trying to blend in writing some of these things out and making these decisions will help you to be consistent when you show up on social media, on your blog, in your emails, all of those things.
Step 3: Crafting your blog content
When you know your reader on a very deep level, you can craft content that addresses their specific problems, and you can provide solutions to these problems.
Sometimes that is going to be blog posts that aren't just recipes. This can be a difficult thing for food bloggers, but I want you to be willing to stretch that niche, so to speak, into other categories if it is providing content that is super helpful for your ideal reader.
A couple of ways that you can do this:
You can add content to a blog post with a recipe that can help them further along this journey that you're taking them on.
You can add a section at the bottom of a post with helpful tips.
You can make this specific to your niche and to their pain points.
This works for blog posts, social media, your emails. If you just have kind of a reference of maybe five to 10 of their pain points and how you can speak directly to those, you can reference those as you're crafting content along the way.
Sometimes when we have an idea that's kind of outside of our niche, we get a little bit nervous and worry maybe I'm not a food blog anymore if I have this other post that's kind of in the lifestyle category.
I just want you to remember that it's more important that you help your audience than it is that you stay strictly in this niche.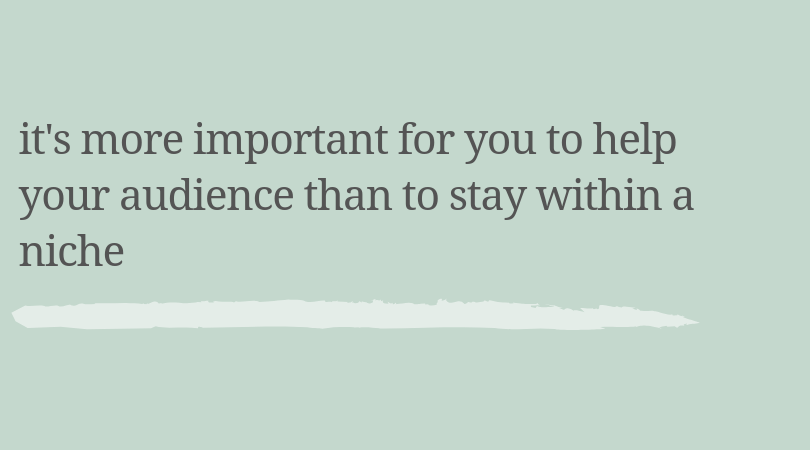 You definitely don't want to be all over the place. You want to sure that things are consistent and that your reader knows what to expect.
But if you can provide extra content that helps solve a problem for your reader, that is going to be so much more impactful for your reader than just sticking in one niche category and never being willing to jump outside of that to help them out.
As much as possible, keep it relevant to your food blogging niche, relevant to your brand and your messaging, but it's okay if you veer off a little bit into the "lifestyle" category.
Step 4: Be consistent
Narrowing down your messaging is only half of the battle. Then you have to really implement it.
There are a couple of places where you can infuse your messaging easily. I just want to give you a few reminders before I jump into these different places on your website that you can put this messaging.
I want to remind you that not everyone sees all of your content, not even your mom.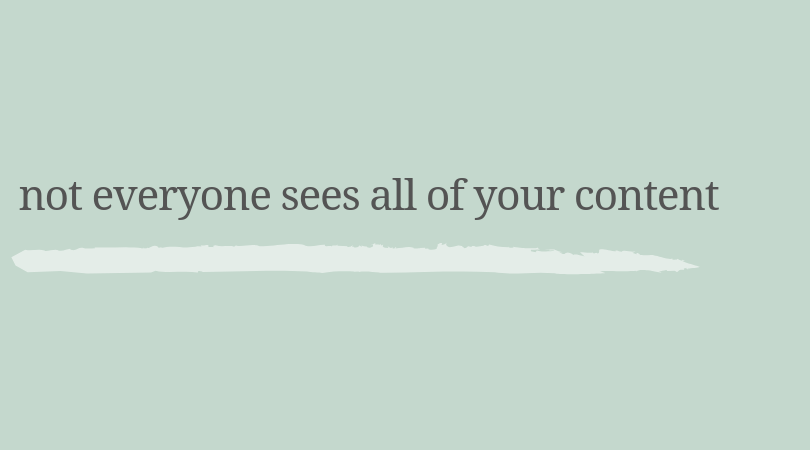 It only feels repetitive to you. If someone notices that they're seeing repetitive messaging, it means that either they're a loyal fan, in which case they probably don't care or maybe they're annoyed by it, which means they're probably not your ideal reader anyway.
Don't worry about being repetitive because chances are other people aren't going to notice or they're not going to care.
The more strategic and clear that your messaging is, the more easy it will be for the right person, your ideal reader, to be ready to take action.
5 places to add your messaging on your website
Here are the top five places that you can add your messaging to make sure that the overall messaging on your website is both clear and strategic:
Your bio and about page
Your blog posts
Your emails or newsletters
Social media
Pinterest


I went ahead and bundled this into a free download for you. If you want to see these five places where you can add your messaging to your website, sign up below to grab the freebie.