If you're a food blogger, you know that traffic spikes happen throughout different parts of the year. When you know a seasonal traffic spike is coming soon or as soon as one begins, there are a few things that you can do to get the most out of that traffic! Learn how to capitalize on that traffic with these tactics.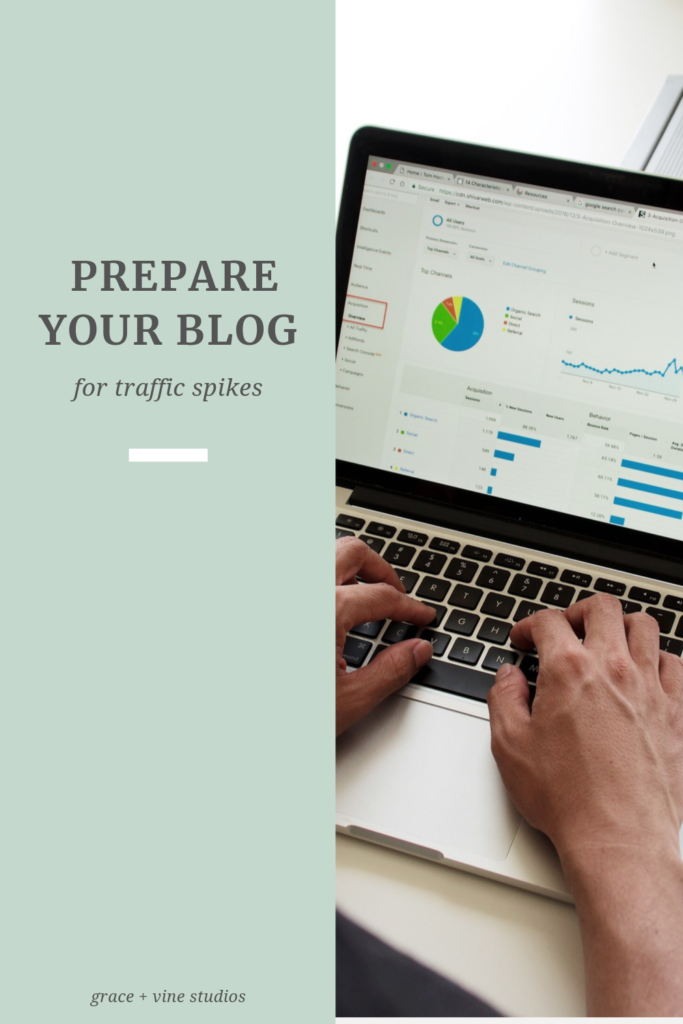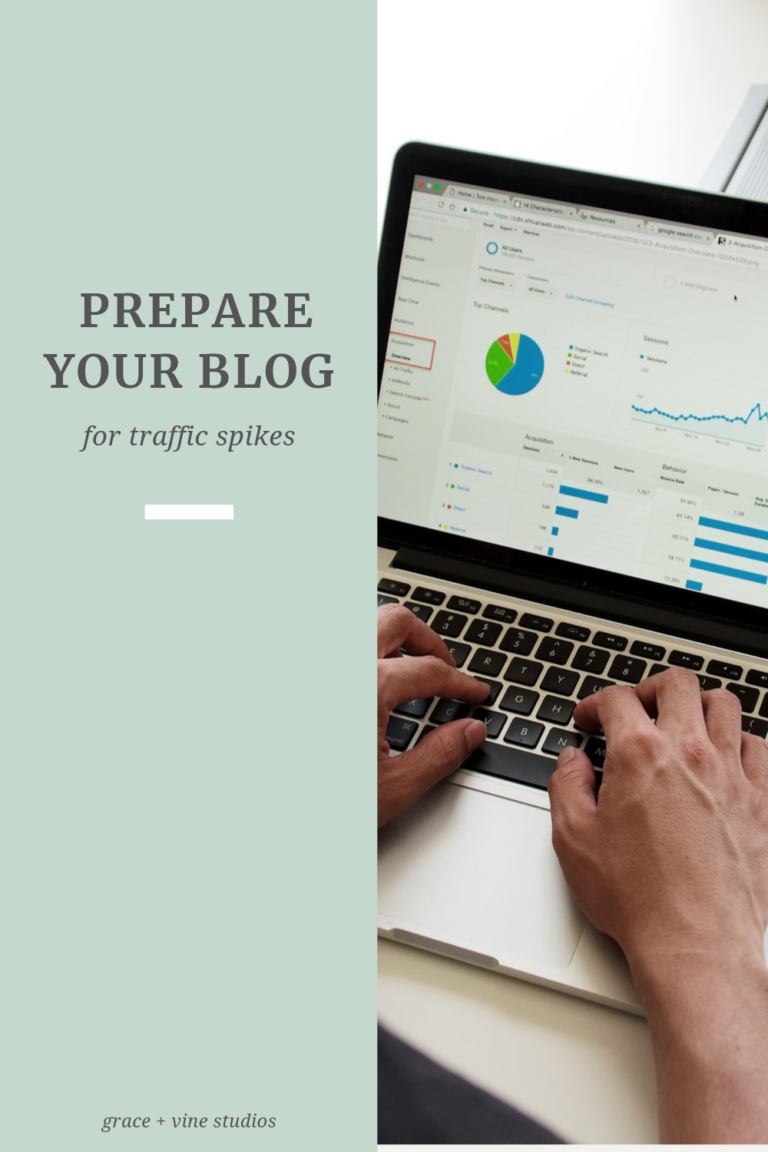 If you want to be sure to catch all of the episodes, be sure to sign up to be the first to hear about every new episode!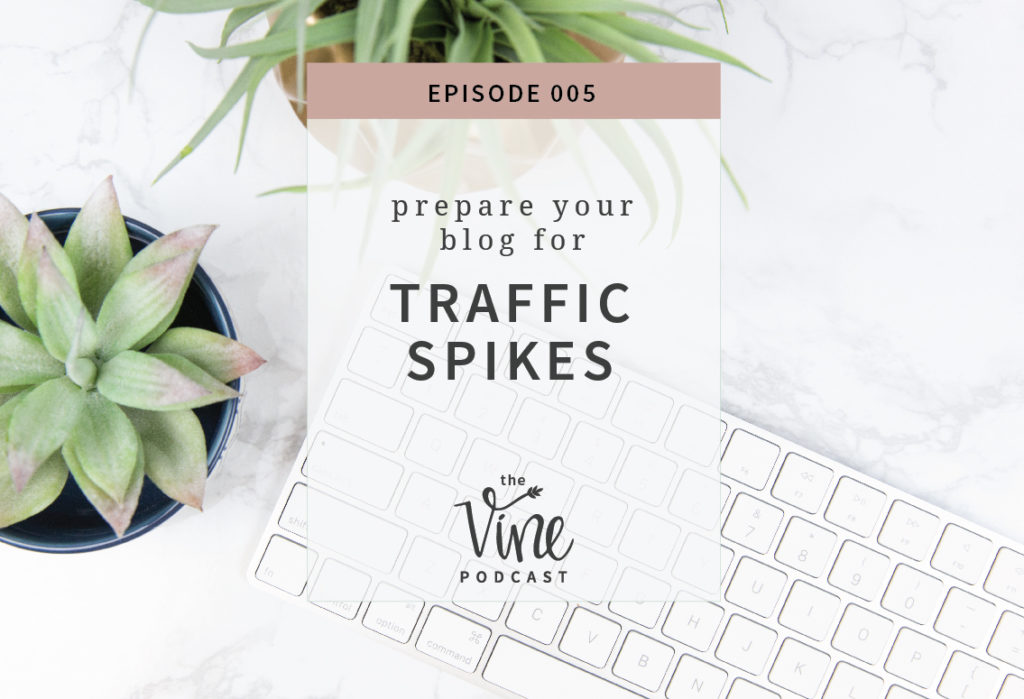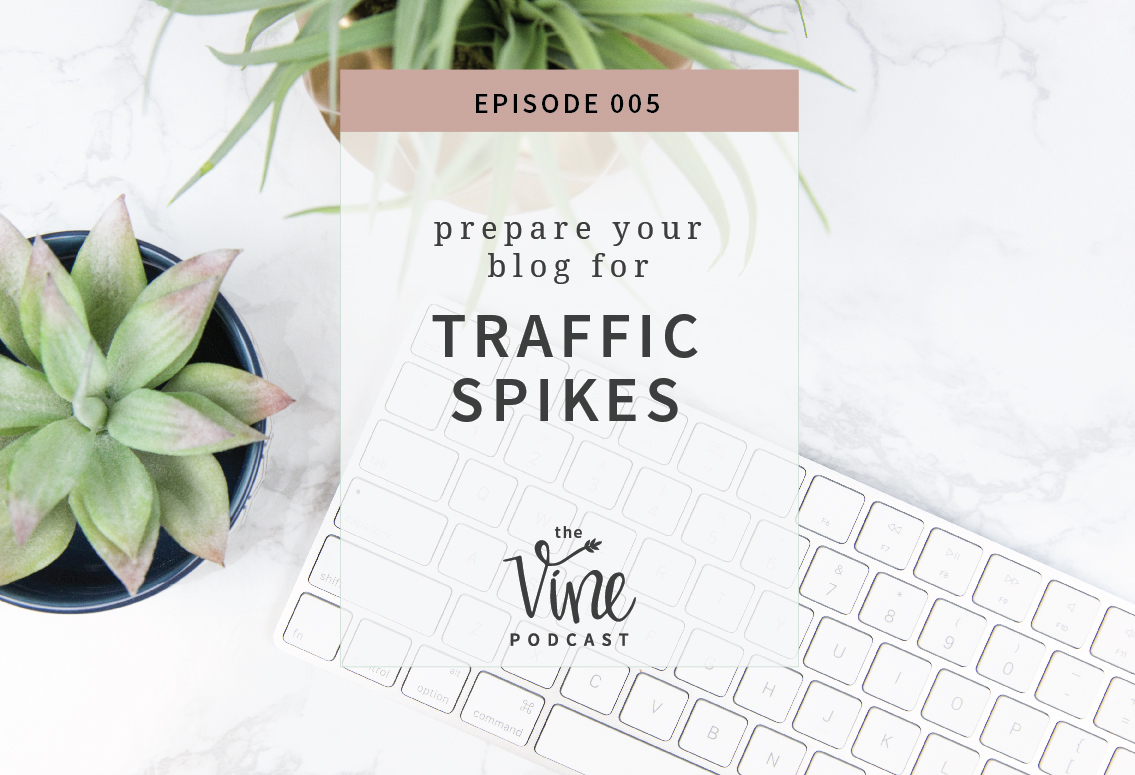 Can't listen to the episode? Read on for the transcript!
I am really excited about all of the feedback that I've been getting about the episodes and I'm so excited to be jumping into more content for you guys.
I wanted to start by reading a review from one of my listeners and this listener is actually a friend of mine, Jenni from The Gingered Whisk and her review says,
I am totally in love with this podcast. It is packed the valuable and strategic information that helps you actually grow and resonate with your readers. I seriously spent the entire time rewinding to listen again, taking notes and saying, Oh, that makes so much sense. It is seriously great.
Thank you so much for leaving that review, Jenni.
If you're listening to this and you haven't left a review yet, I would love to read yours as well. Go ahead and head over to Apple Podcasts or wherever you're listening to this and leave a review. Who knows, I might share it on the show as well.
As I'm recording this, we are already into Q4 and as a food blogger, you know that Q4 gets really crazy pretty quickly.
Last week's episode, I talked about conducting your own DIY website audit for your food blog. If you haven't listened to that episode, I would really encourage you to go back and listen to that one. It is a great way to just get the quarter started off right.
Grab the checklist for your DIY Website Audit below!
This website audit can be done at any time of year. I like to set a recurring calendar reminder for me to go back and do this every quarter or every six months at the minimum.
Let's go ahead and dive into today's topic, which is all about how to make the most out of traffic spikes that you have on your blog.
Depending on your niche Q4 may or may not be a big traffic period for you. But I'm willing to bet that there is some period throughout the year where you see a spike in traffic due to seasonal content or maybe you've had a post that picks up on traffic for some reason or another and you want to make sure that you can get the most out of that traffic boost.
That's exactly what we're going to be talking about today.
Updating individual posts for seasonal traffic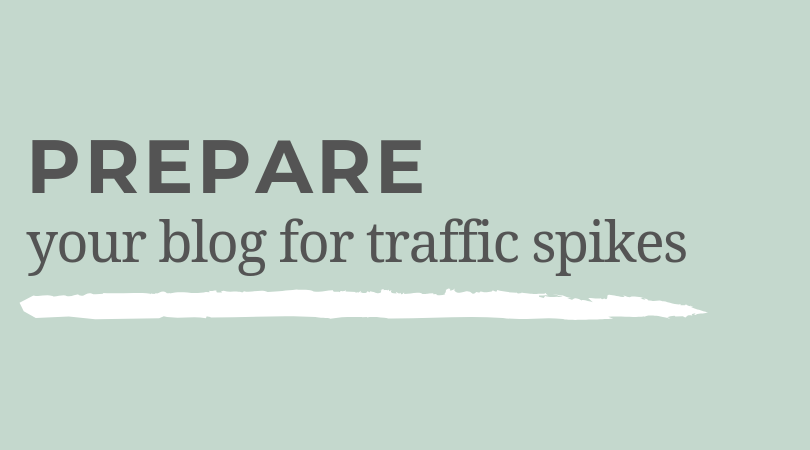 Let's start with seasonal traffic and updating individual posts.
Look back at past year's seasonal traffic to start looking for trends. For example, if you were doing this for Q4, you would be looking back at 2018 Q4 for traffic to see which were your top performing posts.
Start by making a spreadsheet and including the list of your top seasonal posts from last year.
Include any content that you published last year that was seasonal that didn't have a chance to take off yet because you want to make sure that you're going through that and optimizing that content as well.
In your spreadsheet, you want to create a column to track different things that might need to be updated within the post. For example:
Track whether you need to reshoot photos
If the blog post content needs to be updated
If you need to add links to other relevant high quality content
Where this traffic is coming from (Google, Pinterest, etc)
I want you to figure out how you can set aside time to update this past content and make sure that it's ready.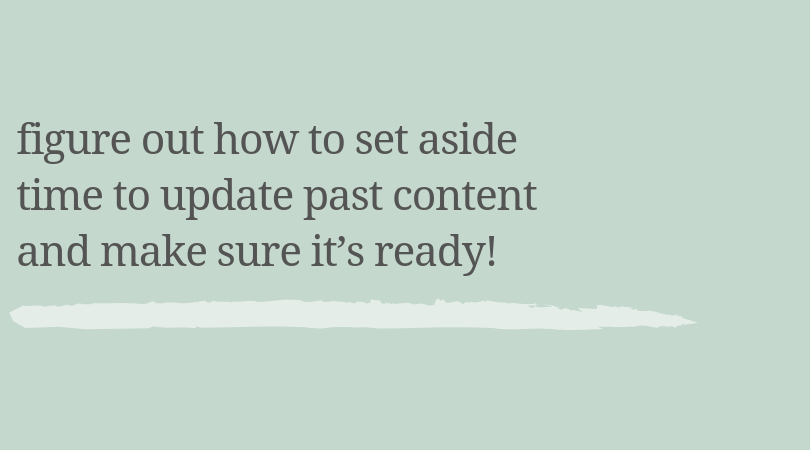 Mediavine did a really cool challenge last year called the the Mediavine RPM Challenge. Basically it walked you through doing just this in light of making sure that your posts were going to have the highest RPM possible to make sure that you are making the most money from those posts that were going to get that traffic boost.
The thing I really love about the challenge that they did is they have a spreadsheet that you can make a copy of that is going to have most of these columns that I just mentioned.
If you don't want to reinvent the wheel and create your own, you can go ahead and make a copy of theirs. You can grab it here.
Once you have your list of your top content from last year's quarter, I want you to take a look and ask yourself a couple of questions.
Can you create supporting content?
First, is there any supporting content that you could create for this post?
For example, if you have a pumpkin pie recipe that does really well, could you create a blog post on how to make homemade whipped cream that you could link to in that pumpkin pie recipe blog post?
This is really easy to do because it's really easy to assume why they need that recipe. They're likely either hosting their own Thanksgiving, maybe they're taking it to a Friendsgiving.
Think through what their motivation could be and then think through what supporting content you could create to make that blog post even better.
This can be content that you put into its own blog post, or maybe it's just a section that you add to the blog post itself.
If that audience is coming from Pinterest to make your pumpkin pie recipe, for example, think about what other content they might need.
They probably don't need links to five different pie recipes, but maybe they need a link to one other pie recipe, a side dish, and maybe a dessert cocktail recipe.
Think through how you're going to link your content together when you're thinking through why someone needs that recipe in the first place.
Sometimes it's easy for us to just blindly add links without really thinking through how the content connects together and what your audience is really going to need when they're on that blog post.
Does the post need a supporting element?
Would this blog post would benefit from having a video?
Is this recipe a little bit more complex and they need some process shots or a video to show them exactly how step-by-step to make this recipe?
Could you add some helpful tips on making this recipe right the very first time?
If you want to think back to their motivation, they probably don't have time for this to mess up. If they mess up this recipe, it could possibly ruin their holiday. It also is going to completely discredit you as a food blogger that they trust.
Think about the helpful tips that they would need in order to make this recipe, especially if this is their very first time making this recipe. There's a lot of pressure on the situation because of the holidays.
Optimize Your Recipe Cards
Then take a look at your recipe card. Look at whether the recipe card is fully filled out. That means that every spot that you can fill out on the recipe card is filled out completely:
Cook time
Prep time
Nutrition information
Ingredients
Relevant notes
Even if you have notes for how to make the recipe in the blog post, also put them in the recipe card, especially for the holidays. A lot of people tend to print the recipes so that they can reference them again on the day of the holiday that they're making this recipe form.
Take a look at the ingredients and make sure that they're in the correct order.
From start to finish, what is the order of ingredients that they're going to need?
This is something that I did a horrible job of in the early days of blogging. I just put ingredients in some random order, and I didn't really think through step one, step two, which ingredient they were going to need and the order they were going to need it in.
Next, take a look at the instructions that you have in your recipe card.
Are they clear? Is there anything that you need to explain even more in better detail to make sure that they can make this recipe the right way?
It's really important to remember this could be the very first time that anyone has ever made this recipe. There are things that you know innately as a food blogger and as someone who cooks a lot that someone else may have no idea about.
It's always really funny to me whenever I have my husband cook one of my recipes. There are things that I just know like the back of my hand, I don't even think to tell him, but he gets tripped up on.
Really think through what someone might not know, having never made this recipe before.
Is there nutrition information in your recipe card?
Over the holidays some of us feel like we don't want to tell somebody how many calories are in this cookie that they're about to eat, but it's really important for this information to be there because there are so many different reasons that someone would need to know that information.
Google really takes into consideration whether these recipe cards are fully filled out. Go ahead and just make sure you check all of those boxes.
Is there a call to action in every blog post?
Think through what you want someone to do when they're on your blog.
Yes, you want them to make your recipe, but what do you want them to do after that? Do you want them to just leave and never come back? Hopefully not. Hopefully you want them to stick around, so how can they do that?
Give them a call to action of how they can stick around, how they can absorb more content and how they can become a loyal fan and reader of your blog.
Add Relevant Affiliate Links
Make sure that you go through and add relevant affiliate links to these top performing posts.
This is obviously so you can make a little bit of passive income from these blog posts, but it's also so that you can really provide helpful information to your readers. Think through what the most relevant affiliate links are that they would need to make this recipe.
You don't necessarily have to include every single tool that they might need, but include things that are really important and that they might not have in their kitchen otherwise, especially for the holidays.
Things like candy thermometers, pie baking dishes or pie weights. There are tons of different tools and supplies that they might need to make this post.
A lot of the time people will go to your blog post before they're actually ready to make it, and that gives them time to order something on Amazon and get it shipped to them before they're ready to make your recipe.
Is there a freebie that you could create for this content?
For example, if your blog is an allergy friendly baking blog, and you're preparing for Q4, can you create a quick substitution checklist or guide for an allergy friendly Thanksgiving dinner?
Something like that would be so valuable to somebody who maybe just realized that they have an allergy, and if this is their first time cooking for Thanksgiving and thinking about these allergies in mind. Maybe there's a new family member with allergies that they have to consider.
Giving them extra value in the form of a freebie can make their holiday a win and you can be the person that helped them to get that win!
Do you need to create new Pinterest graphics?
The next thing that you want to do is look at creating new pins for each of these posts and or freebies and start circulating them on Pinterest.
Pinterest has an awesome guide to seasonal content and they show you when searches for seasonal content pick up.
It may not be as relevant for Q4 but it's something that you can take a look at for future seasons and really look at when certain things, certain holidays, pick up in searches and make sure that you new pins circulating before that time.
You can go ahead and add these pins to relevant tale in tribes and make sure that you just get them circulating out there.
Sometimes we forget to go back and create new graphics for our old content. Sometimes Pinterest graphics just get stale and they're not being circulated as much.
Creating brand new Pinterest graphics for the upcoming season can really help that traffic to take off.
Need help creating Pinterest graphics graphics for your posts?Check out my Design Support package.
Take advantage of email marketing
Let's be honest, when was the last time you sent an email to your list? Not an RSS feed email, but an actual email that you were writing to them?
If it's been a while, that's totally okay, but I want you to go ahead and make a note to capitalize on the seasonal traffic by sending emails during this time.
You can do so many different things with your emails during this time.
People are kind of used to looking in their inbox for specials and deals and sales and things like that so if you're showing up in their inbox and you're giving them value, they're going to be so excited to open that.
You don't always have to be just pushing them to a blog post. Either you can write an email where you're just giving them tips, helpful information, and value, and they are going to love you for that.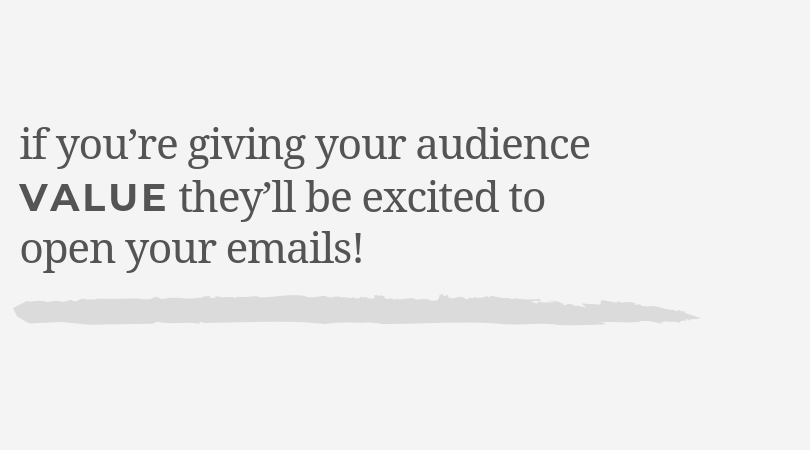 Especially if they don't feel like you're selling to them all the time, they're going to really appreciate a breath of fresh air from all of the selling that goes on during Q4.
Now that you have your list of top seasonal content, make time to email those posts out throughout the season.
If you're sending weekly emails out, maybe the first week you can send them to a blog post and then the next week you can just give them a tip that helps them to make that recipe or helps them with something that they're going to be facing as a challenge during this holiday season as it pertains to your blog and your recipes.
Updating your website to prepare for traffic spikes
We're going to shift into talking about updating your website as a whole and getting it ready for these traffic spikes.
I want to make another mention about updating your website in Q4 specifically and how it pertains to SEO.
I talked about this in episode four about conducting your own website audit. During traffic spikes it can be really dangerous to make changes to your overall site structure.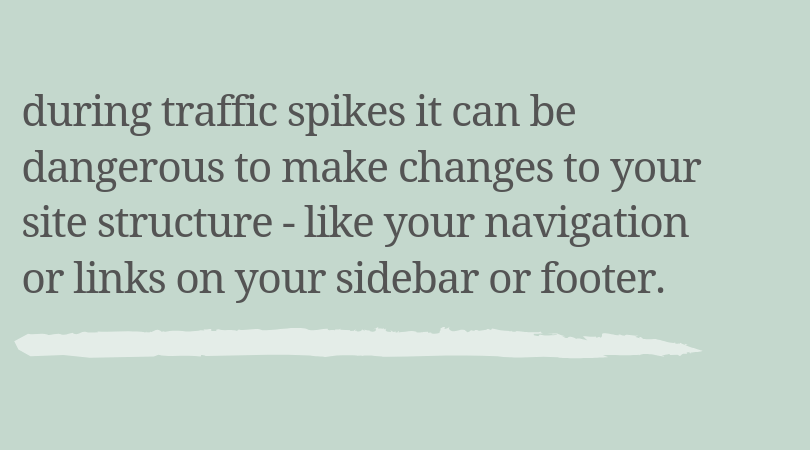 Basically meaning anything that has links on it, like your navigation or links in your sidebar or your footer. Here's a few things that you want to remember when you're updating content.
Be careful with removing content even within a blog post itself. Removing things like old images or links to other posts can affect your overall site structure and can cause a dip in traffic.
When you're making updates during a seasonal period like Q4, only add things and not take away. Be really careful with taking away images or taking away links to other content.
For the images specifically, you can actually use Google Search Console to look and see if you're getting traffic because of images. If you're not, then it's probably safe to update those images.
Really think about this before you make big overhaul and changes to your site because you don't want to go backwards and actually lose traffic to your site because of these updates that you're making.
Swap out the content in your featured section
When it comes to making website updates as a whole, the first thing that you can do is add a featured section of seasonal content.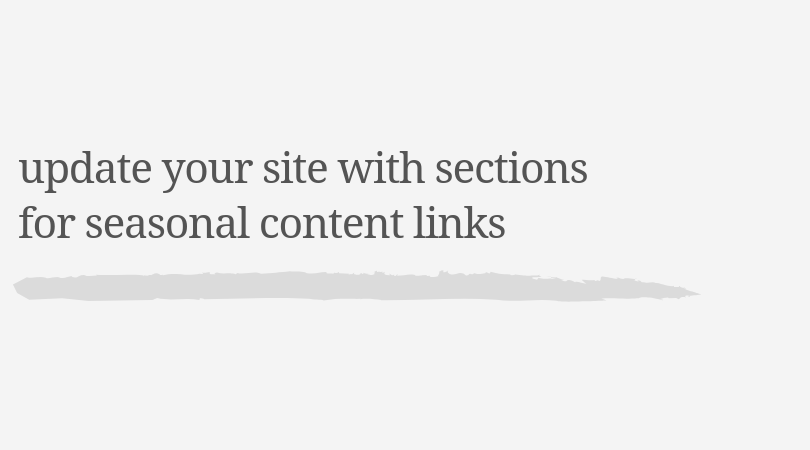 This is going to look different for every single blog depending on what your theme is and how it was built.
Think about a couple of different places where you could feature seasonal content, whether that's on your sidebar or if you have a featured section on the top of your blog.
If you're already using these sections for seasonal content, just go ahead and switch them over to the current season and what's coming up soon.
If you don't have these, you can go ahead and add a widget into that space to highlight featured content for the upcoming season.
If you have a like a popular posts section on your sidebar or somewhere on your blog, you can leave that there. In fact, it's a really smart to leave it there because that can have SEO implications if you remove it, but you can just add an extra widget to focus on seasonal content.
Especially during Q4 we all get a little bit crazy about having a short sidebar and making sure that our sites are optimized for ads, and this is really important.
When you're adding value and getting people to click around on your site more, it's going to be totally okay if your sidebar is a little bit longer.
Think about it this way – if your sidebar is short and someone goes to one page versus if you have an extra widget space and you feature some fall content and people click around more to your site, you're actually going to make more money with your ads because they're being seen more often.
Be careful about being super strict about having like a bare bones sidebar because sometimes it's better to actually show more content as long as there's a strategy behind it.
If you're really concerned about making your sidebar longer you can add text only links to make sure that you keep it short and sweet. Sidebars are really only seen on desktop anyway.
If you're adding extra content to your sidebar, it might actually help with your overall site structure and interlinking, but it might not really affect your ads very much if most of your traffic is on mobile anyway.
Make sure that you're adding links to your seasonal content within your popular seasonal content.
If you think back to those recipes that you published last year that maybe haven't had time to take off yet, make sure you're linking to those in the content that already has performing well year over year during this high traffic season.
Add a seasonal recipe dropdown to your navigation
Add a dropdown section in your navigation for seasonal content recipes. Even if you don't have this, normally when it's the holiday season, you can add something for Christmas dessert recipes, easy Christmas dinners or whatever the topic or the keyword that you're trying to really rank for. You can put that into your navigation, which will really help.
Update your signup forms
Lastly, if you have a seasonal freebie, make sure you update your subscribe sections on your blog with that freebie and add to that freebie plus a call out to it in your most popular seasonal content.
What to do when a blog post starts picking up traffic
Shifting away a little bit from seasonal content, I want to talk about what to do when a blog post starts picking up a little bit more randomly or a little bit more organically.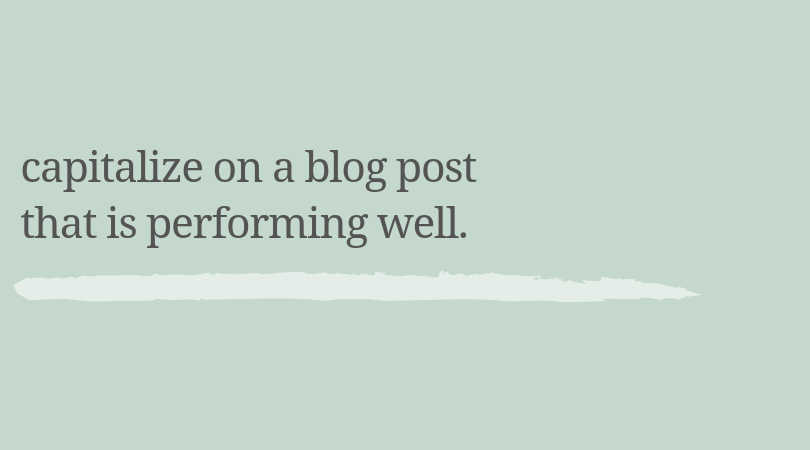 This can happen for so many different reasons, but if you have a blog post that suddenly picks up, you might wonder, what do I do to make sure that I capitalize on this traffic?
Link to your other content
Make sure that this blog post has internal linking. You want to make sure that you're linking to your best and most relevant content, especially post that go well with the recipe that's performing well already.
Add an email signup form
You also want to make sure that you have an email signup form. The best case scenario is that you have a freebie that you're promoting to get people to sign up for your list.
Even if you don't have a freebie, at least have a sign up form. You're not going to get as many signups this way. It's just not going to convert as well, but it's better than having nothing there.
You can capture people in your signup, tell people exactly what to expect, what are you going to email them and how often.
Lastly you can add a pop up to your signup form, and you can make it for this post specifically. It doesn't have to be site-wide if you're worried about pop-ups annoying your visitors.
Even for this one post that's performing well, having a popup can really help with converting more people into subscribers to your email list.
Make sure your links work
Go through and make sure that any links in that blog posts are actually working. We talked about this in episode four, but you really want to make sure that when you're getting traffic to a blog post specifically that you have somewhere to send people to next and that those links are actually working.
Make sure that you also have share icons activated and that they're working.
If your blog post is getting traffic
If your blog post is getting traffic because a big publication picked it up or it got featured in a roundup, email your list and tell them about it. Talk about it on social media, share about this promotion and how excited you are about it and people are also going to be excited for you.
They may just be curious about it and go check out the publication and then come back to your blog post. This isn't bragging. This is being excited about something that is going on in your business and something that's going well and your audience is going to be excited for you too.
Don't be concerned about people thinking that you're bragging or that they're going to be annoyed that you're sharing about it. The people who really love your blog are going to be so excited for you.
As we wrap up today, whether you have seasonal content or just one blog post that's picking up, that is so exciting.
Don't let the opportunity pass you by to capitalize on that boost in your readership and try to convert those people into your audience. Give them an incentive to stick around and to sign up for your email list with a freebie.
Recap
Make sure that your top performing posts that are seasonal and evergreen are linking to other relevant content that is also high quality. This is going to help the overall quality of your site raise and your interlinking is really going to help to boost those rankings for those other posts.
Put a reminder in your calendar to update your website with seasonal content before the new quarter begins.
This will help to make sure that people who are already coming to your site see your seasonal content and dive into that as well.
No matter what time of year you're listening to this, whether it's a high traffic season or not, you can follow these tips to make sure that every season performs the best that it can, whether that's Q4 where you know things are going to be crazy or if it's a slower season.
Make the most of your website that you already have.
Next week we're going to shift into a new topic of conversation, and I'm so excited to be talking about branding with you guys.
Specifically branding as it pertains to food bloggers, how you can simplify the branding in your business and how you can be consistent with it as well.
If you haven't subscribed or left a review yet, I would love for you to go ahead and do that. Subscribing to the podcast means that you'll never miss an episode and leaving a rating and a review can help other food bloggers find this podcast too.