Every holiday season provides a time to reset and be with family, but for food bloggers it's also a time where your blog may see a big increase in traffic! In today's episode we'll chat about how to make sure your blog is ready for the holidays!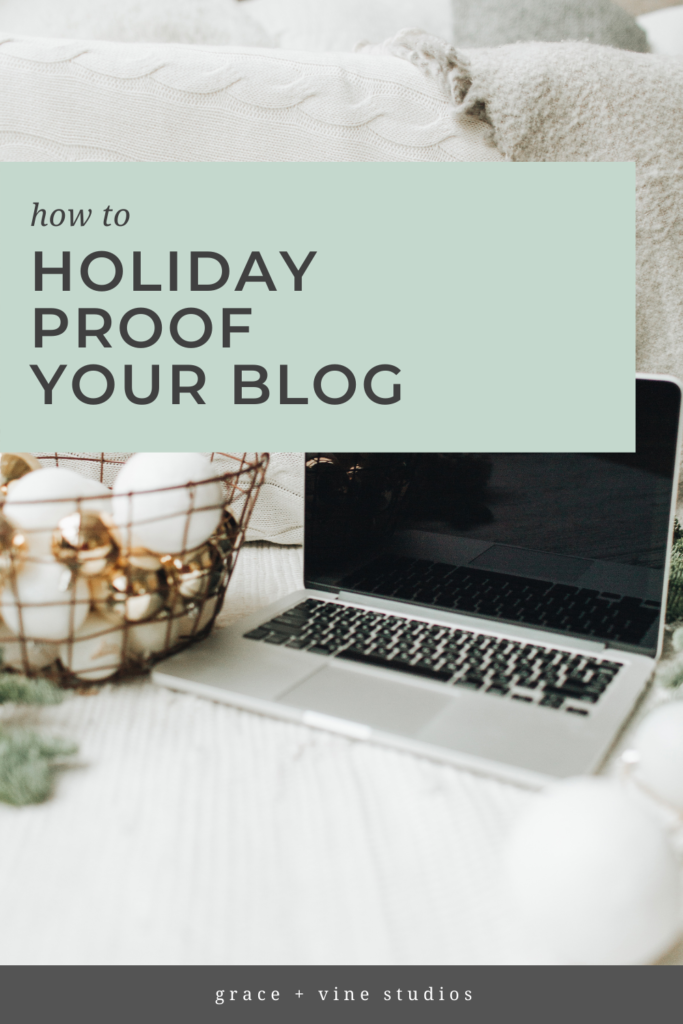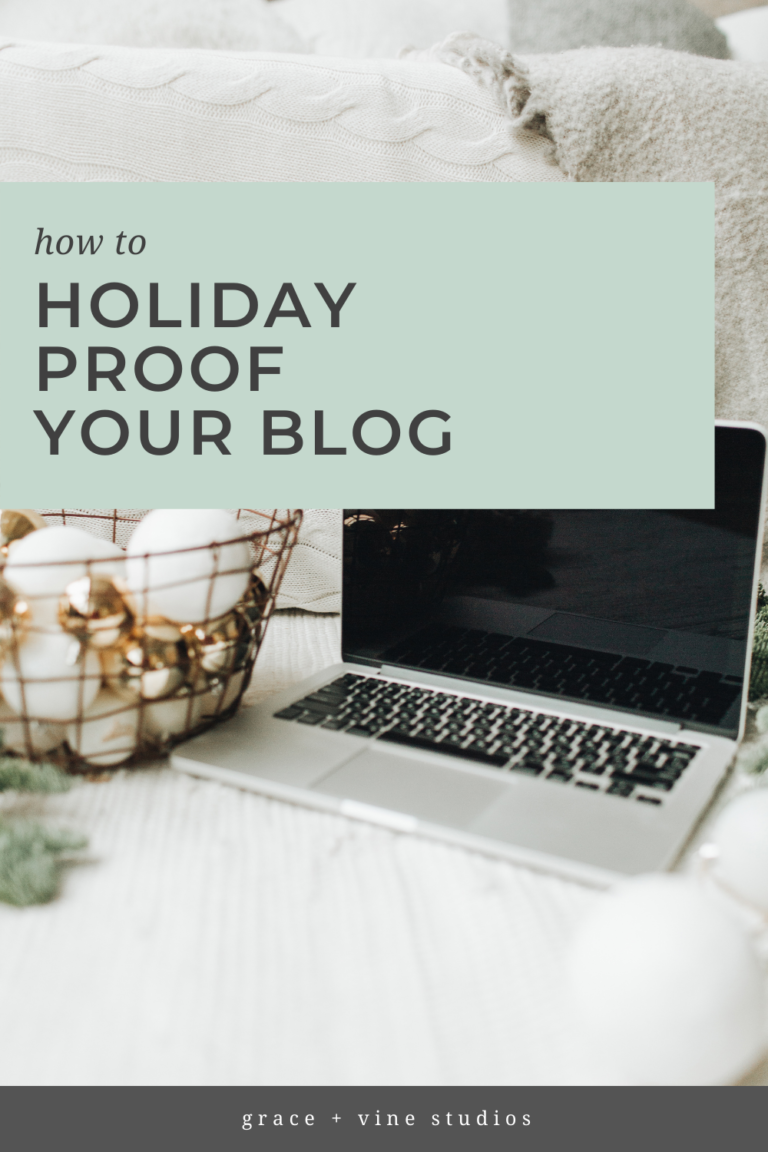 Never miss an episode! Get notification of new podcast episodes to your inbox.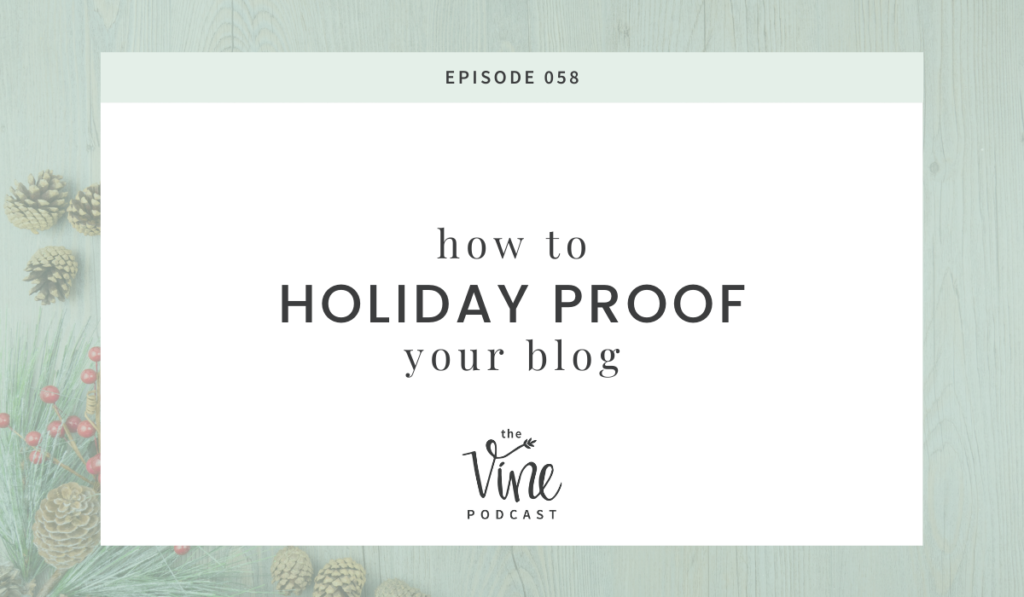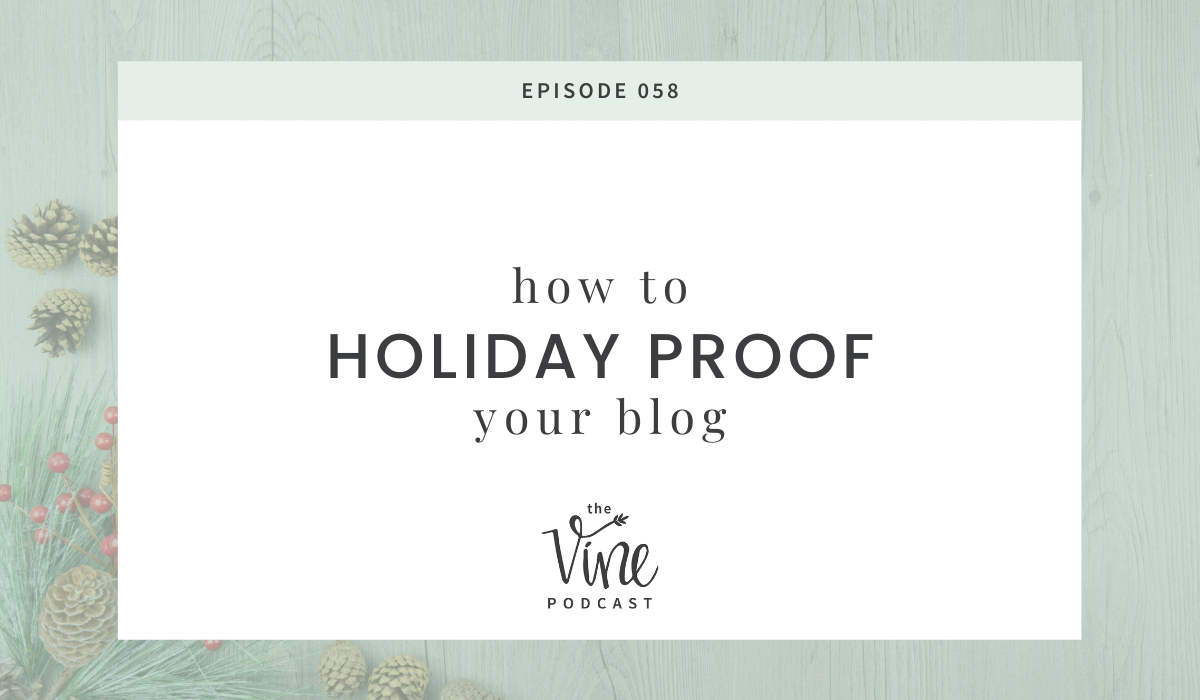 Can't listen to the episode? Read on for the transcript!
Welcome back!
If you are new here, I'm so glad you found this episode! If you enjoy it, would you share it with a friend? I love growing this community of food bloggers! For those of you who are new, my name is Madison Wetherill and I'm a branding and web designer for food bloggers. I'm also a mama, baker, Arizona native and cactus lover. It's hard to believe I've been running this business for almost 6 years now and getting to serve some of the most amazing clients through our services.
If you're ever curious about how we work with clients you can go to graceandvinestudios.com and click on the services tab to see the different ways we work with food bloggers like you!
Okay, let's chat about the holidays. Even though this year has been completely unexpected so far, we can count on the holidays wrapping up the year. Regardless of when you are listening to this, there is likely SOME holiday that is coming up so this episode is applicable for ANY holiday, not just the ones in November and December.
The holiday season is always a great time to be with family and hopefully take some time off. But as a food blogger it can also be the time when your blog sees a spike in traffic! There is always this delicate balance between hustle and slowing down at this time of year. My family and I have a running joke every year where they ask me if my boss is going to let me have anytime off this year.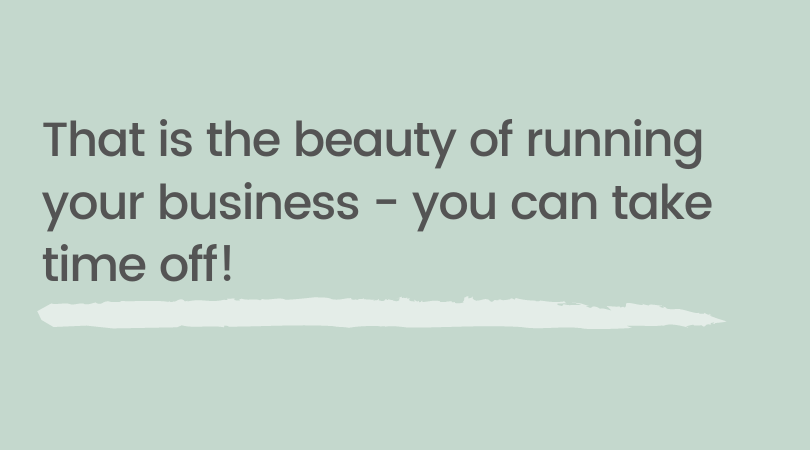 That is the beauty of running your business – you can take time off! But it's also difficult to fully unplug when you know there are lots of eyeballs on your website.
So today we're chatting about how to holiday proof your blog! I got this idea from the Biz Besties podcast in her episode about what to send to your email list in November and I thought it was a perfect topic for a podcast episode.
There are a few parts to getting your blog ready for the holidays. There's getting your content ready, getting your website ready and getting your business ready!
Before we dive into these areas the very first thing I want you to do is to pull out your calendar. Do you have time blocked off for the holidays? I try to block this time off on my calendar as early as possible in the year. Because we are usually booking clients 4-6 months in advance it's SO important for me to block this off. It may seem obvious that I wouldn't be working on client projects over Thanksgiving or Christmas, but if it's not blocked off on my calendar, I may completely forget about those dates!
Even if it's TWO days that you take off of your blog, I highly encourage you to block it off. You may end up working on things over the holidays anyway, but I'd encourage you make sure it's not just working IN your business but really working ON it! More on that later though.
Getting your content ready for the holidays
Typically you want to be pushing out holiday related content at least 6 weeks ahead of the holiday. Traffic will start picking up on those holiday related posts sometimes months before, especially on Pinterest. If you're listening to this after that, that's okay! You can still publish it, just know it may not take off until next year.
Plan out the content that will go live during the holidays and the week after
However, there is also the content you want to go live DURING the holiday season AND the week after that you want to get ahead on. It's not the end of the world if you don't have content going out over that time off, but if you want to have it it's good to start getting ahead on it now.
There are a few easy ideas you can use to share content that might be easier to pull together than a full recipe blog post.
Non-recipe blog post ideas for the holidays:
Gift guides (make sure to do these closer to Thanksgiving than Christmas)
Holiday recipe round up (think about what ingredients people would have on hand, what situations they might be in – for example last minute thanksgiving appetizers)
A complementary post – this could be something that is more of a how to or tips post rather than a recipe but it can complement a recipe that already does well. Make sure to link them together! For example, how to dice an onion might go with a thanksgiving stuffing post, how to freeze cranberries might go along with a cranberry sauce post, the best wines to serve at thanksgiving. Really think through the posts that already do well for you over the holidays (or in general) and then come up with 1-2 complementary/helpful posts that you can share)
Review your popular holiday posts
It's never a good feeling to realize one of your posts is exploding with traffic and there is something wrong with it. Be sure to look over your top 10 blog posts from LAST holiday season AND any other holiday content you have.
Look through to make sure everything is showing up properly, you have affiliate links or links to other blog posts, and ideally a sign up form!
Also make sure to review the actual recipe! Make sure that the ingredients and instructions are correct, in the right order, and there's nothing broken or missing from the recipe card. Check out episode 45 on how to write better recipes.
Getting your website ready for the holidays
Add a sign up form
The best way to optimize your popular holiday content is to create a strategic freebie to capture people to your email list. Go back to episode 11 to learn more about this!
Even if it's just a subscribe for updates type email form, it will capture at least some of your traffic. Better to have this than to wish you did when traffic spikes!
Double check your hosting
Some hosting plans have caps on how much traffic you can have. Be sure to check with your hosting company about this – because you don't want to run into issues where your site isn't up at all because of hosting limits.
Check your social links and navigation
This is something that I recommend doing quarterly and I have a whole guide on auditing your website that walks you through some of these areas. But one of the most commonly missed places is double checking that all social media and navigation links work! Remember that your social media links should open in a NEW tab, not the same one so you do not pull people away from your website.
Getting your business ready for the holidays
The first step to getting your business ready for the holidays is to set boundaries. You have to first decide what time off will look like. For many of you, you'll probably still be on social media. But maybe you are not actively publishing new content.
Set up your inbox
If you're planning to be away from email for more than a few days, be sure to set up an auto responder that let's people know when you'll be back. You can also create an autoresponder on social media if you plan to be away from that.
Set aside time to reflect on the last year
This is something that I always love doing at the end of the year. I like to look back and see what content did the best, what part of my business I really enjoyed and what parts I might not have.
In episode 12, I broke down an entire process for reviewing your year, but you basically want to look at a combination of the stats AND how you feel overall about the past year. I know it's been a bit of a crazy one but we can still all reflect back and make changes moving forward!
Carve out time on your calendar to do this and set any goals for the upcoming year.
Pin for later
Come browse my Pinterest for more inspiration >>