In today's episode we are talking about your niche! A niche does SO much more than just put you in a box and tells you what recipes you can or can't share. We're going to define your niche and then I'll show you how to put it into action.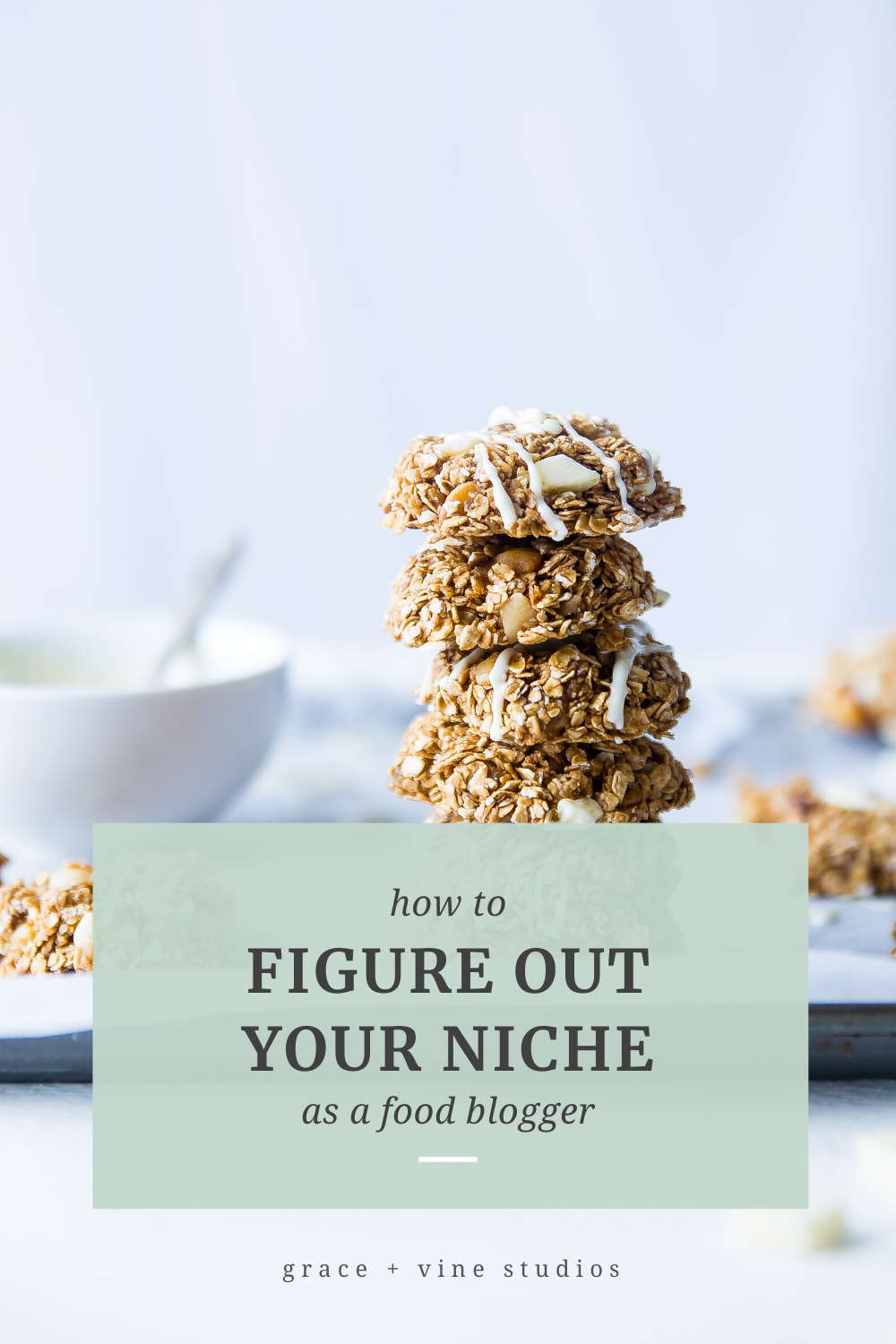 Never miss an episode! Get notification of new podcast episodes to your inbox.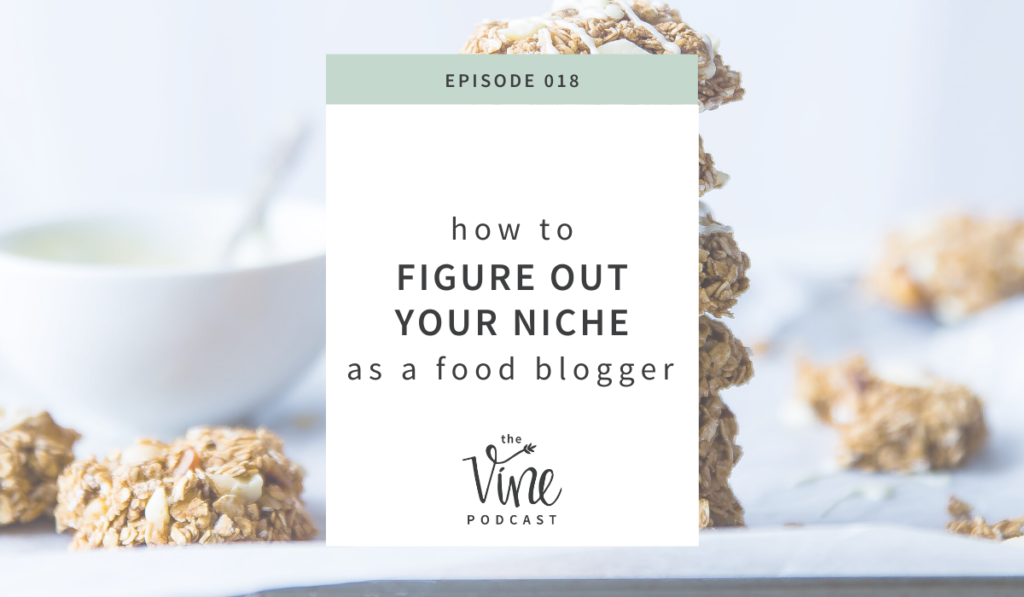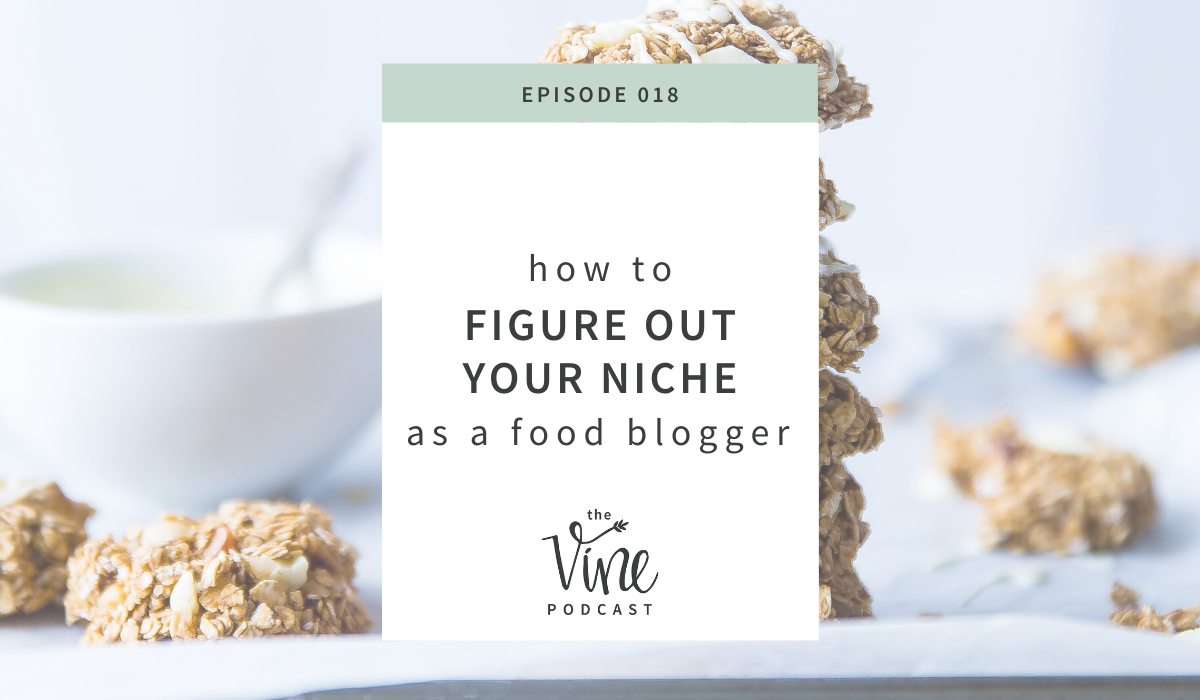 Can't listen to the episode? Read on for the transcript!
Before I get started, a quick reminder to go to your podcast app and hit subscribe! I heard a rumor this past week that new episodes don't show up right away if you are not subscribed.
If you've ever looked for a new episode on Tuesday and didn't find it, that could be why, so hit subscribe so you'll see new episodes every time!
I have also loved seeing you all share the episodes over on Instagram and getting to interact with you there. You can always take a screenshot and tag me. I love seeing your biggest takeaways.
Today's episode we are talking about your niche! Specifically we're going to define your niche and then I'll show you how to put it into action.
To be honest this was something I dreaded my first few years as a food blogger. I felt like a niche would trap me from being able to share whatever recipes I wanted to share.
A niche does SO much more than just put you in a box and tells you what recipes you can or can't share.
Let's first break down what a niche is.
What is a niche?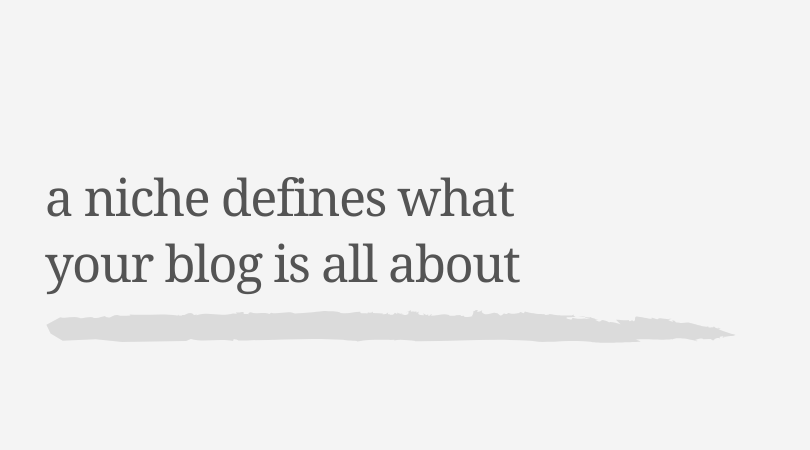 It's really as simple as that.
However, that does not mean that your niche is food.
A niche shouldn't be summed up in just one word.
Your blog's niche defines your brand in a powerful way. Food is way too generic.
Back in 2012 there was an article published by Taking The Kitchen that said there were 16,588 food blogs. I wouldn't be shocked if that number has doubled by now.
All of that to say, food is way too broad of a niche to really define what your blog is all about.
Let's think of this in another way.
When you share a recipe on your blog, you don't categorize it as "recipe". You select the category that describes the post the most, like dinner recipe or dessert. If your categories are even more specific you might have 30 minute dinners or brownie recipes.
Your niche is the category where your blog fits in.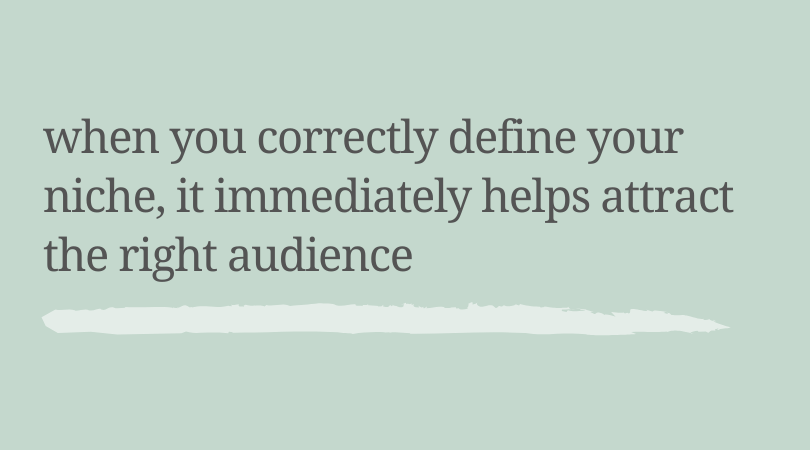 The correct niche also repels the wrong people.
If your niche is carnivore diet recipes and someone who is vegan somehow lands on your site, they'll immediately know this is not the right place for them.
Having your niche can help the right audience immediately feels seen and known. It can immediately address your audience's pain points and struggles, which will lead to deeper connections with your audience!
There was one time we were going to have friends over, and I remembered that this one friend had a nut allergy. As we were serving food, I remembered to tell her which dishes had nuts and which did not. The look on her face when she realized that I had taken the time to remember about her dietary needs was amazing.
Having a defined niche for your blog can give your audience that kind of sense of belonging!
When I'm working with a branding or web design client, one of the first things they do as part of the strategy portion of my design process is to fill out a branding questionnaire. In it, we define their niche. I'm going to walk you through this three step process to defining your niche!
Three step process to defining your niche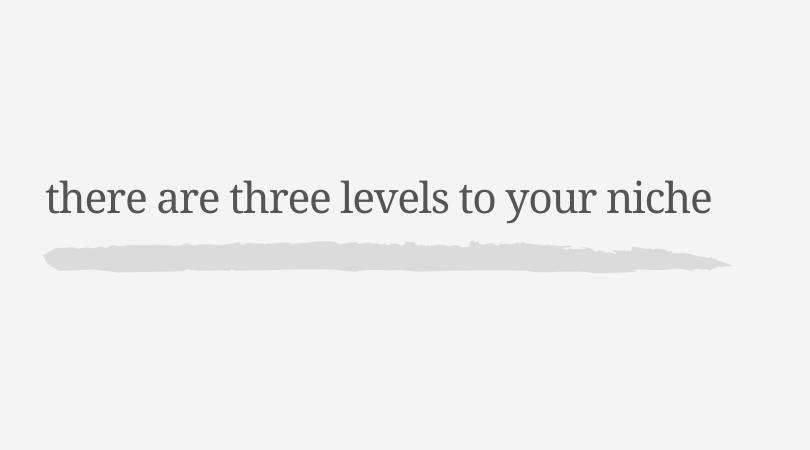 There are three levels to your niche, and that's exactly how we are going to work through defining your niche.
Step One:
The first is the top level, which for most of you will be food.
This is what will differentiate you from bloggers within other larger niches like fashion, crafts, home, etc.
Step Two:
The second level is the specific type of recipes that you share within the food blogging niche.
This can be dietary specific, cuisine or meal type like dinner recipes or dessert recipes.
Step Three:
The third level is what I think is the most important but also the most missed!
If I were to line up 5 bloggers who shared your same specific type of recipes, what would make YOUR content stand out?
Is it your cooking philosophy?
Is it the type of ingredients you use?
Is it the cooking method like all instant pot or slow cooker recipes?
Over the past year, I've worked with three different clients on branding and web design who all share easy healthy recipes.
But the three of them couldn't have more different niches!
When you stop at the second level in defining your niche it's really easy to blend in with other bloggers. We all know that the blogging world is so saturated, and we need to find ways for our blogs and our content to stand out.
Within the healthy recipes niche, it's easy to see how different blogs would have different specialties because health is so subjective.
But so is food!
Whether it is comfort food, desserts, entertaining, allergy-friendly, it doesn't matter, each can be defined even more specifically.
For each of those clients that I worked with last year, they could take the same type of recipe and would probably make them three completely different ways — even though they are all within the same "niche".
This is why I spend so much time during my design process thinking about strategy. It's not enough to just check the box off for my client's niche and call it good.
I often find that there's a trend to simplify your niche as a food blogger. There are even some food blogger who I've talked to that grew too quickly to even consider their niche.
I want to know my client's story on such a deep level that I can convey their story, their cooking philosophy, the heart behind their blog all within their branding or website design.
Even if you are DIYing your branding and/or website design, knowing this is really the foundation for everything else. Without getting specific about your niche, it's hard to define your ideal reader or define your brand messaging.
For me, defining my niche for both my food blog and Grace and Vine Studios (my design business) was challenging because I was so afraid of alienating someone.
I'm a type 2 on the Enneagram. If you don't know about the Enneagram, it's essentially a personality typing system with 9 numbers as the types. Type 2 is known as "the helper" and they are notorious people pleasers.
I was so afraid to exclude someone that I didn't define a niche for such a long time.
When you don't define a niche and you aren't specific is that you end up talking to the masses, which always results in talking to no one.
Defining your niche will attract the right people to your site, help you build deeper connections with them and give you confidence when sharing your message.
And yes, defining your niche may also repel people who aren't the right audience and that is okay too! There is usually some overlap.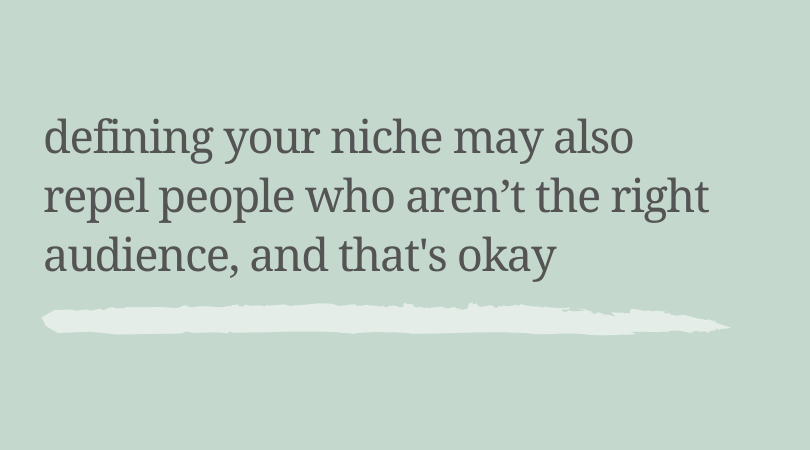 For example, I follow some vegan or dairy free blogs and even make their recipes from time to time, even though neither of those are my default diet. But if one of those blogs sold a product all about going dairy free, I probably wouldn't be the right customer. Again, that's okay!
Mission Statement
Once you have your niche narrowed down, you can write a quick mission statement to wrap it all together. If you don't already have your ideal reader defined, that is going to be really helpful for this part too. You can go back and re-listen to episode 2 to define your reader!
The next part of the questionnaire I give my clients gives them a fill in the blank statement to define their mission statement:
You share _____ (specific type of content aka your niche) for ______ (specific type of person – your ideal reader).
I hope you can see how much more strategic and specific that is than just being a food blogger!
Brand Messaging
After you have your niche defined, you can really effectively think about your brand messaging.
Now sometimes this comes first in the conversations with my clients. Sometimes they're able to tell me what their brand is all about, and I use those statements to help them define their niche.
Something I've been helping my clients with lately, though, is really defining those core messages of your brand.
Having those 5-10 statements written down somewhere to reference can make a huge difference in conveying that message. Whether that's within blog posts, on Instagram stories or even in your emails to your list.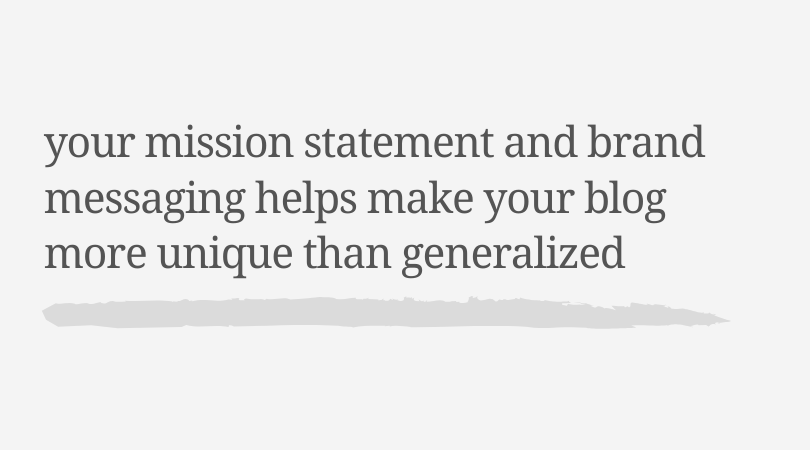 Having those statements front and center helps you to remember what makes you unique and to speak on those things – rather than generalizing all of your content.
I recently did an interview I did with Megan Porta over on the Eat Blog Talk podcast where we went more into depth on how to maintain your unique voice on your blog. We talked a lot about this and you can also go back to episode 3 of this podcast as well to learn more about the importance of brand messaging.
Freebie
Don't forget to grab the guide that covers the exact questions I walk through with my design clients on defining your niche and your ideal reader! Grab it at thevinepodcast.com/018.
Wrap Up
No matter how long you have been food blogging, I think you can always review these sorts of questions to make sure that your being really intentional about your niche and the messaging you are putting out there.
It's really easy to strip away the things that make your blog unique because you feel like you have to or people don't care about your voice.
This just isn't true! But you do need to make sure you're connecting it all together.
Defining your niche is the first, very crucial step to doing just that!
Next week's episode we are going to be talking about your website tagline and it's going to be the next step in defining YOUR brand and help your food blog stand out!