We're doing something a little bit different and I'm really excited to give this new format a try. I've had listeners and readers submit their questions and I'm going to be answering all kinds of topics from things like the best plugins to use, strategies for social media, time management tips, and more.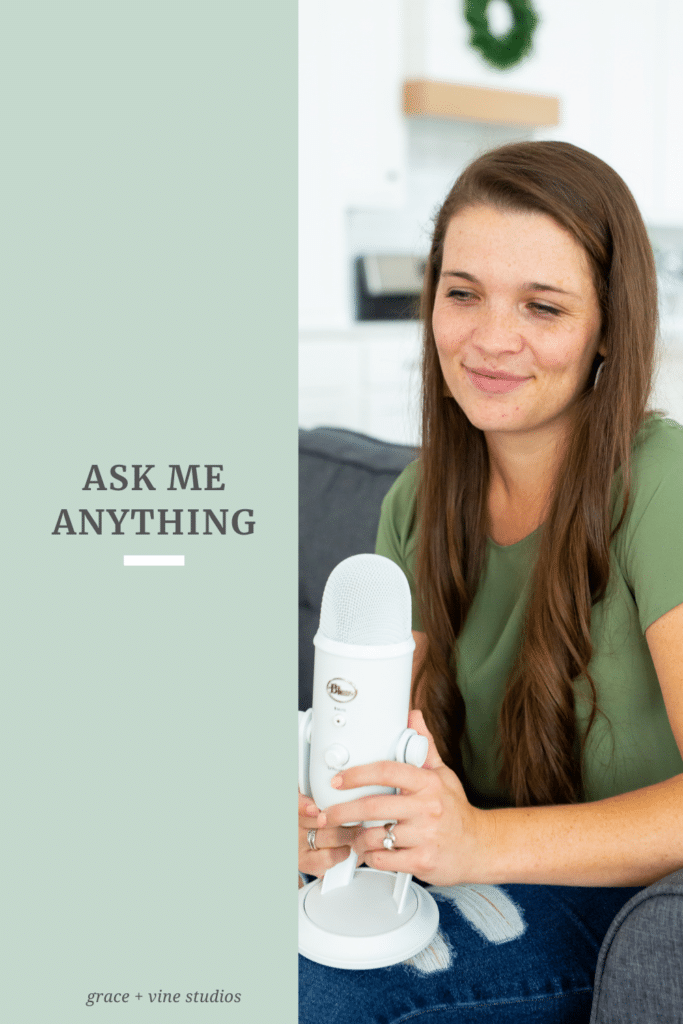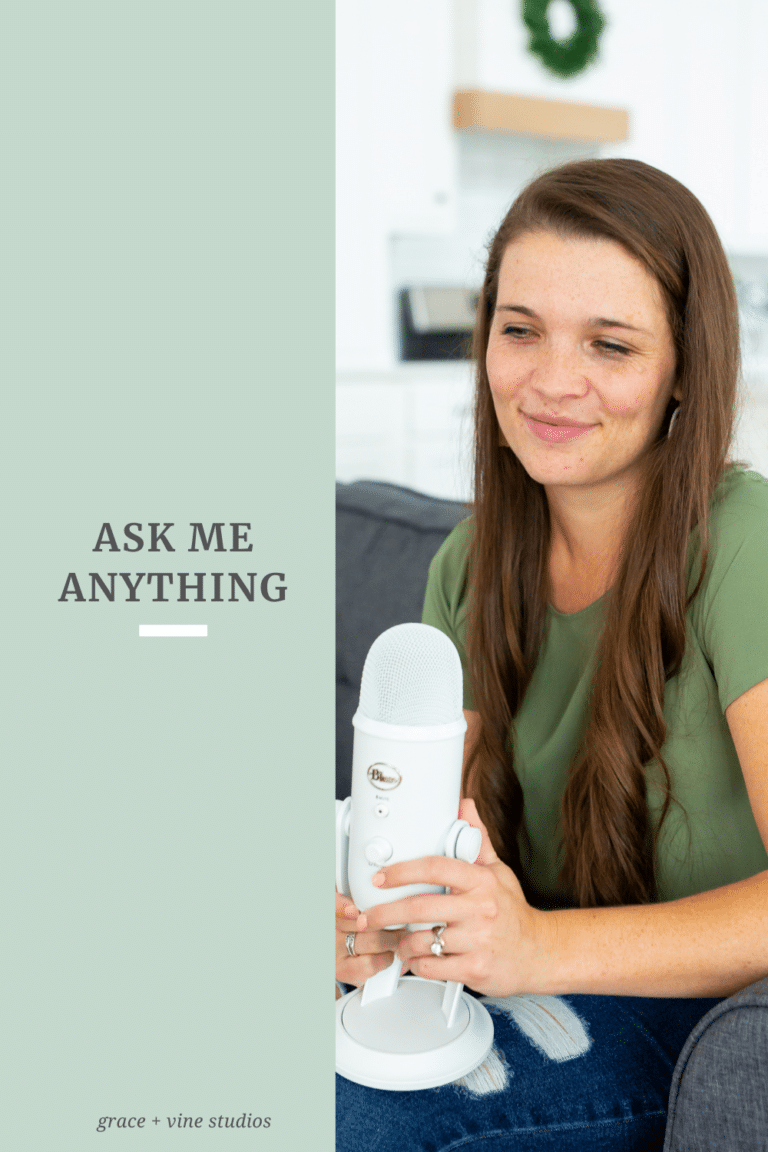 Never miss an episode! Get notification of new podcast episodes to your inbox.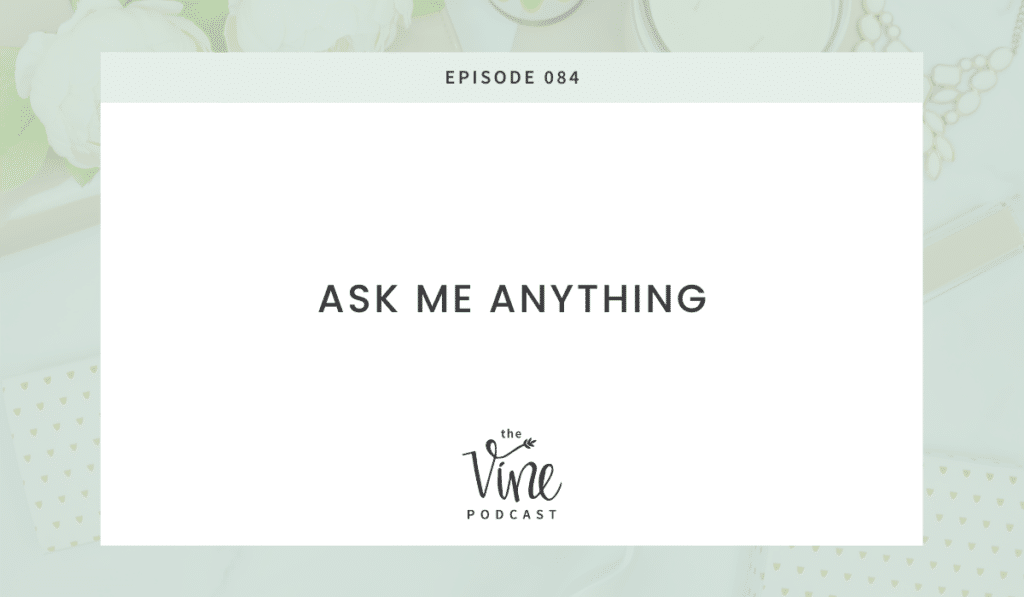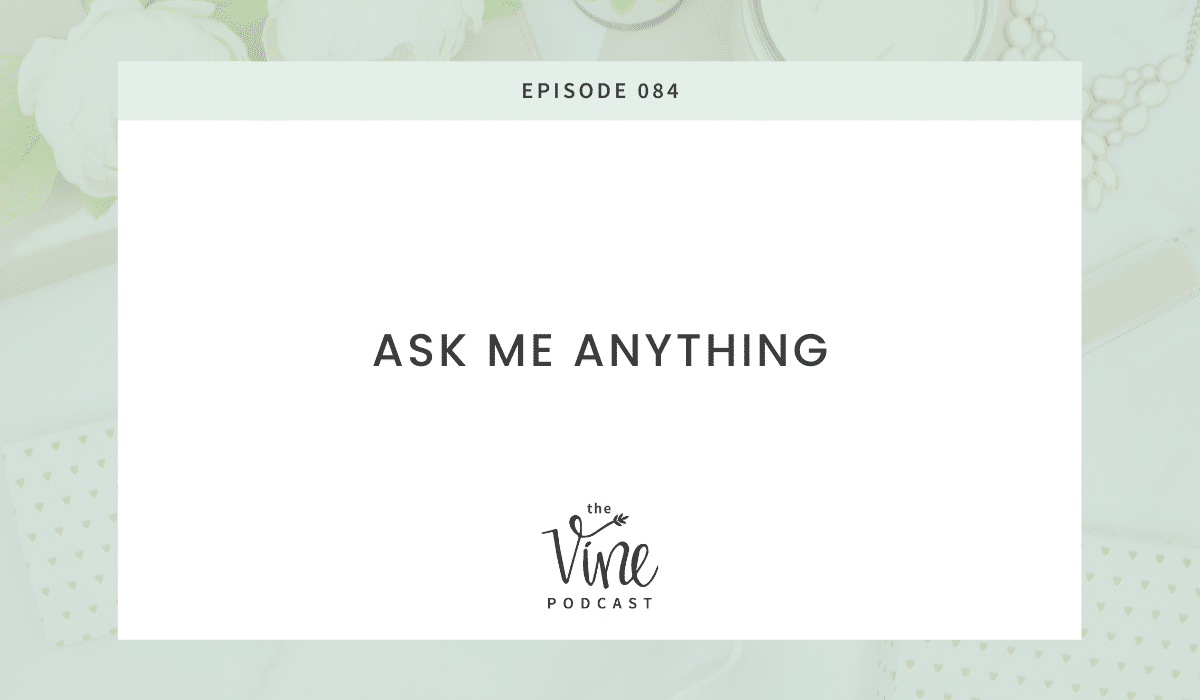 We have organized your questions by section and topics so that it will be easier to follow. Read on to get started!
Programs & Plugins
1) Do you have any opinions on using themes like Astra, Kadence, or Trellis instead of Genesis?
The last couple of years, there have been a lot of new players in the game of different platforms and themes. Now from a personal standpoint, I have not used Astra or Trellis specifically, I have used just a very super basic Kadence Child Theme. I hear a lot of good things about these different themes and frameworks in terms of them being super-fast and relatively easy to use. One potential downside I have heard, is that they're not very easy to customize.
So, in considering using these themes, it depends on the goals you have for your website and how tech savvy you are. Are you really looking for a site that is super lightning fast and you don't really care if you lose some of the ability to customize it and make it look the way you want it to look? Or are you looking for something that super easy to customize and just tweak on your own? It really depends on what you're looking for.
I will say that if you're looking for something that is just lightning fast out of the box, Genesis is not always going to provide that unless you are using something like the Feast plugin and the Foodie Pro Theme. A lot has changed since Genesis first came out 10- 15 years ago, and there are so many things that are important now that were not important when it first came out. Genesis has stood the test of time and I am very hopeful that they will continue to make updates to it long term.
I think a lot of people are switching to some of these other frameworks as they were built with site speed in mind. If you're working with someone that knows what they're doing and is really designing and developing with site speed in mind, then all of these are really going to be interchangeable in terms of what you can do.
If custom clients want to be able to use these frameworks, instead of Genesis, we are totally open to that. Genesis is our bread and butter and what we know and have seen work time and time again for our clients.
2) Which plugins do you not recommend?
In general, I do not recommend plugins that have not been updated recently. So, if they are not compatible with at least the second to latest version of WordPress, then I would not use them. If they have not been updated in six months, a year at the very most, then I would not use it unless, you know on good faith that it is a plugin that still works with your theme.
I don't recommend plugins that are going to be super heavy with features that you don't need, and one such example is Jetpack. Every other feature that Jet Pack has is built into some other plugins. There's a handful of features within Jetpack that you aren't going to need at all, ever, as a food blogger, so it ends up just being extra bloat for your website.
With any plugin, I advise you to look at why you need it and to make sure that you do need it before going ahead and installing. Another plugin I particularly don't love is Social Warfare. I remember there was an issue with it a couple of years ago that they didn't address very quickly or very well. And a lot of people switched after that over to using Grow by Mediavine, which is what I would recommend now. So, if you're using that plugin and it is working for you, you can totally keep it. You don't have to switch just because I say I don't recommend it.
The other type of plugins that I generally don't recommend are related posts plugins. This is because the plugin is going to use contextual or some sort of algorithm to figure out what posts are related. It's better for you as the content creator to curate which posts are being recommended as sort of a next step for your reader. The related post plugin can be nice for people who have hundreds and hundreds of blog posts that they don't have time to go through and add. But I recommend ones that will show maybe based on category or show based on most popular posts, in terms of the number of comments, so that there is some sort of control over which posts are being shared. Check out my blog post, Top WordPress Plugins for Food Bloggers.
3) Can you give us your best tip for site speed?
The first step would be to make sure that you're always resizing your images. I mean this both before you upload your image and then I also recommend using an image optimization plugin, like Short Pixel, to optimize your images after they are uploaded. This will really ensure that you have the smallest file size possible for your images, which as a food blogger is super important because you have so many images. I also recommend going and getting rid of any unnecessary or duplicate plugins. Although plugins are generally small in file size, they can add up and sometimes plugins are incredibly large, like Jetpack. Make sure that the plugins you choose are the ones that you need and that they are well-designed and not slowing down your site.
Finally, I also recommend using an optimization plugin like WP Rocket. This plugin is really going to do a lot of technical stuff to be able to make your site load faster. It's easy to set up and a lot of hosting companies will help you set it up or will even have a license for you.
4) Which recipe card plugin do you recommend?
I really love Create by Media Vine and WP Recipe Maker. I have also used Tasty, and I really like it, I just think that Create and WP Recipe Maker are a little bit more robust and from a web design perspective, they are a lot easier to customize both for the average user who's using it, and as a developer. For more details about my favorite recipe card plugins, listen to The Vine Podcast Episode 46, Recipe Card Plugins.
5) How many categories should I have?
My answer to this is going to be as many as you need to optimize and organize your content efficiently. Make sure that your category pages are filled out fully, and that they don't just have two or three posts per category. Then second, I really recommend making sure that your category pages are not competing with your blog posts. I talk about that a lot more in depth in Episode 76, Organize Your Blog Categories. So, if categories seem like a mystery to you and you want more of a deep dive into that topic, go back and listen to that.
Social Media
6) With Instagram changing its focus, do I need to learn video to grow?
To be able to see the best results on any platform, Instagram included, you need to try to use all the features that it has. Instagram has so many ways to create content on there. When you are not using things like Reels or IGTV or Instagram Stories, you're really limiting the amount of exposure that you're going to get for your brand on those platforms. However, if you really tap into the algorithm and what Instagram is favoring and liking, which is video, you're going to be able to see an increased engagement.
It can be really discouraging if you really don't like video and if that's the case, then maybe Instagram is not the platform for you. But to be honest, every single platform, except for maybe Twitter, but Pinterest, Facebook and Instagram are all really favoring video, as well as Google and so I think it's important to figure out if this is a part of your long-term strategy.
Now the second side to that question is that you don't have to necessarily learn how to do this, but if it's a part of your strategy, then maybe you need to find someone to have on your team who can help you do this. Some of you may not be in the position to hire somebody to help you with videos, but maybe you can hire an intern to help you with Instagram and have them help you with creating Reels or use an app like Jump Rope to put together clips of your phone photos in a video format, so that people can experience your content. The point really is that if that's what users are wanting, then that's what Instagram is going to favor.
I think it is a smart move, if Instagram is in your long-term marketing plan, that you figure out a way to incorporate that into your marketing, whether that's you or someone else on your team that you can hire.
Time Management
7) Tell us about your mad time management skills.
This is something that I feel like is constantly a work in progress for me. For many of us, we're all trying to juggle all the things in our business and our personal life, so I don't think any of us really has this figured out yet. One thing that has been helpful for me in the last probably six months, is really getting clear on what the essential things are that I need to do. I read about this in a book by Greg McKeown called Essentialism. This book just really opened my eyes to how much we do in our lives and in our business, that really is not essential and not driving us towards our goals. I recommend you read it.
But the way that I really get clear on this intention is that I set a weekly one. So, step one is deciding on ONE thing that I want to really move the needle forward on in my business, then step two, I set a TOP THREE things for the day. So essentially, I'm going to do way more than three things in one day, but the three things are really the things that without fail must be done and I can get to the rest of my list later. This priority list really helps me to prioritize what needs to get done versus all the things that feel like they need to get done, and the things that feel like they're on fire.
8) What does a typical workday look for you and how do you balance work and personal?
This is a tricky one. The last year and a half has really taught me to be more scrappy. I really learned to be more efficient with what I have to get done and really looking at things from a more zoomed out perspective. I think I used to get really caught up in like the to-do list for the week or even for the day and realizing that I needed to take a step back and see, where all my client projects were at that moment and where they needed to be. So really looking ahead has helped me to plan things out a little bit better.
As for my actual workday, my husband and I both attend to our duties. He is still working from home, so I take the first shift in the morning, and I get most of my work done before the kids are up. And then once they're up, he makes us all breakfast and kind of gets them settled while I kind of wrap things up. So that's my first work block of the day and then my second block that I can count on is during nap time and quiet time for the kids. So, with those two blocks, it ends up being anywhere between four to six hours a day that I'm really able to focus on work. I think it's important to get clear on what those blocks need to look like for you. It can just give you a rhythm to follow so that when you sit down to work, you know what you're going to do, and you won't end up wasting time on social media.
So how I balance the work and the personal is that I really try to be in that zone as much as I can. I've just found that I do a lot better when I can be all in, on either work or family stuff. It's all a balancing act and I think that the idea of like true balance where it's 50- 50, it's just never going to be practical. This is something that I did not do very well at the beginning of my business. It's something I've had to kind of climb out of, some of these bad habits, and some of these workaholic tendencies and just allow myself to carve out space for that balance that I really want to have.
9) If you have limited blogging time, would you prioritize writing content or sharing on social media?
This is a no-brainer. It is absolutely, 100%, writing content. I think if you feel scrapped for time, your priority should always be writing content. If you are really striving to get content out there and get it into Google's eyes, more high-quality content will benefit you. So, if you must choose between promoting old stuff or writing new content, then I would recommend writing new content and just getting things out there or revising old content as well. If that's something that you're not really prioritizing, looking back and seeing what you can revise is a really easy way to make a super big impact on an old post, but without having to do all the work of creating it from scratch.
Goal Conversion
10) How do you create actionable steps to achieve your goals for your business?
This is something that I really struggled with the first few years in business. I've just realized how much time can go by without actually setting or achieving goals that you want to have for your business. But as far as creating an actual step, I think the first step is really to get clear on what that goal is. Look at whatever it is that you're trying to make a goal for, then get really specific on it. And on a related note, it should be things that are within your control.
A lot of times people set their goals as the "result" that they're looking for when really, we need to be thinking about the "actions" you have to take in order to get to that result that you want. Once you're clear on what it is that you want and what that goal is, then you can break it down.
You need to look at how much time you have to spend on this goal. How often can you work on this and then just breaking it down to the most bite size pieces of the project that you can. There is a really big difference between tasks and projects, and a lot of people get these really confused. So, you kind of have to work backwards from the goal, like that's really your top level and then you work back down to like, what is the first step I need to take in order to start achieving this goal.
I highly recommend having some sort of way to manage and track those tasks, using a project management tool. My team and I use Asana with all my clients just to keep everything organized and keep the process really streamlined. It's a really great way to just track goals, track projects, track tasks and just see the momentum that you're making. You do so many things every single day, that you don't even realize whether what you're doing is moving you toward your goals or not.