Choosing the right recipe card can be a tough decision! In this episode I'll share what you need to know about recipe card plugins and which ones I recommend to my clients.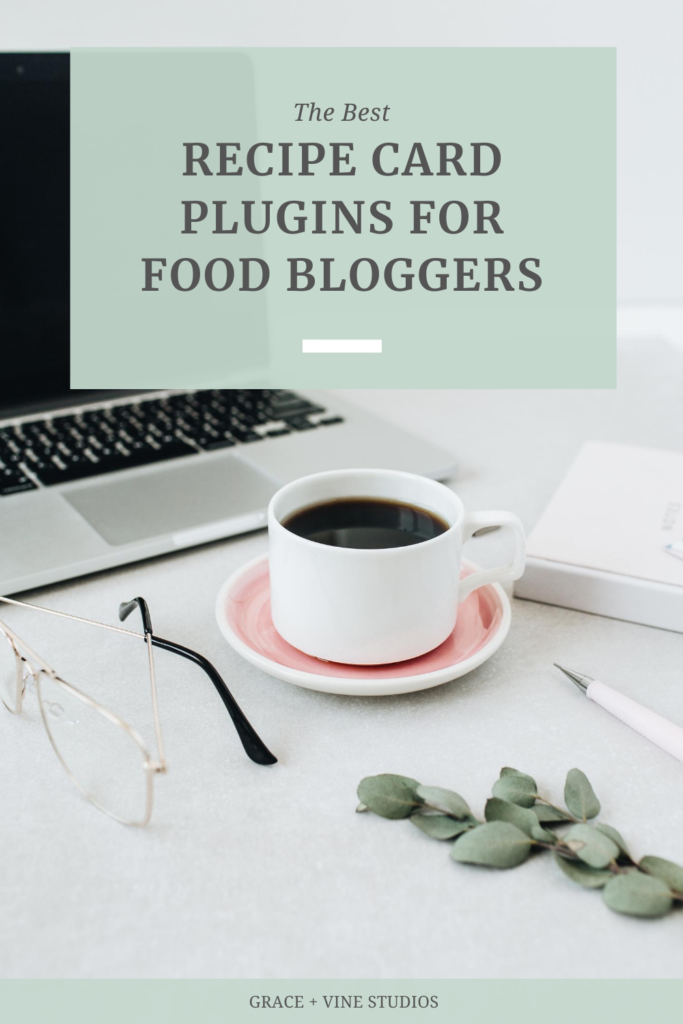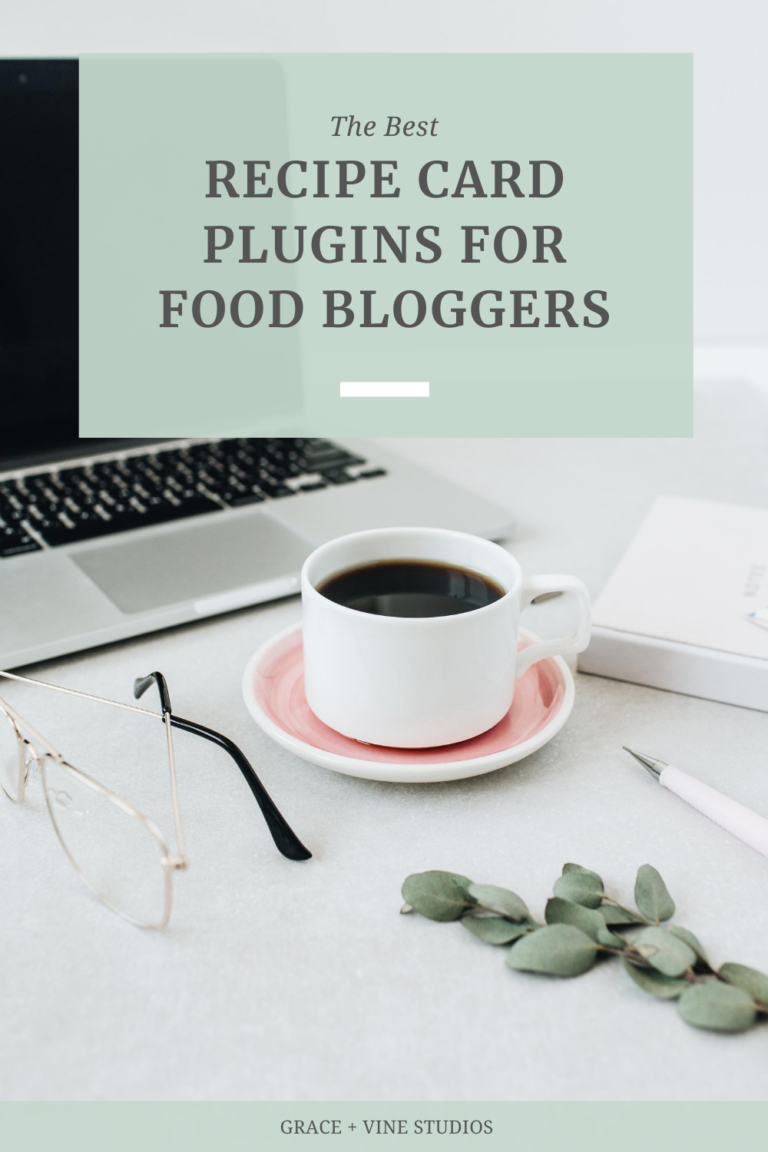 Never miss an episode! Get notification of new podcast episodes to your inbox.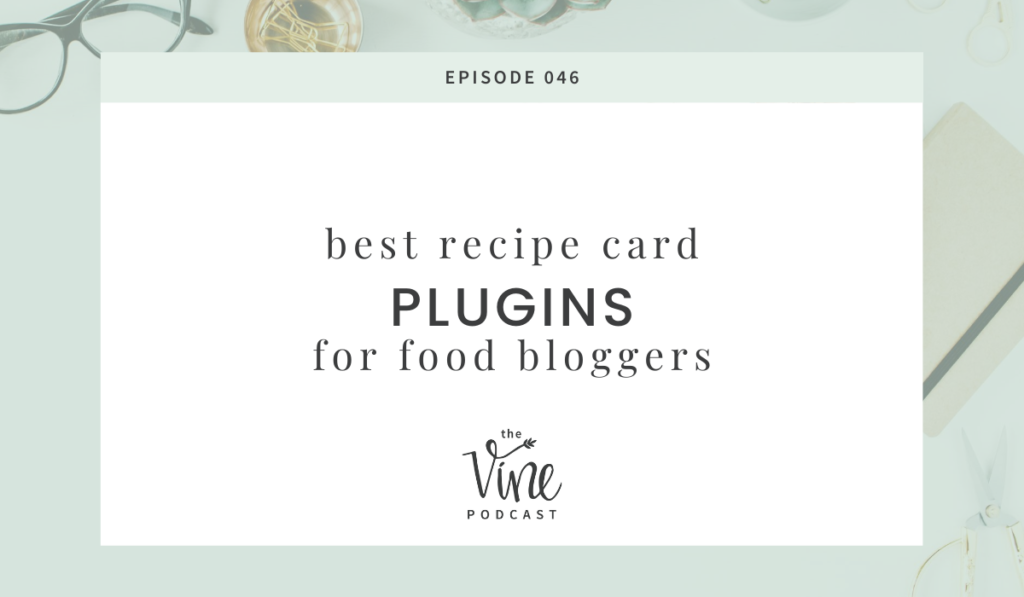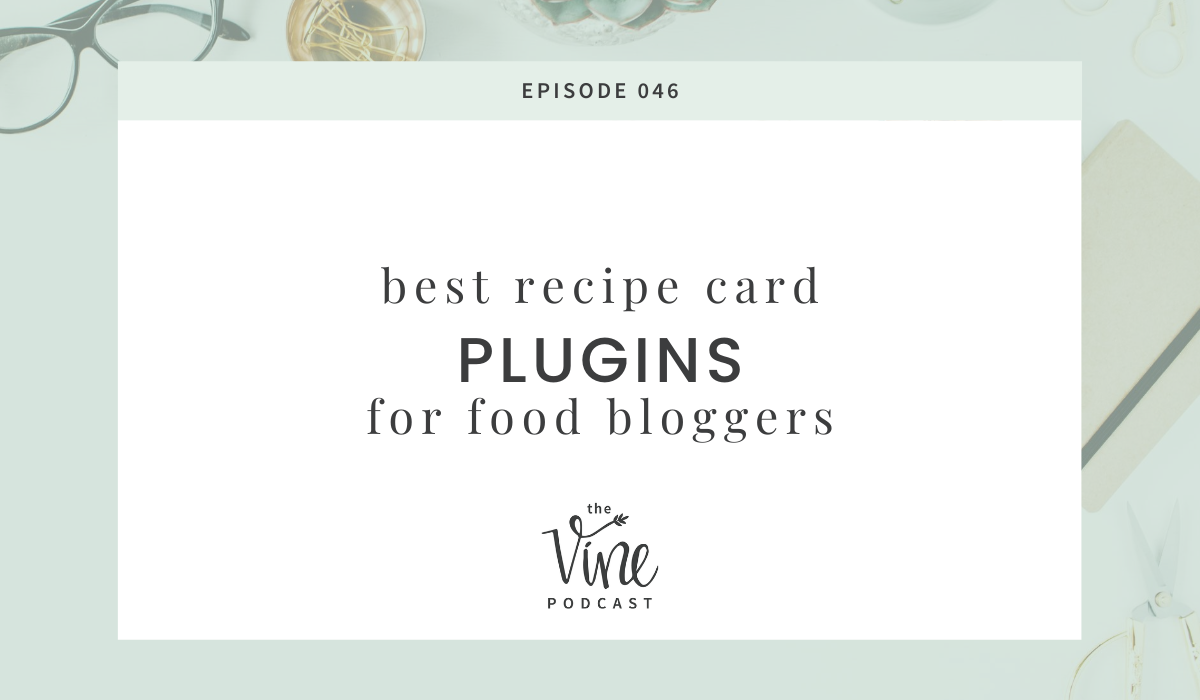 Can't listen to the episode? Read on for the transcript!
I'm going to assume in this episode that you already know that having an actual recipe card on your blog is important, but just in case you aren't sure what a recipe card is or why it's important to choose the right kind, let me just share a few quick things.
Having a recipe card not only helps your recipe content to stand out within your blog post, it also adds functionality like being able to print the recipe, rate it, and see nutrition information. It also provides vital information to Google and Pinterest about your content, sharing that it is a recipe and allowing Google or Pinterest to mark it up as such.
Benefits to using a recipe card
+ The design of a recipe card is meant to help that content stand out.
+ Optimizes your recipe content for SEO
+ Organizes the recipe content in a way that is easy to read.
+ Allows you to easily include nutrition information
One caution: do not use a recipe card that is part of your theme. I've recently worked with a few different people who had this issue and everything has to manually be moved to a recipe card when that happens.
Top 3 Recipe Card Plugins
These recipe card plugins are ones that I have specifically used, designed, and recommend to my clients. There are some others, but these three are definitely at the top for a reason.
When it comes to your recipe card, I don't think it's worth risking a B+ plugin. Go for the ones that are always tried and true!
I'm going to share each of these and go through pros and cons for each as well as some things to remember at the end.
Tasty Recipes
When Tasty Recipes came out it made a big splash in the food blog world because it was designed by the team of Food Blogger Pro/Pinch of Yum. The plugin was specifically designed to meet the needs of the Pinch of Yum blog, so it really does check all the boxes.
Pros:
Easy to import from previous recipe cards
JSON-LD structured data for SEO (supported by both Pinterest and Google)
Recipe scaling
Video integration
Star ratings
Complete nutrition info
5 themes to choose from
The Bold and Fresh Recipe Card themes have a call to action to share on Instagram built into the template.
Cons:
Paid plugin ($79/yr)
To use an advanced nutrition label, a separate monthly subscription to Nutrifox is required. Without this, the nutrition information has to be calculated and inputted manually.
At one point the plugin required you to upload a separate CSS file in order to use certain styles of recipe cards. It appears they no longer do this, but at one point it was a headache!
WP Recipe Maker
The WP Recipe Maker plugin has been around for a while.
I personally haven't used it on my own site, but have managed it for many clients and done many customizations to it. It's a fairly easy to use plugin, although I've found my clients have struggled with customizing it or understanding some of the settings and features on it, since it is a pretty robust plugin.
There is a free version of this plugin but most of my clients have opted for the premium version. The premium version displays a nutrition label, which has been important to my clients for SEO purposes. I personally wouldn't recommend the free version because it lacks some top priority features. If you like this plugin, I would definitely recommend upgrading!
Pros:
* Free version
* Optimized for SEO with Full Google Rich Snippet support
* Semi-customizable templates for recipe card
* Recipe card ad support (this is dependent on the ad network and its ad placement settings)
* Recipe scaling
* Support replies within 24 hours
* With the paid version ($99/yr), you can show extra fields like Weight Watcher Points, add a call to action button below the recipe card to share on Instagram and more.
* Video integration
* Build in jump to recipe buttons that can be toggled on
Cons:
* Free version does not include a nutrition label – only allows you to show calories.
* Templates can be difficult to update and manage (I've managed this for many clients who have found it to be overwhelming to DIY)
* Paid version is a yearly subscription which can be a negative for those just getting started.
Create
Create by Mediavine is the latest player in the recipe card world and it's quite amazing! This free recipe card plugin from Mediavine (an advertising network) has all the bells and whistles of other premium plugins but it's completely free.
Even though it's a free plugin, it's maintained and run like a premium plugin would be because it's managed through a larger company that has the resources to provide ongoing support and maintenance to the plugin.
Pros:
* Free (there is a new pro version)
* Lightweight plugin optimized for speed
* Optimized for SEO with Full Google Rich Snippet support
* Integrates well with ads
* 5 design template options available
* Nutrition calculator built in
* Schema mark up for other types of content like how-to crafts, list round ups, etc.
* Facebook group for support as well as dedicated support team
* Start Ratings are separate from blog post comments– I say this as a pro AND con because the pro is that people who are not a fan of leaving comments can rate your recipe still
* Video integration
* Recommended products (with affiliate links) can be linked directly in the recipe card
Cons:
* Nutrition info is auto calculated and cannot be changed to specify ingredients. This has been an issue sometimes for my own recipes, where actual calculations are wildly different!
* Star Ratings are separate from blog post comments — I say this as a con because it is not in as obvious of a place as it is within the actual comment box.
* Does not have recipe scaling
* Jump to recipe buttons are a pro feature
Even with its small quirks, this is the recipe card of choice when I'm setting up a new recipe plugin for a client.
Those are the top recipe card plugins for food bloggers, so I would recommend testing these out and seeing which you like best. These three plugins are really comparable and there may be just one or two features you like better in one of the plugins.
Pin for later
Come browse my Pinterest for more inspiration >>