As a web designer, I spend a lot of time imagining and studying how users behave on websites. User experience and how a user moves through a website is so important to understand as a food blogger. So in today's 100th episode, we are going to talk about your reader's journey through your food blog.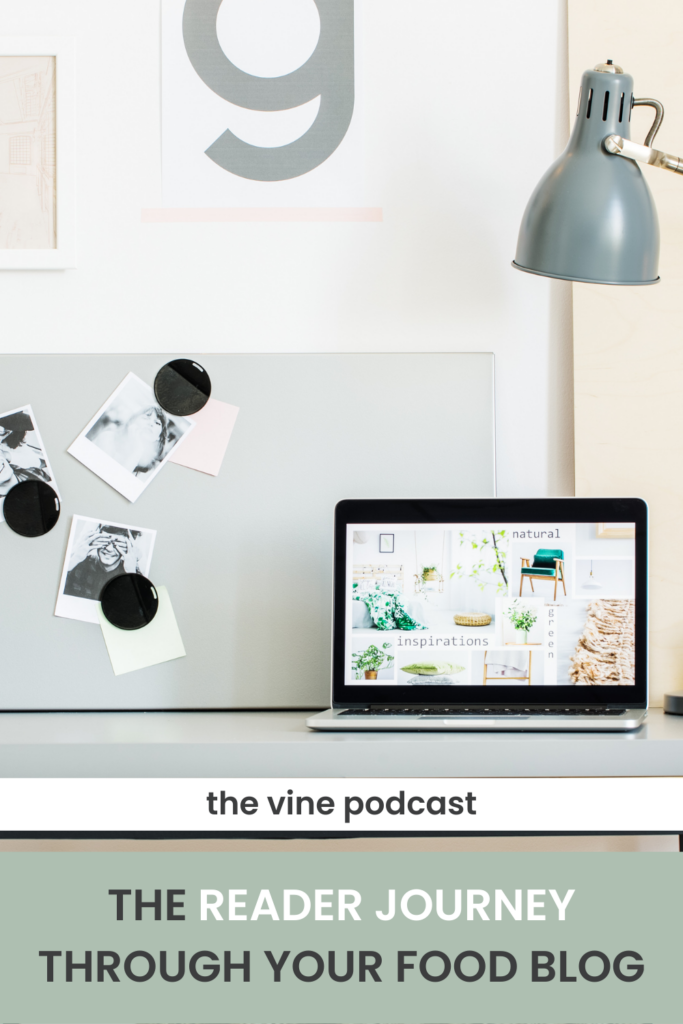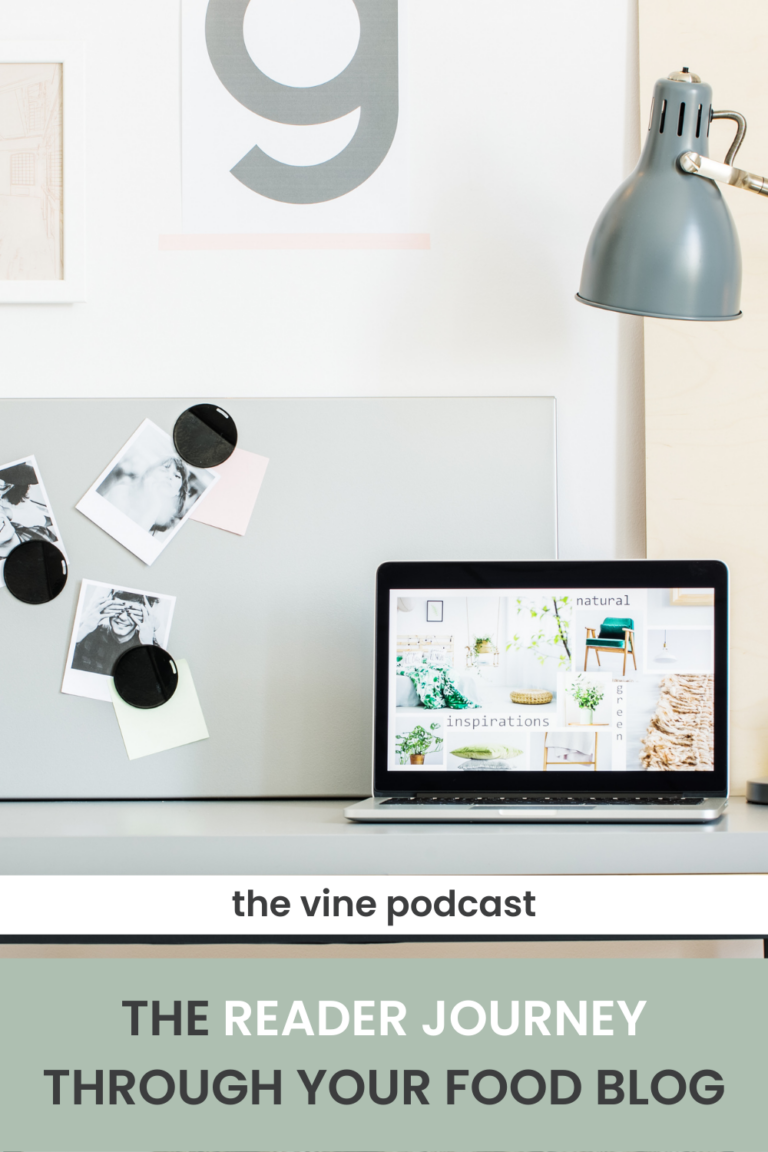 Never miss an episode! Get notification of new podcast episodes to your inbox.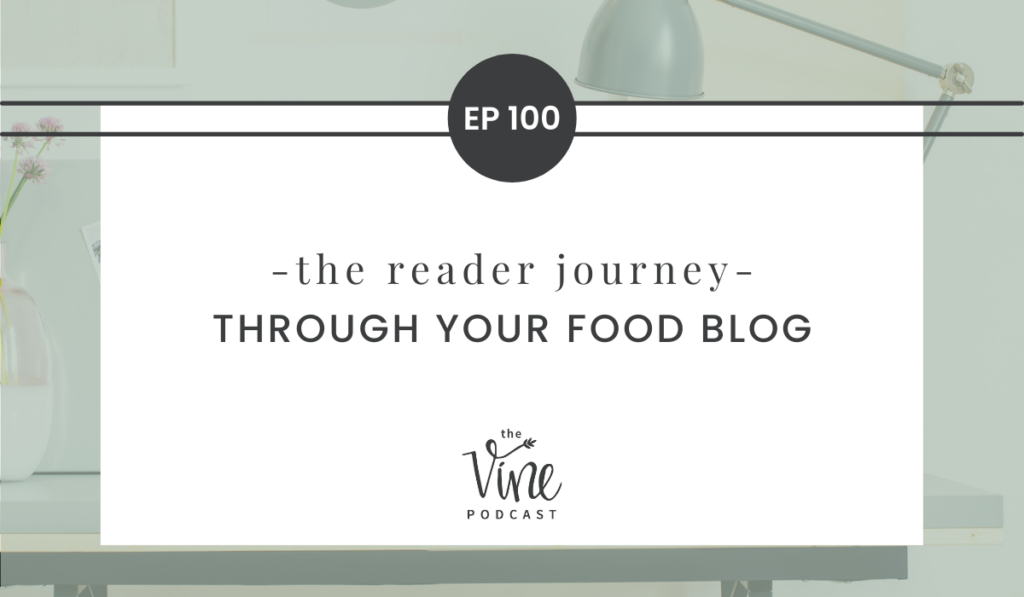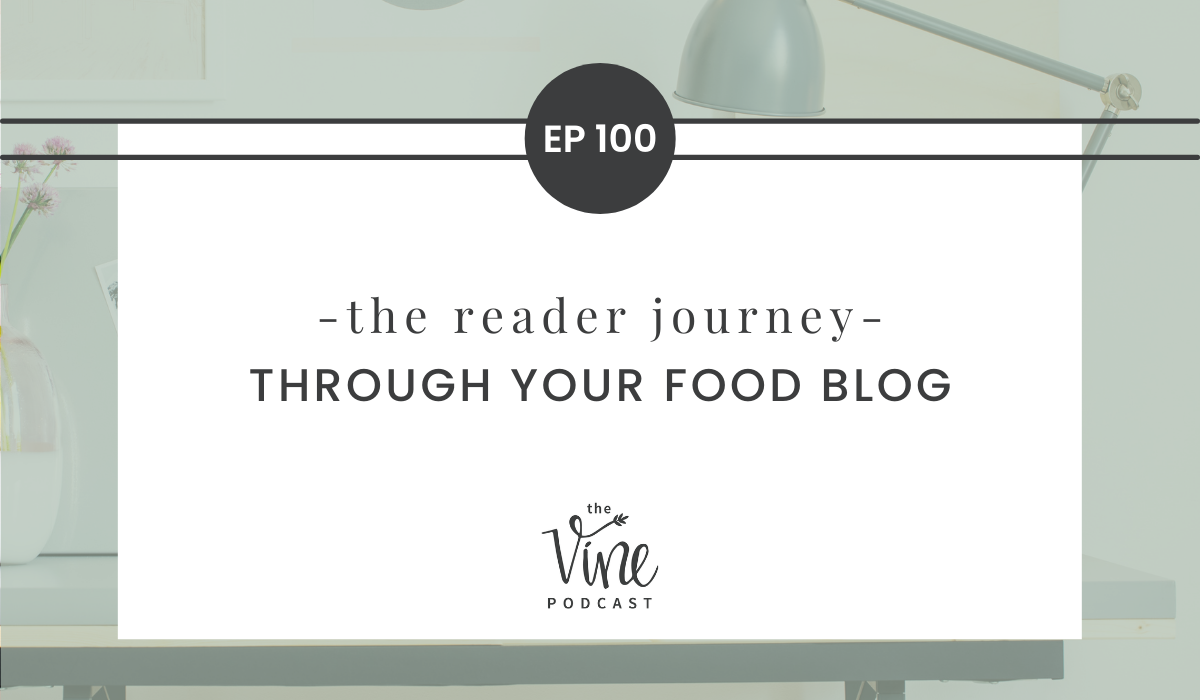 The idea behind the reader journey is really just about understanding the path that a reader takes when they land on your website. So, the first thing we need to understand about our readers journey is how they're landing on our site in the first place.
Understand How People Come to Your Site
It is pretty rare these days for people to land directly on your homepage, for them to type in your URL and to land on your homepage, unless they are already a raving fan of yours. Most of the time, people are landing on your website and they're landing on a specific post, a single post on your blog, or a single recipe having come from a traffic source like Google or Pinterest or social media. Now as we all know when someone lands on that single post, they are looking for one thing and one thing in particular and that is your recipe card. Readers are then going to scroll down to the bottom and try to find that recipe card or they're going to use a "jump to recipe" button.
They're doing this to see if this recipe and the ingredients, the instructions, and the time it's going to take, is a good fit for what they are looking for. Essentially, they're trying to figure out if this post matches what they're looking for. Now, from there, a few different things can happen. The reader may decide to stick around and make the recipe, so they're probably going to be on that page for a little while, making the recipe and following the steps. Or they are going to scroll back to the top of your post and review it again to check if it's a good fit for them or they maybe even will save or print the recipe and come back to it later. They're not planning on making it right now, maybe they're planning their meals for the week and they're adding your recipe to their meal plan.
Understand What People Do Next
So, there's a good amount of your traffic that probably drops off after one page. Like I said, they're either coming to make a specific recipe, or they are coming and they're finding the recipe is not a good fit for what they were looking for. Or maybe they are saving the recipe for later and they're going to come back to it. However, there is a percentage of people who will go to other places on your site. I have analyzed analytics of my own food blog as well as those of my clients, just to see what happens with random users who are on your site and where do they go after they find a recipe that they're interested in.
The highest percentage of people are going to go to a couple of places such as your homepage, maybe click to another related recipe, or they're going to go to a category page. Now, depending on how your website is set up, they may also go to your recipe index. This will happen only if you have strategically placed that in a place where they're going to see it, super close to your recipe carton. You can go to Google Analytics to see how specific users are interacting with your site. You do this by going into the behavior flow and then looking at the through traffic, which is the traffic that went to another page versus the drop off traffic, which is the people that have exited the website after landing on a specific page.
It is really interesting to see what people are clicking to and I would encourage you to pick one of your top posts and just look at where people are going from that post. That traffic is going to be really interesting to study because what you're going to find is potentially where you are having the highest click through rate on certain things. So for example, if you look at one of your recipes, and you see that people are clicking to the category page, look at where that category page is linked. It's going to be the same on all of your posts because that's usually part of your theme.
It's also really interesting to see if people are clicking on a specific related recipe. So the example I was looking at on my blog, I have a recipe for stained glass window cookies, and people were clicking over to my M&M cookie bars. I then looked at where that link was showing up in the post and that's a good indication that it's a good place for me to put post links in the future, in that same spot. You really need to get specific about where the people are going on your site in order to be able to figure out what is working for you.
What is Happening as People Move Deeper into Your Website
It is really important to understand what people are doing when they are going to another page. You could look at this really matter of factly, and you could say, "Well, people are just interested in this other recipe." But just as an example, on my food blog, I had a recipe for stained glass window cookies, and I noticed people were clicking over to my M&M cookie bars. Maybe people who like stained glass window cookies are just really interested in M&M cookie bars, which may be true. However, I think there's a deeper meaning and way to analyze this. When someone is on a random post, they do not know you or necessarily trust you yet, and when they click to another page, they are looking for more reasons to see whether they fit in to your brand.
So, if they randomly found your keto recipe on your site, they're probably clicking around to see if you have more keto content and to see if this is a good site for them to stick around with. Now, I think when people click to your homepage, they're looking for a few things. If they go to your homepage specifically, one, they might be looking for recent recipes and what other content you create. Two, they are trying to see who the creator of this website is, who is the person behind this brand. Then three, they are trying to figure out what this brand is all about. Essentially, they are trying to dig more into your brand story and understand more of what you have to offer so that they can figure out whether or not it is a good fit for them and that they're not wasting their time. They are quickly scanning to see whether or not they should stick around.
As you think about how to write your content or structure your website, you must think about somebody who does not know your brand, and how they would be interacting with this specific page that you are working on. Be thoughtful about how you are talking about your brand and introducing it to somebody in a way that if they've never experienced your brand before, they are going to have a really clear idea of what this site is all about and whether or not they should stick around to find more content. Remember, it is all about attracting the right people and repelling the people who are not the right fit for your site.
Now, I truly believe that the further you get into somebody's website that you have just discovered, once you have clicked past the first page into the second page, so on and so forth, the more it builds trust, with every layer you go deeper. You are now in the position to turn that random person who stumbled across your site into somebody who can be a raving fan in the future.
You want to give them plenty of opportunities to understand your brand and to be able to raise their hand and say that they want to be a part of it. And remember, just because they sign up for your email list or just because they follow you on Instagram does not mean that they're a raving fan yet. It takes many, many steps to get there. The key thing is that you have converted somebody over from being that traffic drop, from just coming to one page and leaving and you have opened that door for them to start to get to know your brand even more. It isn't just about your logo design but it's also about that brand story and that brand messaging. Because if you don't have clarity on what it is that your brand stands for, what it is that you do and who you are talking to, it's going to be really difficult for you to connect the dots and put these puzzle pieces together for your reader.
You can start to craft that reader journey, and it doesn't have to be something that just happens randomly. But as you get more clarity on your brand itself, you're going to be able to create that behavior flow that you're looking for by strategically suggesting what people should do next, and creating that reader journey through your food blog, where you understand step by step how people are moving through your content. I hope that you will spend some time looking at that behavior flow and really thinking strategically about how you want people to move through your website, from that random blog post to whatever that final step is for them. I would love to hear your thoughts on that and hear what you guys are going to implement on your site.
Pin for later
Come browse my Pinterest for more inspiration >>