Whether you're working from home or you are running an empire, systems are imperative to your business' efficiency and success. With a new year beginning, it's the perfect time to talk about systems, why they are important and how to implement them in your business.
First, let's talk about what a system is. It's a way of doing a particular thing–from invoices, to your client process, to the creation of your product. It's a task that is always done the same way and is measurable. If you have tasks in your business that are done differently every time, there's a chance that they could benefit by being streamlined into a system that will tighten up your processes and make things run more smoothly.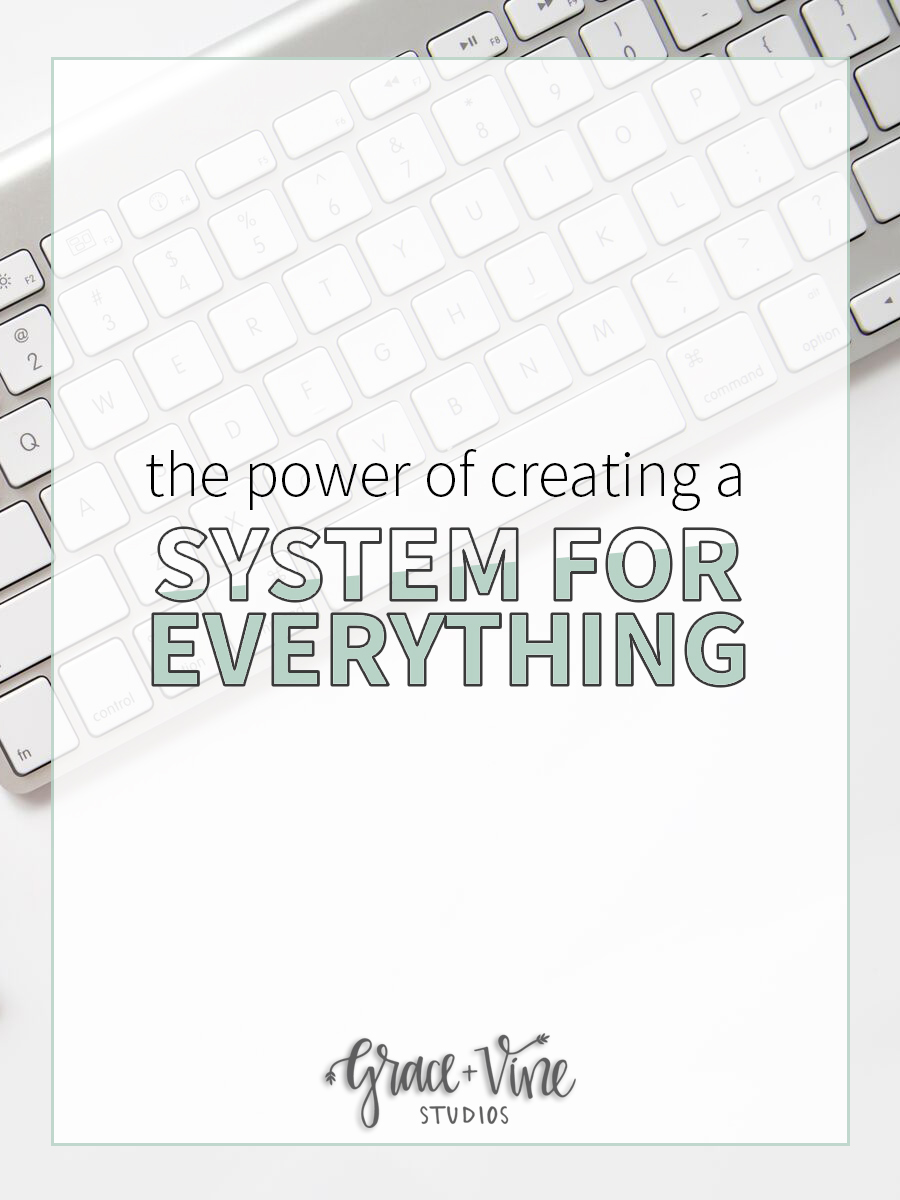 A lot of the tasks in my business are managed effectively through systems I have created. My design client workflow is the same every time. From sending out web design proposals, to creating brand boards, logo, or full web designs,the processes I use are the same each time. While each of my custom WordPress web design clients may have different needs and branding, the process of working with them is similar enough each time to create a uniform system to make the process run smoothly.
Have you ever heard that you have to know the rules before you can break them? Systems are kind of like that. There will be times when your process branches away from your usual workflow and system, and that's okay. Systems are guidelines that will help keep you on track, but there will always be situations where it makes sense to branch outside of the box.
Here are five reasons to implement systems within your business and some examples of my own!
With a System, You Know the Results
System are completed hundreds, thousands, even millions of times within a business.
Here is a very simple example. A virtual assistant bills a client hourly for the work completed. Every time the work is completed, the billable hours are recorded, before anything else is done. By using this system, the clients are billed accurately every time. By using a system of keeping time logged, the virtual assistant can depend on the results.
If you have an Etsy store, create and perfect a system for how each product is created. Don't reinvent the wheel each time you're creating a product. Once you find the "right" way to do it, you know your system will always produce the same result.
With a System, There are Checks and Balances
Systems allow for checks and balances. I find this most helpful when it comes to invoicing and financial systems. Every accountant will tell you how important it is to reconcile your accounts every single month instead of doing it all right before April 15th. Tasks like this can be put into monthly systems to keep your finances checked and balanced.
Here's one idea to create a system. The last week day of every month can be set aside for administrative work, like reconciling your accounts. It's the first thing you do that day, every single month, like clockwork. That means it's blocked off from client work or making your product or even answering emails until you have finished the priority of that day.
With a System, Quality is Maintained
Systems make it easy to ensure that quality is maintained. It's easy to spot a breakdown and overcome it before quality is lost.
A system is not only going to help make sure the quality of your product is maintained, but it is also a self-checking system.
The beautiful thing about a system is that if it isn't working, you know it right away. If the system you follow for a process within your business isn't working for you, change it so that it does. Your life will be easier and your business will run more smoothly. All of these things directly affect the service or product you provide.
What works for someone else, may not work for you. But by creating a system, it will work seamlessly for your business.
With a System, Expectations are Easy to Set and Keep Up
It wasn't until I had been working with design clients for about six months that I began to realize things were all over the place. I felt overworked, underpaid and was generally behind.
I took a few hours to sit down and figure out what my process was and how to make it more streamlined every time.
Now that I know exactly what process I will follow with each client, I know exactly what I can deliver and when. This helps me to set my clients' expectations for when they will receive designs from me and when I can expect to receive their feedback.
It also allows me to fully understand what workload I can take on and how my pricing should reflect that! If I'm only taking on two design clients a month, for example, the supply and demand for my services changes and therefore my pricing can, too.
A quick example, if I sent a logo design proof to a client and didn't have a process, they may take anywhere from an hour to a week to respond and give feedback. But with a system in place, I'm able to send the proof to the client and say "In order to stay within our original timeline, I need to receive feedback from you within 48 hours." Both their expectations and mine are now set and aligned.
So, it's officially a new year and a new start. If you don't have systems in place for some of these things, now is the time to start and I hope I've convinced you that your life will be easier with them. As business owners, I think we all can agree that is the ultimate goal!
If you have areas in your business that you constantly struggle with, consider looking at your process and seeing if you can create a streamlined system for them!
What are some areas of your business you are determined to create a system for in 2017?