Planning for time away from your blog can be intimidating! Whether it's taking time away after a new baby, a big move, or a family vacation, keeping your blog running while you're away IS possible, with a little preparation. In this episode I'm sharing how you can plan for time away from your business and specifically how I prepared my businesses and personal life for that time away.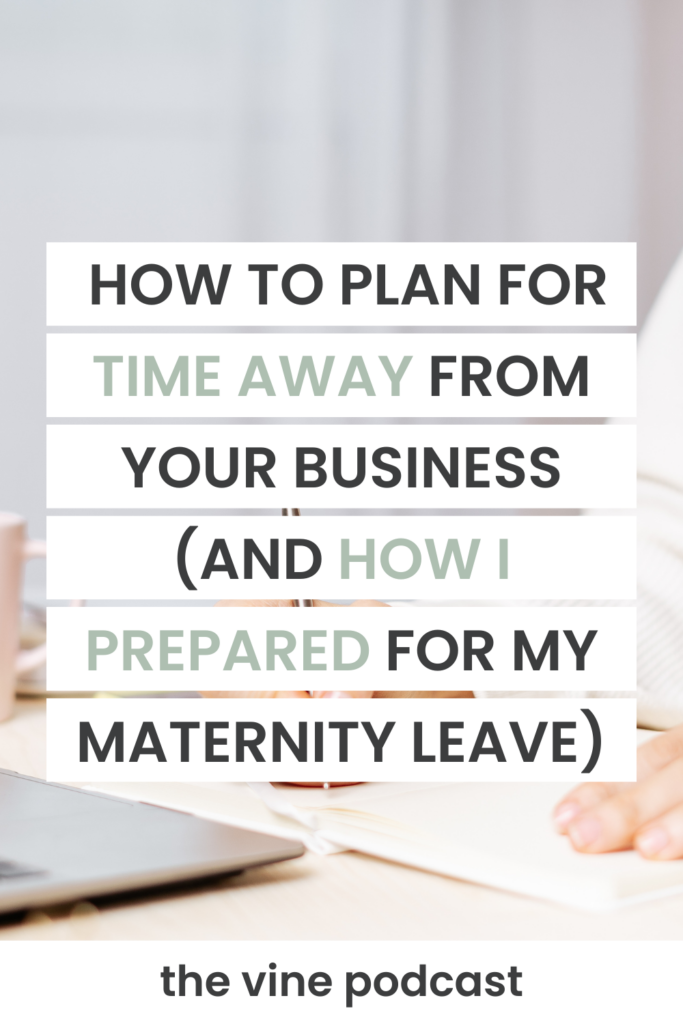 Never miss an episode! Get notification of new podcast episodes to your inbox.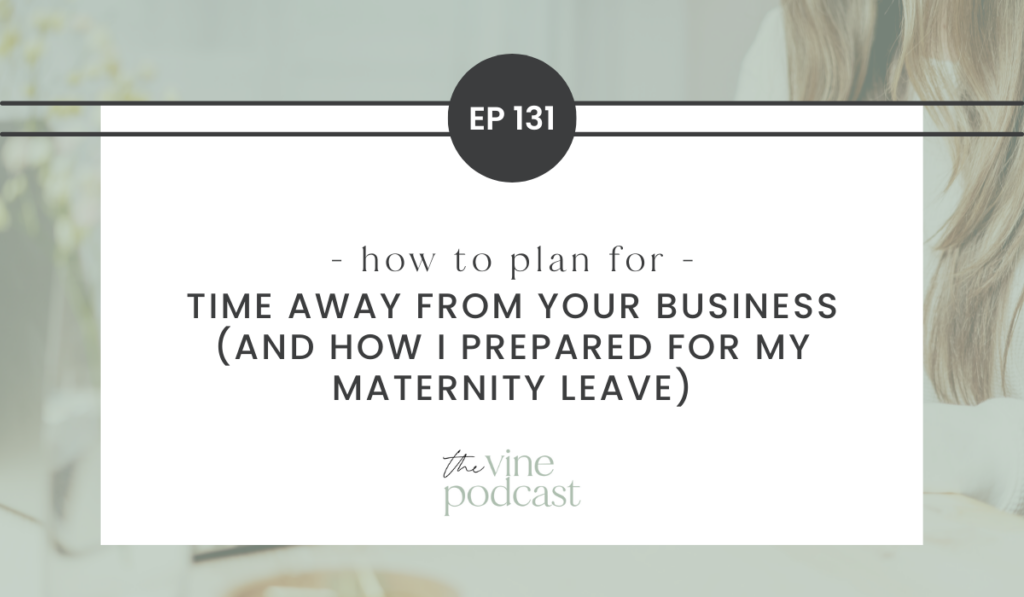 Throughout this episode I'm going to share the different areas you need to plan for and think about before taking time away. I'm sharing this as a general guideline but also based on what I specifically did to plan for just under 3 months off for maternity leave. Not knowing exactly when the baby would arrive, I planned for more time than I would necessarily take – just in case!
Planning financially
As someone who is self-employed, this is one of the trickiest parts of taking time away from your business. Even as a blogger, you likely have other streams of income besides ad revenue that will inevitably take a hit if you are not actively working.
When it comes to planning financially, you first have to figure out how long you'll need to have your expenses covered.
For me, that was tied into the next thing we're going to talk about, which is client work, but basically it ended up being all of August, September and October that I needed to account for with savings. This is both for paying myself as well as paying my team since they are all still working while I am away.
I follow the Profit First method which I HIGHLY recommend looking into if you are not familiar with it. The audiobook is fantastic and a really easy read. Essentially the concept behind this book is that you put aside your profit/owners pay FIRST, rather than at the end hoping there will be money left to pay yourself. It takes a bit of a shift mentally to do this, but it is so worth it.
When I started planning for my leave, I shifted more of the money I was putting into my different accounts towards my savings account. Instead of saving about 7% towards savings, I increased the amount to 33%.
You may also decide to save extra money for personal needs or expenses, depending on what your break is for.
To make this process easier, you want to figure out what your regular expenses are each month (something you hopefully have a grasp on if you have a bookkeeper or regularly review your expenses during your CEO time) and then multiply that by the amount of months you'll be off. If it's a shorter break, this should be a bit easier to save for!
Planning for client work
If you work with sponsors or do other client work regularly, this is a huge thing to plan out. For us at GV, we start new client projects almost monthly and client work makes up over 95% of my income. Taking time away from this meant that we had to think way ahead to know when our projects would be scheduled for.
Because my time away wasn't on a fixed date, we planned for our last client projects to wrap up at the end of July and projects to start up again in late October.
You'll need to decide how quickly you want to take on client work again and base your schedule around that. You also may decide to increase your client work load before your time away if you are able to, to pad your savings a bit.
Planning your content for a break
This applies to almost all businesses that create content regularly! For food bloggers, this is super important to think about long before your extended time away from your business.
If you already have a regular schedule of content that goes out, figure out how many blog posts you'll need to have ready before your time away. Then you can work backwards to figure out how to get ahead.
You'll also need to plan out your content calendar with ideas. I recommend adding at least a few extra weeks to what you are planning for. For example, if you are gone for 3 weeks, plan your content for 5 so that you aren't already behind when you get back and start working on content again.
A note on batching: I have noticed that trying to plan for 3 months of content for both this podcast and my food blog has made me realize how much more efficient I can be in general with content creation. I talk about batching A LOT on the show, but producing this amount of content made me realize how essential batching is to creating lots of content.
Preparing the team for projects
This may not apply to some food blogs, but if you have even one team member you regularly work with it is a great idea to start the conversation early about what their role will look like while you are gone.
If you have contractors or part time employees working in your business, you may not have a contractual obligation to provide them with hours of work during the time you are away. For my team though, I wanted to make sure that each of them could maintain the same amount of work even if I was away.
Even though YOU might not be working during this time, that doesn't mean your team can't be. This is a great time to catch up on projects that might get pushed to the bottom of the list for another time. It does take preparation though to be able to provide projects for your team before you are away, including giving them time to review the projects and ask questions before you are unavailable.
Some ideas of projects your team could work on while you are away:
Creating SOPs for your blog
Adding alt text to images without it
Updating old blog posts
Preparing for posts after your return
Reaching out to brand partners on your behalf
Cleaning up other business assets (like outdated media kits, etc.)
Creating new pins for blog posts
Taking a course on something like SEO or Pinterest
Preparing personally
This is going to be more specific to taking a maternity leave, but I wanted to share it because I've done a lot of research on this. Preparing for postpartum (both recovery and maternity leave in general) is not something I've done a great job of with my first two pregnancies. With my first, he was born at the end of October, so it naturally led into the holidays and I honestly just didn't have that much work going on at the time that I needed to plan much for it.
With my second, he was born in March and I pretty quickly went back to working on the blog, but this was also to my detriment as my recovery itself wasn't as smooth as it could've been had I taken things slow.
So for this time around, I plan to take things very slowly. There's a saying or suggestion in the birth world to spend the first week of postpartum IN the bed, the second week AROUND the bed and the third week AROUND the house. Now that is not always possible or realistic, but for me my husband will be home with me and able to care for our older kids so this is very much possible for me. The biggest thing is making sure I actually stick to it!
Other ways that I'm preparing personally include preparing MEALS! This is something that I feel like everyone talks about but I have never done for postpartum. This time I started preparing freezer meals, making lists of our frequently made meals and we will also have a meal train for friends and family to bring food over.
My biggest take away with this is that you cannot prepare enough food ahead of time. Even having one or two freezer meals per week for the first few months will be such a gift to us!
One big thing that I did to prepare for this baby is hiring a house manager! In our old house we had a regular cleaning lady come every three weeks and it was awesome, but in moving to our new house I decided not to continue having that until we felt like we needed it again. But I knew that I wanted to have someone who could be in the house once or twice a week to help with the overall management of the house.
Having our house manager, Amy, has been so helpful over the last few weeks to give me more time to homeschool the kids, have time to work or time to take the kids out of the house. She comes typically once per week and will reset the home, run laundry for us and usually prep a meal or two for the week for us. She will also pick up groceries on her way to our house and unload them, run other miscellaneous errands, and do light housekeeping that is not the easiest for me to do at this stage in the pregnancy.
I wanted to have this routine established before the baby came so that I would be able to have someone I trust to help out in those first few weeks of maternity leave. I initially thought I might hire a postpartum doula, but to be honest I knew I wanted someone even before the baby was born to help with these things and my midwife team already does a fantastic job at postpartum support for me physically and mentally.
I mention that because it's important to think early about the people you may want to hire whether that's in your home or in your business!
Another thing to note about preparing personally is to think about what you want this time to be like. I knew that I wanted the time to be slow paced, rejuvenating and a time to connect as a family of 5. That dictated a lot of the other decisions I made, like when I wanted to come back to work, how much content I wanted to plan for, and ultimately how I planned for this leave.
If you have any questions on how to plan for time away I would love to chat more with you about it. When this episode goes live, I will almost for sure be on maternity leave, but if you connect with me on Instagram I'm happy to answer any questions you might have!
Pin for later
Come browse my Pinterest for more inspiration >>