When should you treat your blog like a business and not a hobby? What are the first steps you should take to see results? In this post you'll hear about how to treat your blog like a business, how to engage and connect with your audience and more!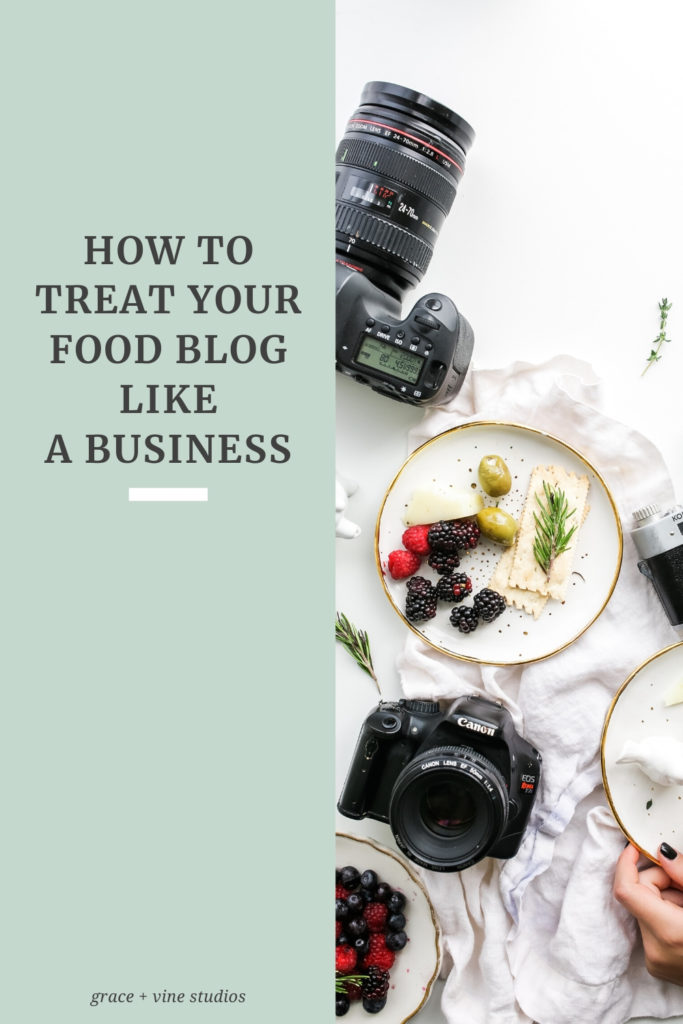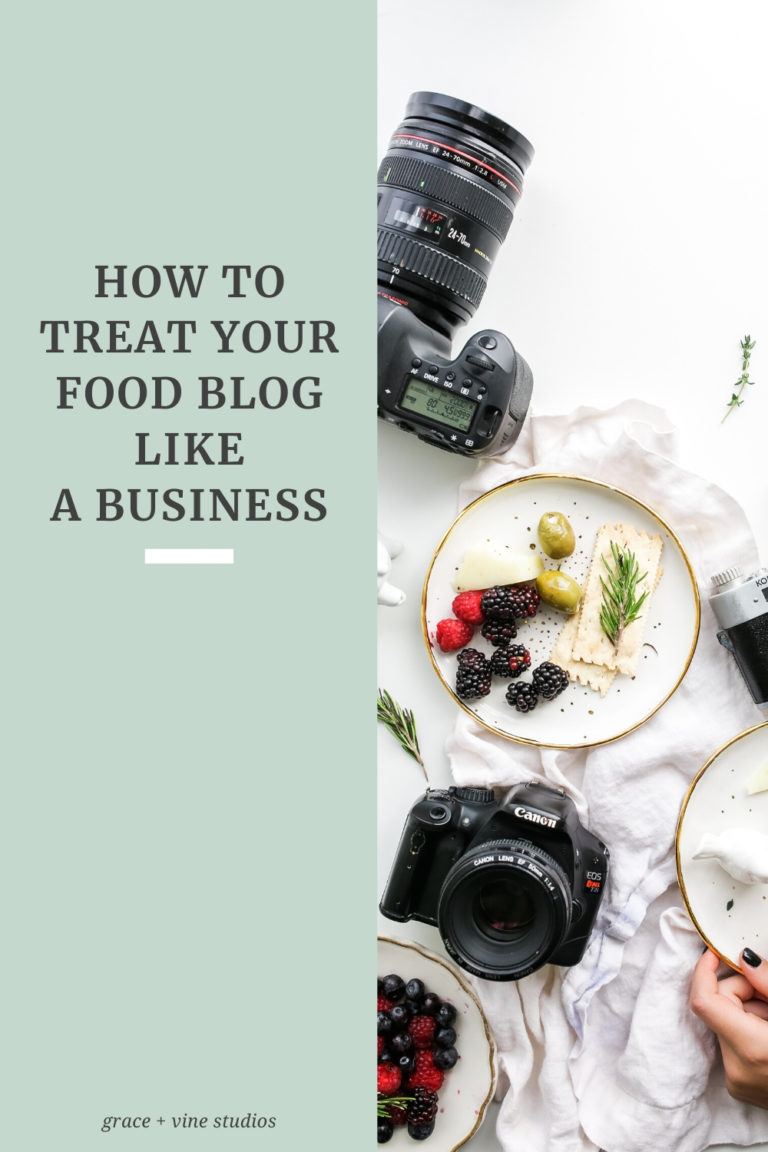 Never miss an episode! Get notification of new podcast episodes to your inbox.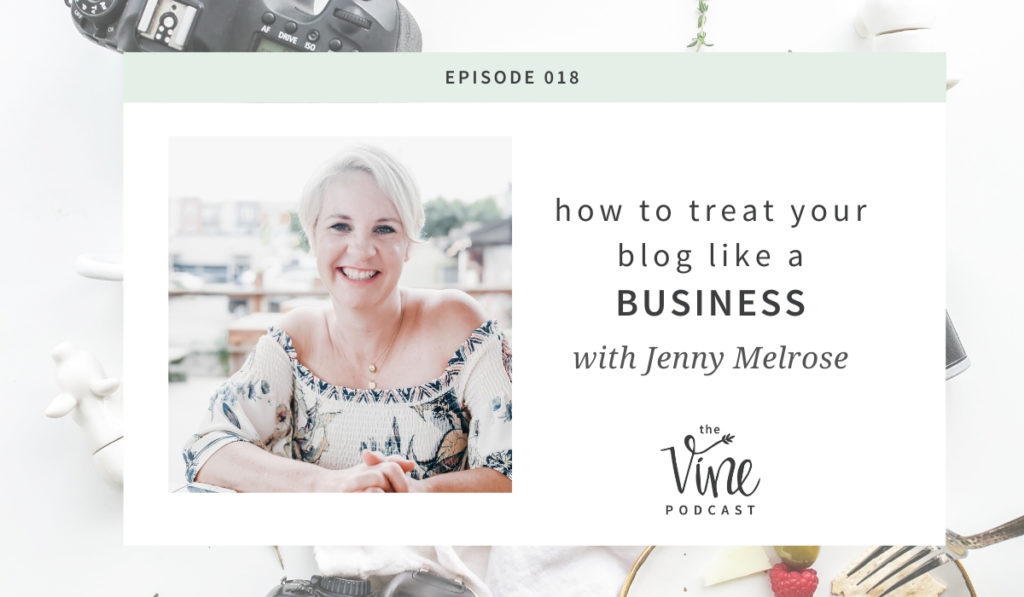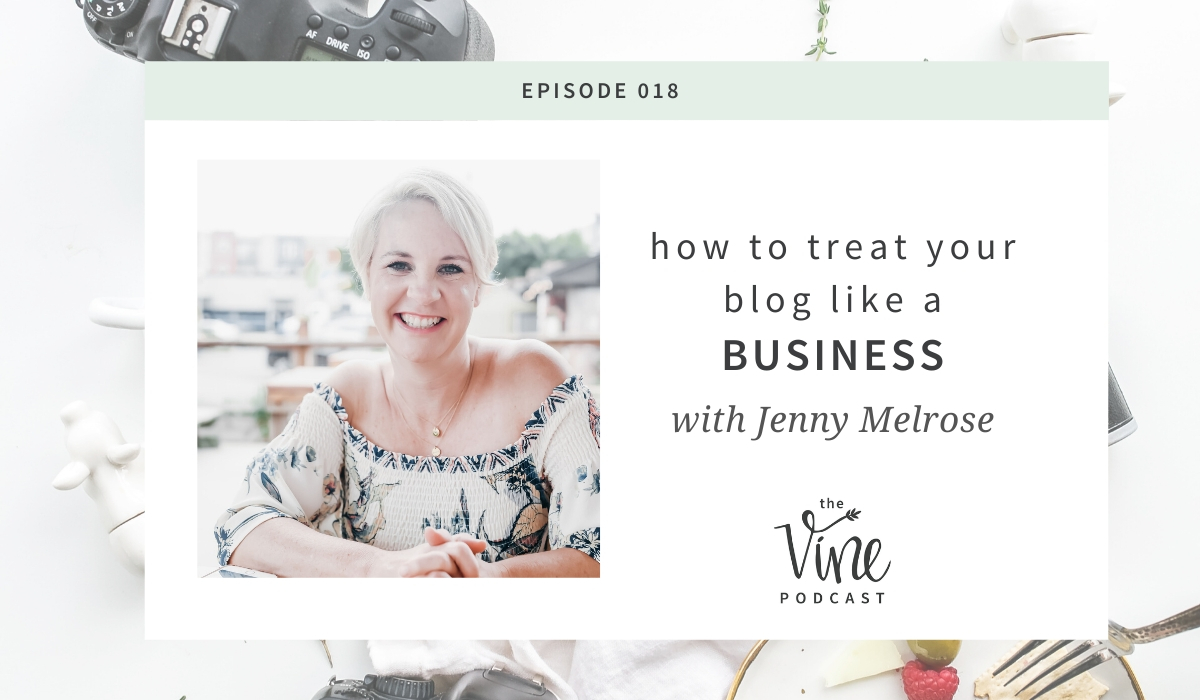 Can't listen to the episode? Read on for the transcript!
Today I'm interviewing Jenny Melrose, who you may all know from her podcast Influencer Entrepreneurs. In this episode we chat about what holds bloggers back from treating their blog like a business and the steps they can take to start thinking more strategically about their business growth. We also chat about how to connect to your audience and why that is a crucial part of treating your blog like a business.
I am so excited to have you listening because today's podcast episode is my very first interview on The Vine podcast. Today I'm interviewing Jenny Melrose, who you may all know from her podcast Influencer Entrepreneurs. I was interviewed on her podcast a few months back and after our chat I knew that she would need to be one of the very first interviews that I had on the show.
In this episode Jenny and I chat about what holds bloggers back from treating their blog like a business and the steps they can take to start thinking more strategically about their business growth. We also chat about how to connect to your audience and why that is a crucial part of treating your blog like a business.
A quick reminder to go ahead and subscribe to the podcast in your favorite podcast player because the next few weeks there are going to be some really exciting episodes coming up that you are not going to want to miss.
As you're listening to this episode today, go ahead and take a screenshot and share it on your Instagram stories and tag me over there at @graceandvine as well as Jenny so that we can share it with our audience as well. All right, let's jump into the interview.
Madison:
Welcome, Jenny, to the Vine Podcast. I'm so excited to have you today.
Jenny Melrose:
Thank you so much for having me, Madison. I'm so excited to have this conversation with you.
Madison:
Yeah, it is going to be really good, and like I told our listeners in the intro, I just want us to kind of have a conversation about bloggers and how we can take our blogs seriously as businesses, and just some of the steps that you would recommend. I know that both of us, from our client's perspective, have seen people take their businesses less seriously than a business and more like a hobby, so I really am excited to unpack this. But first will you just give us a brief introduction to you and your business and what you do?
Jenny Melrose:
Sure, of course. My name is Jenny Melrose. I have the site jennymelrose.com. I help influencers and small business owners really monetize and grow their sites to understand how to build that online presence so that they can scale to the next level. I started off as a lifestyle blogger myself. I had The Melrose Family, where I created quick and easy recipes and projects for busy parents. It really, definitely you probably lended itself more towards food. About 75% of it was probably recipes, and I just sold that. It'll be a year in March, which is so crazy that it's already been a year. But I had had that blog, it would've been 10 years actually this month.
Jenny Melrose:
So my journey has gone from blogger to really taking that shift and going back to my roots of being a teacher. I used to be a former inner city school district teacher, and when I was able to replace my teaching income with my blogging income, I retired and then found that I was good at teaching and loved it, so turned back into it and started teaching how I really monetized and grew my own site so that it became a full time income. That's now what I do over on jennymelrose.com through my podcast, book, courses, membership sites, all the things.
Madison:
All the things. That is awesome. Well, I would love to also … I know your story, but I would love for you to also share a little bit about kind of that journey for you of that mindset shift of kind of starting with this thing that was a little bit of a side hustle and turning it into what became your full time income. What was that like, and what mindset kind of issues did you kind of go through with that?
Jenny Melrose:
Absolutely. For me, it was even less of a side hustle when I started. For me, it was actually an escape. I was a new mom at the time. I had a six-month-old, and we had gone through infertility to get pregnant, and I had always wanted to be a mom, and I was good with kids. I was teacher, and then I had my first daughter and I was like, "Holy crap, I don't know who I am anymore. I've lost myself in motherhood." I just needed my own space, my own thing that was kind of mine, and that's how it started for me. It was really an outlet to be creative. Back then 10 years ago, it was at a time when you would blog and you would share about like when you went to the zoo and what you did, your day to day, like what you ate. It was just very almost like a dear diary kind of thing. 10 years ago, that's how it started.
Jenny Melrose:
I got hooked, loved it. I was a creative writing major in college, so it just really gave me that outlet. But then when I started to notice that there were more of me, there were a ton of other bloggers out there, and I started to hear that they were making money and started to get curious about that. I still was a full time teacher, loved what I was doing, and had my daughter and just kind of went through motherhood and slowly started to turn it into a kind of side hustle as she got older, and I saw that you could monetize. Even then though, when I was trying to monetize and side hustle it, I wasn't really serious. I didn't really work the bone, and I didn't understand what I was doing or why I was doing it. I just kind of like, "Oh, I should be posting on Facebook. Let me post on Facebook. Oh, you need an Instagram account? Let me do that, but I'm not going to put a ton of time into Instagram because I'm a teacher, and I don't want my students to be able to find me."
Jenny Melrose:
There was never that like, I didn't put my business in the forefront. I didn't treat it like a business probably until I would say it was about, oh, five years in. Five or six years even in, and I started getting to a point where I now had two daughters and realized that teaching just had taken a turn for me. It was very different from when I started, and I wasn't happy. I just felt like, because I was inner city, that I was set up to lose every day when I walked into the classroom. For me, I wanted to leave. I wanted to get out, and at that time I had my roots in different Facebook groups with other bloggers. I had been to a conference or two and really understood that I can make a full time go at this. It was that mindset. I said to my husband, "I want to leave teaching. I want to be done with this," and he said, "Okay. Well, you need to replace your teaching salary."
Jenny Melrose:
At that time in New York, I was making $75,000 a year, which as New York teacher, that's your life. That's what you did. You didn't leave teaching. Teaching was a good job, especially in my family, so it was a big deal when I made this huge decision to leave teaching. But once I kind of set that up and said to him, "I want to leave," he said, replace it, I put my head down and just figured out the ways of looking at it from that business perspective. I think that was the mindset shift for me, when I knew I needed to replace that salary and I looked at it as what tactics can I put in place that are going to bring money in strategically, where I'm not randomly posting on Facebook or randomly posting on Instagram and not seeing any return for it, because I was just busy chasing page views.
Jenny Melrose:
For me, that was a big piece of it. I stopped chasing page views and started really starting to figure out if I'm a business, it's about my audience. That was it. Once I really hooked into what my audience wanted, what I stood for for them, that was when it just made a total shift for me.
Madison:
Yeah, there is just so much in what you just said to unpack, but I love that you started your blog as an escape, and then the blog almost, it was kind of an escape from your mom life and then later the blog turned into the escape from your corporate life and the job that wasn't fulfilling you anymore. I love that it kind of went full circle, but I think what you said about realizing that there are just so many things out there for food bloggers to do, and when you finally got serious, the first thing that you did was realize that you needed to get strategic about what you were doing. So I would love for you to just help us to understand kind of what that number one thing is that stops bloggers from treating their blog like a business. Is it that crazy long list of things to do? Is it that chase of page views? What do you think is that number one thing that's stopping bloggers from really shifting their mindset to thinking about their blog like a business?
Jenny Melrose:
I feel like … Honestly, I can tell you that I don't know that it's one thing, because I think everyone is on a different path, a different journey, right? I think that we start this off kind of not being sure where it's going to take us, and some of us are at very different places in our lives. I mean, I had two babies. There are others that have started … I mean, I have clients whose kids are now off to college, and they're empty nesters and that's why they started. Some are doing it because they need to supplement an income, while others are doing it kind of like, whether or not that they need the money. Maybe it's just their vacation money or whatever it might be. I don't think that there's necessarily one way of doing it.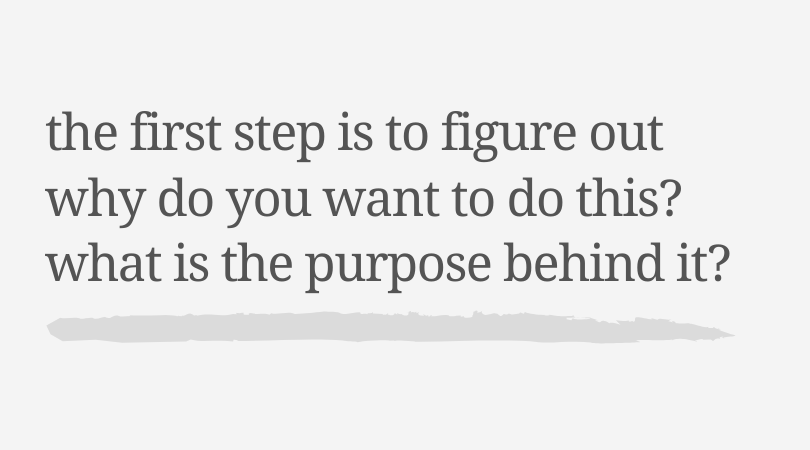 Jenny Melrose:
I think, really, the first step is to figure out why. Why do you want to do this? What is the purpose behind it? Is it connected to your family? Why are you going to be doing this? I think once you get clear on your why, it's that much easier to then look at it as, okay, my why at that time was to be able to leave teaching so that I could spend more time with my kids, so I needed to figure out ways to monetize. Ways that I was then looking at it, okay, I needed to make this much money. What would it look like? What were some of the strategies? What were some of the ways that I could diversify, and what tasks did I have to do in order to that? For me, I grew my income by working on sponsored content. I never had huge page views, but I could tell a story. I could tell a story where it would hook people in, and I could then make that connection to the brand in my story.
Jenny Melrose:
I realized that that was where a large part of my income came on, and it wasn't dependent upon page views. Really, in my eyes, it was dependent upon me reaching out and creating these relationships with the brands, which I've gone on and went and did very well. That was my step by step of I knew I had to pitch, I knew I had to follow up, I knew I needed to create content that was going to deliver for my audience, and that brands would then want to work with me longterm for that. I think it comes back to that point of your why and then connecting it to okay, here's my why. This is why I'm trying to do this. What does it look like in order to take this to the next step? Where can I possibly monetize?
Jenny Melrose:
For a lot of people … I mean, it's changed. It was 2015-2016 I think when I left teaching, and it was different the ways in which you could really monetize. Obviously, sponsored work is a great way to still do it, but you have so many abilities to diversify now that maybe you're going to do a product. Maybe you're going to do a service. What would that look like for you, and then looking at the steps to take in order to get there. Does that make sense?
Madison:
Yeah, absolutely, and I love that you start with the why, because that, like you said, everyone really is on a different journey. I think that's part of the reason why food blogging is sometimes so challenging, because you want to look at one person and what they might be doing, but your story and your blog is so different that maybe what they're doing won't work for you. You might take someone's Instagram strategy and try to follow it exactly, and it doesn't work for you because your audience is different and your blog is different, so I think it's really important, like you said, to start with that why and then to figure out this is my goal, and this is how I'm going to reach that goal. I think that's so important.
Madison:
So I would love for you to also like talk a little bit about what someone can do to start treating their blog like a business, if maybe they're not making money. Maybe they decide I don't want to do sponsored content. I just want to grow my traffic to a point where I can work with an ad network and make money that way. But if they're not making money or they're not ready to step into making products or something like that, what is a way that someone can still take their blog seriously and treat it like a business, even if it's not profitable yet?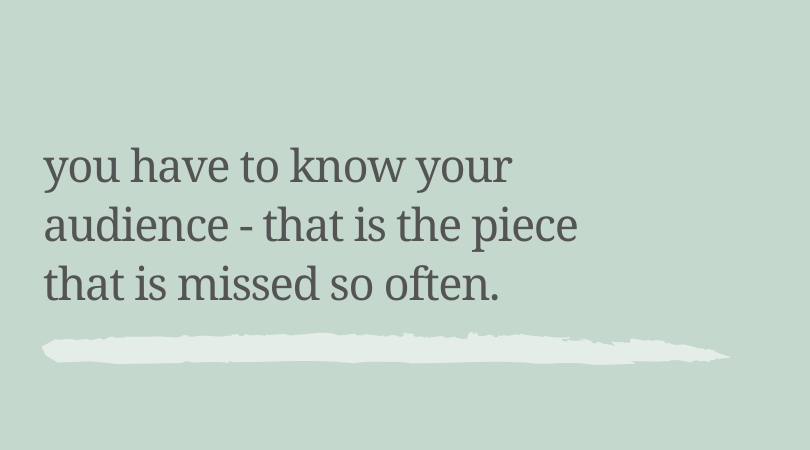 Jenny Melrose:
I think that the first thing you have to do is understand your audience. You have to know your audience. That right there is the piece that I think is missed so often. Many of the clients that will come to me, that's the roadblock. They can't tell me what their audience wants or what they would do. They'll come to me saying, "I think I want to put this product out there. What do you think about this?" Almost as if I have a magic ball that says, yes, that product will succeed. The problem is that I don't know their audience. They have to, and a lot of times they don't either. They can't tell me what their problems are specifically out of their words. They'll tell me they think that their audience has this problem, but then it's coming from their own perspective. It's not coming from their people.
Jenny Melrose:
So I would say first step you're looking to scale, whether you are making nothing or whether you are making $1,000, $5,000, $10,000 even, you have to start engaging with your audience and getting them to talk to you. You can't rely on putting up something on social media and it going viral. That doesn't happen anymore. Because of the algorithms, things have changed. The people that are still surviving and doing amazingly well, even if they don't have the 500 million page views, are those that really know their audience. They're creating content that those audience members are routinely coming back to. They are not just relying on something to take off on Facebook or take off on Pinterest. Instead, their people come back. They'll type in their URL. They get direct traffic, which a lot of times it's unheard of unless you really have built that community and given them a reason to really feel like they've connected to you.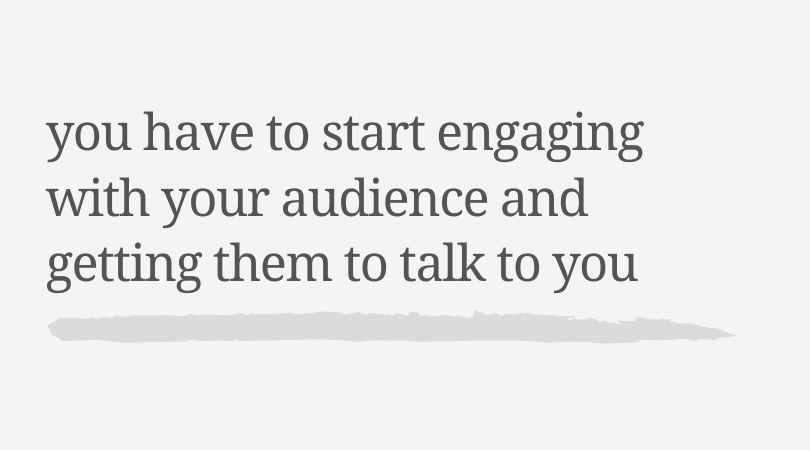 Jenny Melrose:
I think are part of the reason that a lot of … You talked before, you mentioned about food bloggers in particular, that they'll try to study the way one food blogger is doing it, and they'll realize it's not working for them. It's because you're not them. That's not your personality. You have to let people connect to who you are and your story, so that if you're an introvert and you're not really comfortable on Instagram stories, find a different way to engage them. Instead of getting in front of the video, maybe you're going to do a couple of different polls using the "Create" feature to get them to talk. You have to get them to talk to you. You cannot just put content out there hoping to get a viral. Virals are few and far between now, especially when it comes to trying to get traffic to your site.
Madison:
Yeah, for sure. The other thing about viral content is it's almost superficial in what it does to your analytics or your traffic. You might have this little boost that might make it feel like, "Oh, my site is growing. It's awesome," and then the next month you realize none of those people stuck around, because you weren't actively trying to convert those people over to your people. I think that's the thing that people don't realize. It sounds great to have a viral video on Facebook or to have something explode on Pinterest, but if that only happens every once in a while and never translates into that loyal audience, then you're just wasting your time trying to get these spikes that aren't going to result in anything.
Madison:
I totally agree, and I love that you focus so much on helping your clients know their audience, because working with my clients as well on their websites, that's something that we have to know too, because if we don't, if we're only designing something that they like or they think their audience is going to like, then it could fall flat, and it could just be such a waste of time. So do you have any advice for somebody who feels like they are just getting crickets whenever they put something out?
Madison:
You know this from when you were blogging, and I know it from when I was first blogging to that comments used to be gold. You used to get comments all the time, whether it was from readers or it was from other bloggers that were kind of interacting with your content, but that's just not how it works anymore these days. Often, it can really feel frustrating that you're putting stuff on Instagram or you're putting stuff on Facebook, and you're not getting the response that you're looking for. Do you have any advice for somebody who might be feeling like they're not connecting with their audience but really desperately wants to?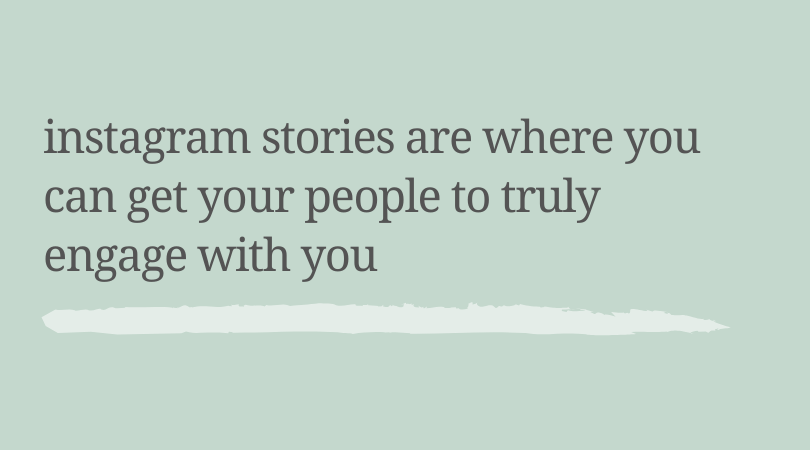 Jenny Melrose:
Honestly, right now as of this recording, because it could very well change tomorrow with all the algorithms. That's why I always tried to like make sure I set that up right. But Instagram Stories right now, that is where you can get your people to truly engage with you. I think what you have to understand is you have to teach them how to do it. The first time you get on to Instagram Stories and you put up a poll, they're not going to know what the heck a poll is. They're going to go, "Oh, what is she doing? She's never done this before." When you're talking to them and asking them things, you have to show them that other people are also doing that.
Jenny Melrose:
So let's say, for example, you use the question feature. You get on there and you say what's your go to chili recipe? Just asking them. A lot of times, the big thing we have to understand is that when I say get them to talk to you, they don't need to just talk to you about trying to get traffic to your site or your recipes or what they want to see from you. You need to just get them to talk to you as a person, because what we often show on social media, especially Instagram, is the perfect, and no one is going to connect with that. They just see these beautiful recipes that are in your Instagram feed, or even if you put them into your Instagram Stories, their kitchen doesn't look like that. Their food doesn't look like that on a plate. You have to give them a chance to really connect to the person that's behind the content and why you're creating it. Again, part of the reason why I always go back to that why.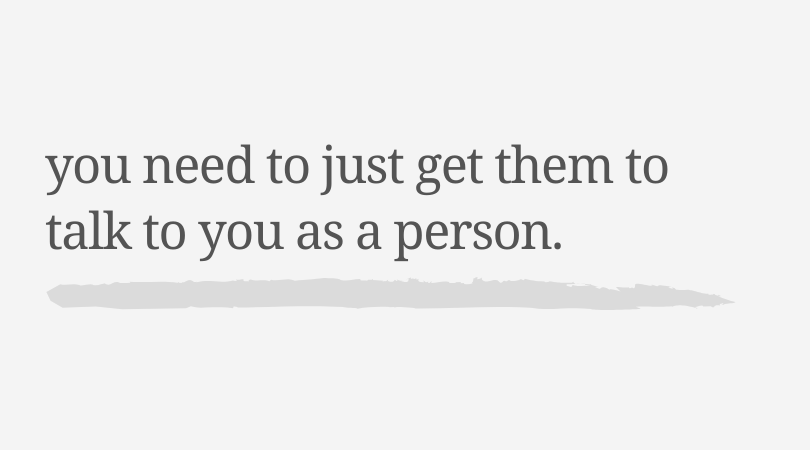 Jenny Melrose:
But I would say Instagram Stories' continuing the conversation. If you do a poll, and you're a vegan food blogger, and you do a poll about which vegetable they eat the most, kale or spinach, you need to now go into the DMs to talk to them. "Hey, what's your favorite kale recipe?" That's a DM you're going to send, and you can do that within polls. So if you swipe, once you're polling, even when your poll is mid poll, you can kind of push it up so you can see the insights of that poll, and you can see who pushed kale, who pushed spinach. Then once you're able to see that, their little airplane looking thing that direct messages them is there. Have a conversation in DMs. That's part of the reason that no one gets any responses on anything is because you put up a poll, and then you don't talk to them about it.
Jenny Melrose:
You'll have to continue that conversation. So I would DM them and say, "Hey, what do you use kale in? Do you use it more in smoothies, or do you use it in a soup?" Whatever it might be, find a way to continue the conversation. That's even a great way to then be able to say, for them to come back and say, "Yeah, I use it all the time in my smoothies. I'd love to make a soup recipe in it, but I just haven't found a good soup recipe that uses kale." If you're that vegan food blogger, I bet your butt you've got that kale recipe for soup, right? So now you're going to direct message them and be like, "Hey, you should try out my kale soup recipe," and you can actually send them the link in DMs now. That's what they're looking for, and the next time they have a question about something, they're going to go straight to their DMs, and they're going to send you that message. That's how you know your people. That's how you meet their pain points and truly understand what it is that they're looking for from you.
Madison:
Yeah, that is so true. I think, like you said, sometimes we think that we're engaging with people, or we're think we're giving people the opportunity to talk to us, but so often it's one sided, and we're forgetting to go back and interact with them again or to give them another reason to engage with us. I want to go back to what you were saying about how Instagram so often is like the perfect feed or you're posting perfect things on stories, because I feel like there's an interesting dynamic between projecting yourself and displaying yourself as a business and as this is serious and you're not just sitting at home watching Netflix and pretending to work and things like that.
Madison:
There's that side of things where you want to come off as a serious blogger, but then there's also the side of like showing your humanity and wanting to make sure that people know that you're a real person. So how do you balance those two things and look professional from, maybe it's the brands who are looking at your stories, or maybe it is just the people that you're wanting to make sure that they see you as an expert. How do you balance those two things to make sure that you look professional and you look like the expert, but you also are showing that you're a real person?
Jenny Melrose:
Right. So I think within Instagram, there's probably three different platforms I want to say, because you've got your feed, which I feel is for the professional. That's your place to showcase your beautiful photography. I would not go in there and start messing with that and having pictures of my kids and pictures of the dog. Your feed, if you're a food blogger, in my opinion, should be straight your food, and it should be beautiful, right? We want it to look perfect. Then you've got you've got IGTV. Some people may be using that as well, and I think that that's a place where, as a food blogger, you can show them how to make a recipe and under 10 minutes maybe, or you're going to get on there and maybe you're a vegan food blogger, but you also do health coaching. So maybe you're going to get on and start talking about the benefits of reset, and maybe then you're going to lead them to the reset that you have.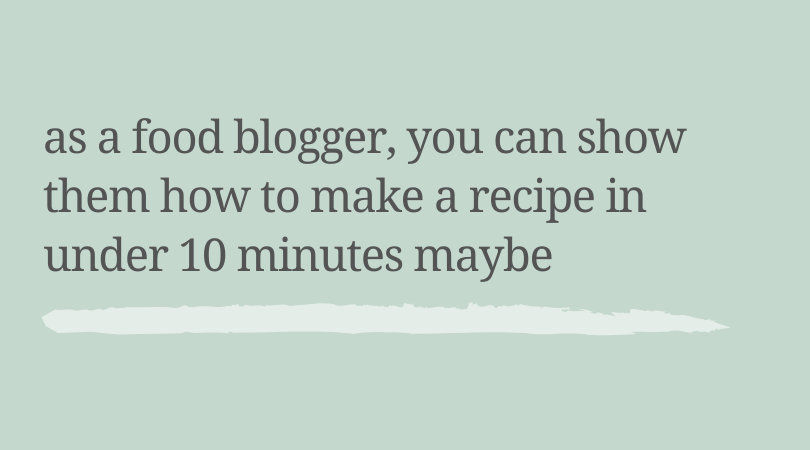 Jenny Melrose:
Whereas Instagram Stories is where you get to bring in the person. Who you are should be in that, because let's remember, Instagram Stories expire in 24 hours. What I recommend to my clients is you should be consistently posting. We should see a minimum of three to five stories per day, and in those three to five stories, I would recommend having a good mix, some of it being personal, some of it being professional. I actually have a content calendar that I offer that's one of my freebies. It walks you through how to look at your day. Think of the things that you do every day, morning, afternoon and evening. There's your three. Now get into more where maybe you're going to be talking about your business or talking about what it is that you do. I think again, this is also Instagram Stories gives you a chance not only to look great to your audience and show your recipes and what it is that you do and then give them that connection with the family, but I'd also connect with a brand that I want to work with.
Jenny Melrose:
One of the things that I teach is that you tag a brand, and then get your people to talk about it. In other words, let's say you want to work with Sumo Citrus is just someone that pops into my head for some reason right now, and you don't quite have this. Well, the reason it pops into my head is because this was a real life thing that happened with one of my clients, and this was my recommendation for her. She was wanting to create a proposal for them, and it was a big proposal that she had sent over. They said they would get back to her. I said, "Okay, let's put it up a story and talk to your people. Set them up and actually tag Sumo." So she put up the story where she was like, "Do you hate peeling oranges? Yes or no?"
Jenny Melrose:
Of course, all the parents put no, they hated peeling oranges, because it takes forever. Then she put up another story where she then said, "Wait til you hear about this," and she tags Sumo Citrus. "They are actually oranges that peel so easy, you can do it in one peel." Then she put up a second story where it was a poll or a question or something like that about where you could find it and tagged them again. Now she's just done three stories, tagged the brand, the brand sees it in direct message, and her people are direct messaging or being like, "Where can I find this? Is it in Whole Foods? Is it here? Is it there?" So she was able to take all these direct messages and the results from the poll and share it with the brands before they even signed on to the proposal.
Jenny Melrose:
So she's already showing them, "Hey, look. My people are really interested in your product. I am the perfect fit. Here's the data. What I was able to get in four hours, I totally could be able to do this for you as far as long term, whatever the proposal was for." Of course, she ended up landing that deal easily. I think that it gives you that chance. Stories really provides the ability to get a mix in. I'm not going to use the word balance because I don't believe in that word, but I do feel like it gives you that chance to show your real person. You don't have that perfect kitchen all day long. Your kids maybe have a meltdown, if that's part of what your story is, especially if you've got a lot of kids or you've got maybe even just two kids like mine that are off the wall. People connect to that, and you want to give them a chance to connect.
Madison:
Yeah, definitely. The other thing that you kind of brought that back is your client, she knew her audience, so she knew that that would be something that would resonate with her audience, so she was able to show herself as the expert right there. She was also able to show her real side of herself, being able to say, "I'm with you on this. I know that this is an annoying thing about giving your kids a snack," so I think that's really interesting that all of that kind of goes back to what we were talking about earlier with knowing your audience. I feel like kind of the trend that I see coming out in a lot of these stories is that when you want to take your blog seriously and you want to consider it to be a business, you have to start being intentional, and you have to start making decisions and not just letting things happen.
Madison:
I know you and I talked about, when I was on your podcast, about how when we both were getting started with our blogs, that you kind of just shared whatever you wanted to share. Like you said, you just put up whatever you made for dinner, and it was totally fine. Kind of the shift that I think we saw at the beginning of when we were blogging was that people started to realize, "Hey, there's potential here, but if I want to do this, I'm going to have to be more strategic. I'm going to have to think about what it is that my audience wants from me, and I'm going to have to deliver it." I think the blogs that I've seen take off overnight, and it seems like they have these overnight successes, even though as we both know, there's hours and hours of work behind it, are the people that are really tapping into that audience and really just …
Madison:
The biggest mindset shift I think I've seen is people just putting aside their own personal feelings about what it is that they want to share and things like that and really starting to focus on what is it that my audience wants from me, and then just delivering that. The people that can do that are the people that I'm seeing have the most success.
Jenny Melrose:
Yes. And I think when it comes to that, sometimes it's got to be a little bit of trial and error, and that's the great thing about stories. They're gone in 24 hours, so if something falls on its face, it's gone. Who cares? I have a couple of different clients that I can think of that are exactly what you're talking about as far as they may not even have had a very a blog or business for a very long time, but because they understand their people and they try things out and test it in Instagram Stories, they're doing so well. One of the things too, we actually talked about this inside my membership site last month with our group question and answer, and someone brought up that what she does is she'll test something. She'll put out a questionnaire, and if it falls on her face, she's going to come back the next day and she's going to change her wording. Maybe instead of saying "self care," she's going to say "taking time for yourself." Sometimes it's just the words that you use that people don't connect with.
Jenny Melrose:
The big thing is we like to throw kind of like the spaghetti at the wall, but then we don't try to figure out why isn't the spaghetti sticking? You have to go back to the data and look and see what is it about that that just fell on deaf ears? Why didn't they interact with it? Then make those adjustments and try something new and see if that falls on its face. It's all about seeing if everything's going to fall on its face or not. As long as you're falling forward and learning from it, then you're going to continue to see success.
Madison:
Yeah, absolutely. So my next question was going to be for the clients that you've worked with or just the bloggers that you've interacted with, when you've seen them make this shift towards thinking of their blog like a business, what are some of the results that you've seen for people? What are some of the things that they've been able to overcome or success that they've been able to see, because I really want to encourage someone who might be kind of sitting on that fence of they can look back at the last year and realize they did not really treat their block like a business, but they really want to. I just want to encourage those people about what is in their future if they just start to shift the way that they're thinking about their blog.
Jenny Melrose:
I have seen so many different clients and students at my courses kind of make that shift. It's like that light bulb moment where … I mean, I can think of one in particular right now. Melanie from Mostly Under Control. When I met her three years ago, I think, she was one of my first students at Pitch Perfect Pro. She didn't have a ton of page views, but she was creating content about preschool activities. When I met her the first time, her personality came out right away, and I felt like her personality was missing from her blog. In the conversation that she and I first had, she talked about the fact how she's got four kids, and she actually hides the chocolate inside the frozen broccoli bag so that her kids don't find the chocolate, but she knows exactly where it is.
Jenny Melrose:
It was just things like that that are just … It gives me that connection. That's a story I will never ever forget about her, and she wasn't sharing that in her blog posts. She recently, in the last probably year I would say, started a Facebook group where she was really starting to engage with this audience of moms, and she wasn't talking about preschool activities, which is what had done well for her for Pinterest. She really wasn't connecting to them, because they didn't know her story, but she started sharing that on Facebook in this Facebook group, and these moms started really connecting with her. She still wasn't seeing a ton of page views, but she has a product. She's making an income. She's got, actually, excuse me, she has multiple products. She has an actual physical one. She has workshops that she now offers. She does coaching now. There's so much, and there's so much more that I can see for her.
Jenny Melrose:
I was actually on a call with her in the group, my membership site people this morning, and I looked at her and I said, "I'm not going to overwhelm you, but I can see this being huge." She's got a book in her, and she doesn't even know it. She has this whole brand. It's amazing what can come out when you really start to connect with your people and see and listen to what their problems are. Let them see who you are, because when they see who you are, they will start to share who they are. They'll start sharing their problems, because now they're going to trust you. It's all about building trust, and no one trusts a perfect person, because we know that that's not real. More than anything else, a perfect person is pregnant, trigger someone else, especially in this day and age.
Jenny Melrose:
So just share who you truly are and let those that are you are meant to attract, and be okay with repelling some. You're not going to be everybody's cup of tea. I am not everybody's cup of tea. I talk fast, I tell it like it is, and that's not always well met, and I'm okay with that. Just knowing who you are and why you're doing it and sharing that with your audience, I think that's what moves you forward.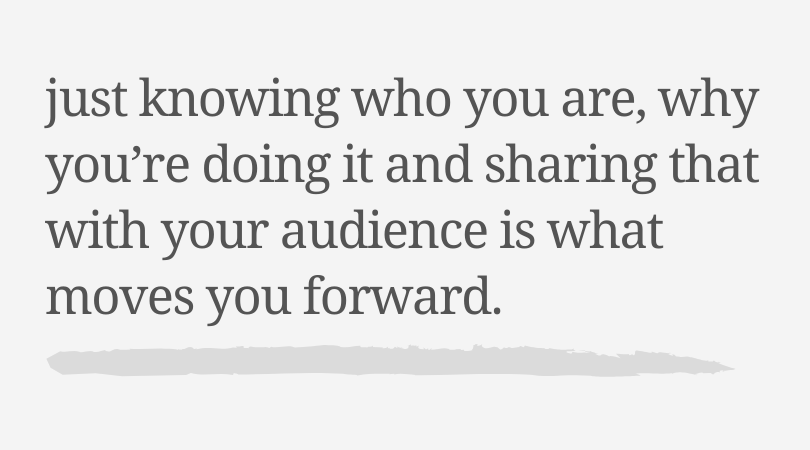 Madison:
Yeah, that is a perfect way to sum it all up, and I just love the way that you put all that together, because I think there are so many people who, not even just in the food blogger space, but anyone who's wanting to start a business. I mean, you can look on Pinterest and see a hundred different articles about the five things that you need to do before you start a business. You need an LLC, and you need a bank account and all of these things. Those are all great logistical things that, yes, you need to do, but if you don't have your mindset in the right place and you are not willing to do what you need to do to make it happen and to treat your blog like a business, those things are just going to be wasted effort anyway, because your business isn't going to grow. I just love the way that you just summed all of that up.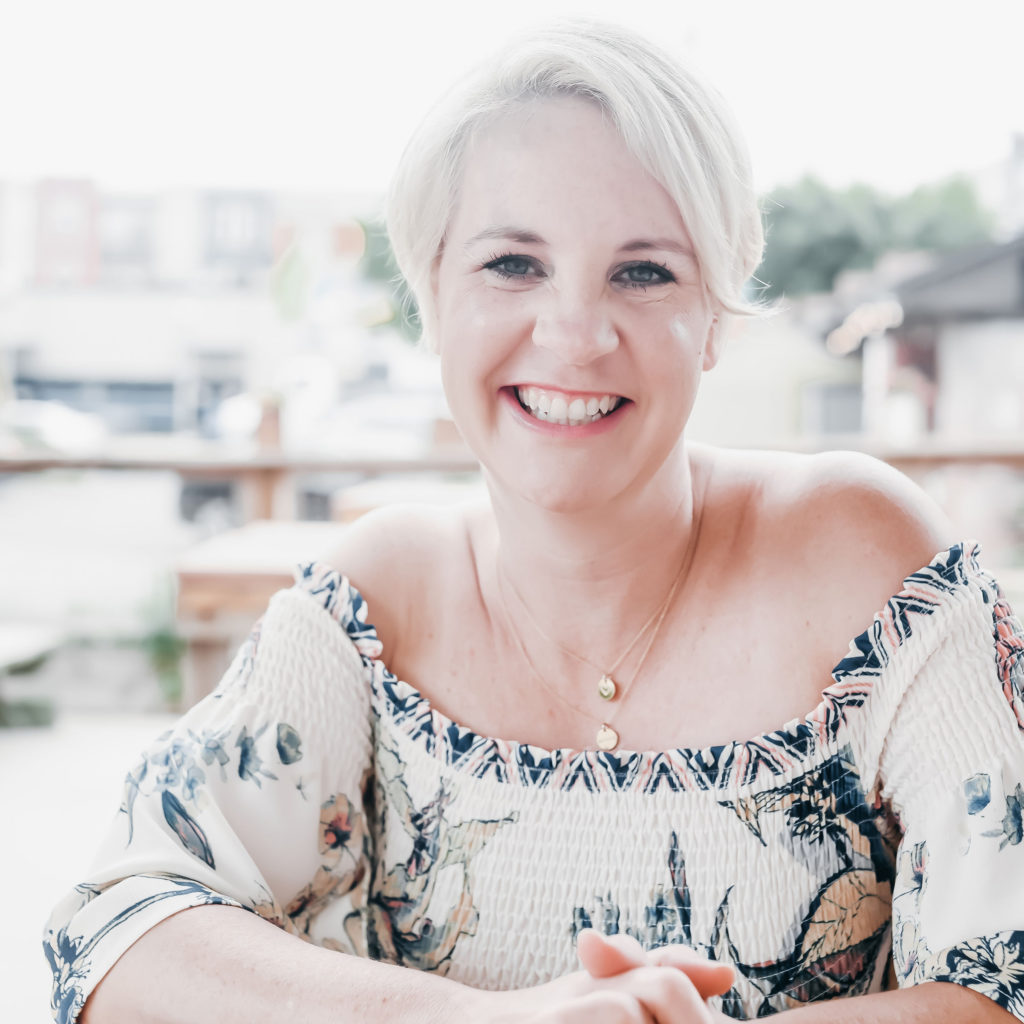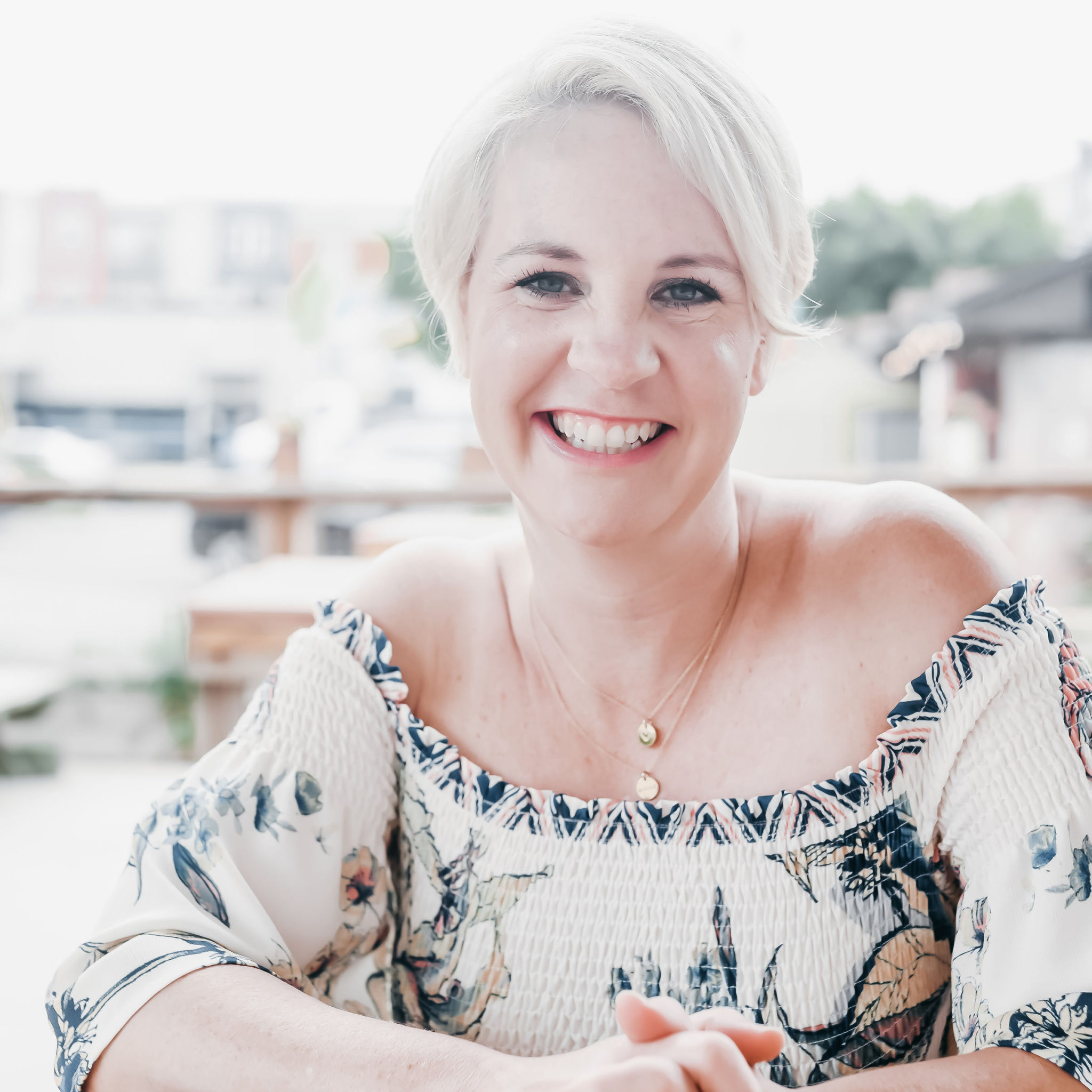 Jenny Melrose is a content strategist that helps entrepreneurs better understand their messaging and unique position in the online space. Now, she's combining her passion for teaching with her extensive experience of creating strategic content for online business owners via JennyMelrose.com and her podcast, Influencer Entrepreneurs with Jenny Melrose as well as her annual conference in Charlotte NC for female entrepreneurs.