How do you know if it's the right time to invest in a new website design? Have you ever considered investing in branding or website design, but you aren't sure if your blog is ready? In this episode, I'm going to share a few signs that it might be time to invest in a new website designed for your blog and how you can get started in that process.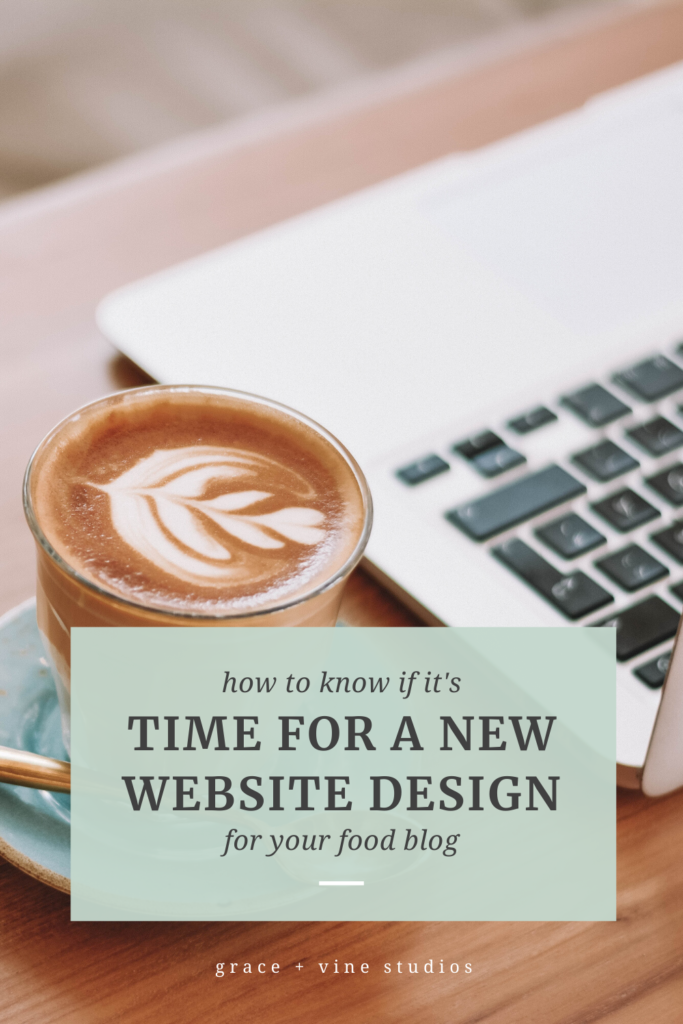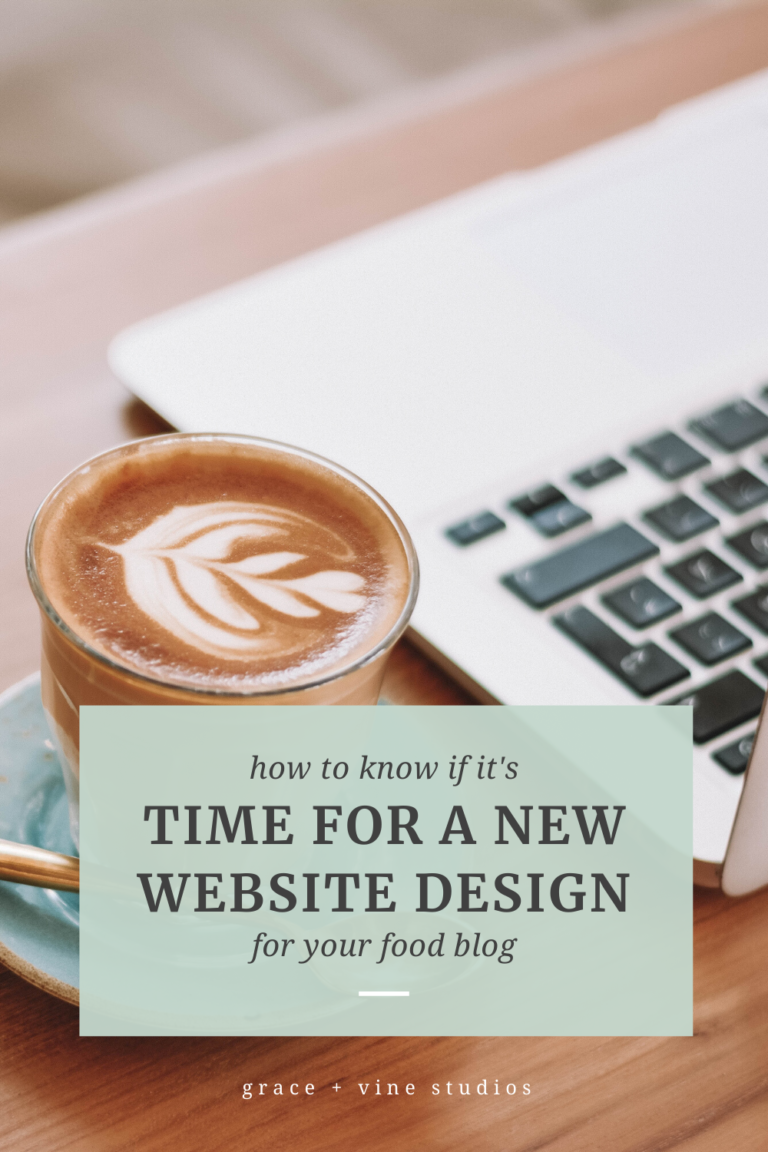 Never miss an episode! Get notification of new podcast episodes to your inbox.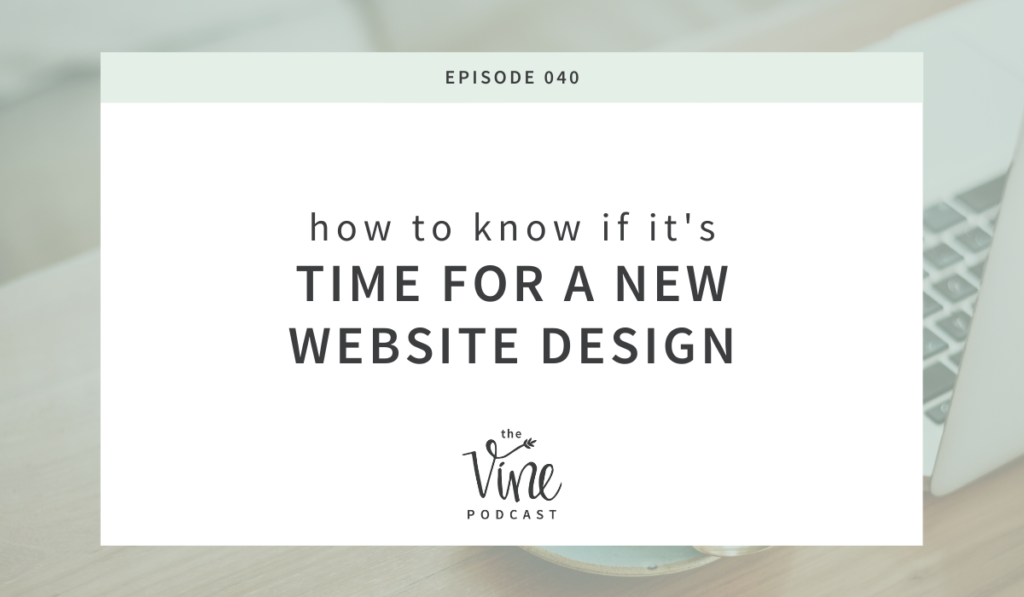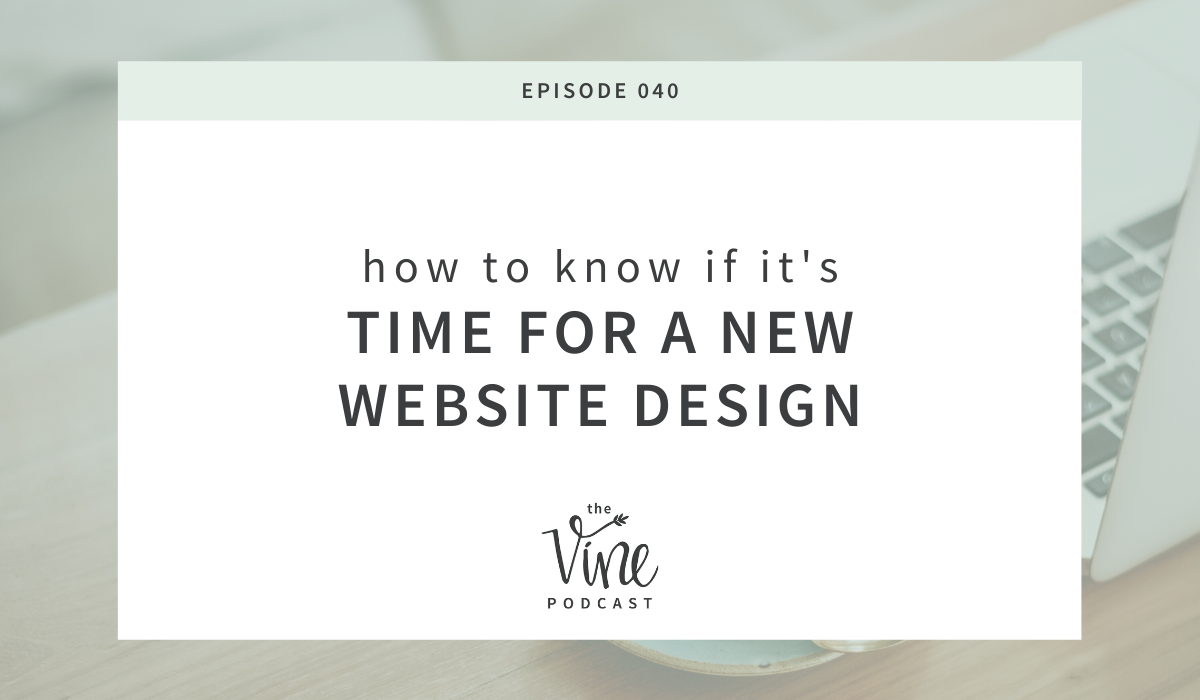 Can't listen to the episode? Read on for the transcript!
I wanted to dig into a few signs that it's time to redesign your website. My web design clients often come to me at totally different phases in their business. I've worked with bloggers who are starting a brand new second blog, all the way up to clients who have 1 million page views per month.
Because they're all at very different stages of their business, the reasons for redesigning their website can vary, but there are often some common themes that come about when I ask why they are wanting to redesign their website.
I wanted to share those with you today. so you can have an idea of whether or not it is the right time to redesign your website.
Lack of brand consistency
The first reason that I hear from people is a lack of consistency. I hear this from clients who have taken the DIY approach to their branding along the way.
I also hear this from clients who may have purchased just a logo at some point and they have tried to expand that logo to fit all of their needs for their branding. So they've often pulled things together, and they feel like it's been good enough until it's not anymore.
If you feel like your branding varies from your Pinterest templates to your business card design, and then your website is a whole different story, then this could be the reason that a new website design and branding is the right option for you.
Need advanced features or customizations
The second reason that I hear from clients is that they're looking for advanced features or customization that aren't possible with a premade theme.
This can vary again from client to client, but often this is things like a custom recipe index, something custom on individual posts that is sort of a recipe at a glance. It could also be things like custom recipe filtering or the dietary icons that you see on a lot of sites these days.
This really can vary, but often it comes down to wanting things that are not usually standard in a premade Genesis child theme.
They're really looking for a developer to come alongside them, make a strategy, and then implement the strategy that they have come up with together.
Want a well-thought out reader journey through their website
The next reason is one of my favorite reasons: they're looking for a more well thought out reader journey through their website.
What is a reader journey?
The way that I like to think about a reader journey is that you have to get in the mind of the person that is coming to your website.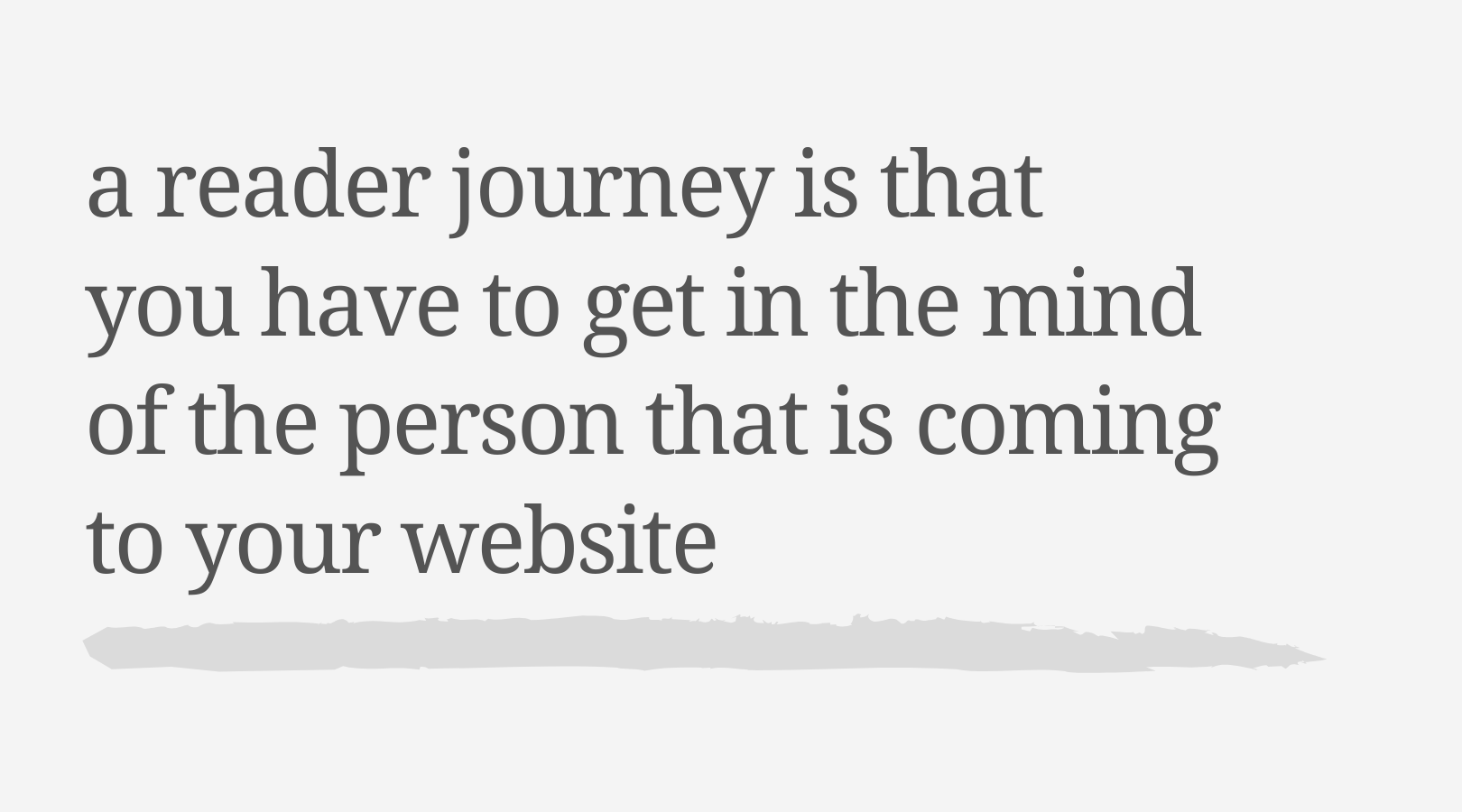 They probably landed on your random recipe, either through Google or through Pinterest. You have to figure out how you want them to navigate through your website.
Most people are going to land on your homepage if they're kind of trying to check things out and see what is going on, but that's where the strategy becomes really important.
You want to think about what someone should experience when they go to your homepage and what is really going to capture them.
A lot of clients report that they are looking for a way to make sure that the reader experience is there, and that it's really thought out and strategic.
This brings me to my next reason.
Need a better user experience
The next reason that people come to me for custom web design is they're looking for a better user experience.
They know that maybe the recipes are hard to find or that they have a lot of different content, and they really want to make sure that they're putting the right content in front of their readers.
They want to make sure that the readers enjoy the experience of browsing through their content, can easily find the type of recipes that they are looking for, and have just an overall good experience using their website.
Want to improve site speed
The last major reason that people will usually come to me, looking for a custom website, is that they are having issues with their site speed.
If you have followed all of the advice of different Facebook groups or podcasts that are talking about how to make your site run faster, maybe you've changed your hosting to be a more robust and fast hosting company. Or you have installed an image optimization plugin. You may have used a plugin like WP Rocket to make sure that your website is running smoothly.
If you still find that your scores are really low when you run them through Google page speed insights, then it might be time to move away from a premade theme and to make something custom.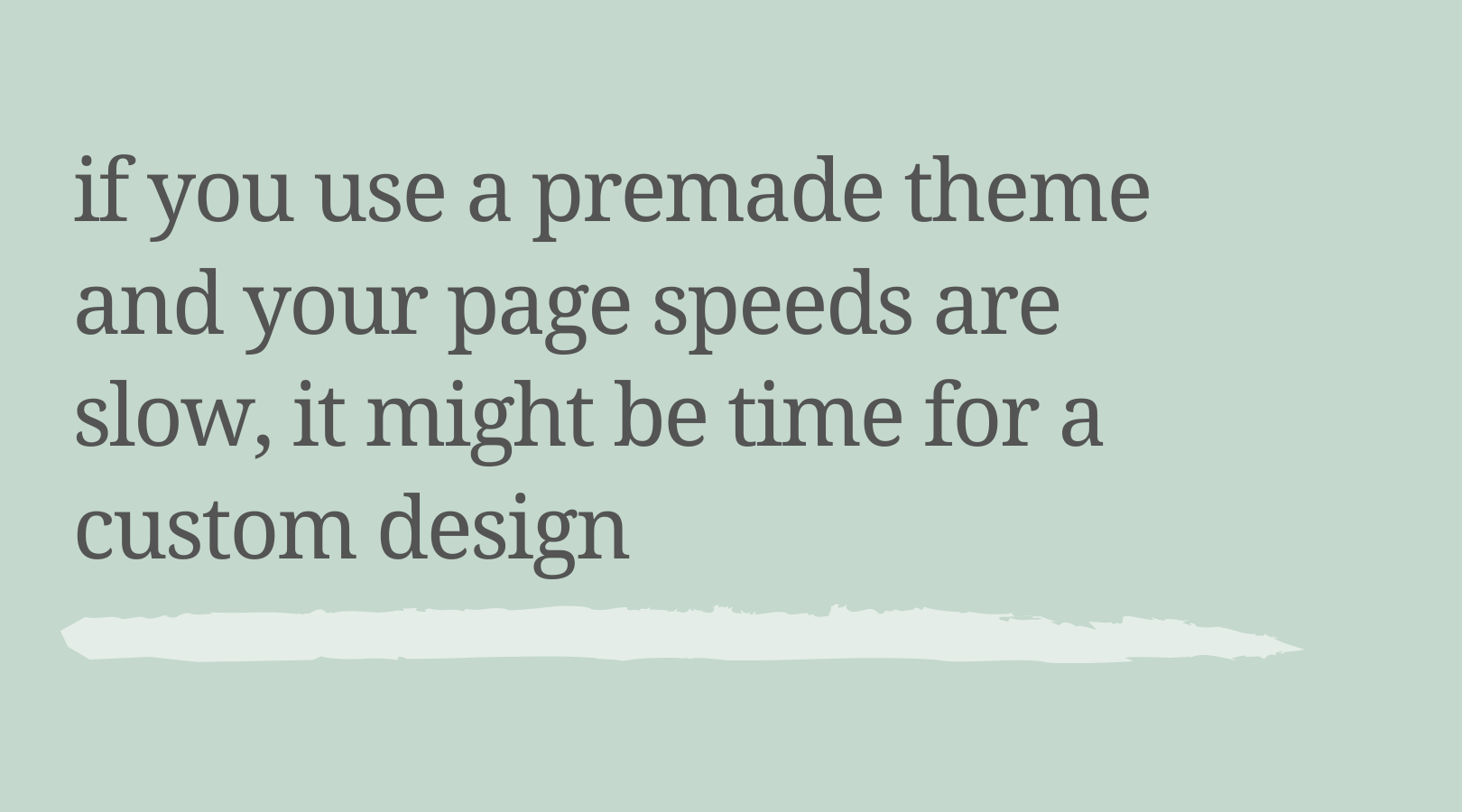 With premade themes, you have to remember that that theme is being designed for the masses to use. A theme designer is creating something that they know many people are going to use and benefit from certain features. But the problem that comes with that is that you often have a lot of extra coding and sort of bloating that comes from using too much coding on your site.
About a year ago, I met a past client at Everything Food Conference last year. She was talking about how much she was struggling with her website. I offered to take a look at it to see what she was working with.
It turns out that she was working with a page builder and the reason that that was so dangerous for her site speed and just for her overall site health, is that she had basically 10 times the amount of coding on her site that she needed.
So to give you a rough example of this, a lot of those sites that use Genesis themes specifically might have about 3000 lines of coding. That might seem like a lot, but this particular site had over 30,000 lines of coding.
I can't even tell you how big my eyes were when I saw that knowing how many additional features that she had on this theme that she wasn't using. It was no wonder that her page speed score was well below what it should have been.
So if you are finding that your page speed is just not as fast as it should be and you've done all of the things that you have been told to do, then it could be that your theme has too much for you.
The benefit of working with a designer for a custom theme, when it comes to site speed, is that we are going to make sure that your site has exactly what it needs to have.
In general, it's not going to have a ton of features and additional coding that you don't need so you're not going to get the error on your page speed insights that says that you have unused CSS. You're not going to have crazy page load times because of additional coding and features that you don't need.
Depending on the developer or designer that you work with, if you work with someone who has knowledge of SEO and site speed, you're going to be able to rest easily knowing that your site is designed to run the best way that it can for both sites speed and SEO.
Now, that's something you need to be really careful of because a lot of designers or developers might say that they know something about SEO, or that they are going to do the best practices for SEO, but you really want to weigh that against maybe the industry experts or get a little bit more information about what they do.
Just plugging in your brand's keywords into Yoast is not enough when we're talking about designing for SEO and making sure that your site is SEO friendly. You want to make sure that when someone says that they are designing for SEO, that they really have the knowledge and that they have worked with industry experts to make sure that they know what is the best practice.
Looking to increase traffic
Another reason that people might turn to a redesign for their website is that they are looking to increase traffic.
This is really a twofold answer.
On the surface level, redesigning your website is not necessarily going to increase traffic. It is not going to send a signal to Google that is going to automatically raise you in the rankings and get you more traffic.
However, having a strategically designed website can help increase your traffic in terms of the audience that is already coming to your website.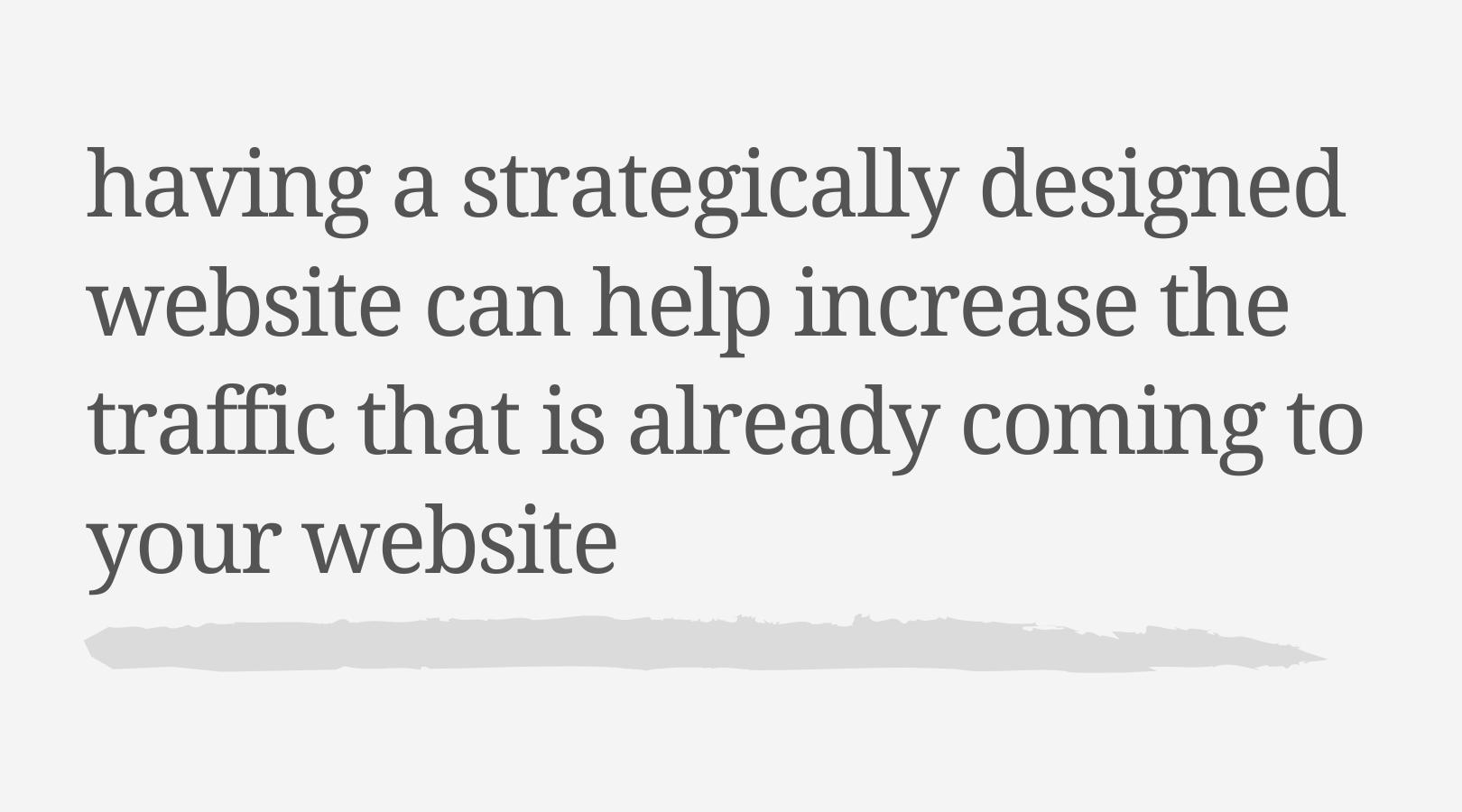 If you think about the audience that you already have, imagine if you were able to get their average amount of pages that they're viewing to go from one to 1.4 or even two, that's a big jump.
The point is that when you design your website with your audience in mind, and you really think through what that reader journey is through your website, you are going to naturally be able to increase your traffic.
It's not going to be that you increase your SEO traffic or your traffic from Pinterest, but it's going to be a strategy for increasing the page views that come from the people who are already on your website.
The idea is that you want to get those people to dig into your content deeper. So you want to figure out what makes the most sense for your content in order to get people to dig around more, hopefully join your email list. Then, you're going to be able to increase that traffic to your website because you're sending emails to more people.
It's kind of a roundabout way of increasing traffic, but I want to make it very clear that redesigning your website by default, isn't going to increase your traffic in terms of SEO.
However, there are a lot of benefits when you work with someone who is going to think through that strategically and have a plan for how someone should move through your content.
This is, again, one of those reasons why I say it's really important to work with someone who understands SEO. I have personally spoken with a couple of different SEO experts in the industry to either review certain parts of my process, or just to ask and get an idea of what I need to be making sure that I am doing.
It would be really easy for me to assume that I know what is the best practice for SEO because I have been a blogger for many years, and I've been in the industry for many years, but I choose to defer to the experts in the industry to make sure that I know what is the best practice right now.
I have been able to adjust my process slightly based on the feedback that I have gotten from different SEO experts.
If you have the time to commit to a redesign
The last tip that I want to give you for, how to figure out if it's the right time to redesign is I want you to really evaluate whether or not you have the time to spend on this.
This is going to depend on what kind of designer you work with, but I can speak for myself and my own process and my process is designed to be very collaborative. I do not consider this to be a process where you hand this off to me and it is completely off your plate.
I don't say that to scare you into thinking that this is a huge time commitment, but I do want to at least mention this because I have spoken to clients who truly do need a full website redesign, but they are not in the space right now where they have the capacity to do the work.
"The work" is going to depend on every situation and every website is going to be a little bit different, but in general, you need to be able to give the mental space, to review your designs from your designer, to give feedback and possibly to make changes to your website, like, like reorganizing your categories, or potentially adding things like your category description.
These things don't take a lot of time necessarily, but depending on how much content you have that time can add up. It's just a realistic thing to be thinking about how much time is going to be needed from you. For me personally, my web design process is anywhere from six to eight weeks. So there is ample time to give feedback and to do that work.
I just want to mention it because I know that sometimes it's just not a good season for working on a big project like your website, but you have to really weigh the importance of getting these things done, like the consistency and page speed specifically, because those are going to have a lot of benefits for your blog going forward. However, you need to be able to dedicate a little bit of time at least to give feedback to your designer.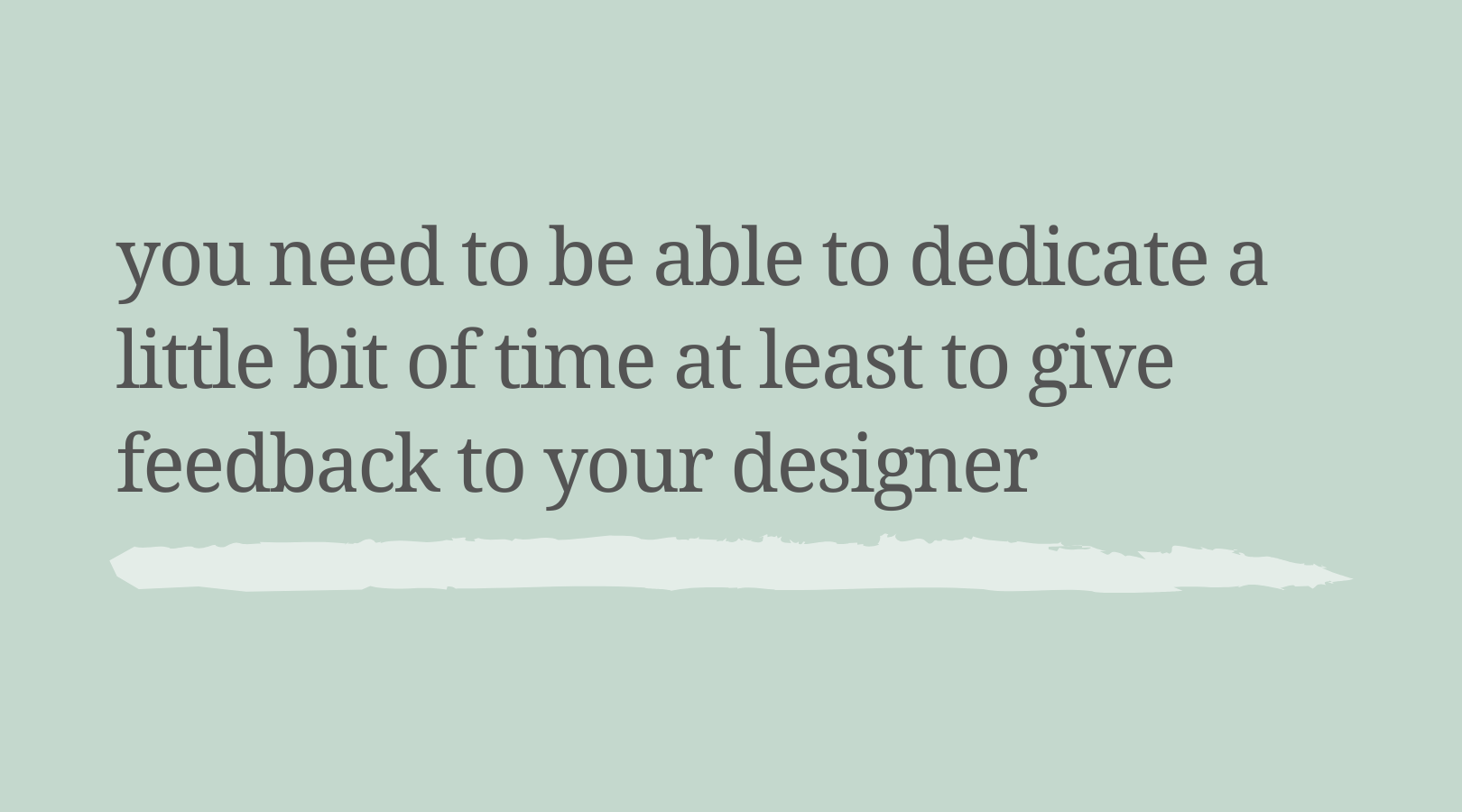 If even one of these ideas has stuck out to you and has been a reason that you have considered redesigning your website, I would love for you to reach out and let's just have a conversation about whether we would be a good fit to work together.
I'm often booking a few months out for my custom website projects and branding projects at this point so I would really love to have a conversation sooner rather than later, too, just to see if we are a good fit.
If it's not the right time right now, at least you will have the information going forward for what it would be like to work together and really giving your readers a customized experience.
If you are interested in learning more about my packages and learning more about how I work together with clients, I would love for you to head over here and figure out which one would be the right fit for you. If you go on any of those forms, you'll also see a place for you to schedule a call for us to chat.
If you have any questions about the web design process or whether or not is the right time for you, please get in touch. I promise that it will not be a big sales pitch and I will genuinely help you figure out if it is the right time, or if a smaller package would be the right fit for you right now.
If you're looking to establish your food blog in a crowded niche, let's work together.
Together
, we'll create a brand that helps your food blog stand out and helps you connect more with your audience.
Let's chat