Reflecting back on this past year, I realized this year accidentally became my best year. As I've looked back, I've been able to find a few key things that I think directly correlated to this year being my most successful and my most joyful year in business.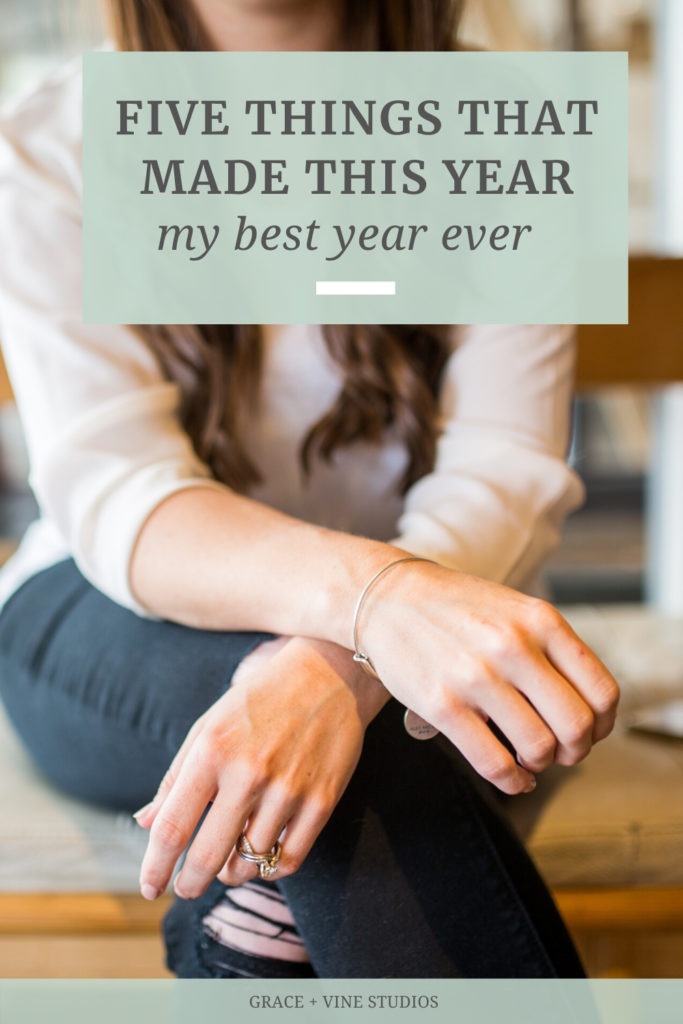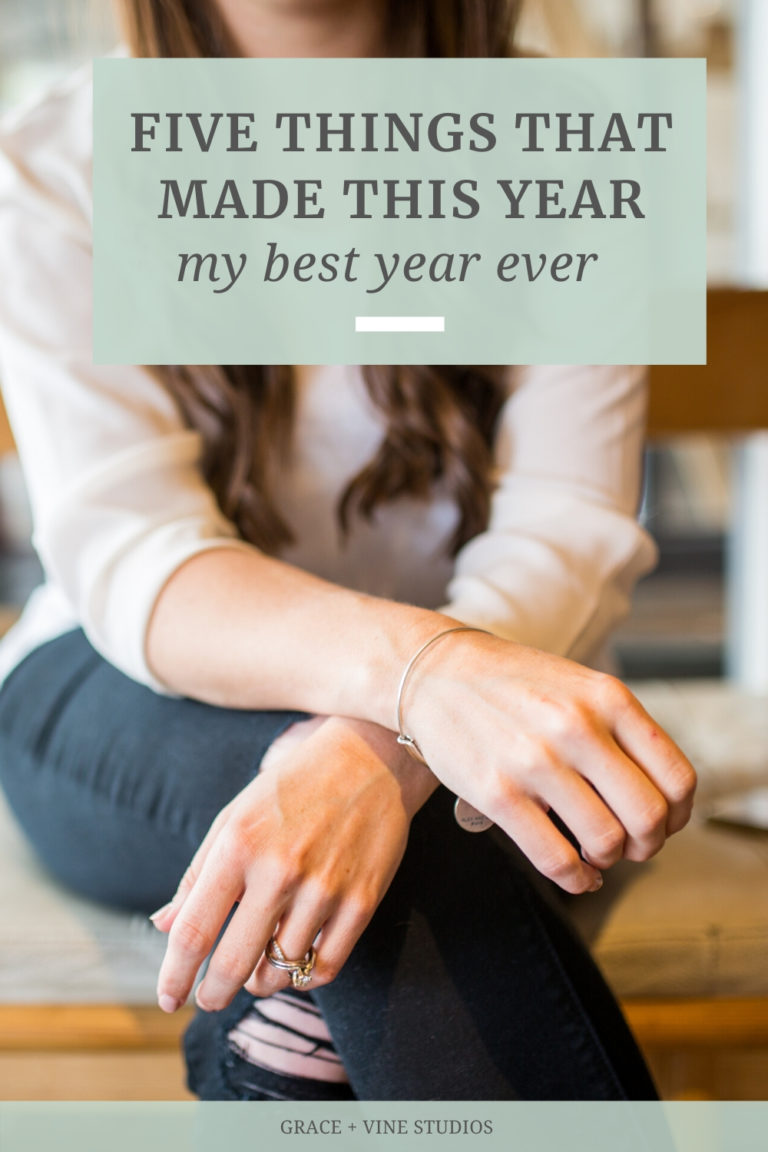 Never miss an episode! Get notification of new podcast episodes to your inbox.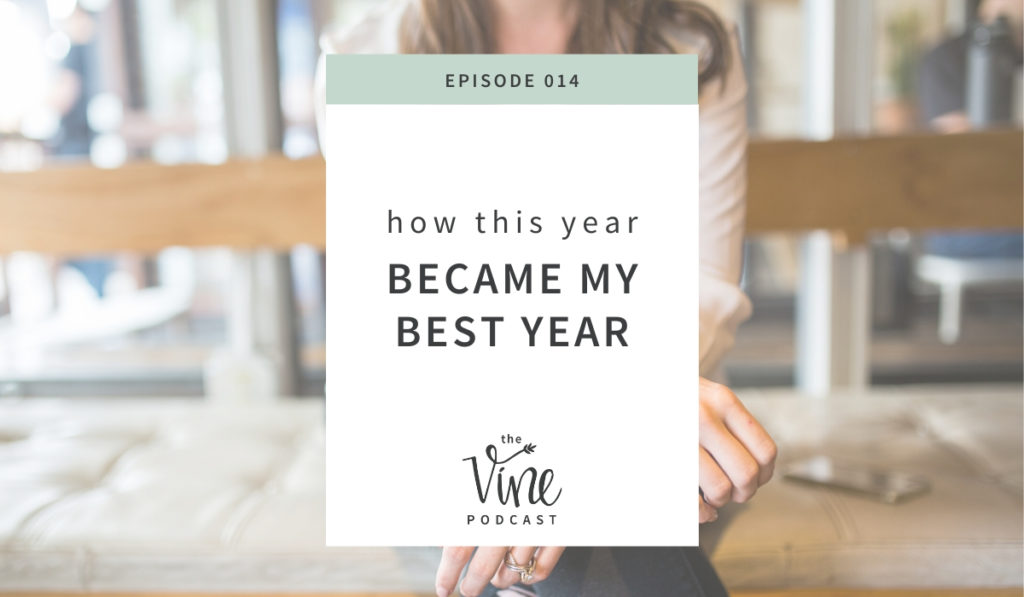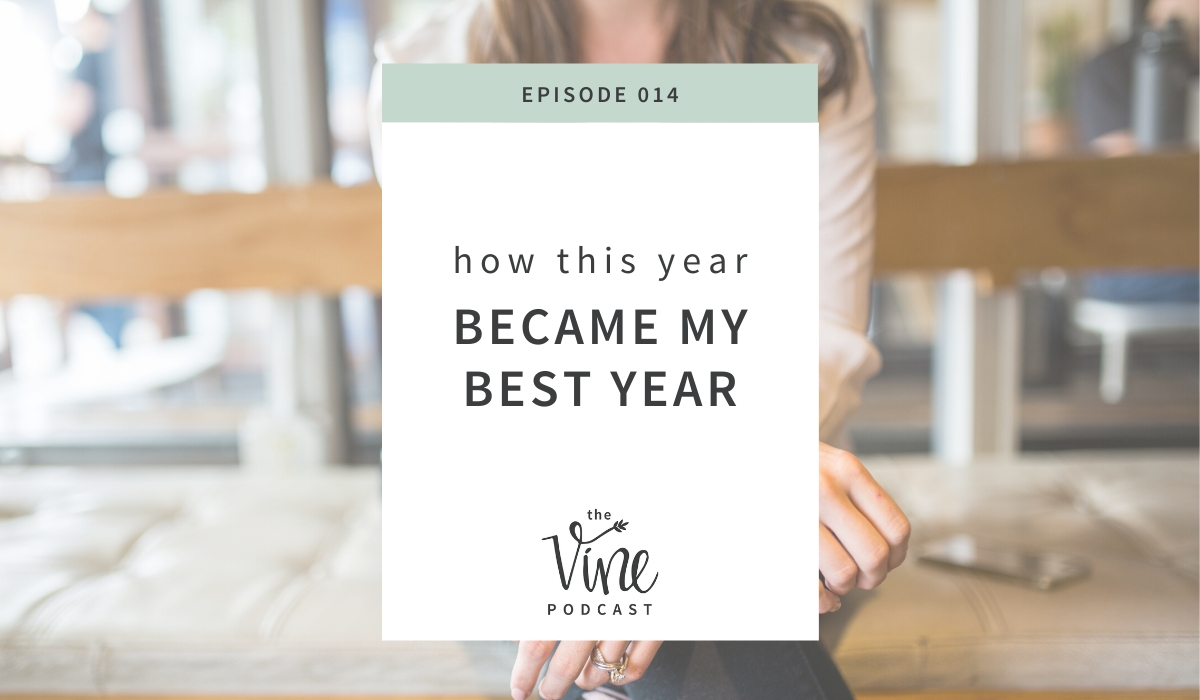 Can't listen to the episode? Read on for the transcript!
Today's episode is going to be a little bit different than my normal episodes. I don't really have an outline or a script for this episode. I just have the main topics that I want to cover and I really hope that you feel like we are sitting down for a cup of coffee and just chatting about how our businesses are going.
I want to first start by sharing a little bit about how the beginning of this year started and as much as I don't normally share a ton of personal stuff on this podcast because this podcast is meant to be more tactical.
I feel like it's really important to share kind of the personal side of where my business was at at the beginning of this year so that you can understand some of the changes that I made. So last year, around the beginning of the year or the end of last year, I started kind of reviewing my year in my business and I realized that I was spending a ton of time on my food blog without seeing a lot of return.
I was spending probably 80% of my time working on my blog and only making probably 20% of my income. Whereas my web design business, I was spending way less time. I was really just doing my client work. I wasn't doing any marketing, I wasn't doing any anything like this podcast. I was really just doing the work that was coming in to me from referrals and I was making about 80% of my income feeling like I was putting in very little effort into that business and at the same time in my personal life, I had at the time an almost one year old and a roughly three and a half year old.
I was feeling very stretched thin in pretty much every area of my life. I felt like there was never enough hours in the day to get the work done that I needed to get done. I felt like there was not enough time to devote to my food blog or my web design business.
I just felt stretched thin.
Ironically, the word I came up with for this year was stretch, even though I was already feeling completely stretched thin in every area, but God kind of laid it on my heart that this was going to be a year of stretch. I didn't really know what that meant.
Looking back now I can see many things that that meant, but I just started really feeling like something needed to change and I wanted to give my web design business a chance to kind of be the star of the show.
My food blog wasn't really growing the way that I wanted it to and I knew that the climb from where I was to where I would need to be was a little more than I wanted to take on and I also really felt like flipping the switch and focusing on my web design business would kind of give me a renewed passion.
I was feeling burnt out from my food blog, having spent so much time and feeling like I really didn't have much to show for it. My blog was still very small. I didn't really feel like I had an engaged audience and at the same time I was always having ideas of how I could serve my audience for my web design business, but I didn't have time to actually implement those ideas.
I decided to slowly let my food blog go. I'm going to talk about that specific decision a little bit more in next week's episode, but I just wanted to kind of lay the foundation of how things started this year. It was really emotional and scary to let go of this thing that was literally my baby had been my hobby, my business, my side project, whatever you want to call it for many years. And it was a little weird to shift gears.
As I started to shift gears, I found that I had just a renewed passion for my web design business for creating content for that business and for doing the client work that had started to feel mundane when I had just all of these balls in the court and just all these things going on.
Things I Did That Made This My Best Business Year Ever
Cut back on my hours
Invested in coaching
Finally stepped into a niche
Started utilizing my team
Stopped making excuses

Cut Back My Hours
The very first thing that I think attributed to this year being my most successful is one that I think is a little bit shocking and it's actually that I cut back my hours.
I ended up going from more hours to less but more focused hours.
So right now, my work schedule is that I have Tuesday and Thursday that I am in a coworking office and that is when I get the bulk of my client work done and my podcast recording and all of that.
That meant that I had a lot less kind of flexible time to work on my business. And those were the days that I was going to 100% no, that was when I could get work done.
And I found that having less time actually made me a lot more structured in my business. Instead of feeling like I was always trying to fit business work in, I was always trying to check emails or do this design project or work on this recipe instead of feeling like I was 100% all the time on work mode. I started to feel like I could really turn work mode off and so when I was working I was really working and when I wasn't working I could just be a normal person who was just with her family and is not working all the time.
Investing In Coaching
Two of my absolute favorite people in the design and development world decided to decided to offer an accelerator program over the summer and to be honest, at the time I thought, I have no time for this.
There's just no way that I have time to invest in coaching or a group program, a mastermind, any of that stuff. Even though things had shifted, I still didn't really feel like I had hours each week that I could dedicate to things that weren't paying the bills, things that I was actually paying for.
But being that these two people are some of my favorite people, and being that I really felt like I hadn't ever invested in my business this way. (I've invested a lot of money into my food blog, but I hadn't invested a lot of money into my design business.)
I decided to invest in this coaching program. To say that it radically changed my business is probably an understatement, but that three-month coaching program really changed a lot of things for my business. But the thing that it really did for me is to set a foundation for what I wanted my business to grow into.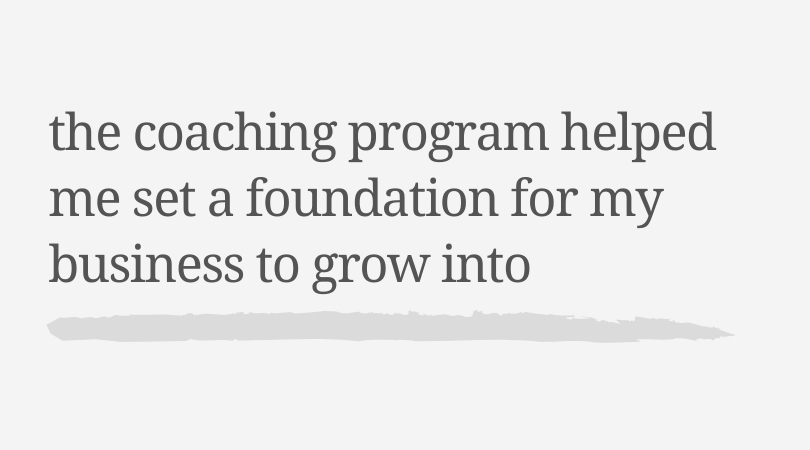 One of the things that ended up coming out of that group program is that I finally decided to step into my niche.
Leaned Into My Niche
For many years. I have tried to toe the line between wanting to work exclusively with food bloggers and feeling like I needed to work with other business owners too, just in case.
Through this program, I finally decided that I was going to go all-in on working with food bloggers.
If you're looking to establish your food blog in a crowded niche, let's work together.
Together
, we'll create a brand that helps your food blog stand out and helps you work with more brands.
Let's chat
I can honestly say that this podcast would not exist had I not gone through that coaching program because I wouldn't have had the clarity to see that that was something I wanted to do and something that would benefit my audience.
I even thought about starting a podcast back in May after I went to the Everything Food Conference and I heard Pat Flynn talk about podcasting and it was an idea that really got me excited and I wanted to do it.
Then I quickly went back to feeling like I had no time and it wasn't the right thing for my business, but once I finally leaned into my audience and my niche, I realized quickly that having a podcast was going to be a huge thing for my business because I was going to be able to connect with food bloggers in a way that I can't really do in any other way.
Through investing in coaching, I was able to define my niche and actually lean into it and then completely change my packages on my website, my processes, all of that kind of stuff because I was able to figure out what my niche was and I was able to finally lean into it.
Started Using My Team
The fourth thing that I feel like really helped propel my business forward and make this year the best year ever for my business is that I finally really started utilizing my team.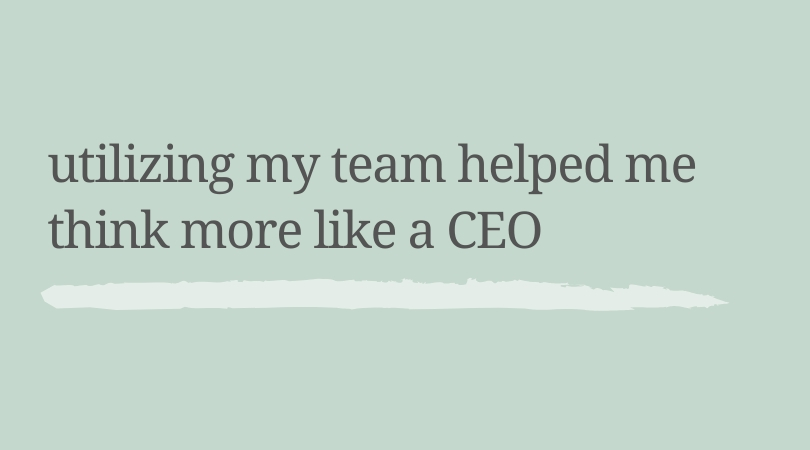 I used to feel a little bit pretentious saying that I have a team, but the more that I have tried to kind of step into a CEO role of my business and really think like a CEO, the less sort of pretentious I felt about saying that and the more excited I am that I have such a great team.
I want to mention just what my team looks like because I feel like that's always really interesting to me to hear what other people are doing for a team and even though I'm talking about a team for my web design business, I hope it will show you how much success I've had because of my team.
I can 100% say with certainty that this podcast would not exist without a team, that I would not be able to take on the number of clients that I can take on without a team, that I would not be able to spend the little number of hours that I spend on my business with the amount of income that I make from my business without my team.
My team right now:
virtual assistant
developer for advanced development
creative design assistant
podcast editor (my brother!)
Pinterest manager (new so not much to say on this yet!)
Collectively, I probably pay for anywhere between 15 to 30 hours of people's time each month. And yes, that's a big investment, but that's also 30 hours roughly that I'm not having to do for my business to move forward.
And to me, that is an invaluable investment. I have definitely been able to see the way that my business has grown specifically because I'm investing that much time and money into my team.
I Stopped Making Excuses
The last thing that I think made a huge difference this year is a little less tactical and a little more mindset and it is that I finally stopped making excuses. Part of this was being in an accelerator program.
I feel like having to say how I'm feeling or what I'm thinking or what is holding me back. Having to say those things out loud, you finally realize how silly it is that you feel that way and so you just stop making excuses and getting it done.
Not every single thing in my business works perfectly every time now. There are still things that I have to get over and stop making excuses for, but I feel like in general this year I finally realized that part of what was holding my business back from growing was me– the roadblocks that I was putting in my own way.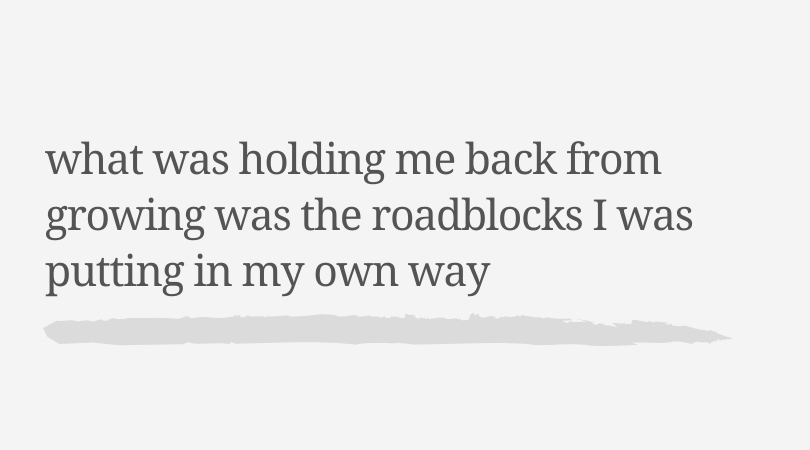 Once I was able to stop making those excuses things started to dramatically change.
One of the biggest examples that I can share here of an excuse that I feel like was holding me back was I always used the fact that I had two businesses and two kids and I was stretched thin as an excuse and I finally got to the point through a very tearful, sad conversation with my husband at the beginning of the year where I realized that no one could change that but me.
I just wanted to mention that particular point because I feel like so often we have all of these excuses of why we do things in our business or why our businesses aren't growing.
So often we just get stuck in a rut of repeating the same excuse over and over to ourself instead of making a change and taking action to make that situation different.
Wrapping Up
To review really fast, the five things that I think attributed to this year being my best year ever:
cutting back on my hours so I could be more focused
investing in coaching or a mastermind
finally stepping into my niche, owning it and leaning into it
utilizing my team
stop making excuses
Whatever it is that you think is holding you back from growing, the thing that keeps repeating in your head, that's what you need to stop making an excuse about today.
I hope this is encouraging to hear that I did not say this was my best year ever because I made more money because I raised my prices or anything related to the financial side of my business.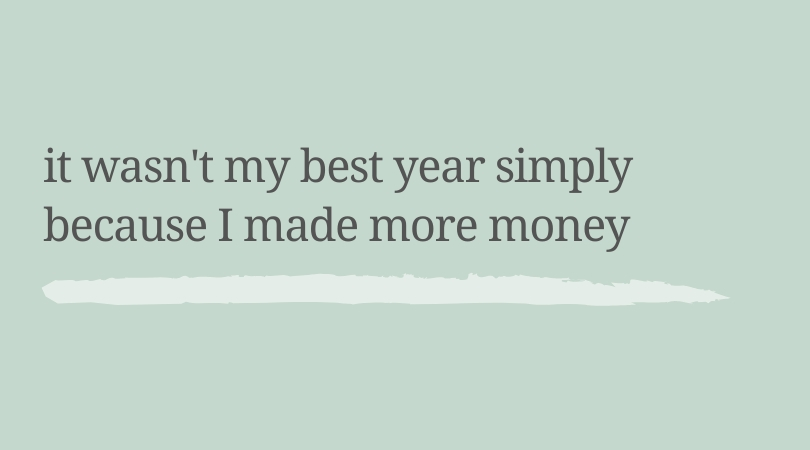 All of those things are true, but I don't think that that is specifically what attributed to this being my best year ever.
I've spent more money, I've spent less time and also feel really good about where my business is at at the end of this year versus at the end of last year means more to me than the actual income that I might have made.
Make sure to listen back to episode 12 for a more tactical look at reviewing your year.
To end, ask yourself this question:
What pivots or changes do you need to make in your business next year in order for it to grow?
Lean into what worked really well last year. Let yourself celebrate that. Let yourself feel good about it. Treat yourself to a nice gift or a fancy dinner out with your husband or your partner. Celebrate the wins that you've had. But don't be afraid to have the courage to make the changes that you need to make to make next year even better.