Prioritizing CEO time is the key to being more intentional about the time you spend working on your business instead of staying stuck in the day to day work of developing recipes and writing blog posts. In today's episode I'm sharing 5 ways you should spend your CEO time.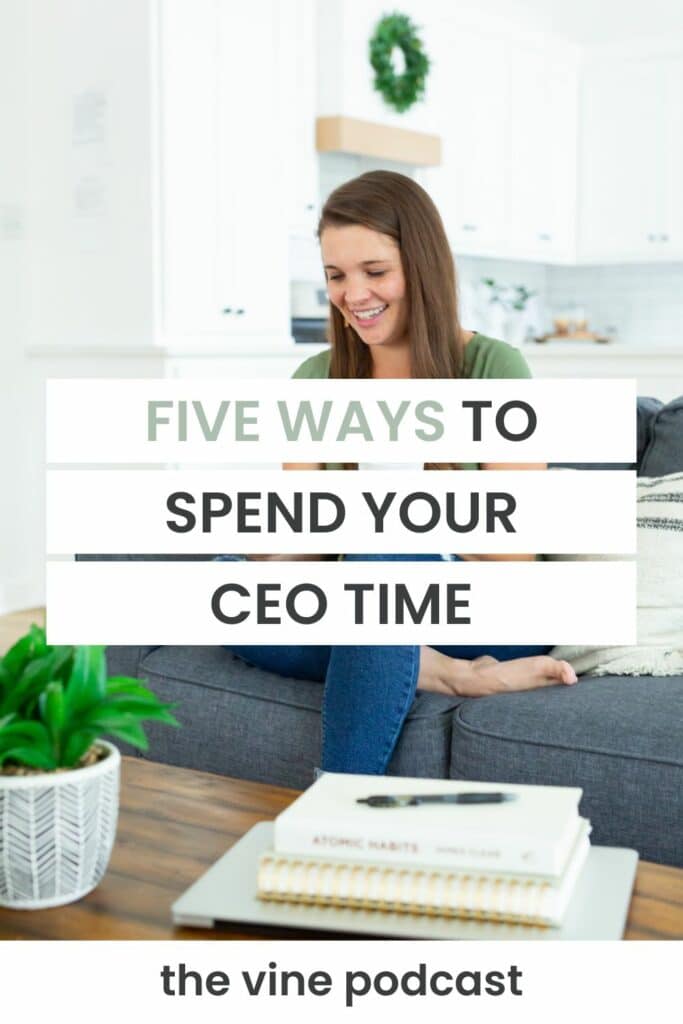 Never miss an episode! Get notification of new podcast episodes to your inbox.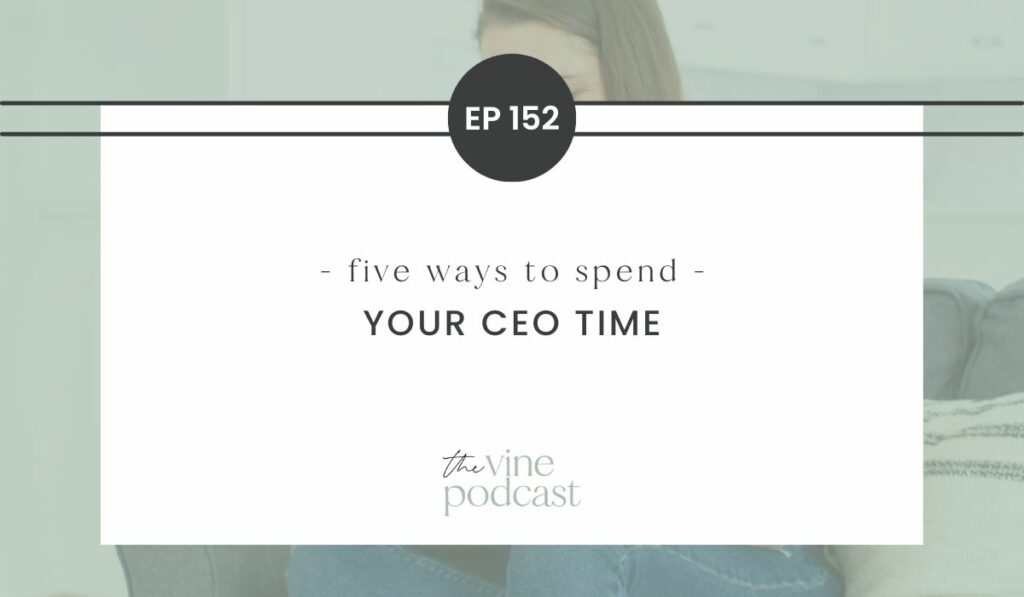 CEO time is a truly essential part of moving your business forward and not staying stuck in the day to day of running a food blog. Because food blogging is so demanding and there is always something else to do, prioritizing this time is essential.
I've discussed CEO time many times on the podcast before (like this episoode with 3 Things to Do For CEO Time and How to Schedule More CEO Time) but today I wanted to share a few more tips on how you should spend this time.
1) Pause and check in
As with many parts of our business, when you get time to work on something it's tempting to jump in head first and get stuff done.
With CEO time, however, pausing before you jump in can be really helpful.
Before you dig into your work, reflect on a few things!
How am I feeling about my business lately?
What can I celebrate in my business right now?
Where do I feel stuck, behind, or overwhelmed?
How is my ideal week going?
Where do I need support right now?
These emotional and capacity check ins will help set the tone for the remainder of your CEO time. It's important to start here because a lot of us don't take time regularly to check in like this and it can unlock so much about what we want or need to do for our business.
2) Financial To Do's
Pay any outstanding invoices
Planning for ways to increase income such as planning for brand partnerships, thinking about ways to increase your ad revenue, researching or implementing new income streams, etc.
Reviewing your budget and/or income coming up
Making decisions about big purchases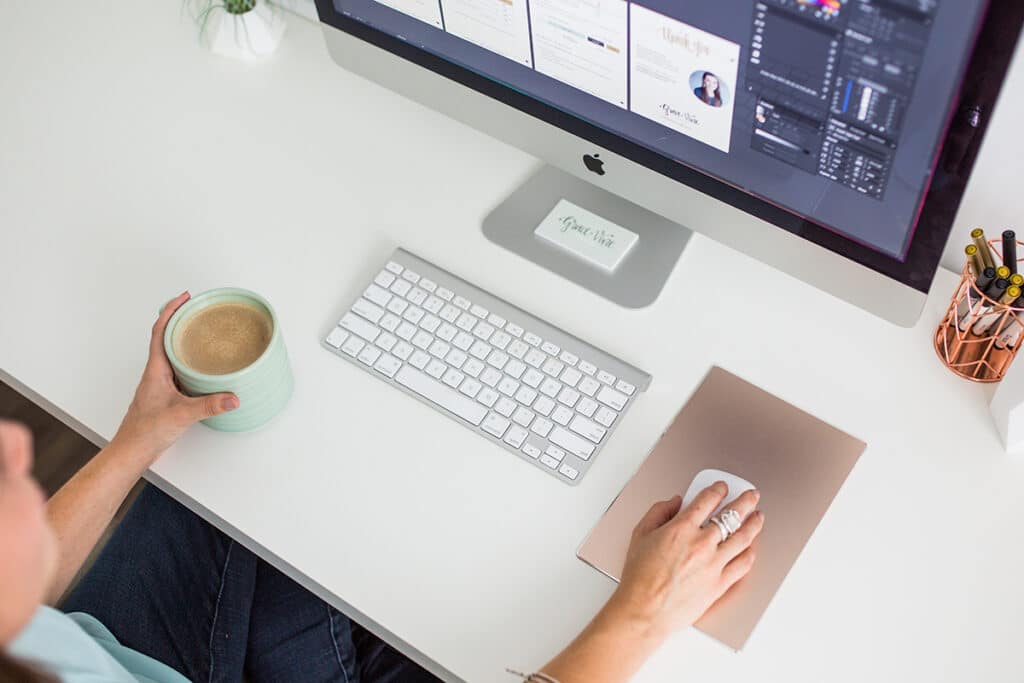 3) Metrics
This might not be something you need to check in every time you do CEO time, depending on how often you do it, BUT it can be great to do this monthly or quarterly at least.
Metrics are great to have but if you don't do anything with them they are just numbers.
When you review your metrics, do this:
Look at your traffic year over year and look to see if it has increased or decreased
Look to see which posts specifically contributed to that increase and take note of major changes (possibly from a rank dropping).
The key here it to find out why there was this change in traffic and what contributed to it.
You can use this same approach to social media following, income changes, or any other metric you choose to track. Don't just write down the metric itself, but dig into the reason behind it.
Then be sure to make a plan going forward if something needs to change to reverse that change.
4) Goal Setting, Planning or Executing
If you are doing CEO time weekly, checking in on your goals for the month and making sure you are making progress is a really great thing to be sure you are not getting behind.
If you are doing CEO time monthly, use that time to set goals as well as planning out the steps needed to reach them.
Related: Setting SMART Goals for Your Blog
CEO time is also a great time to spend some implementation time executing things to help you reach our goals. The caution here is to not get sucked into the day to day tasks of your blog like editing photos or writing blog posts. That type of implementation work is usually easier for us to prioritize because it feels urgent and important. But we want to stay at a higher level during CEO time!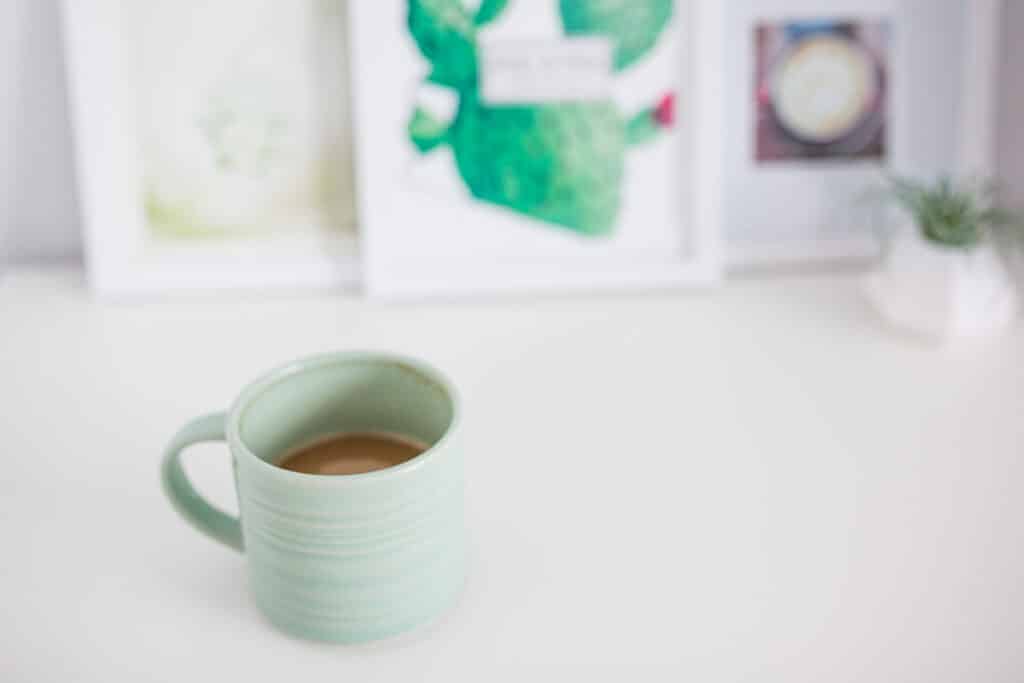 5) Education
Working through a course you've purchased or listening to a podcast AND implementing what it talks about is a great way to spend your CEO time. I often will go back and re-slisten to an episode during CEO time to take the action steps that the episode talks about.
Even just having a block of time during your CEO time for education will encourage you to look for ways to use that time! It could be a webinar replay, podcast episode, blogging course, or spending some time researching the latest thing happening in the industry.
Speaking of education, did you know that part of our Food Blogger Support Package is a quarterly food blogger chat?
These chats are designed to propel your business forward by giving you live access to our team of blogging experts! Our first chat for quarter 1 is at the end of March and we would love for you to be apart of it. During these calls we'll be chatting through things like how AI tools could change the food blogging landscape, GA4, leveraging exclusive content for your subscribers, what types of products are best for your audience and more. These calls will be tailored to who is in our program and what their questions and needs are.
This is just one of the many benefits of the Food Blogger Support package, so be sure to check the link in the show notes to learn more about it and get signed up before our first call.
To recap, spend your CEO time in these ways:
Pause and check in
Financial to do's
Metrics review and analysis
Goal setting, planning or executing
Education
Call to Action
I hope this episode is an encouragement to you to get your next CEO day on the calendar! If you do, I'd love to be apart of it. Snap a picture and share it on Instagram with me.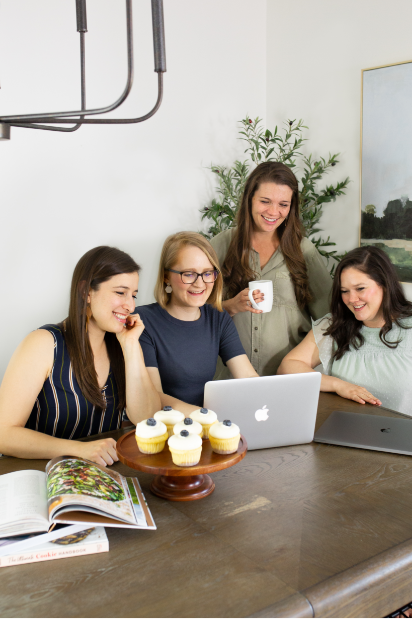 ready to take your food blog to the next level?
We work with food bloggers looking to stand out of the crowd through custom brand and website design.