Everyone is talking about AI and ChatGPT. The big question on everyone's mind is, "Will AI make blogging obsolete?" Today we're talking about how AI can be a useful tool for food bloggers, what the future might look like and how to leverage AI in your business right now.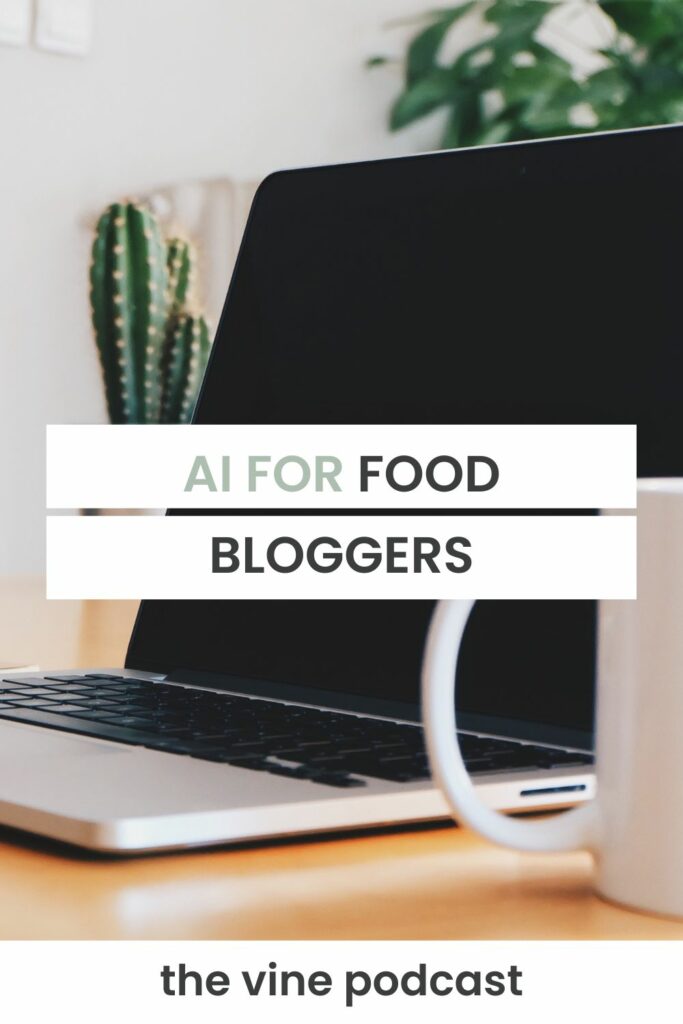 Never miss an episode! Get notification of new podcast episodes to your inbox.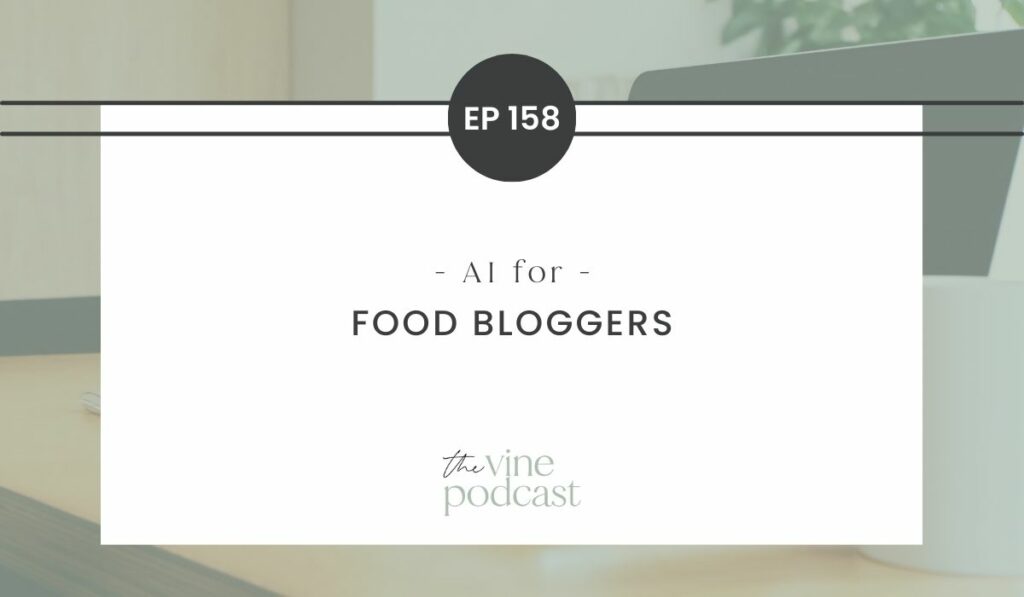 Everyone is talking about AI and ChatGPT. The big question on everyone's mind is, "Will AI make blogging obsolete?" Today we're talking about how AI can be a useful tool for food bloggers, what the future might look like and how to leverage AI in your business right now.
So now let's get into today's topic, and it is a juicy one. If you have thoughts or concerns, excitement or fear about AI, I hope you'll pop by my Instagram and let me know what you're thinking. 
Why bloggers are worried about AI
AI seems to be everywhere right now, and it seems to be an ongoing discussion in every group I am in.
If you aren't in the loop or are wondering what is going on, here's a brief summary:
The world of technology is seeing a surge in the development AI tools, AKA artificial intelligence. The most well-known one is Chat GPT-3, which was created by OpenAI.
GPT, if you're wondering, stands for "generative pre-trained transformer," which is a type of artificial intelligence language model. It basically means it's coded to write in a natural way — like a real person wrote them.
So if you ask it something like, "write a blog post about stuffed red peppers in a cheerful voice," it will produce several paragraphs stuffed red peppers.
But Chat GPT is just the start. There are AI tools coming out every week for what seems like everything, but the big ones affecting bloggers include AI tools for search engines, writing and photo and video generation.
The world of AI is changing, and rapidly. Chat GPT was only released on November 30, 2022. At the time of recording this episode, that's not even six months ago. (Actually, it's not even five months ago.)
And a lot has happened since then, including the release of other tools. Google came out with its own chatbot called Bard, which functions similarly to ChatGPT.
There is also now AI software that can even generate photos, videos and graphics. I'll include a couple of links in the show notes if you are curious about what they look like.
One of them is a cupcake photo that food blogger and photography educator Joanie Simon generated with a tool called Midjourney 5. There was also the AI generated image going around of the Pope in a puffer jacket and the teddy bear riding a skateboard in Times Square. 
But before you get worried that AI is going to replace our jobs, keep in mind that while there is a lot AI can do, but there's also a lot AI can't do.
AI is just a tool. Think back to high school. Did you (or your kids) ever have to use a graphic calculator? Those things are covered in buttons and functions. But they are just about useless if you don't know how to use them.
ChatGPT and other AI tools are simply that: tools. To use them well, the human touch is absolutely key.
AI definitely isn't perfect, but it is improving. If you play around with Chat GPT or other tools, you might discover that it doesn't know everything. But these programs are learning all the time.
As with any new tech, there are a lot of risks and opportunities to keep in mind. Let's talk about some of the ways you can use AI in your blogging business and how to approach it.  
AI for writing blog posts
So since Chat GPT is a language tool, it makes sense that a lot of the AI capabilities are around words.
The magic here is really in the prompts. I thought it might be fun to give you some examples!
➡️ Write a blog post title for a blog post about the future of AI for bloggers: "The Future of Blogging: How AI is Revolutionizing Content Creation and Engagement"

➡️ Write a blog post title for a blog post about the future of AI for bloggers in a sarcastic tone: "The Future of Blogging: Say Goodbye to Creativity and Originality, Thanks to AI!"

➡️ Write a blog post title for a blog post about the future of AI for bloggers in a cheerful upbeat tone: "Get Ready to Soar: How AI is Taking Blogging to Exciting New Heights!"

➡️ Write a blog post title for a blog post about the future of AI for bloggers in a serious tone: "AI and the Future of Blogging: What Every Blogger Needs to Know"
Now a food example: 
➡️ I am a food blogger writing about the best cheese for mac and cheese. Can you write me a witty introduction?
Mac and cheese: the ultimate comfort food. But choosing the right cheese can make or break it. Fear not, fellow cheese lovers – I've done the taste-testing for you. Let's dive into the delicious world of mac and cheese cheeses.
Suggested Titles: 
"Mac and Cheese Cheese: The Best Cheeses to Use for Ultimate Creaminess"
"Upgrade Your Mac and Cheese Game with These Top Cheese Choices"
"From Cheddar to Gouda: Discovering the Best Cheese for Perfect Mac and Cheese"
You can also use it to generate text you can use in your blog posts. So for example, you can use it as a search engine and ask it "what are some fillings for stuffed peppers?"
It will spit out some answers like ground beef, black beans, chicken, rice, etc. You can use these ideas to generate more ideas for things to include in a blog post. You can also use it to help you update blog posts or write things like FAQ questions. 
AI for SEO
Something else you can use AI for is SEO.
One program our team has been playing with is a WordPress plugin called AI Engine. You can do a lot with it, including quickly brainstorming new titles, descriptions and excerpts for your posts. I'll put a link to that in the show notes as well.
or about your blog posts. For example, you could ask it to write the blog post or you could ask it something like:
You are a recipe blogger who blogs at yourblog.com. You wrote a blog post recipe called "stuffed bell peppers". Provide 3 different titles that are SEO friendly for the post
Here's what it spat out, in about 3 seconds:
SEO Friendly Titles:
Delicious Stuffed Bell Peppers Recipe for a Perfect Family Dinner
Easy and Healthy Stuffed Bell Peppers Recipe
How to Make Stuffed Bell Peppers: A Step-by-Step Guide
Those aren't so bad, are they? They are definitely a place to start. I've heard some people say that using tools like these are helpful when they have writer's block, but once they have something to work with, the gears start spinning. Sometimes those short little descriptions are the hardest!
Another SEO piece you could ask it for help with is the meta description for your post.
AI for Social Media
Using AI to help you with social media copy is another way you can leverage this new tech. Something I love about it is that you can ask it to adjust the voice and tone of its answers.
Back to those stuffed peppers, I asked Chat GPT to generate 3 different titles that are a little sassy with a strong action verb when posted on Facebook. Here's what it gave me:
Sassy Facebook Titles:
Crush Your Cravings with Our Savory Stuffed Bell Peppers
Spice Up Your Weeknight Routine with Stuffed Bell Peppers
Get Your Mouth Watering with These Stuffed Bell Peppers
They're a good start for sure. If I did decide to use these for Facebook, I might tweak them a little — or a lot. But it's also three ideas that were generated way more quickly than my brain! I could also ask it to do captions for Instagram and Pinterest.
Tailwind, which you might have used for its Pinterest sharing capabilities, has an AI feature now too called Ghostwriter. It's a Chrome extension that works in your browser, and it's a little more geared toward marketing and writing social copy. They have a few different pricing tiers, but for right now you can also test out a few requests per month with the free version. 
AI for Writing
There are so many ways you can use ChatGPT and other AI tools for writing copy.
FAQ answers: Super helpful for stuff you might not know or need to phrase in a different way. You could ask it, "Do bell peppers need to be blanched before stuffing?"
Another one is how to or non-recipe posts — like "how to reheat leftover stuffed bell pepper"
Recipe card instructions: Ask it to write the recipe instructions for your recipe. YOUR recipe's exact steps might be different and need some tweaking and rearranging, but it's a start.
Email copy: This one is helpful if you struggle with writing marketing copy, and don't just want to copy and paste from your blog post. Ask it to "write a friendly marketing email about my stuffed bell pepper recipe i posted on my blog"
Rewrite old content: If you have an old post that could use some improving, you can ask it to rewrite a paragraph to be SEO friendly.
There's really so much you can do with ChatGPT, and if you are already using it I'd love to hear what you have used it for.
AI for Graphic Design 
Again, just to show you I'm not afraid of AI. I run a graphic design business, and there are even tools out there that can generate lots of designs quickly.
But there's nothing like the power of the human brain.
One of the tools I saw this week is called Pingenerator, which generates Pinterest pin designs. You pop in a URL to your blog post, choose a few images from the post and it spits out a bunch of pin designs.
Now, they're not the most gorgeous, in my opinion. And do I think the Grace & Vine team could do better? Well, yes, I am confident they could — and they regularly do!
Tools like this aren't going to put me out of business, because my team and I know good design inside and out and can know better than a computer what looks good. There are little things I noticed in what I tested, like spacing issues, image cropping and odd font choices — these are things that I know really well and incorporate into my work, and a computer just isn't a match.
But I can also see the value in this for someone who can't afford a designer or just wants to get some pin design ideas to create on their own in Canva.
Risks of AI 
Now, with any new tech, there are risks. There's a lot that hasn't been figured out, or even developed yet. It is a changing landscape. First, let's talk SEO. 
Google has said that "when it comes to AI content, Google is fine with it, as long as the content is useful and written for people." If AI is being used to write spam content, well that's a problem in itself. 
There is some valid feedback from content creators that these AI systems are co-opting their recipes and original content to train the models that the AI software is using.
That is definitely an interesting and important conversation to follow. The ad network Adthrive recently posted some sample Terms of Service language you can add to the legal notices on your site. It's definitely worth a read to see some of the standards they'd like to see for content creators when it comes to how AI scrapes our websites.
And then there's the matter of how you use the tools. Like I've said a few times, AI lacks the human touch. You definitely have to be careful with them and read everything well.
ChatGPT is very aware of the limitations. It even blasts you with some disclaimers when you log in for the first time. They have safeguards in place, but it's still very new and know that the chatbot can produce offensive, misleading or biased content.
So with that in mind, here are a few must-do things to add to your workflow when you use these tools.
Always fact-check. If it includes any historical facts or scientific info, you definitely want to make sure those are correct. Google does not want there to be spammy, bad content out there.
Use a plagiarism checker. There are some free ones out there if you search on Google. Copy and paste what it writes into the checker to make sure that they're not being scraped from a website.
Use a spelling and grammar checker. Install a program like Grammarly or copy & paste it into Word or Google Docs to make sure that there are no spelling or grammar errors.
Add personality. Edit it so that it sounds like you, and sounds like a human. If you usually throw in some "y'alls" and "shindigs" into your writing, go back and add those kinds of things.
Keep your readers in mind. If your readers always comment how to store or freeze something, include that information for them, don't not include it just because ChatGPT didn't.
In short: Like you did before these tools existed, always strive to make your content better than the other content out there. 
Call to Action
I'd love to know if this episode changed your mind about AI tools, or what you think about where AI will take the blogging industry! Share your thoughts in the comments.