Whenever I work with a client switching from Blogger to WordPress, I'm asked about which plugins are the best. There are literally thousands of plugins, so it's no wonder why it can be a little overwhelming to start. Whether you're switching from a different platform to WordPress or just trying to find some new helpful plugins, this list of top WordPress plugins for lifestyle bloggers will be a huge help!
A few things to remember about plugins:
They have to be updated!
While your blog probably won't break from a plugin not being updated, it's really important to keep them updated so that you don't start to have other issues. It takes a few seconds to update all of your plugins, so don't neglect to do so!
Check last updated dates
When you're browsing plugins for something specific, make sure to pay attention to whether the plugins have been updated for your latest version of WordPress and last updated recently. I will sometimes download plugins that haven't been updated in a few months, but never those that haven't been updated in years. Technology changes way too much for plugins to not be updated for years on end.
Too many plugins can slow down your site
It's really easy to go plugin happy since there is a plugin for everything it seems. Remember the whole, "there's an app for that!" Plugins are very similar. Researchers say that too many plugins doesn't guarantee a slower site, but rather too many badly designed plugins do. At any rate, be wary of large plugins, especially ones that you don't use.
Now for a few of my favorite plugins that I use all the time.
Genesis Simple Hooks
I mentioned last time in my post about my favorite WordPress themes that I love using Genesis for blog designs. One of the reasons is to be able to use this plugin. This plugin allows you to add in code virtually anywhere on your site, which makes adding in post ads, graphics in between posts, or even an extra footer section so easy! Download the plugin here.
Genesis Responsive Slider
Another Genesis favorite, this plugin adds in a responsive slider which can make featuring posts so easy. This plugin only works with Genesis child themes but it's a great way to add in functionality, especially if your theme didn't already come with this type of section built in! Download the plugin here.
CoSchedule
I've talked before about how I love CoSchedule, but it truly is one of my favorite plugins and one I use every day. It's my favorite scheduling tool and I love that it's right within my post editor as well as my WordPress dashboard. Learn more about CoSchedule in this post.
ZipList Recipe Plugin
This is an essential plugin for lifestyle bloggers who share recipes. One of the biggest frustrations as a semi-food blogger on Blogger is that there is not a great way to share recipes. This plugin creates a beautiful recipe that can be printed directly from the site as well. It's easy to add in a little bit of HTML code to your recipes if you need to add in hyperlinks or bolded parts of the recipe. Download the plugin here.
Google Analytics
I hardly ever log in to Google Analytics anymore, because my GA plugin allows me to see my analytics right on my dashboard, which makes things so easy. It's an easy plugin to use and makes installing Google Analytics onto your blog super easy! Download the plugin here.
Akismet
This spam blocking plugin is awesome. Before I installed it I constantly had notifications of spam comments and it drove me crazy (I'm totally one of those people who can't stand any notification bubbles on my iPhone, just sayin). This plugin keeps all spam comments in a folder and every once in a while I'll go in and delete them all but when I haven't, they're not a big notification in my face. Download this plugin here.
RSS Image Feed
If you have an email newsletter that goes out with updated posts, you may wonder why you can never seem to get your images to show in your emails (at least, I did). This plugin helps you out with that! Simply download it and then make sure under your settings that the reading tab says "For each article in a feed show summary." That should take care of it! Download the plugin here.
Ultimate No Follow
This plugin is really helpful if you do a lot of sponsored posts or giveaways! If you've ever worked with a brand or received a product for review, you should be using a no follow link to tell Google that it's a "sponsored" link. Find out more about no follow links on this post. This plugin adds a quick check mark button that you can use when writing your post, which will allow you to stay off the text side of your post. It makes adding in no follow links so easy! Download the plugin here.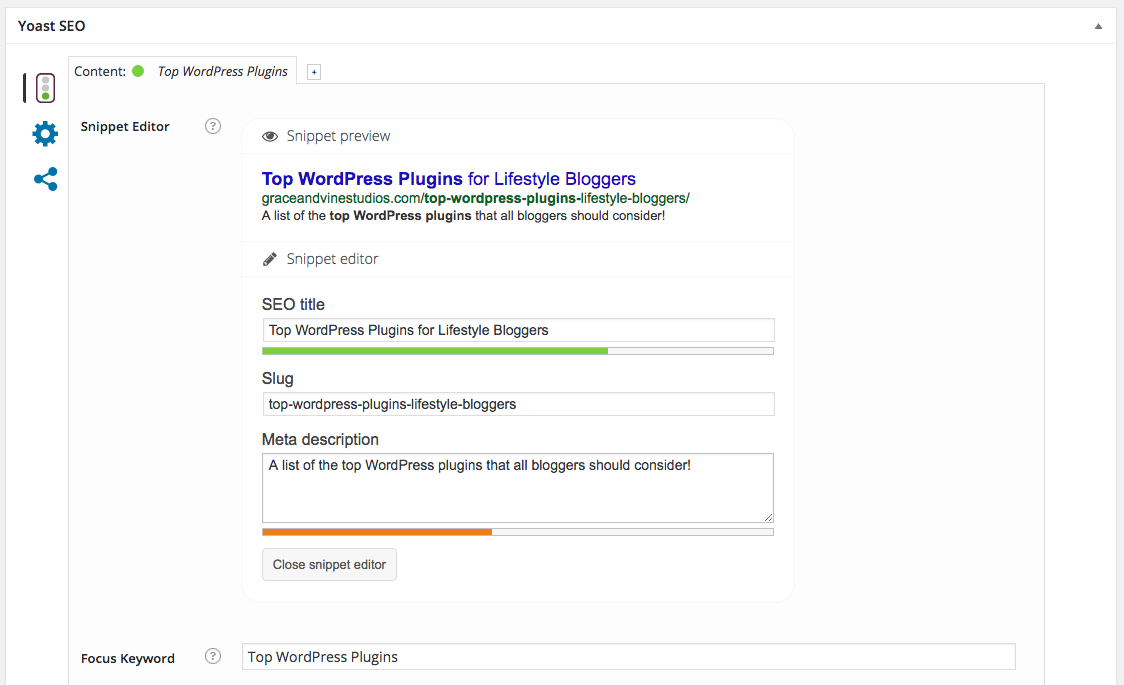 SEO- Yoast SEO
This is the industry standard for setting up your SEO on each post! Below your post editor you'll see a place to edit your snippet, or the preview on search engines, as well as set your keyword for the post and see how your post "scores" as far as SEO is concerned.
Newsletter Sign Up Integration- Genesis eNews Extended
This is a perfect way to set up a styled newsletter integration to your sidebar or other widgetized area. Note: for Genesis child themes only!
Social Media Sharing- Genesis Simple Share
I recently switched to this social media sharer plugin because it has Yummly as an option as well as tons of others!
Instagram Feed Gallery/Grid- Instagram Feed
I love being able to display my Instagram feed in a styled grid at the bottom of my site or on a sidebar.
Custom Social Media Icons- Simple Social Icons
If you want to be able to customize your social media icons but don't know how to design them yourself, this plugin is perfect!
Find and fix broken links- Broken Link Checker
This is essential! This plugin shows you where there are broken links within your site, which is really helpful if you've migrated platforms. It's also great for keeping an eye on other outgoing links in your posts and making sure they are correct and active.
Display posts in grid form Content Views
Follow my tutorial for setting up your own page like this! It works for recipe indexes, resource libraries, and more!
Scroll to top of page- WP Front Scroll to Top
Get a sleek or custom scroll to top button for your page.
Easily add no-follow code for sponsored content No Follow
You can read more about the importance of this plugin in this post!
With these two combined lists of plugins, your site will be totally set! The best part about these plugins is they are high quality and well designed. I've never had any issues with any of them. Plugins add functionality to your website and allow you to do a variety of things without having to access the coding side of your blog.
What are your favorite WordPress plugins that you rely on?